Jason Bassett named Alabama wildlife officer of the year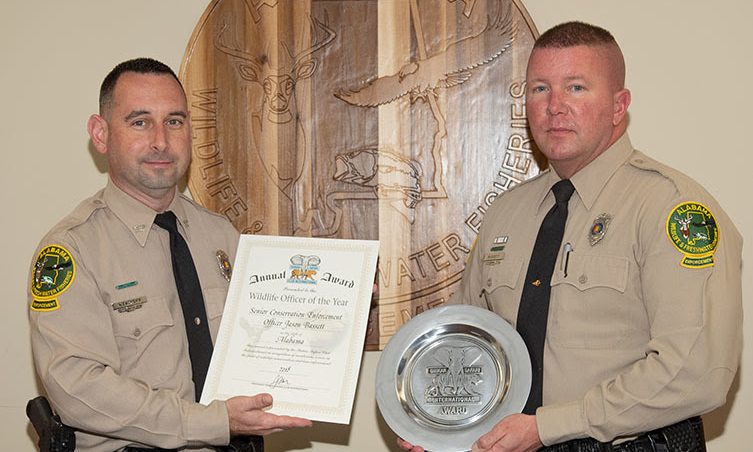 Jason Bassett has been named Alabama Wildlife Officer of the Year by the Shikar-Safari Club International (SSCI).
"What truly sets Officer Bassett apart are his personal qualities," said WFF District Two Law Enforcement Supervisor Lt. Jerry Fincher. "He is loyal to a fault, honorable, level-headed and a true team player. You will never hear Jason boasting. Instead, he'll stand in the shadows of his own accomplishments realizing he is blessed to be a link in the chain of conservation stewardship."
Bassett currently serves as a Senior Conservation Enforcement Officer with the Alabama Division of Wildlife and Freshwater Fisheries (WFF) in St. Clair County.
Each year SSCI honors one officer from each state with the award. Bassett was recently presented with the award at WFF headquarters in Montgomery.
Officer Bassett is credited with routinely making a high number of quality arrests including some unusual cases involving electrofishing and cheating in bass tournaments. Officer Bassett recently played a vital role in stopping the overharvest of game fish in St. Clair County. The case involved the illegal taking of massive amounts of striped and hybrid bass from public waters to be sold in restaurants and fish markets across the Southeast. Bassett hid himself on dams and among rocks to observe and record the illegal activity, while his fellow officers stood by at off-site locations to intercept the violators. Thanks in part to his efforts, regulations are now in place to prevent this type wildlife violation in the future.
Bassett has served the people of Alabama as a Conservation Enforcement Officer for more than 15 years. He has not only prevented hundreds of wildlife violations, he has also saved the lives of some of his fellow officers.
"Every Alabamian may owe Officer Bassett a debt of gratitude, but I owe him much more," said Lt. Fincher. "While eating at a local restaurant with Jason, I became choked. Unable to breathe I could feel myself losing consciousness. He immediately put his first aid training to work by pulling me from my seat and successfully performing the Heimlich maneuver. He saved my life."
While working alongside Bassett, Conservation Enforcement Officer Greg Gilliland became involved in a confrontation which resulted in his arm becoming trapped in a vehicle's steering wheel as the driver attempted to back over him. Rushing to his aid, Officer Bassett pulled both men from the vehicle and made the arrest.
"Officer Bassett's selfless service to his state and his fellow officers is an example for us all to follow," said Chris Blankenship, Commissioner of the Alabama Department of Conservation and Natural Resources. "For these reasons and many more, Jason is very deserving of this award."
Officer Bassett is also a FBI-certified firearms instructor, defensive tactics instructor, Glock and M16 armorer, and a Becoming an Outdoors-Woman instructor. He also serves as an adjunct instructor at the Northeast Alabama Law Enforcement Academy where he teaches firearms and self-defense tactics to new recruits.
SSCI is an international conservation organization that funds and supports a variety of conservation projects and scholarships around the world. In addition to recognizing outstanding officers in wildlife conservation, SSCI also provides a $20,000 death benefit to the officer's family in the event the officer is killed in the line of duty.
The Alabama Department of Conservation and Natural Resources promotes wise stewardship, management and enjoyment of Alabama's natural resources through four divisions: Marine Resources, State Lands, State Parks, and Wildlife and Freshwater Fisheries.
To learn more about ADCNR, visit their website.
There is no catch and release of alligators, except in Lake Eufaula
Alabama is a sportsman's paradise with freshwater fishing, saltwater fishing and even hunting year-round. Hogs and coyotes can be taken all through the month of August. But for the lucky few who drew an alligator tag, August is alligator hunting season.
The Alabama Department of Conservation and Natural Resources Wildlife and Freshwater Fisheries (WFF) Division wants this year's hunt to be safe for the hunters and fair for the game species. The WFF is reminding Alabama alligator hunters that they may not capture an alligator and release it because they prefer a bigger trophy gator.
Tag holders are not allowed to release an alligator after it has been captured. The only exception is the Lake Eufaula Zone where hunters must release any alligator that is less than 8 feet in total length. In all other alligator hunting zones, culling is prohibited by law.
"Many folks who have been going to classes for years and are now getting the training online understand about culling," said WFF director Chuck Sykes. "However, I think some hunters have abused our leniency in enforcing the regulation. We just want to make sure that everybody is aware that culling is not a legal practice. This is not a fishing trip where you practice catch-and-release. This is a cold-blooded animal that expends a great deal of energy during the fight and that could end up as an unexpected mortality."
"When you have 5,000 or so people apply for one of these coveted tags, we don't want people abusing the process and making it look like a catch-and-release fishing tournament," Sykes said. "We just wanted to clarify that culling is not allowed."
This regulation has been in effect since the 2018 Alabama alligator season.
"Just as you don't capture and release any other game animal, hunters are not allowed to practice releasing alligators unless they are hunting in the Lake Eufaula Zone, where there is a minimum harvest length of 8 feet," said Wildlife Section Chief Keith Gauldin. "A captured gator is your gator, so be sure to review the training videos on the website. The videos give you helpful tips on how to judge the size of an alligator."
Gauldin said there is a direct correlation between the distance from the gator's nostrils to its eyes and the total length of the animal. If the distance from the nostrils to the eyes is 10 inches, the estimated total length of the alligator would be 10 feet.
To learn more about alligator hunting and the no culling regulation the WFF has six training videos for hunters and the public to view.
Gauldin said that in the past, the WFF has seen social media posts of hunters capturing alligators, having their pictures taken with it, and then releasing the animal to go pursue a bigger gator.
"We don't want hunters to cause any undue stress on these animals," Gauldin said. "By regulation, an alligator is considered captured once it is secured with a snare around a leg or the head and is secured boat-side and in control. It must be immediately dispatched and the temporary tag applied. We want to stress that before hunters pursue an alligator and throw a hook at it or any of the legal means of catching an alligator, they should view that gator and estimate its size closely. They need to make sure that's the one they want to harvest."
Gauldin said another rule that will be closely enforced this year involves boats providing assistance during the alligator hunt.
"When hunting parties have multiple vessels involved, only the boat with the tag holder can have the capture equipment in it," Gauldin said. "The other vessels that are assisting can only have spotlights, but no capture equipment."
The only approved capture methods are hand-held snares, snatch hooks (hand-held or rod/reel), harpoons (with attached line) and bowfishing equipment (with the line attached from arrow to bow or crossbow).
This not Louisiana, as seen on the TV show "Swamp People" where the hunters tie a chain to a tree and bait it with a pork shoulder. The use of bait is not allowed at all in Alabama.
Gauldin said that WFF's Enforcement Section will be out in full force during the alligator season to make sure that Alabama's hunting regulations are followed.
"There is a high likelihood hunters will be checked by a Conservation Enforcement Officer at least on one of the nights of the season," Gauldin said. "It's a good idea to put all of your identification, hunting license and alligator tag in a Ziploc bag for easy access instead of having to dig it out of your wallet at one o'clock in the morning. Have that ready for presentation when you get checked. It will make it easier for our officers and make for a more timely check for the hunters."
Gauldin warned against drinking and gator hunting.
"We want hunters to have a good time but a safe time," he said. "Combining alcohol and alligator hunting is not a good idea."
Gauldin also warned that everyone on a gator hunt should have a personal flotation device.
"It's a good idea to have that PFD on if the boat is under throttle, especially at night," Gauldin said. "Obstructions are much harder to see at night. We just want them to have a safe hunt."
Alabama has five alligator hunting zones in South Alabama, the traditional range of alligators in the state.
The Southwest Zone has the most tags at 100. The Southwest Zone includes all of Mobile and Baldwin counties north of I-10 and private and public waters in Washington, Clarke and Monroe counties that lie east of U.S. Highway 43 and south of U.S. Highway 84. The 2020 season dates are sunset on August 13 until sunrise on August 16 and sunset on August 20 to sunrise on August 23.
The Coastal Zone will have 50 tags. It was created just last year to address the rising interaction between alligators and people along the Coast, where the WFF receives most of its nuisance alligator complaints. The Coastal Zone includes the private and public waters in Baldwin and Mobile counties that lie south of I-10. The 2020 season dates are the same as the Southwest Zone.
The Southeast Zone has 40 tags this year. It covers the private and public waters in Barbour, Coffee, Covington, Dale, Geneva, Henry, Houston, and Russell counties, excluding Alabama state public waters in Walter F. George Reservoir (Lake Eufaula) and its navigable tributaries. The 2020 season dates are sunset on August 8 until sunrise on September 7.
The West Central Zone will get 50 tags. It includes private and public waters in Monroe (north of U.S. Highway 84), Wilcox, and Dallas counties. The 2020 season dates are sunset on August 13 to sunrise on August 16 and sunset on August 20 to sunrise on August 23.
The Lake Eufaula Zone has 20 tags this year. It includes Alabama state public waters in Walter F. George Reservoir (Lake Eufaula) and its navigable tributaries, south of Highway 208, Omaha Bridge (excluding Eufaula National Wildlife Refuge). The 2020 season dates are sunset on August 14 until sunrise on October 5. The Lake Eufaula Zone is the only zone that allows daytime hunting.
Alabama's alligator hunters consistently harvest between 65 and 70 percent of the available tags.
While Louisiana and Florida may have more alligators than Alabama, the world record was taken in 2014 by Mandy Stokes of Camden. That gator was 15 feet, 9 inches long and weighed an incredible 1,011.5 pounds. The Stokes alligator shocked many people who thought that a gator had to be over 60 years old to be that big. Analysis of the leg bone of the alligator showed that it was only 24 to 28 years old.
The oldest known alligator is Muja who was hatched in a zoo in Germany sometime in the 1930s. In 1937, he was transferred as nearly an adult to the Belgrade Zoo where he has lived for the last 83 years.
August is also the month to renew your hunting and fishing licenses.
Alabama is world renown for the plethora of hunting and fishing options for sportsmen. Whether it is fishing for red snapper, cobia, spotted sea trout, flounder, amberjack, yellowfin tuna or croaker off the Alabama Gulf Coast; hunting for whitetail deer, hogs, coyotes, alligators, raccoon or fox in Alabama's forests; fishing for largemouth bass, crappie, catfish, and bluegill in Alabama's lakes; or hunting sandhill cranes, turkeys, geese, ducks, doves, quail, crows, and other fowl; or small game hunting for squirrels, rabbits, opossum, beaver and nutria, Alabama has an outdoor sport for you.
The SEC college football season has already been pushed back three weeks and shortened by two games due to the coronavirus crisis. Attendance is likely going to be limited to just 25 percent capacity or less if they can somehow manage to salvage the 2020 season. High school and youth sports have never been more dangerous to play due to the coronavirus global pandemic and it is even now dangerous to be in the stands as a spectator.
Hunting and fishing would provide a safe recreational activity the whole family can enjoy where social distancing is actually normal.