Jason Bassett named Alabama wildlife officer of the year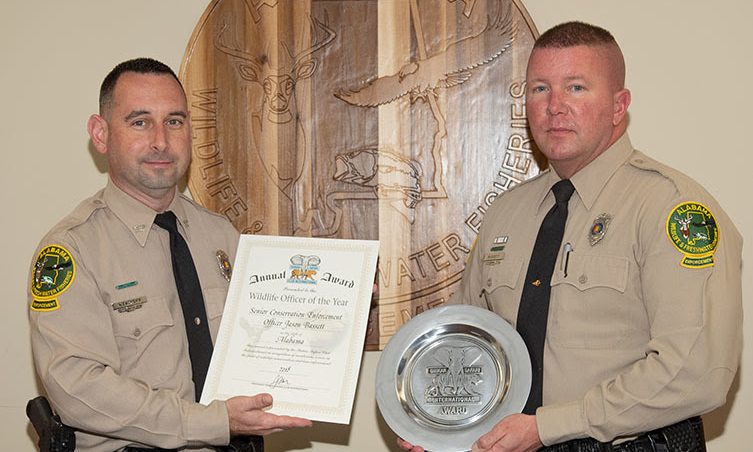 Jason Bassett has been named Alabama Wildlife Officer of the Year by the Shikar-Safari Club International (SSCI).
"What truly sets Officer Bassett apart are his personal qualities," said WFF District Two Law Enforcement Supervisor Lt. Jerry Fincher. "He is loyal to a fault, honorable, level-headed and a true team player. You will never hear Jason boasting. Instead, he'll stand in the shadows of his own accomplishments realizing he is blessed to be a link in the chain of conservation stewardship."
Bassett currently serves as a Senior Conservation Enforcement Officer with the Alabama Division of Wildlife and Freshwater Fisheries (WFF) in St. Clair County.
Each year SSCI honors one officer from each state with the award. Bassett was recently presented with the award at WFF headquarters in Montgomery.
Officer Bassett is credited with routinely making a high number of quality arrests including some unusual cases involving electrofishing and cheating in bass tournaments. Officer Bassett recently played a vital role in stopping the overharvest of game fish in St. Clair County. The case involved the illegal taking of massive amounts of striped and hybrid bass from public waters to be sold in restaurants and fish markets across the Southeast. Bassett hid himself on dams and among rocks to observe and record the illegal activity, while his fellow officers stood by at off-site locations to intercept the violators. Thanks in part to his efforts, regulations are now in place to prevent this type wildlife violation in the future.
Bassett has served the people of Alabama as a Conservation Enforcement Officer for more than 15 years. He has not only prevented hundreds of wildlife violations, he has also saved the lives of some of his fellow officers.
"Every Alabamian may owe Officer Bassett a debt of gratitude, but I owe him much more," said Lt. Fincher. "While eating at a local restaurant with Jason, I became choked. Unable to breathe I could feel myself losing consciousness. He immediately put his first aid training to work by pulling me from my seat and successfully performing the Heimlich maneuver. He saved my life."
While working alongside Bassett, Conservation Enforcement Officer Greg Gilliland became involved in a confrontation which resulted in his arm becoming trapped in a vehicle's steering wheel as the driver attempted to back over him. Rushing to his aid, Officer Bassett pulled both men from the vehicle and made the arrest.
"Officer Bassett's selfless service to his state and his fellow officers is an example for us all to follow," said Chris Blankenship, Commissioner of the Alabama Department of Conservation and Natural Resources. "For these reasons and many more, Jason is very deserving of this award."
Officer Bassett is also a FBI-certified firearms instructor, defensive tactics instructor, Glock and M16 armorer, and a Becoming an Outdoors-Woman instructor. He also serves as an adjunct instructor at the Northeast Alabama Law Enforcement Academy where he teaches firearms and self-defense tactics to new recruits.
SSCI is an international conservation organization that funds and supports a variety of conservation projects and scholarships around the world. In addition to recognizing outstanding officers in wildlife conservation, SSCI also provides a $20,000 death benefit to the officer's family in the event the officer is killed in the line of duty.
The Alabama Department of Conservation and Natural Resources promotes wise stewardship, management and enjoyment of Alabama's natural resources through four divisions: Marine Resources, State Lands, State Parks, and Wildlife and Freshwater Fisheries.
To learn more about ADCNR, visit their website.
Print this piece
Alabama Clean Fuels Coalition joins nationwide call for clean fuels, vehicles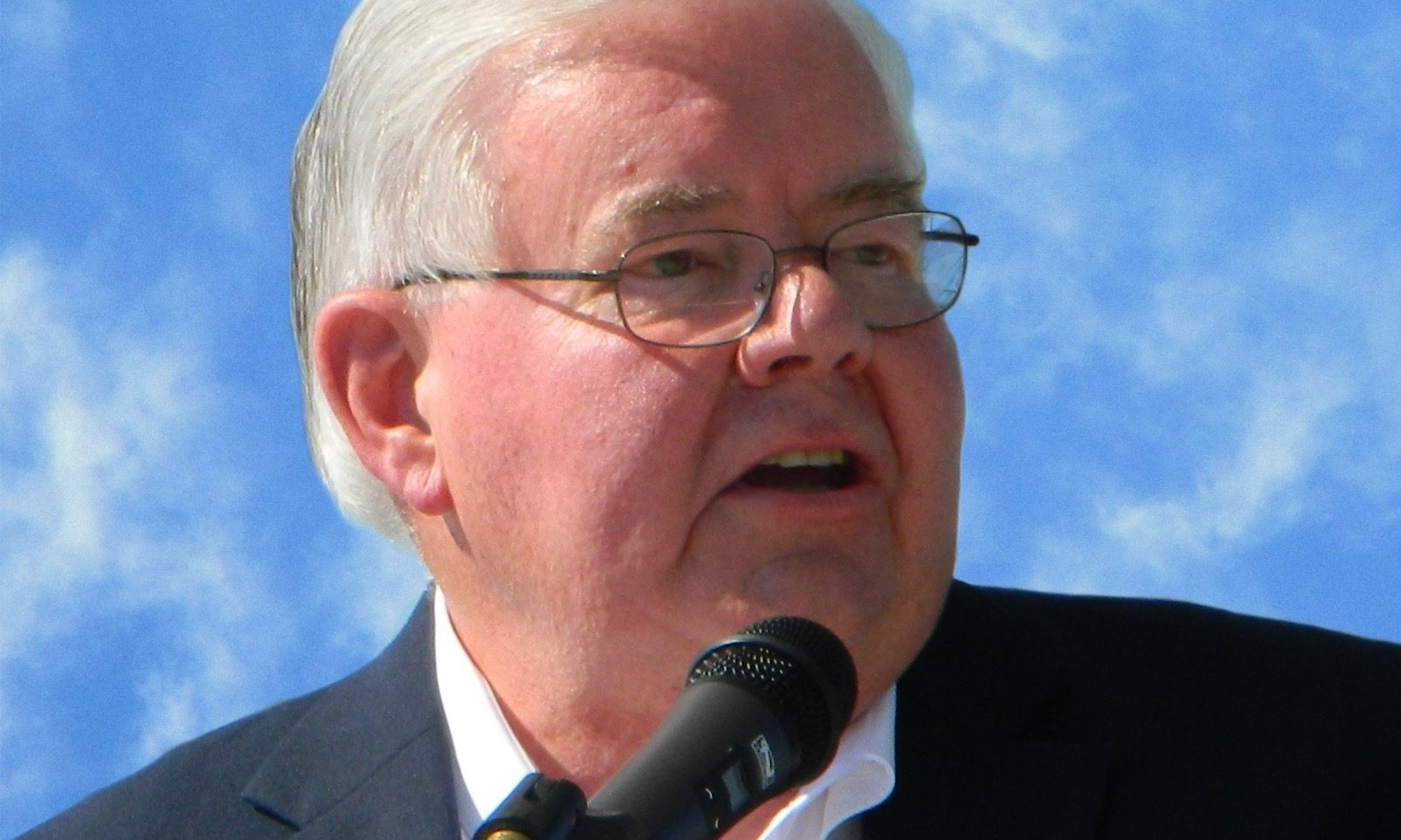 Representatives from the Alabama Clean Fuels Coalition will join clean transportation leaders from across the nation this week in Washington, D.C., to educate federal policy makers about the need to expand America's use of transportation alternative fuels, including biofuels, electricity, natural gas, and propane autogas. Altec Industries will also participate in Energy Independence Summit 2020, the nation's premier clean transportation policy event, on February 10-12.
"Despite the recent drop in gasoline prices, gas prices remain extremely volatile and we continue to send more than $200 billion per year to OPEC and other nations for oil," said Mark Bentley, Alabama Clean Fuels Coalition Executive Director. "We are going to Washington to help our representatives understand that Alabama and the United States must aggressively expand our use of alternatives to petroleum-based fuel if we are to stabilize gas prices, decrease our reliance on foreign oil, and maintain and create domestic jobs in the transportation energy industry."
According to the U.S. Department of Energy, there are about 1.8 million alternative fuel vehicles on the road in the United States and nearly 70,000 alternative fueling stations.
In Alabama a number of clean transportation projects are underway across the state, including:
• Partnering with Clean Cities coalitions in Georgia and South Carolina on a U.S. DOE competitive grant award of $4.6 million! In Alabama, the award will fund the addition of a compressed natural gas (CNG) public fueling station at Clean Energy's liquid natural gas station in Birmingham, add CNG fueling for Waste Management's refuse fleet in Tarrant and add UPS electric delivery vans in Montgomery.
•
The Birmingham
-Shuttlesworth
International Airport
has opened
a public access CNG station on Airport Highway
.
•
Alabama Power has partnered with
more than
40 companies to add "workplace" electric vehicle charging infrastructure across the state
.
•
The Alabama VW Beneficiary Mitigation Plan
has completed the first round of funding, awarding $5.8 million to fund alternative fuel projects, including additional propane school buses in Mobile County, two electric school buses in Fort Payne, an electric waste truck for the City of Mobile and more.
•
Alabama A&M University is adding two electric buses in the summer to provide student transportation
.
•
Birmingham City schools
has joined
Mobile County Schools, Tuscaloosa City Schools, and Franklin County Schools in adding propane autogas
–
powered school buses to their fleets.
Those are just a sampling of the clean transportation projects underway in Alabama.
Transportation Energy Partners (TEP), the Summit organizer, reports that Summit participants will have the opportunity to interact with top Administration officials, including leaders from the Departments of Energy, Transportation, and the U.S. Environmental Protection Agency. In addition, Summit participants will take their message about the need for ongoing federal support for alternatives to petroleum-based fuels to more than 200 Congressional offices.
"American industry has demonstrated the ability to produce high performing technology to meet the demand for cleaner fuels and vehicles," said Alleyn Harned, President of Transportation Energy Partners. "However, insufficient and inconsistent government incentives and support hinder companies' ability to make the long-term investments required to sustain these clean transportation solutions. We need stable and predictable federal investments to enable fleets and technology developers to make sound long-term planning and investment decisions."
About the Alabama Clean Fuels Coalition: The Alabama Clean Fuels Coalition (ACFC), is a nonprofit membership-based organization and is the state's principal coordinating point for alternative fuels and advanced technology vehicles. ACFC is a designated Clean Cities coalition by the U.S. Department of Energy. The promotion of clean, renewable, domestic energy sources helps reduce our dependence on foreign oil, improves local air quality, and increases economic development investments in our local communities. For more information, please visit www.alabamacleanfuels.org or call 205-402-2755.
About Transportation Energy Partners: Transportation Energy Partners (TEP) is national non-profit organization that brings Clean Cities coalition leaders together with the clean transportation industry to advance policies that will reduce American dependence on petroleum-based fuels. TEP works closely with and provides policy support to the nearly 90 Clean Cities coalitions and their 15,000 stakeholders in 45 states andthe District of Columbia. Since 1993, the Clean Cities coalitions have played a leading role in implementing local programs and projects to deploy alternative fuels, vehicles, and infrastructure. The Clean Cities coalitions and their stakeholders have displaced more than 9.5 billion gallons of petroleum through the use of alternative fuels and vehicles, hybrid-electric vehicles, idle reduction technologies, fuel economy, and low-level fuel blends.
Print this piece