Alabama advances to National Championship game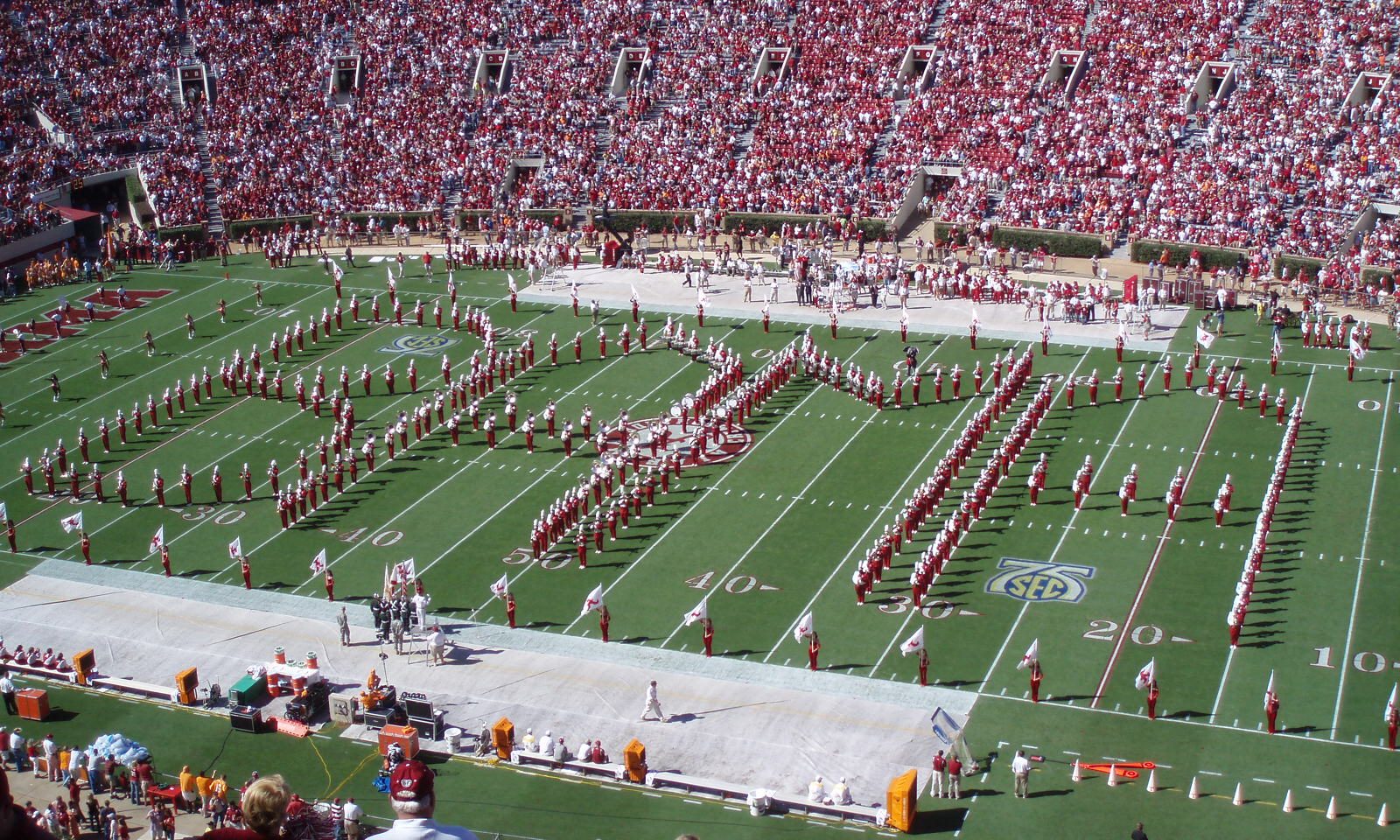 On Saturday, the University of Alabama football team defeated the University of Oklahoma football team in the college football playoff semifinals to advance to the college football national championship game. The Tide will play Clemson, who defeated Notre Dame in the other semi-final.
Alabama won the game in the Orange Bowl in Miami by the score of 45 to 34.
Alabama jumped out to a 28 to 0 lead early in the second 11 quarter. Oklahoma got within 11 points a few times; but Alabama never trailed. Alabama star quarterback Tua Tagovailoa threw for 318 yards and four touchdowns.
Coach Nick Saban has won six national championships in his career and if he wins his seventh would pass legendary Alabama Coach Paul "Bear" Bryant.
This is the fourth year in a row that Alabama has played Clemson in the playoffs.
Alabama defeated Clemson in the semi final game a year ago. Clemson defeated Alabama in the national championship game two years ago; after Alabama defeated Clemson in the national championship game three years ago.
Clemson head football coach Dabo Swinney is a former Alabama football player, who began his coaching career at Alabama as an assistant coach. It was obvious even before the season that Clemson and Alabama were both on paths to be in the final four. Both teams went through their season's undefeated and both won their conference championship games before easily besting their semifinal opponents.
The number one and number two teams in the country both replaced the quarterbacks that started last year's playoff run with more talented underclassmen. At Alabama, last year's backup quarterback freshman Tua Tagovailoa replaced starter Jalen Hurts at halftime in the national championship game. At South Carolina, starter Kelly Bryant was benched during this season for talented freshman Trevor Lawrence. After Hurts lost the quarterback competition, he remained with the Alabama program, played in several games, and even came off the bench to lead Alabama from behind in the SEC Championship game against Georgia. Bryant quit the program immediately after Lawrence was named the starter.
While Alabama and Clemson football fans are excited that their programs are the two best in college football; the national TV viewing public was not as excited. Television ratings were down significantly from last year. The Cotton Bowl and Orange Bowl on Saturday night posted significantly lower television ratings than the Rose Bowl and Sugar Bowl did on January 1, 2018 last year. Clemson's Cotton Bowl win over Notre Dame had a 10.3 overnight television rating; while Alabama's Orange Bowl win over Oklahoma had a 10.4 rating. Last year, the Rose Bowl matchup of Georgia and Oklahoma had a 14.8 rating while Alabama's defeat of Clemson in the Sugar Bowl posted a 12.5 rating. Of course, last year's two games were a whole lot more competitive which likely also played a factor. The inexplainable decision by the people that run college football to move the games from the traditional New Year's Day to December 29 likely also was a factor in the ratings plunge. Another factor is that less than 75 percent of American households still subscribe to ESPN, according to Nielson. Fox Sports TV and radio commentator Colin Cowerd said that college football, "Had become too regional" and that the sport needed elite teams west of Denver and in the Northeast.
Despite the criticism, College football remains the most popular support in the state of Alabama and Tide fans will undoubtedly be watching Alabama vs. Clemson IV.
The National Championship game will be played on Monday, January 7. The game is at Levi's Stadium in Santa Clara, California. The game will be broadcast on ESPN at 7:00 p.m. Chris Fowler, Kirk Herbstreit, Maria Taylor and Tom Rinaldi will provide TV coverage for the network.
(Original reporting by Yahoo Sports contributed to this report.)
Alabama reports 1,750 new COVID-19 cases ahead of July 4th
The seven-day average of cases per day surpassed 1,000 for the first time Friday.
Heading into the Fourth of July holiday weekend, Alabama is reporting more cases of COVID-19 than ever before as hospitalizations continue a worrisome surge and the state's death toll rises.
Since the first coronavirus case was identified in Alabama on March 30, 41,362 Alabamians have tested positive for COVID-19, according to the Alabama Department of Public Health.
The state reported at least 1,758 positive cases on Friday alone, the most since the pandemic began. In the past seven days, 7,645 cases have been reported, the most of any seven-day period since the pandemic began.
The seven-day rolling average of new cases — used to smooth out daily variability and inconsistencies in case reporting — surpassed 1,000 for the first time Friday.
Ahead of the holiday, the Alabama Department of Public Health is urging Alabamians to celebrate at home due to the coronavirus crisis.
On Friday, the Alabama Department of Public Health announced that another 22 Alabamians have died from COVID-19 just in the last 24 hours. That takes the state's COVID-19 death toll to 983. Of those, 96 died in the last week alone (June 27-July 3).
A few simple steps can greatly reduce your chances of being exposed and exposing others to COVID-19. Everyone should practice good hygiene, cover coughs and sneezes, avoid touching your face and wash hands often. Avoid close contact with people who are sick, even inside your home, and maintain a distance of at least 6 feet from others not in your household.
The use of cloth face coverings or masks when in public can greatly reduce the risk of transmission, particularly if the infected individual wears a mask. Many people are contagious before they begin to show symptoms — or may never develop symptoms but are still able to infect others.
Alabama reported an additional 22 deaths Friday, bringing the state's COVID-19 death toll to 983, according to the Alabama Department of Public Health.
Of those, 96 died in the past seven days alone, or roughly 10 percent of the state's total death toll. In the past 14 days, 171 people have died, or roughly 17 percent of the state's death toll.
Even as the number of tests also increases — at least 430,000 have been tested — a larger percentage of tests are coming back positive compared to any other time period, according to the Department of Public Health and APR's tracking.
Roughly 15 percent of tests in the past week have been positive.
The large increases come as Alabama Gov. Kay Ivey on Tuesday extended the current "safer-at-home" public health order, which was set to expire Friday, to July 31.
The number of individuals hospitalized with COVID-19 is also at a new high, with at least 843 people hospitalized with the virus on July 2, the most since the pandemic began.
On Monday, in Jefferson County, where cases are increasing rapidly, residents were ordered to wear masks or cloth face coverings in an attempt to slow the spread of the virus. On Tuesday, the city of Mobile also began mandating masks or face coverings. The cities of Tuscaloosa, Montgomery and Selma have also implemented face covering orders.
Of the 7,645 cases confirmed in the last week, 1,321 — or roughly 17 percent — were reported in Jefferson County alone. Nearly 28 percent of Jefferson County's 4,802 total cases have been reported in the last seven days. Since March, 152 people have died in Jefferson County.
A campaign rally for President Donald Trump that was planned for Mobile on July 11 has been canceled because of the rapidly worsening coronavirus situation there. Mobile County has had 633 newly diagnosed cases in the last week, or roughly 8 percent of the state's cases this week. Mobile County has had a total of 3,904 cases and 134 deaths over the course of the pandemic.
Montgomery County reported 426 newly diagnosed cases in the last week. Overall Montgomery has had 3,947 total cases and 104 deaths thus far.
Tuscaloosa County has 393 new cases this week. The surging number of cases in Tuscaloosa and Lee Counties — where 276 tested positive this week — could potentially put the 2020 college football season in jeopardy. Tuscaloosa has had a total of 2,188 cases and 42 deaths, while Lee County has a total of 1,302 cases and 37 deaths.
Despite making it through several months with relatively moderate increases, Madison County is also experiencing a surge of new cases in recent weeks — with 407 cases in the last week alone. Madison has had 1,271 cases and seven deaths.
Many people are flocking to the beach for the Fourth of July holiday, where the coronavirus is also surging in Baldwin County with 328 new cases in the last seven days. Baldwin had been largely spared to this point with 828 cases in total and nine deaths. This week's increase accounts for 40 percent of the county's total case count.
Alabama is not alone in seeing surging case numbers. Forty of the 50 states reported rising coronavirus cases in the last week. On Thursday, 57,236 new cases were diagnosed and 687 Americans died. The U.S. death toll from the global pandemic has risen to 131,823.
Globally, there have been 11,092,229 cases diagnosed, though the real number is likely much higher. At least 526,450 people have died from COVID-19, and, with 208,860 new cases diagnosed on Thursday alone, there is no sign that this global pandemic will be over any time soon.