Jones supports efforts to address student loan debt for people of color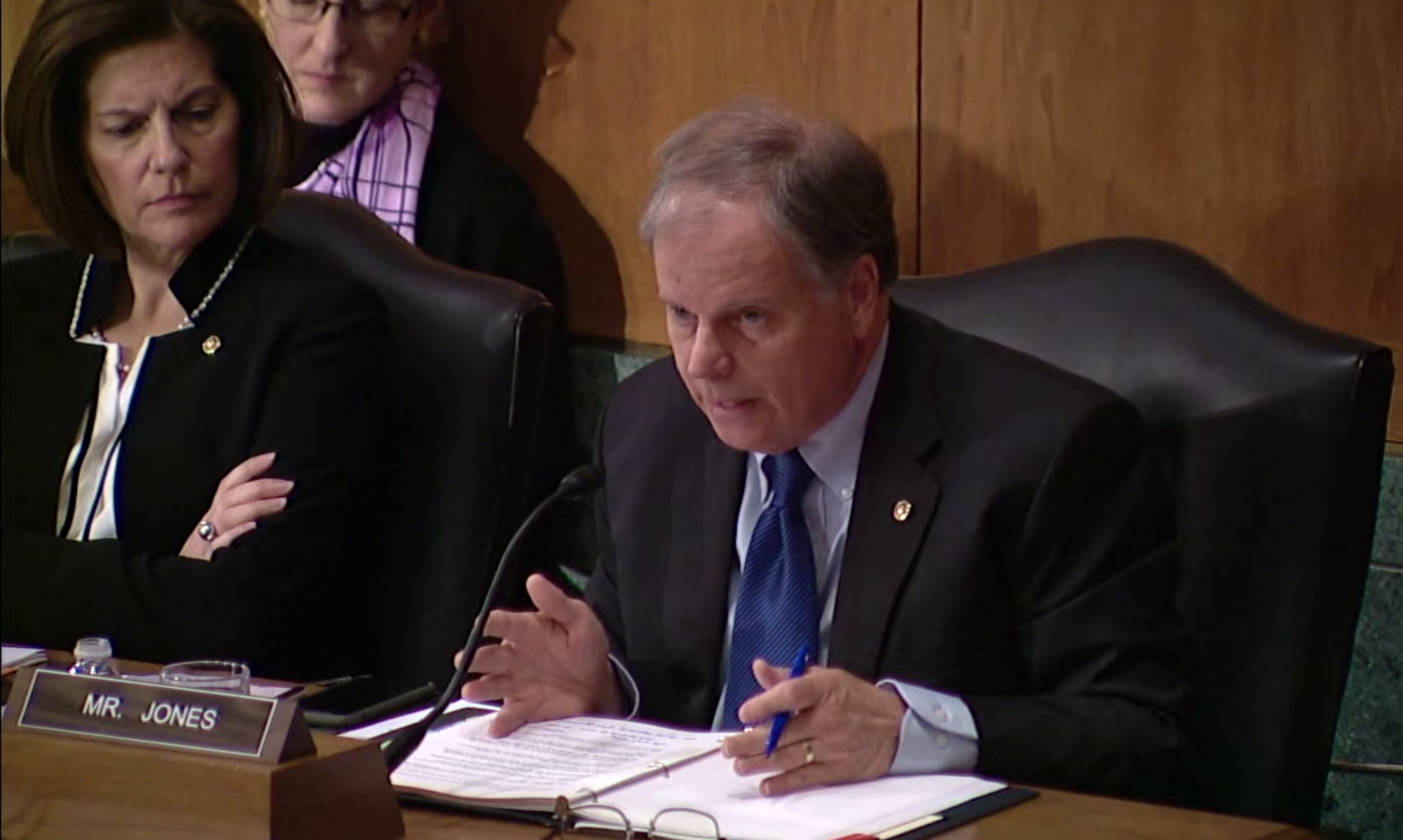 U.S. Senator Doug Jones, D-Alabama, led a letter to over 100 key stakeholders nationwide to solicit feedback that can help improve federal policies for student borrowers of color and make access to higher education more equitable.
Stakeholders receiving the letter included experts in education policy and leaders in business, advocacy, academia, civil rights, consumer protection, and women's issues. Senators Catherine Cortez-Masto (D-New Mexico), Kamala Harris (D-California), and Elizabeth Warren (D-Massachusetts) co-signed the letter.
The senators wrote, "Students of color are more likely to borrow, borrow in greater amounts, and are less likely to be able to pay down their debt than their white peers – even if they graduate. This disproportionate debt burden can cause significant financial distress and affect their ability to build their path to the middle class, a key goal of the federal financial aid investment."
"African-American and Latino students still owe more than 100 percent of their loan balance after 12 years of college entry, even if they complete a degree," Jones and the other Senators and stakeholders wrote. "White students, meanwhile, owe anywhere between 47 to 70 percent of their loan balance depending on the credential they obtained. Even among bachelor's degree graduates, the African-American-white debt gap more than triples after graduation, due to differences in interest accrual, graduate school borrowing, and ongoing deeper issues related to labor market discrimination, racialized economic hardships, and familial wealth."
"These outcomes are staggering and unacceptable," the letter continued. "As members of Congress, we are committed to doing better for these students and ask for your assistance in defining specific proposals the federal government can take to address these disparities."
Senator Jones is hosting an HBCU Summit in Birmingham on February 1 to discuss this issue and others impacting Historically Black Colleges and Universities (HBCUs). The Summit will provide a forum for students, educators, and administrators to exchange information and ideas to strengthen these educational institutions.
Senator Jones supported securing a 14-percent increase in federal resources for HBCUs in the March 2018 omnibus spending bill and introducing legislation to permanently extend and increase federal funding for MSIs.
Doug Jones is a former U.S. Attorney who was elected to the Senate in a special election in 2017 where he defeated Chief Justice Roy Moore (R). Jones served as an aid to former U.S. Senator Howell Heflin (D-Alabama). He was appointed U.S. Attorney by then President Bill Clinton (D).
According to the Federal Reserve, the American people are carrying over $19 trillion in personal debt. Of that $1.6 trillion is student loan debt.
Clean water advocates want a comprehensive water plan for Alabama that creates jobs
Under new leadership, a plan for preserving clean water and fair access to it may be within reach in Alabama.
Environmentalists are optimistic about making progress on water resource issues and the state's climate change preparedness under the incoming administration of President-elect Joe Biden and next Congress, particularly because the president-elect is indicating that economic gains go hand-in-hand with protecting the environment.
"It's really exciting to see the Biden administration put jobs in the same conversation with their climate and environmental policies, because for too long there has been that false argument that jobs and the environment don't go together — that you can't have a regulated business sector and create jobs," said Cindy Lowry, executive director of Alabama Rivers Alliance.
On a recent post-election call with other advocates, Lowry said that the current policy outlook reinforced the importance of voting. There have been some steps forward for conservation during the presidency of Donald Trump, she said, like the president's signing of the Great American Outdoors Act in August, but the administration has prioritized industry interests.
Under new leadership, a plan for preserving clean water and fair access to it may be within reach in Alabama.
"We have spent so much time and energy as a movement trying to defend and basically just hold the line against so many of the rollbacks, and now we can focus on moving forward on certain areas," Lowry said.
Julian Gonzalez, a clean water advocate with the nonprofit Earthjustice in Washington D.C., said on the call that the incoming Congress will be the "most environmentally aware Congress we've had." Still, the real work remains.
"Everything needs to be one conversation, and you should be able to go call your Congressperson and say, 'How are you going to fix America's water problem?' and they should have an answer, but right now that's not the case," Gonzalez said.
For Alabama's water advocates, priorities are what to do with coal ash, how to prepare for droughts and flooding, improvements to water and wastewater infrastructure and providing relief to communities that have been affected by environmental degradation.
While production of coal ash has reduced due mostly to market-driven decreases in the burning of coal, enough facilities still use it that Alabama is developing its own permitting process and regulations for storing it. The Biden administration can provide leadership on the issue, Lowry said.
While many people associate water issues with drought, Lowry said the topic encompasses much more than that. Pipes that contain lead need to be replaced. There's plenty of water, she said, but the state needs a comprehensive water plan that prepares communities for drought management, especially as more farmers use irrigation, which uses more water.
Her organization has been working toward a state plan that can ensure fair access to water without depleting the environment of what it needs to remain stable.
With the increased frequency and intensity of storms being attributed to climate change, water infrastructure will need to be upgraded, Lowry said. Many communities rely on centralized treatment centers to handle their wastewater, and many of those facilities are overburdened and experience spills. Storms and flash floods push old pipes and at-capacity centers past their breaking points — pipes leak or burst and sewage pits overflow.
Lowry said that there has been some progress in recent years on funding infrastructure upgrades in communities and states. It's a more bipartisan conversation than other environmental issues, and communities that have been hit hard by multiple storms are starting to have new ideas about how to rebuild themselves to better withstand the effects of climate change.
Still, Alabama's preparedness efforts are all reactionary, which is why a comprehensive water plan is a priority, she said.
"Policies like that — proactive policies that are really forward-thinking about how we will make decisions if we do run into challenges with our environment — are something that this state has not been very strong on," she said.
Lowry hopes for more emphasis on environmental justice, with official agencies working more with local municipalities to provide relief to communities hurt by pollution and weather events. Such problems are characteristic of the Birmingham area, where Lowry is based, and the Black Belt.
She wants to see stronger permitting processes for industry projects and easier access to funding for cleanups in communities that need them. North Birmingham activists have been trying for years to get a Superfund site there on the Superfund National Priorities List.
There is no one-size-fits-all solution to address these problems, Lowry said. Having multiple avenues for access to funding is important so that all communities have options. Smaller communities can't always pay back loans, so they need access to grants.
Lowry emphasized that new jobs must be created without exacerbating climate change. Although Alabama tends to look to heavy industry for economic gains, she said she's hopeful that a different approach by the Biden administration will trickle to the state level.
Lowry also said that conversations about climate change in Alabama have to be put in terms of what is happening in Alabama.
For her and other environmentalists working in the Deep South, it's all about relationships and establishing trust. The environment becomes a less partisan issue when you focus on the basics, she said, because everyone wants clean water.
"I've found it much more easy to have conversations with elected officials at the state level in places like Alabama, where people do kind of grow up a little closer to nature and conservation, and [by] just kind of meeting people where they are," Lowry said.