Alabama Republicans support Trump's call to increase border security with a wall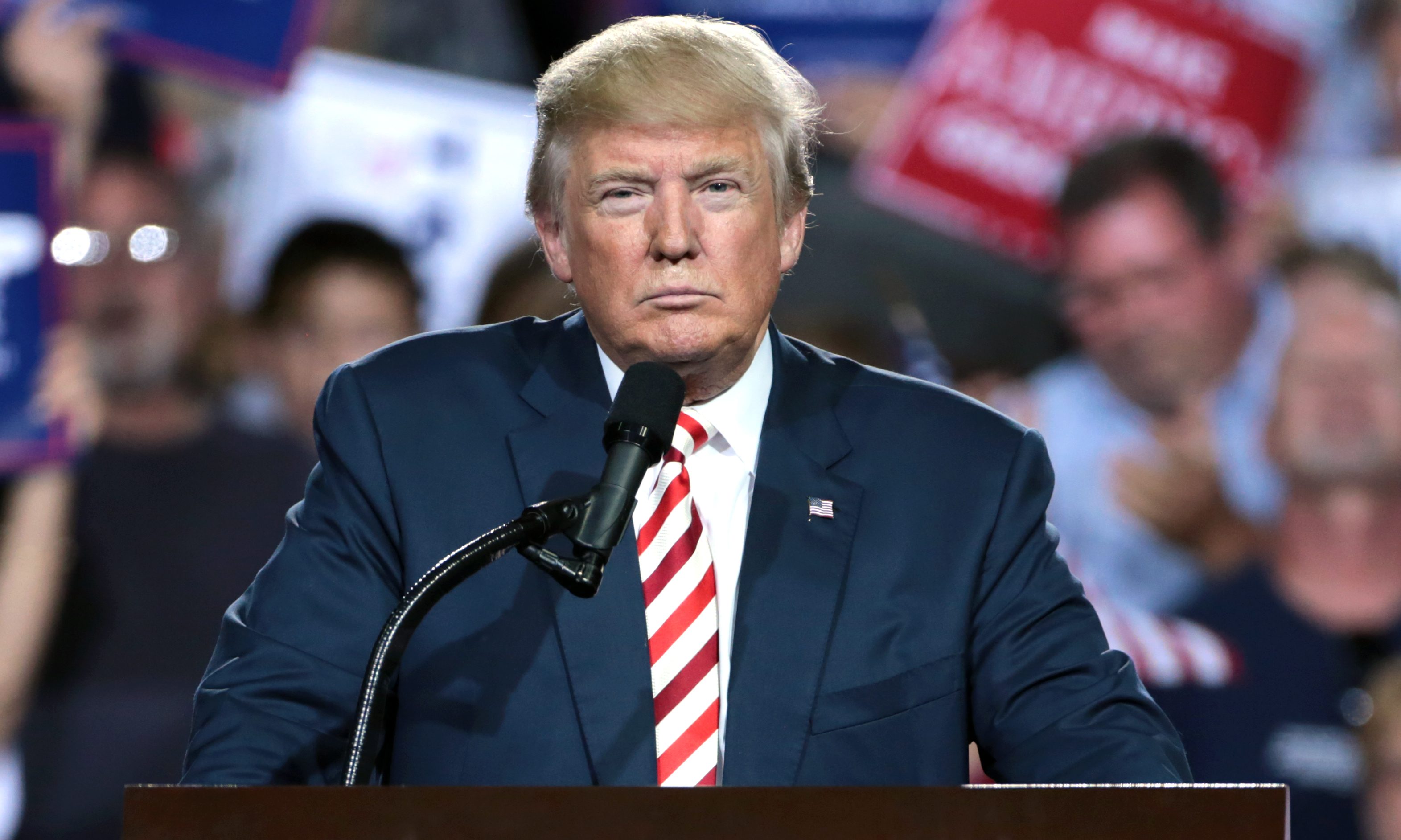 President Donald Trump addressed the nation Tuesday, urging for increasing border security through the construction of a border wall. The President's remarks were greeted with praise from Alabama's Republican leaders.
Alabama Republican Party Chairman Terry Lathan released a statement following President Trump's first Oval Office address to the nation.
"The Alabama Republican Party fully supports President Trump and our U.S. Republican congressional delegation in their efforts to keep our borders secure," Chairman Lathan said. "Our president gave a firm and factual account of the current crisis at our southern border. Our lack of strong border security has resulted in criminal gangs, drug smugglers and human traffickers pouring into our country and causing unimaginable pain and suffering for many. This is NOT a manufactured crisis. President Trump has a clear purpose- control our borders and ensure our immigration laws are properly followed so Americans can remain safe."
"Unfortunately, the Democrat response comes as no surprise-obstruct this president for political points or else," Lathan continued. "The Democrats are on the record calling for border security in the past. Why are they now completely reversing their stance? This is nothing more than a desire to stop President Trump. We call upon Senator Doug Jones to stand with Alabamians first to tighten and secure our nation's borders. It is time to choose: obstruction or construction. We are truly grateful for our border control agents and law enforcement officers for doing their best to protect our nation. We stand with them."
Congressman Bradley Byrne (R-Montrose) said, "I've said repeatedly that ensuring the safety of the American people and the security of our borders is a fight worth fighting, and I applaud President Trump for his strong leadership in this fight. There is a humanitarian and security crisis on the border, and we must address this crisis. Democrats need to stop their petty political games and start negotiating with President Trump so we can protect the American people, secure our borders, and reopen the government."
Congressman Robert Aderholt (R-Haleyville) said, "President Trump's request for funding to build a wall along our southern border is not only reasonable, it is desperately needed. There is nothing "immoral" about a nation choosing to protect its borders and thereby protect its sovereignty."
"What is immoral is to continue to allow a constant stream of drug traffickers, and human traffickers into the country," Aderholt continued. "It is immoral to allow this unlawful door to remain open, because it encourages adults to put their children in grave danger – both from illness and from the strangers who transport them," Rep. Aderholt continued. "I fear that many of my Democrat colleagues are willing to set aside the laws of our land, and that is what we are talking about: immigration is governed by laws, to ensure fairness and safety. Many Democrats are willing to set aside these laws, and turn a blind eye to the dangers coming into our nation, for the prospect of future electoral gains. I urge my colleagues in Congress to fund the border wall and to reopen our government."
Congressman Mike Rogers (R-Saks) said, "I believe the Democrats are playing a dangerous game of petty politics with our national security. They are completely ignoring the crisis at our Southwest border. I continue to stand with Donald J. Trump. We must #BuildtheWall."
"The arrest of illegal immigrant and drug trafficker Amancio Betancourt Martinez for the rape of a young girl is another grim reminder that failure to secure the border and enforce the law is having horrible consequences," Congressman Gary Palmer (R-Hoover) said. "It is incomprehensible that Democrats continue to oppose securing the borders to protect all Americans from criminal acts by people who are here illegally, and also from the influx of deadly drugs such as fentanyl and possibly terrorists. Going forward, Congress cannot compromise on our national security and must prioritize the safety of the American people."
"Here is yet another needless and entirely avoidable American death at the hands of an illegal alien," Congressman Mo Brooks (R-Huntsville) said. "22-year old Pierce Kennedy Corcoran of Knoxville, Tennessee might still be alive today if it weren't for weak border security and immigration enforcement policies. I'll continue to beat the drum on this issue as long as open borders Democrats continue to place the interests of illegal aliens above the interests of American citizens."
Meanwhile the nation remains on shutdown with no end in sight. President Trump is asking for $5.7 billion to build a border wall.
Ainsworth returns to work after testing positive for COVID
Ainsworth's office on Sept. 21 announced he had tested positive earlier that week, having been tested after someone in his Sunday school class tested positive for the disease. 
Alabama Lt. Gov. Will Ainsworth on Wednesday announced that he was returning to work that day and had met public health requirements for quarantining after testing positive for COVID-19 some time last week.
Ainsworth's office on Sept. 21 announced he had tested positive earlier that week, having been tested after someone in his Sunday school class tested positive for the disease. 
"While many have battled with coronavirus, my symptoms never progressed beyond some mild congestion that I usually experience with seasonal allergies," Ainsworth said in a statement. "During the quarantine period, I participated in several Zoom calls, caught up on some office work, spent some quality time with my family, and completed a number of overdue projects on my farm."
Members of Ainsworth's staff who were in close contact with him haven't tested positive for COVID-19 but will remain in quarantine for a full 14-day period as a precaution, according to a press release from Ainsworth's office Wednesday. 
"Ainsworth once again urges all Alabamians to practice personal responsibility, which may include wearing masks, maintaining social distancing whenever possible, and taking other precautions to lessen chances of exposure to COVID-19," the press release states.
Ainsworth still disagrees with Gov. Kay Ivey's statewide mask mandate, he said. According to the release, he considers such orders "a one-size-fits-all governmental overreach that erodes basic freedoms and liberties while removing an individual's right to make their own health-related choices." 
The wearing of cloth or medical masks has been proven to inhibit the spread of COVID-19 and the more people who wear masks, the better. While not perfect, masks limit the spread of respiratory droplets that may contain infectious virus shed from the nose and mouth of the mask wearer.
It is possible — even likely — for symptomatic, pre-symptomatic and mildly symptomatic people to spread the virus. That's why it's important to wear a mask even when you're not sick.
Cloth masks offer only minimal protection from others who are not masked, meaning that masks are not simply a matter of personal safety but safety of others. Masks are also only effective when worn over both the mouth and the nose. [Here's a guide on how to wear masks properly.]
Dr. Deborah Birx, coordinator of the White House's coronavirus task force, told Ivey after she announced the statewide mask order that it was a "brilliant" idea. The order has been credited by Alabama infectious disease experts as having dramatically reduced the number of cases, hospitalizations and deaths in the weeks after the order went into effect. 
Dr. Don Williamson, president of the Alabama Hospital Association, told APR on Tuesday that from personal observation he is seeing more people not wearing masks, or wearing them improperly, and said the state could dramatically reduce the risk of COVID-19 if the public regularly wore masks and wore them properly.
Hospitalizations of COVID-19 patients in Alabama on Monday crossed the 1,000 mark for the first time since Aug. 31 — a sign that Alabama may be headed for another peak in hospitalizations as the state prepares for winter and flu season.