Rep. Mac McCutcheon re-elected speaker of the House
Tuesday, the 2019 Alabama legislature met for the organization session for the new quadrennium. The new legislature was formally sworn in and elected its leadership for the next four years.
State Rep. Mac McCutcheon, R – Monrovia, was elected as Speaker of the House for another four years without any opponent. McCutcheon was nominated by State Representative Connie Rowe, R-Jasper, and Rep. Arnold Mooney, R-Indian Springs, seconded the motion.
Rep. Rowe said that McCutcheon came into the Speaker's office, "Under difficult and highly publicized circumstances."
Rowe praised the job that McCutcheon has done and added, "For all of us God has a plan and Mac has found his mission."
The House overwhelmingly voted to elect McCutcheon and he was sworn in by Speaker of the House Emeritus Seth Hammett (D). McCutcheon thanked the legislature for his election.
"Let me begin by thanking you for the trust and confidence you have placed in me with this election as Speaker of the House," Speaker McCutcheon said. "Since first assuming this office a few years ago, I have tried hard to preside in a manner that is as fair and impartial as the good Lord above will allow me. You have my promise that the same fairness and impartiality will be in evidence over the next four years."
"Before I became Speaker, I served as the House Rules Chairman, a position that I enjoyed," McCutcheon continued. "It was also one that taught me a deep respect for the legislative process and instilled in me a determination to let it work as it was intended. As a legislator you have two choices before you. You can choose to be guided primarily by your own ambitions, desires, and personal interests, or you can choose to be led by a desire to make Alabama a better place for the constituents you represent."
"In other words, you can choose to be a flash in the pan, or you can build a lasting legacy of goodwill, trust, integrity, and sound policy," McCutcheon added. "I've made my decision and hope you make the same choice. The members in this chamber will not always agree on everything, and there will be moments of tension and discord. At those difficult moments, do not turn your back and walk away in anger. Instead, come to the table, negotiate in good faith, and help work out the differences."
"To the new members who will cast their first vote today, let me give you a piece of advice. It's the key to success in this body, and it can be summed up in one word – relationships," McCutcheon said. "Get to know your fellow members, develop a foxhole friendship during the legislative battles that are sure to come, always have their back and ask that they always have yours in return. If you develop these relationships, do your homework on the issues, and ask questions you think are in need of being asked during debates – you will be successful in this body. "
McCutcheon emphasized his intent to raise money for infrastructure improvements.
"I want this quadrennium to be defined by four simple words – Building a better Alabama," McCutcheon continued. "That's not just a phrase. It's not just a goal. I want it to be our mission. Our state is already great in many ways, but we are going to use the next four years to literally build a better Alabama for all of its citizens. Building a better Alabama means building better roads and better bridges so Alabamians can travel safely and conveniently and businesses can transport their goods without needless delay. Our sister southeastern states have already taken action to address their transportation needs, and we will quickly fall behind them if we do not act now."
"Building a better Alabama means building an even better economy with even more jobs and opportunity so every individual who is able to work can work," McCutcheon told the members. "Alabama already ranks among the nation's leaders in industrial recruitment and job growth, but I believe we can do even better. Building a better Alabama means building a better education system so all of our children and grandchildren can reach their full potential and one day compete for high-paying, long-lasting 21st Century jobs. Building a better Alabama means building a better standard of ethics that embraces commonsense guidelines while ensuring officials who violate the public trust feel the firm hand of justice and the sharp pain of punishment. The items I have outlined offer us a difficult, complicated, and ambitious mission, but as I look out at all of you today, I am confident it is one we can accomplish together. So let us all agree – Republican and Democrat alike – that the mission to build a better Alabama begins right here, right now, in this chamber."
"In closing, let me say that I am a man of faith and grace," McCutcheon concluded. "I believe each of us has been put in a position of leadership to accomplish God's will, and each one of us has been chosen for a purpose. We are here to govern with honor, and we are here to follow the rule of law. We are here to serve the people of Alabama to the very best of our abilities…so help us God. Thank you for this honor you have given me today."
Rep. McCutcheon was elected 98 to 1. Rep. Mary Moore, D-Birmingham, was the lone "No" vote.
The Republican Party has a commanding 77 to 28 super majority following the 2018 election.
McCutcheon was first elected Speaker of the House in July 2016 after Speaker of the House Mike Hubbard, R-Auburn, was forced to vacate the position following his conviction on twelve felony counts of violating the state's ethics law.
McCutcheon is a retired law enforcement officer.
The 2019 regular legislative session will begin in March.
Pro-Growth Conference kicks off with Doug Jones, discussions on COVID impact and a living wage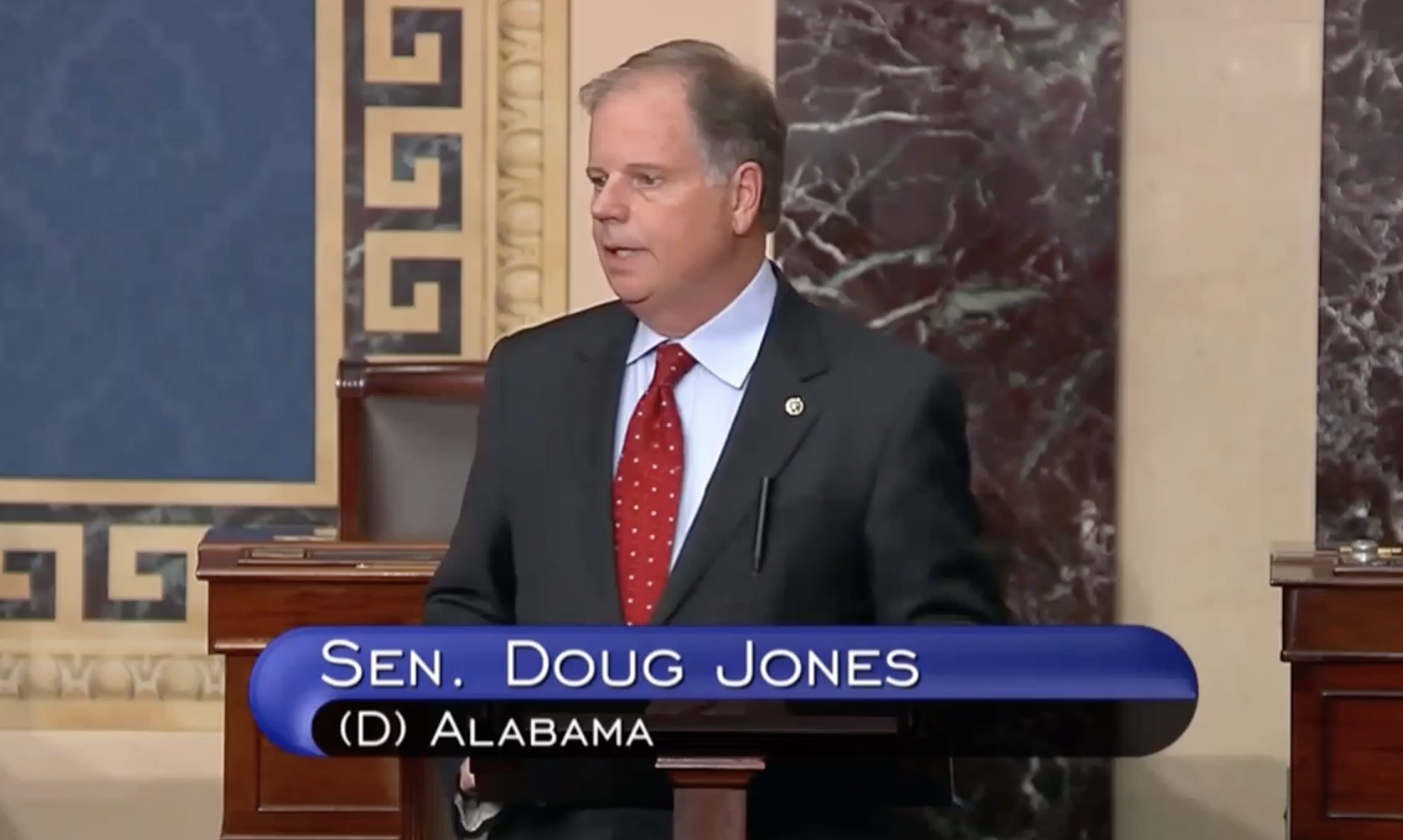 What happens if you just give impoverished citizens $500 per month — no strings attached? Good things, it turns out. The people use that income to buy food, medicine and basic necessities for life. They take a day off work if they're sick and actually get treatment. They quit a second, hourly-wage job that they are overqualified for and instead work towards obtaining a better, higher-paying primary job. 
These are things that the city of Stockton, California, has learned in its year-long living wage program.
The program, while limited in size — only 125 people — has proven to be a larger success than city officials had hoped, and it has opened their eyes to a new, more proactive style of governance, Stockton Mayor Michael Tubbs told Alabama elected officials. 
Tubbs was the featured speaker on Tuesday at the first day of the Pro-Growth Policy Conference, a three-day forum for Alabama elected leaders with guest speakers from around the country offering tips and best practices. 
The first day of the conference began with an opening talk from Sen. Doug Jones, who pressed the need for Medicaid expansion and how expansion has aided other red states. Jones also highlighted the need for broadband expansion and talked about a bill he has in the Senate that would create a broadband main office and dish out about $20 million in money for affordable access.
"Now (with COVID), we know how needed it really is," Jones said. "We see the homework gap that we have. We know there's a need for more telemedicine. My bill would consolidate in one office all of the monies for broadband … and provide affordable access."
Jones said the current COVID pandemic has highlighted just how badly we need better access to broadband in Alabama, and a major area of concern right now is healthcare. 
Highlighting that point, Brandon Garrett, the chief operating officer of the National Minority Quality Forum, and Dr. LaTasha Lee, the vice-president of social and clinical research, demonstrated the many ways in which inequality in health care and health care options is harming impoverished communities. 
A number of factors play into that inequality, but a lack of access to updated means of communication and tools is one of the biggest. 
"(Dr. Martin Luther King Jr.) said that, 'Of all the forms of inequality, injustice in health care is the most shocking and inhumane because it results in physical death,'" Lee said. "That's what we're seeing currently with COVID-19 and sickle cell disease. These two diseases are affecting the minority community and causing death, and they make a great argument that such health care disparities really are a social justice issue."
Correcting such issues was one of the goals of Stockton's living wage experiment. Now, Tubbs said, a working person can afford to stay home or get tested if they're feeling symptomatic, whereas before that person — scared of missing a paycheck or losing the job altogether — might come to work with the virus and infect an entire workplace. 
That alone, Tubbs said, has restored dignity to a number of residents. 
"This is not easy, especially with budgets the way they are," Tubbs said. "But I don't know how we continue to live with the status quo as it is.
"I think part of being a leader, as we are, is having the courage to do something about what we're seeing. We have to be able to do that."
The Pro-Growth Policy Conference will run both Wednesday and Thursday, 10 a.m. until 2 p.m. Wednesday's round of conferences will focus on state grants, economic development around the state and what the 2021 legislative session might look like. 
On Thursday, the event will wrap up with talks by the Equal Justice Initiative's Bryan Stevenson and Alabama Congresswoman Terri Sewell.