Shelby to retain chairmanship of Senate Appropriations Committee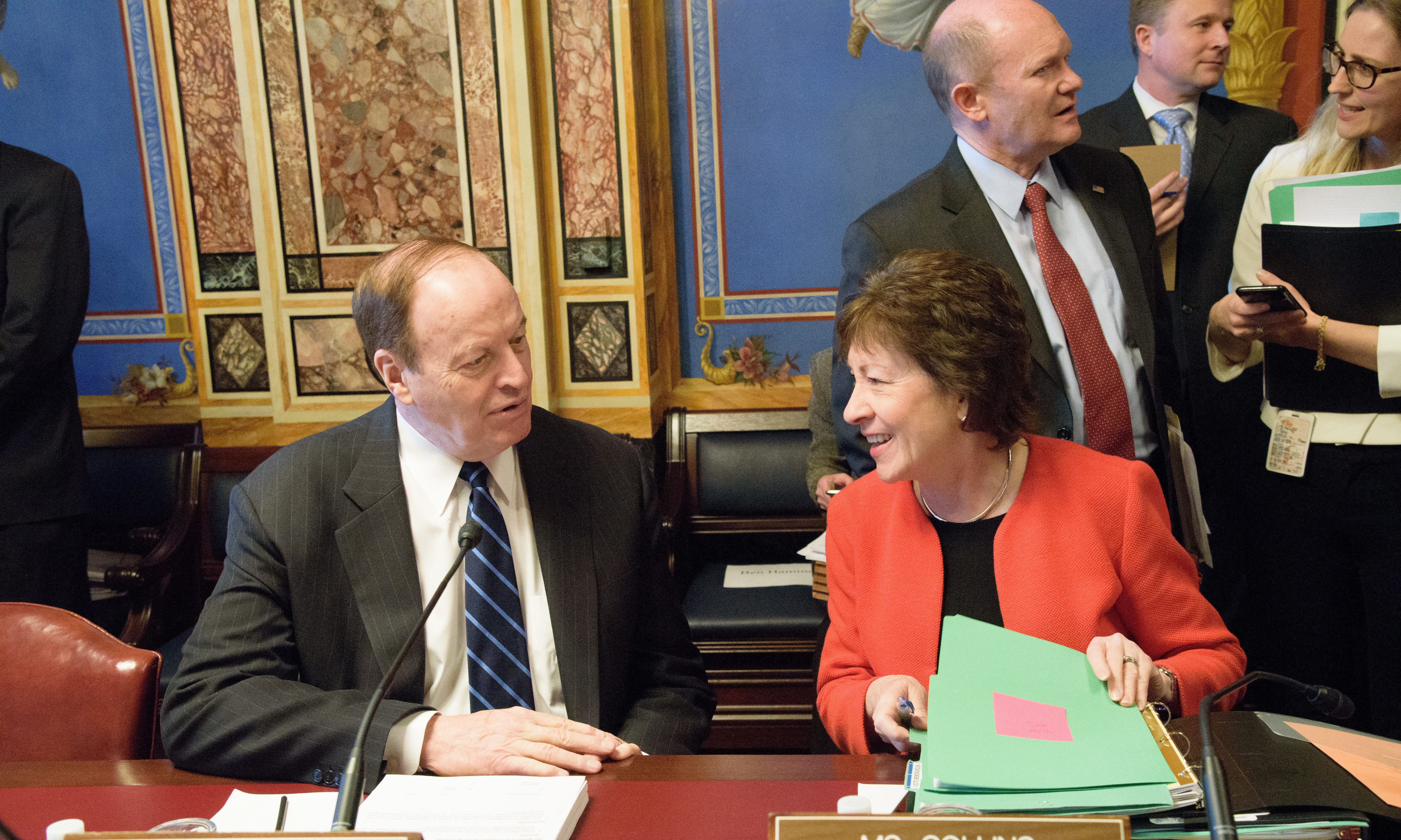 U.S. Senator Richard Shelby, R-Alabama, said Wednesday that he will keep his chairmanship of the powerful Senate Appropriations Committee.
The Senate Republican Conference met to ratify committee chairmen for the new Congress and approved Shelby's selection by members of the Senate Appropriations Committee to lead the committee for his first full two-year term as chairman.
"My committee assignments for the 116th Congress present an opportunity for me to continue serving the state of Alabama and the nation to the best of my ability," Shelby said. "I am honored that my colleagues have continued to place their trust in me to lead the Senate Appropriations Committee. I look forward to working closely with Vice Chairman Leahy and all Appropriations Committee members to produce bills that fund our national and local priorities.
The Senate is expected to formally affirm Senate committee chairmen and rosters in an organizational resolution. In addition to serving as chairman of the Appropriations Committee, Senator Shelby will continue to serve on the Committee on Banking, Housing, and Urban Affairs; the Committee on Environment and Public Works; and the Committee on Rules and Administration.
"My colleagues and I on various authorizing committees – Banking, Environment and Public Works, Rules – will work this Congress to craft legislation that impacts the lives of all Americans, including my fellow Alabamians," Shelby added.
Shelby served as chairman of the Senate Appropriations Committee during a portion of the 115th Congress, after Sen. Thad Cochran, R-Mississippi, resigned due to health issues in March 2018. He also served as vice chairman for the 113th Congress.
While Shelby chaired the Appropriations Committee the committee completed work on all 12 Fiscal Year 2019 appropriations bills before the July 4th recess, marking the most punctual timeframe in which the committee has completed its regular appropriations bills since 1988.
Additionally, five of those appropriations bills were signed into law before the end of the fiscal year and 75 percent (74.9) of the government was funded on schedule, which signals the most spending bills enacted on time since Fiscal Year 1997, more than two decades ago.
Shelby previously served as the chairman of the Senate Committee on Banking, Housing, and Urban Affairs and the Committee on Rules and Administration. Shelby joined the Environment and Public Works Committee during the 115th Congress.
Shelby was first elected to the U.S. Senate in 1986. He also served eight years in the U.S. House of Representatives and six years in the Alabama Senate. Shelby lives in Tuscaloosa.
Jones says Alabama is "in very dangerous territory" with the coronavirus
"We are still in very dangerous territory," Jones said. "We are in the middle of this first wave, not in a second wave."
As cases continue to mount and hospitalizations related to COVID-19 rise, U.S. Sen. Doug Jones, D-Alabama, said Tuesday that Alabama remains "in very dangerous territory" when it comes to the coronavirus.
"We are still in very dangerous territory," Jones said. "We are in the middle of this first wave, not in a second wave."
As of Tuesday, 45,263 Alabamians have tested positive for the virus. The state has recorded record hospitalizations in the last week.
National Institutes for Allergies and Infectious Diseases director Dr. Anthony Fauci, who joined Jones on a press call Tuesday, said he favored requiring masks, requiring social distancing and closing bars as steps that will work on controlling the virus.
"Any covering is better than no masks," Fauci said. "The best masks are the N95 masks, but we need to reserve those for healthcare workers."
Fauci said that we have reopened the economy and sometimes it was opened "a bit soon," adding that the U.S. has recently been reporting more than 50,000 cases of coronavirus per day — "almost double what it was during our high baseline," he said.
Fauci said that we should reopen the economy, but it should be done with precautions.
"I don't think it should be all or none — a complete shutdown or throw caution to the wind," Fauci said.
Fauci said the coronavirus is being spread through the respiratory route.
"Twenty to 40 percent of the people who are infected have no symptoms at all," he said. "If you are within six feet of someone who is infected, even if they have no symptoms, you can be infected."
Jones said that the median age for persons being infected has dropped fifteen years in recent weeks, but Fauci noted that the issue of young people getting infected has two issues: It is true that young people typically have less incidence of serious cases, but young people are still getting sick, being hospitalized and dying, just at rates lower than older populations. But Fauci also said that young people getting infected are propagating this epidemic, which could end up affecting more vulnerable populations.
"We should try to get the schools back open," Fauci said. Closing the schools, he said, "has ripple effects for the family that override the health effects."
Fauci said that the death rate for COVID-19 has dropped as the median age of persons infected has dropped and also because hospitals are doing a better job of treating COVID-19 patients, adding that there is no conclusive evidence that the virus has mutated into a less dangerous strain.
Fauci said that schools will reopen with different rules based on the level of infection in the community on a county-by-county basis. Masks may be required at all times, while schools should be working to increase the distance between desks modifying their schedules.
"It is not going to be a one size fit all," he said.
Fauci was asked if a coronavirus vaccine, when it is developed, will be mandatory.
"I don't think we have ever had a situation where we mandate a vaccine for the general population," Fauci said. "That has not ever happened at a national level or even a state level."
Fauci said that individual employers, like hospitals, may mandate the vaccine, but that he doubted there would be a vaccine mandate for the general population because it would be "encroaching on a person's ability to make their own choices."
Fauci said that we already have two therapeutics for COVID-19 for patients in advanced stages, including dexamethasone but more treatments are still needed.
"Over a thousand Alabamians have now died from this," Jones said. "That is not acceptable."
"30 percent of Alabama's cases have come in the last two weeks," Jones explained.
Most have come since Memorial Day and the weeks since Gov. Kay Ivey began loosening state restrictions. Many citizens are ignoring the warnings by not wearing a mask.
Jones said that four of Alabama's five largest cities already have county-wide ordinances or the largest city has passed ordinances requiring masks in public places, adding that he has talked with Huntsville Mayor Tommy Battle, where the number of cases have tripled and hospitalizations are up 660 percent.
"We talk about how we are doing in the United States," Jones said. "Only Brazil has done worse than we have, and we just received news that the president of Brazil has tested positive. The United States has not done a good job."
Jones said that the number of tests in Alabama that come back positive has gone up in recent weeks. "That shows that we are getting community spread," he said. The Alabama Political Reporter's tracking of COVID-19 trends shows that the percentage of tests that are positive has gone up to 14 percent in recent weeks.
Jones said that Perry, Dallas, Bulloch, Marshall, Montgomery and Conecuh counties have been especially hard hit and some of those areas already have access to healthcare problems.
"We have seen some movement from Sen. McConnell" on another coronavirus relief bill, Jones said. "He says that he will have a package."
While the House has passed a third relief package, that bill is not perfect, Jones said, but he said there are a lot of good things in that bill, the HEROES Act.
"He wants to write this bill himself," Jones said. "We have no early idea what will be in that package. He is going to write this himself behind closed doors."
Jones said that another red state has opted to expand Medicaid when voters in Oklahoma passed that last week. Alabama is now among just thirteen states that have not expanded Medicaid.
The Senate will be working on the National Defense Authorization Act as well as the coronavirus relief bill when they return this month, Jones said.
"We have got to take care of our military," Jones said. "Several amendments will be offered, but I expect that it will pass in a bipartisan way."
Reporters asked Fauci if Alabama would benefit from a statewide mask requirement.
"I do believe that a statewide mask order is important," Fauci said. "Masks are important. … We should all be wearing masks when we are out in public."