Tea Party activist, former congressional candidate Becky Gerritson named Eagle Forum executive director
Eagle Forum of Alabama President Eunie Smith and Foundation President Jim Cooper announced Friday that Becky Gerritson has been named the conservative group's new executive director.
Becky has been a strong advocate for conservatism in Alabama since founding the Wetumpka Tea Party in 2009. In 2016 Gerritson received Heritage Action Sentinel's Firewall for Freedom Award, was named in Yellowhammer's 2017 Power and Influence List, and was on AL.com Twenty Most Influential List in 2015.
Becky Gerritson was an early Tea Party founder. She gained national recognition for her testimony before Congress about how she and the Wetumpka Tea Party were targeted by the IRS on the orders of Lois Lerner for her conservative beliefs. She has been lauded by conservative figures across the country including Rush Limbaugh and Fox Business' Stuart Varney.
Gerritson was a Republican candidate for Congress in Alabama's Second Congressional District in 2016.
"It is an honor to welcome Becky Gerritson as our Executive Director," Eunie Smith, President of Eagle Forum of Alabama said. "Becky is an effective conservative leader with a long history of championing the values that Eagle Forum exists to preserve. I have every confidence in Becky's leadership abilities, and I believe that as Eagle Forum of Alabama Executive Director she will continue to be a bold and respected voice of conviction, principle, and informed policy in Alabama."
"Eagle Forum has been an influential powerhouse of principled conservative thought and grassroots activism for decades," Gerritson said in a statement. "I am thrilled to be on the leadership team of this incredible organization. As Alabama moves into 2019 and beyond, it is crucial that our principled conservative voice be stronger and more compelling than ever. I look forward to continuing the fight for our future and our republic with Eagle Forum of Alabama."
The Wetumpka Tea Party announced that Gerritson will be stepping down as the organization's President.
"The Wetumpka TEA Party has been an influential conservative grassroots organization not only in Alabama but also across the nation," Gerritson said. "I am so proud of the work that the Wetumpka TEA Party has done over the last decade to help educate citizens on issues taking place at the state and national level. As many TEA Party groups have faded over the past few years, the Wetumpka TEA Party is one that has stayed strong and active. Our members are engaged and have a passion for upholding and preserving liberty. I am very excited that our leadership team, who has been a large part of our success since our inception, is looking forward to continuing this important work."
The late Phyllis Schlafly, the founding president of Eagle Forum and chairman of its board, wrote in 2016:
"Becky Gerritson is a proven leader. She understands that sound governance doesn't mean just passing bills that the president will sign, as the current Congress continues to do. She knows that sound governance means upholding and defending the Constitution, protecting the security of the American people, and defending the values that have made our country great. Her dedication and passion for the conservative cause has been seen not only by Alabamians but by the nation as she has fearlessly and tirelessly fought against the progressive agenda and big government."
Three mental health crisis centers coming to Mobile, Montgomery and Huntsville
"Today marks a culture change in Alabama for treatment of individuals with mental illness and substance use disorders," Mental Health Commissioner Lynn Beshear said.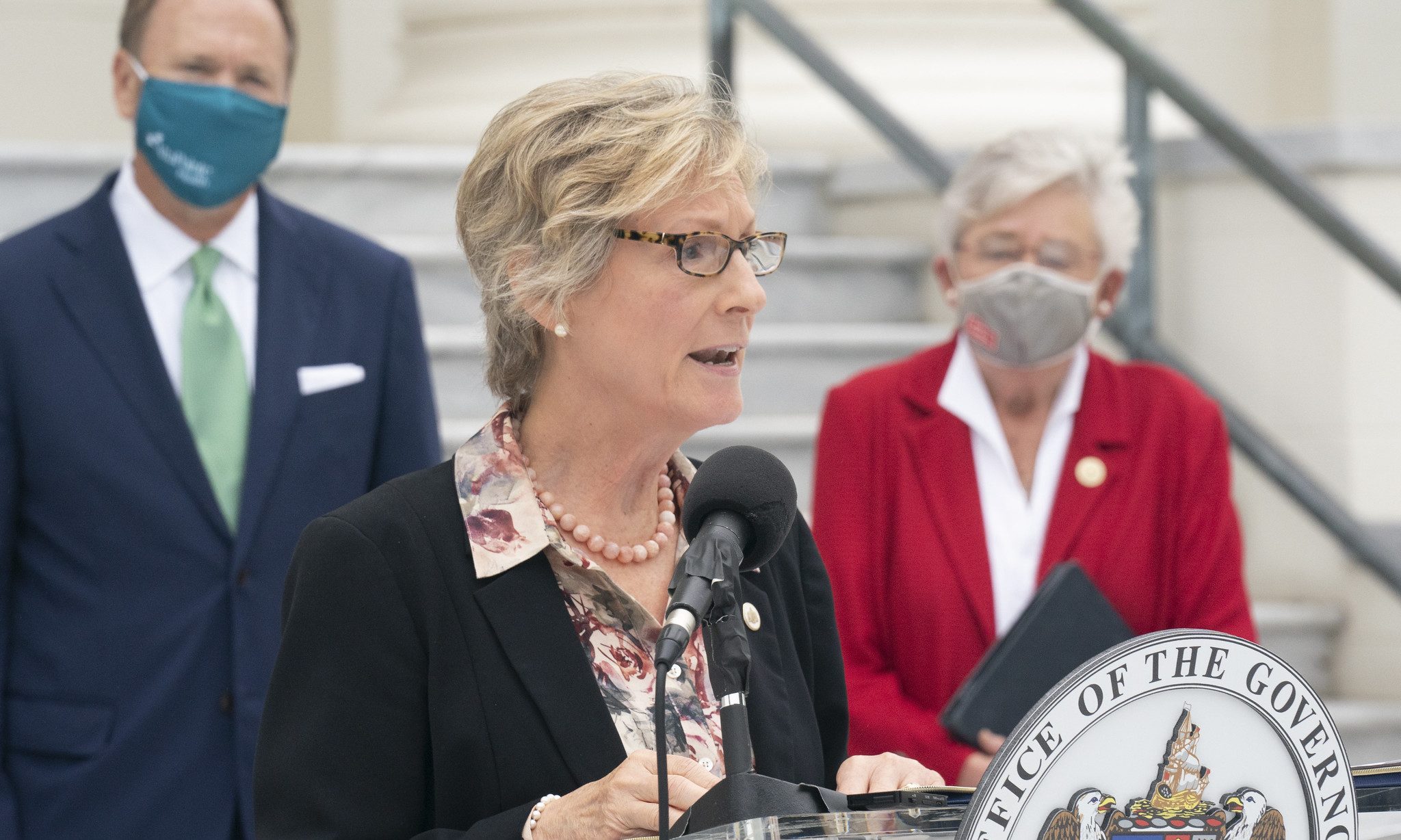 Gov. Kay Ivey on Wednesday announced an $18 million project to create three new mental health crisis centers to be located in Mobile, Montgomery and Huntsville. 
These centers, once in operation, will reduce the number of people suffering from mental health crises who are hospitalized or jailed, Ivey said during a press briefing in front of the Capitol Building in Montgomery. 
"When these facilities are open and fully staffed, these centers will become a safe haven for people facing mental health challenges," Ivey said. 
Lynn Beshear, commissioner of the Alabama Department of Mental Health, said during the briefing that the centers will provide "recovery based" care with "short term stays of a few hours, or up to a few days, to provide treatment, support, and connection to care in the community." 
"Today marks a culture change in Alabama for treatment of individuals with mental illness and substance use disorders," Beshear said. 
Beshear said AltaPointe Health in Mobile will operate one of the three facilities, and once built it is to serve Mobile, Baldwin, Clarke, Conecuh, Escambia, Monroe and Washington counties with 21 new beds, including 15 temporary observation beds. Altapointe will begin with a temporary space while constructing the new facilities, she said. 
Beshear said the Montgomery Area Mental Health Authority is partnering with the East Alabama Mental Health Authority and the Central Alabama Mental Health Authority to serve the 11 counties in Region 3 with 21 new beds, including 10 temporary observation and respite beds. 
"The regional crisis center will be located in Montgomery, and will be open to walk-ins and for drop off by law enforcement, first responders and referrals from emergency rooms," Beshear said. 
Wellstone Behavioral Health in Huntsville was selected to open the third center, and will do so at a temporary site while a new facility is being built, with the help of an additional $2.1 million from local governments, Beshear said. That facility will eventually have 39 beds, including 15 for temporary observation and 24 for extended observation.
"There's not a day that goes by that after-hours care is not an issue in our state," said Jeremy Blair, CEO of Wellstone Behavioral Health, speaking at the press conference. "And so I applaud the Department of Mental Health and the leaders for their efforts in recognizing that and taking it a step further and funding our efforts here." 
Asked by a reporter why a center wasn't located in Jefferson County, one of the most populous counties with a great need for such a center, Ivey said those residents will be served in one of the other regions. 
"Plans are underway to continue this effort. Today's beginning, with these three crisis centers, is just the beginning," Ivey said. 
Ivey added that request for proposals were sent out for these three centers and "it was a strong competition for the location of these three crisis centers." 
Alabama House Majority Leader Nathaniel Ledbetter, R-Rainsville, said during the briefing that more than a year ago, Ivey asked him what the state should be looking at, and that he replied "we're failing miserably in mental health."
Ledbetter said Ivey asked him to take on the challenge of correcting the state's response to mental health, and a team was created to do just that. 
"Working together, today's announcement will not only change Alabamians lives, but will help to save lives," Ledbetter said.