Tom Parker sworn in as chief justice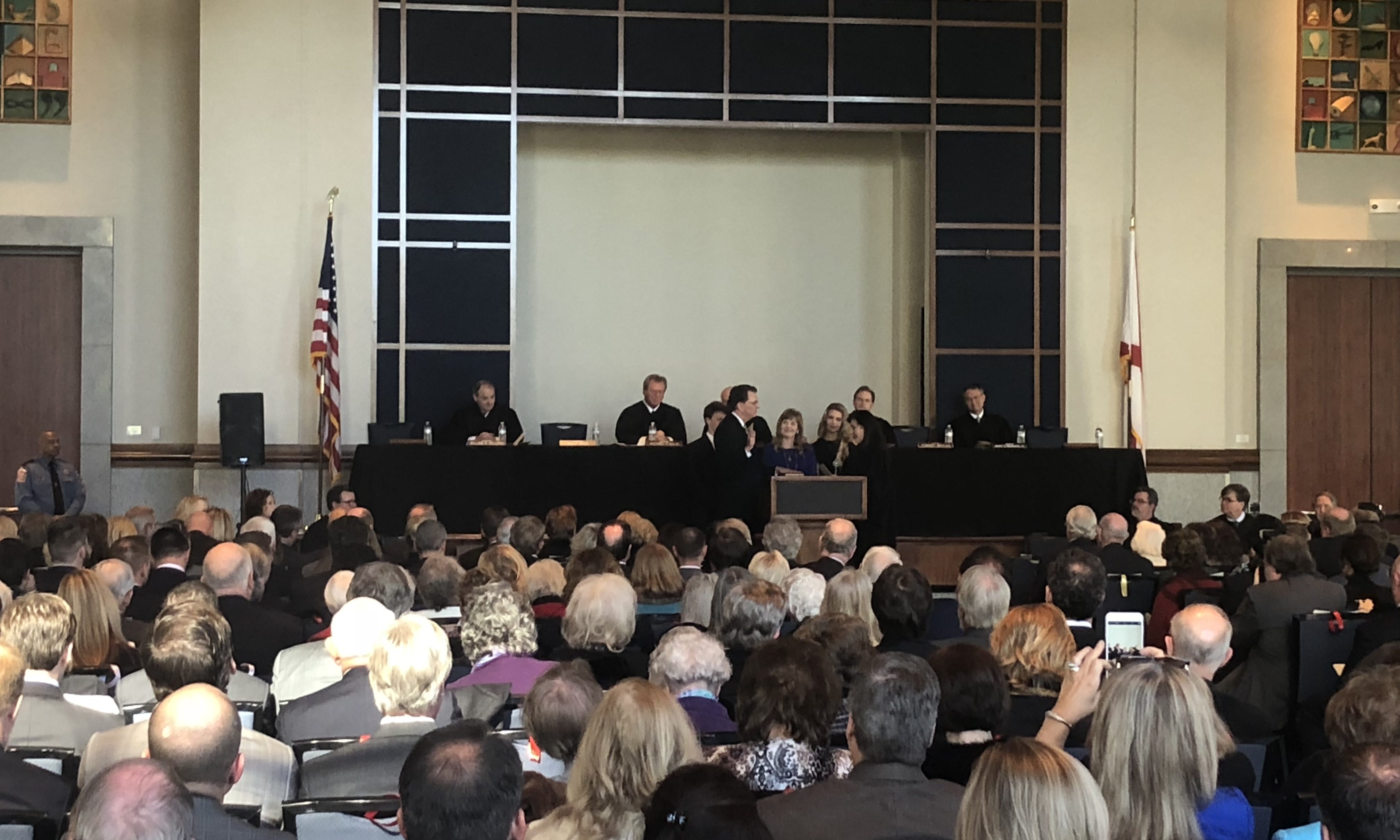 Friday, Tom Parker was sworn in as the Chief Justice of the Alabama Supreme Court at an investiture ceremony in Montgomery. The new associate justices, as well as the new members of both the Court of Criminal Appeals and the Court of Civil Appeals, were also sworn in at the same event.
Associate Justice Mike Bolin is now the senior Associate Justice and presided over the beginning of the investiture ceremony.
Speaker of the House Mac McCutcheon, R-Monrovia, administered the oath of office to Justice Parker. McCutcheon said to Parker, "What an honor it is to administer the oath office to you today."
"My wife, Dottie and I are deeply humbled that you are here today," Chief Justice Parker said. It is my intent that this interbranch swearing in is symbolic of the mutually supportive relationship between the coequal branches of government that we will have going forward. "I have been a Justice on the Supreme Court for fourteen years. Prior to that I was deputy director of the Administrative Office of the Courts."
"The Constitution of Alabama mandates that the Judicial System of Alabama be adequately funded."
The Chief Justice said that the courts must have sufficient administrative personnel for the courts to function and for the security of the courts to be maintained.
Parker made several quotations from the Bible including: "Of the increase of his government and peace there shall be no end, upon the throne of David, and upon his kingdom, to order it, and to establish it with judgment and with justice from henceforth even for ever. The zeal of the LORD of hosts will perform this." (Isaiah 9:7 KJV) and "I walk in the way of righteousness, along the paths of justice," (Proverbs 8:20 NISV).
Once sworn in as Chief Justice, Parker took over as the presiding officer at the investiture ceremony.
Associate Justice Tommy Elias Bryan was sworn in next. Associate Justice Kelli Wise administered the oath office to Bryan.
"Being on the court with him is an absolute privilege," Justice Wise said. "He is a man that always follows the rules of law."
"I grew up on a small family farm outside of Brantley," Justice Tommy Bryan said. It is m y hope that my life experience as a child, as a son, as a student, as a husband, as a father as a lawyer, and a believer will prepare me temper justice with mercy.
Court of Civil Appeals Judge Scott Donaldson administered the oath of office to Associate Justice Sarah Hicks Stewart.
"Running for statewide office is not for the faint of heart," Stewart said. Stewart emphasized that a judge's is to interpret and not make the law. "I pledge to you to always be impartial." "For thirteen years I have had the privilege to serve with outstanding trial judges in Mobile and throughout the state."
James "Jay" Mitchell's oath of office was administered by Associate Justice Mike Bolin.
"Justice was the most searched for word of 2018," Mitchell said. "As Americans justice has always been at the center of our hearts and minds." "Justice is a quintessential American idea." "I am a servant of the law. It is my duty to determine what the law is, not what it should be."
Greg Shaw, Michael F. Bolin, A. Kelli Wise, Will Sellers, and Brady E. "Brad" Mendheim Jr. are also returning as Associate Justices on the Alabama Supreme Court.
Pastor Chris Hodges of the Church of the Highlands said it is great to be here today and it is an honor to be part of a state that begins and ends an event such as this with prayer.
The oath of office to Jay Chris McCool was administered by federal District Judge Lyles Burke. McCool was sworn in to the Alabama Court of Criminal Appeals.
"The Lord has blessed this great nation and it is important not to forget that," McCool said. "'Walk humbly with thy God', or as my daddy used to put it, 'Don't get too big for your britches.' In the judicial fields that means apply the law don't make it."
The oath of office was administered by Associate Justice Michael A. Bolin to James William "Bill" Cole. Bill Cole was sworn in as a judge on the Alabama Court of Criminal Appeals.
"I loved doing appellate court work as an attorney and that is part of why I am here today," Judge Bill Cole said. "I am proud to serve as a Circuit Court Judge and I am proud of being elected to this place on the Court of Criminal Appeals; but there is nothing in my life than I am more proud of than my children." "I love the law and I love studying the law and I pledge to everyone that I will follow the Constitution."
The oath of office was administered to Richard J. Minor by federal Appeals Court Judge William H. "Bill" Pryor. Richard Minor will serve on the Alabama Court of Criminal Appeals.
"Our nation was founding on the principles of order, liberty, and justice," Judge Richard Minor said. "I fully recognize that I now have the opportunity to advance the cause of justice from the bench." "A judge must be an advocate for the rule of law itself." "I stand ready and eager to
The oath of office was administered to Christy Olinger Edwards by Associate Justice Tommy Bryan. Edwards serves as a judge on the Alabama Court of Civil Appeals.
"I never promised you I was perfect, but I promised you that I would always be fair and that I would follow the law as written," Judge Edwards said.
The oath of office to Chad Arthur Hanson was administered by Court of Civil Appeals Presiding Judge William C. Thompson. Judge Hanson serves on the Alabama Court of Civil Appeals.
"The robe that I will wear does not belong to me, but to the people of this state," Judge Hanson said. "I will have to work hard to maintain their confidence."
Alabama is a very Republican state and all of the members of the Alabama Supreme Court, the Alabama Court of Criminal Appeals, and Court of Civil Appeals are Republicans.
Alabama Governor Kay Ivey, Lieutenant Governor Will Ainsworth, Attorney General Steve Marshall, state Auditor Jim Zeigler and the other statewide constitutional officers will be sworn in to four year terms on Monday at 10:00 a.m. in front of the Alabama State Capital building.
Roy Moore sues state challenging COVID orders
Moore is arguing that the state has exceeded its authority by issuing COVID-19 restrictions and the statewide mask mandate.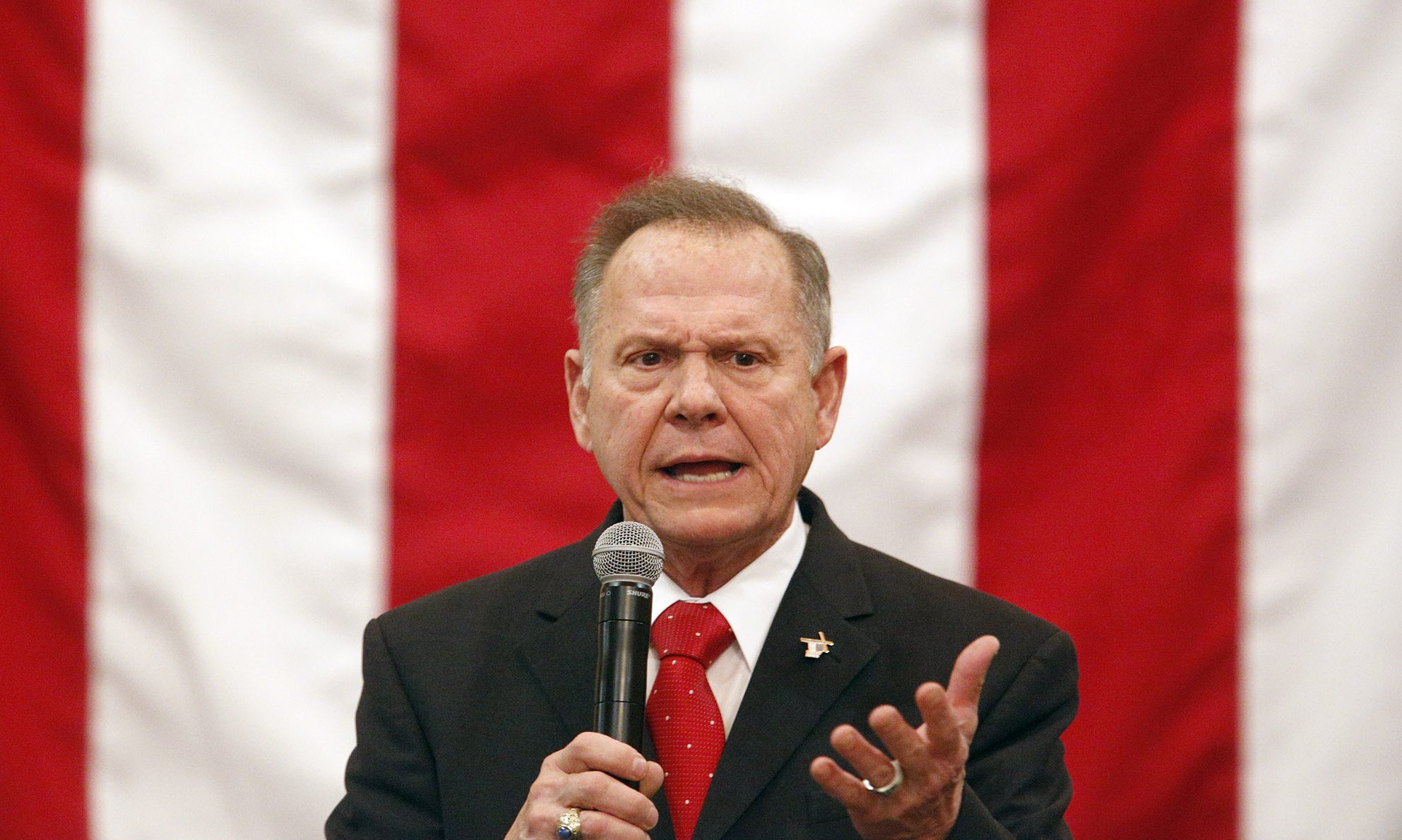 The Foundation for Moral Law and former Alabama Chief Justice Roy Moore last week filed a lawsuit against Alabama Gov. Kay Ivey and State Health Officer Dr. Scott Harris, challenging the constitutionality of their public health orders intended to combat the spread of the coronavirus.
The foundation's lawsuit was filed in the Federal District Court for the Northern District of Alabama. Moore is seeking damages, a temporary restraining order and a permanent injunction against Ivey and Harris from issuing more mandates.
Moore is arguing that Ivey and Harris have exceeded their authority.
"The Governor and State Health Officer of this State have clearly and repeatedly exceeded their authority under both the Constitution of the United States and the Alabama Constitution over the last six months," Moore said. "Unconstitutional restriction of church assembly and worship, discriminatory closing of businesses, stay at home orders, social distancing, wearing of masks, and restriction on travel are simply against our rights secured by the Constitution of the United States."
"We live in a Constitutional Republic and in a State whose motto is 'We dare defend our rights,' yet nothing has been done to stop the tyrannical abuse of power," Moore said. "Our economy has been decimated, jobs lost, schools closed, church doors shut, and we have been told we must stay home and wear mask in public places. People are tired of such abuse!"
"Our Country was formed in crisis and we have withstood disease, pestilence, natural disaster, and wars without being told we must remain in our home and wear mask in public," Moore said. "The Legislature of Alabama needs to stand up to and tell the Governor that she and the State Health Officer do not have the power to do things that even the Legislature can't do. Nor can the Legislature give the Governor powers to take away our Constitutional rights when even the Legislature cannot."
Some former legislators have privately told APR that if Ivey wanted more power to extend the public health emergency past July that legally she should have called a special session and asked the legislature for that authority.
But some have also suggested that the Legislature does not want to go on the record as either favoring or opposing measures such as the eight-month-long public health emergency, the mask mandate, the closing of businesses and restrictions on capacity in businesses. As such, they are content to say or do nothing on the issue rather than alienating voters on either side.
"For over 200 years, men and women of every race, creed, and color have fought and died to preserve our rights; we don't need to give them up without a fight," Moore said.
The Montgomery-based Foundation for Moral Law is a nonprofit corporation dedicated to a strict interpretation of the United States Constitution. The foundation, founded by Moore, is often involved in freedom of religion issues.
The governor's statewide mask order expires on Friday if the governor does not extend it.
At least 208,843 Americans, including 2,501 Alabamians, have died from COVID-19 since February. Over 32.8 million people globally have been diagnosed as infected with the novel strain of the coronavirus.