The Lodge at Gulf State Park is back
The Lodge at Gulf State Park reopened in November after a 14-year absence.
The old lodge was destroyed by Hurricane Ivan in 2004. Governor Kay Ivey opened the much larger new lodge in November. The new lodge is 350 rooms and is managed by Hilton Hotels.
The Alabama Political Reporter toured the new facility on January 11 to 13 as part of Governor Kay Ivey's Gulf Coast Inaugural Celebration.
The hotel sits on a white sand beach facing the Gulf of Mexico and is immediately across the street from Lake Shelby. Alabama's Gulf State Park is 6,150 acres of beaches, lake, wetlands, brush, and forest. The lodge is connected to 25 miles of walking trails throughout the park. The state fishing pier is a short walk away.
The Lodge is four buildings: a spacious lobby building, a five-story hotel building with pool and fitness room, a restaurant building, and a conference center with parking underneath and adjacent to the conference center.
Most of the building are built on piers so that a future storm surge can go under the buildings, hopefully minimizing the damage and making the facility more survivable than was the previous lodge (1974-2004).
The lodge charges guests $5 to park in the parking lot. There is a ten dollar a night option for valet parking. The walk from the parking through the four buildings including two elevator rides back and forth between the hotel room and the parking lot means that paying the extra $5 for the valet is worth it. Rooms are $264 to $473 a night during peak times of the year. The Alabama Political Reporter paid only $105 a January is the offseason for beach hotels.
The Alabama Political Reporter sampled the cuisine at the Foodcraft restaurant. Fish and chips cost $26. The fish was good quality and heavily breaded. The French fries were narrow cut in the McDonalds style. For breakfast, there was a full-service breakfast bar for $22. The Alabama Political Reporter ordered eggs, two biscuits with gravy, and potatoes for $10. Quality was good and portion size was high. The Perch is the more expensive fine dining restaurant at the lodge.
The Lodge has both two bed and single bed options. Every room faces either Lake Shelby or the Gulf of Mexico. The Alabama Political Reporter stayed in a fifth-floor room overlooking Lake Shelby. Each room comes with a desk and a flat-screen TV. The room had a walk-in shower; but no bathtub. It also had a refrigerator, microwave, and free Wi-Fi.
Touring the fishing pier costs $3. Fishing at the fishing pier costs $9 a day. Fishing from the lake is just $2 a day. Birds, particularly pelicans, are everywhere.
The completely reimagined Lodge was designed by LakeFlato and Rabun Architects with a native landscape by Sasaki Associates. The building is just 200-225 feet from the gulf. The buildings are positioned to take advantage of gulf breezes for natural ventilation. While that likely is pleasant in summer months, going in and out of the four buildings periodically meant windy conditions during my stay. The interiors were designed by Dallas based interior design firm, Looney & Associates. The Lodge at Gulf State Park includes offers over 40,000 square feet of flexible indoor and outdoor meeting space. The Gulf view Ballroom is the largest beach-view ballroom in the region and can accommodate indoor events up to 1,000 guests. There were over 800 guests at Governor Kay Ivey's Gulf Coast Inaugural Celebration and the facility easily handled that crowd. Every meeting room has direct views and patios and/or terraces overlooking the Gulf of Mexico.
The Roasted Oak Coffee and Wine Bar is in the main lobby. The Dragonfly Pool Bar & Grill is next to the pool; though it only operates in the spring and summer months.
Condensation from the HVAC system is collected and recycled to replace water in the pool. Rainwater is collected and directed to a restored wetland on site rather than being diverted to storm sewers. The hotel parking lot is permeable using TrueGrid technology so rainwater drains into the ground.
The Lodge shares space with endangered species. All lighting is shielded away from turtle nesting areas and pointed away from the beach. Baby sea turtles hatch and walk toward lights. For a hundred million years the light on the horizon was the ocean. Today many baby turtles instead walk into traffic or buildings. Lights on the beachside of the property are warmer to be less confusing to wildlife and floor to ceiling glass windows in the main lobby have bird friendly safety measures. Sand dunes are protected as habitat for endangered Alabama Beach Mouse. Landscaping uses native species that can thrive without irrigation, chemical pesticides or fertilizers.
Economic Developer Nicole Jones told the Alabama Political Reporter, "The Lodge at Gulf State Park is appealing to both business and leisure travelers. The partnership with Hilton Hotels and Valor Hospitality establishes a world-class environment that guests can count on, which should generate repeat visits to a beautiful area of our state."
Nicole Jones shared, "On a more sentimental note, Gulf State Park is part of a tradition many of us grew up with. Now that The Lodge is up and running again, new generations will be able to create memories similar to the ones we all hold dear."
The state spent $150 million to improve the Gulf State Park and replace the storm-ravaged old lodge. Much of that money came from BP oil spill penalties.
The Lodge at Gulf State Park is part of Hilton Honors guest-loyalty program for Hilton's 15 distinct hotel brands.
For nearly 100 years, Hilton Hotels & Resorts has been a leader in the hospitality industry. Hilton Honors members who book directly through preferred Hilton channels have access to instant benefits. Hilton (NYSE: HLT) is a leading global hospitality company with a portfolio of 15 brands comprising more than 5,500 properties with nearly 895,000 rooms, in 109 countries and territories.
To learn more about Gulf State Park, visit their website.
Sessions says Alabama doesn't take orders from Washington after Trump inserts himself in race again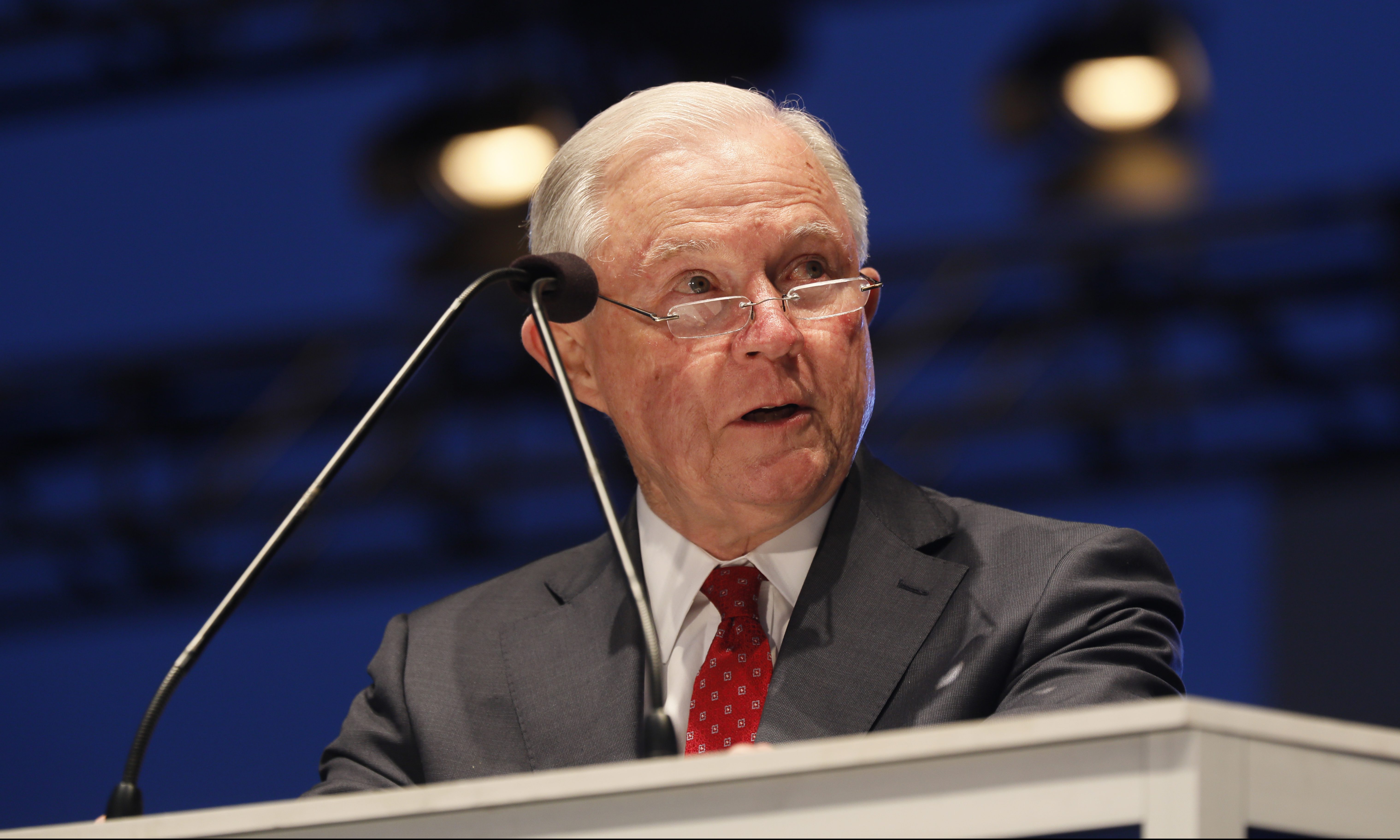 GOP Senate candidate and former Sen. Jeff Sessions, R-Alabama, released a statement pushing back against President Donald Trump's endorsement of his opponent, former Auburn coach Tommy Tuberville, in which he said "Alabama does not take orders from Washington."
The blunt comments were in response to a Twitter post from Trump once again inserting himself in the Alabama Senate race.
"I've taken the road less travelled," Sessions said. "Not sought fame or fortune. My honor and integrity are far more important than these juvenile insults. Your scandal ridden candidate is too cowardly to debate. As you know, Alabama does not take orders from Washington."
This was after Trump tweeted, "Big Senate Race in Alabama on Tuesday. Vote for @TTuberville, he is a winner who will never let you down. Jeff Sessions is a disaster who has let us all down. We don't want him back in Washington!"
Trump has called his decision to appoint Sessions as U.S. attorney general his "biggest mistake" as president.
The rift between the two former friends began in 2017 when Sessions, newly appointed as attorney general, recused himself from the Russian collusion investigation. Sessions has steadfastly defended the decision and continues to maintain that he was forbidden by U.S. Department of Justice policy forbidding anyone who was part of a campaign from investigating that campaign.
Sessions was the first U.S. senator to endorse Trump in the 2016 presidential election and worked tirelessly throughout 2016 as a surrogate for the Trump campaign.
Sessions maintains that had he not recused himself from the Russian collusion investigation things would have gone worse for Trump. As it was, his duties in the matter fell on fellow Trump appointee Rod Rosenstein, who appointed former FBI director Robert Mueller as special counsel.
The special counsel investigation successfully prosecuted a number of close Trump associates for various failings in their personal and professional lives, but ultimately never was able to indict the president or a member of the Trump family, and it never was able to produce tangible evidence that the 2016 Trump campaign was involved in collusion with Russian intelligence agencies to defeat former Secretary of State Hillary Clinton in 2016.
Sessions is running for the Senate seat he gave up to be attorney general.
Tuberville has been avoiding the media since a New York Times report detailed how Tuberville's business partner David Stroud cheated investors out of their savings and was sentenced to ten years in prison. The two had formed a hedge fund, managed by Stroud, a former Lehman Brothers broker. Tuberville maintains that he was Stroud's biggest victim, but the investors sued Tuberville, who settled out of court.
Sessions' campaign maintains that incumbent Sen. Doug Jones' campaign will capitalize on the scandal during the general election similarly to how they capitalized on allegations against former Chief Justice Roy Moore to win the 2017 special election to win the Senate seat vacated by Sessions to be attorney general.
Sessions was a late entrant into the Senate campaign. Sen. Richard Shelby, R-Alabama, has endorsed Sessions.
"Jeff Sessions is a good friend and a respected former colleague," Shelby wrote. "I believe he is well-suited to return to his role as United States Senator for the state of Alabama, where I served with him for more than 20 years. He has my full support and endorsement."
Sessions was Senator from 1997 to 2017. He was U.S. Attorney General from 2017 to Nov. 2018. Prior to his Senate service, he served the state as Alabama Attorney General, Republican Party Chairman, and U.S. Attorney under Presidents Ronald W. Reagan (R) and George H. Bush (R). Sessions was also a former assistant U.S. Attorney and a U.S. Army reserve officer. He is a native of Alabama who grew up outside of Camden in rural Wilcox County.
The Republican primary runoff is on Tuesday. In order to vote in any Alabama election you must: be registered to vote, vote at your assigned polling place, and have a valid photo ID. It is too late to register to vote in this election or obtain an absentee ballot; but if you have an absentee ballot today is the last day to return it either through mail or by hand delivering it to your courthouse absentee ballot manager's office.