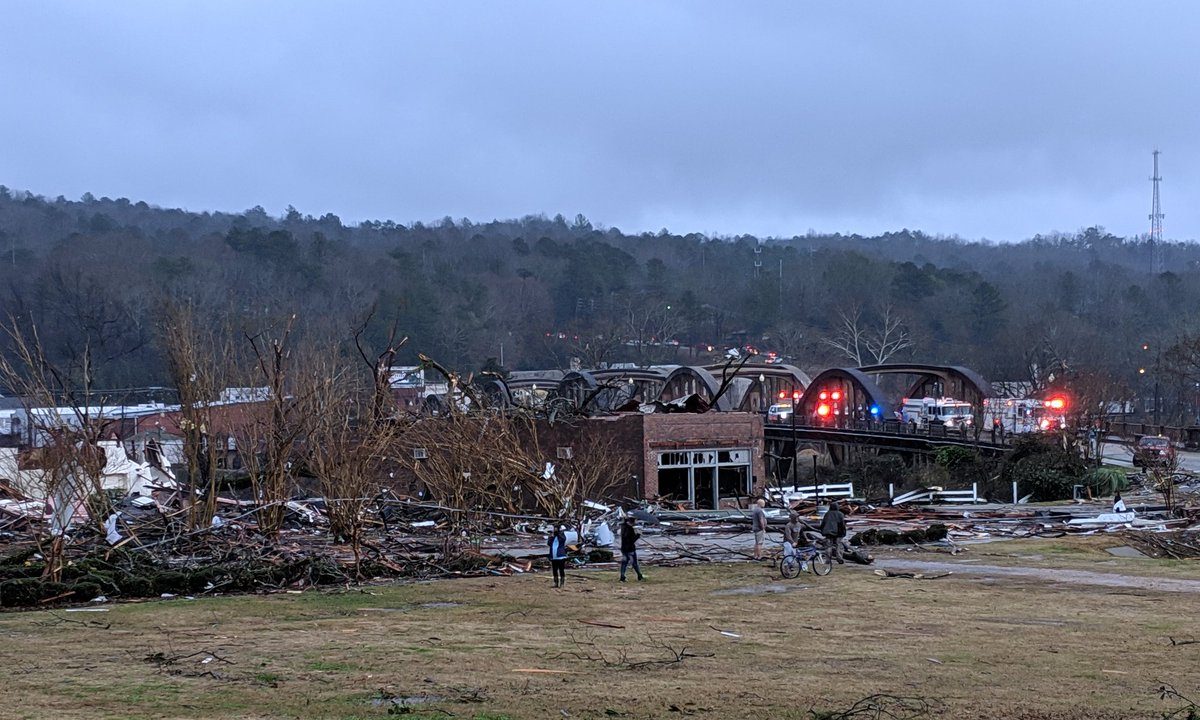 Saturday night, downtown Wetumpka was struck by an EF-2 tornado. Assessments of the damage are ongoing; but several buildings are confirmed down. Most notably the historic First Presbyterian Church of Wetumpka is a total loss.
Alabama Gov. Kay Ivey said on Twitter, "I've talked with Wetumpka Mayor Willis & have assured him of available assistance. I've also been receiving updates from @B_Hastings_EMA. Now is the time for first responders to do assessments, recovery & damage control. Praying for all affected."
"My thoughts are with all those impacted by the tornado in Elmore County yesterday, and my office stands ready to assist in whatever ways we are able," U.S. Rep. Martha Roby, R-Montgomery, said. "As we await further details about the full scale of damages, I will be praying for those who have been injured."
"Join me in saying a prayer for our fellow Alabamians in Elmore County impacted by these tornadoes," U.S. Rep. Bradley Byrne, R-Montrose, said. "Let's also say a prayer for local officials and first responders as they work to assess the damage."
Sen. Richard Shelby said on social media: "Thinking about the people in and around #Wetumpka affected by the devastating tornado. Thank you to local law enforcement and first responders on the scene."
"Pray for Wetumpka, Alabama," State Auditor Jim Zeigler said. The 1856 First Presbyterian Church here this morning, and gone this afternoon in the tornado. 163 years serving the people.
Wetumpka Mayor Jerry Willis told reporters with WVTM TV Channel 13 that there is significant damage to the city's downtown.
"We've been hit very hard," Willis said. "I've been here 53 years. These things have been here a whole lot longer than me. It's just devastating to see this — how it snaps off power poles and trees, the buildings that we have. Our police station, about half of it is damaged, affecting our police department."
More than two dozen homes and buildings were destroyed including the senior center. Other structures were damaged in the storm.
On Monday, Ivey will join Willis and other city and county officials to conduct a tour of the damaged areas in Wetumpka impacted.
Following her tour, Ivey will meet with officials and then address the Alabama press regarding the damage she has seen.
Volunteers looking to help with the clean-up efforts in downtown Wetumpka or in the county should contact the Elmore County EMA office at (334) 567-6451. The Elmore County Commission and City of Wetumpka are appreciative of volunteers wanting to assist but want to ensure coordination to maximize recovery efforts and resources.
Severe weather is an ever-present threat to people in Alabama. While fortunately, it appears, as of press time, that no one died in this tornado, more people in Alabama have been killed by tornadoes since World War II (and we started keeping an accurate count) than in any other state.
Print this piece
Police deploy tear gas, rubber bullets on peaceful protesters in Huntsville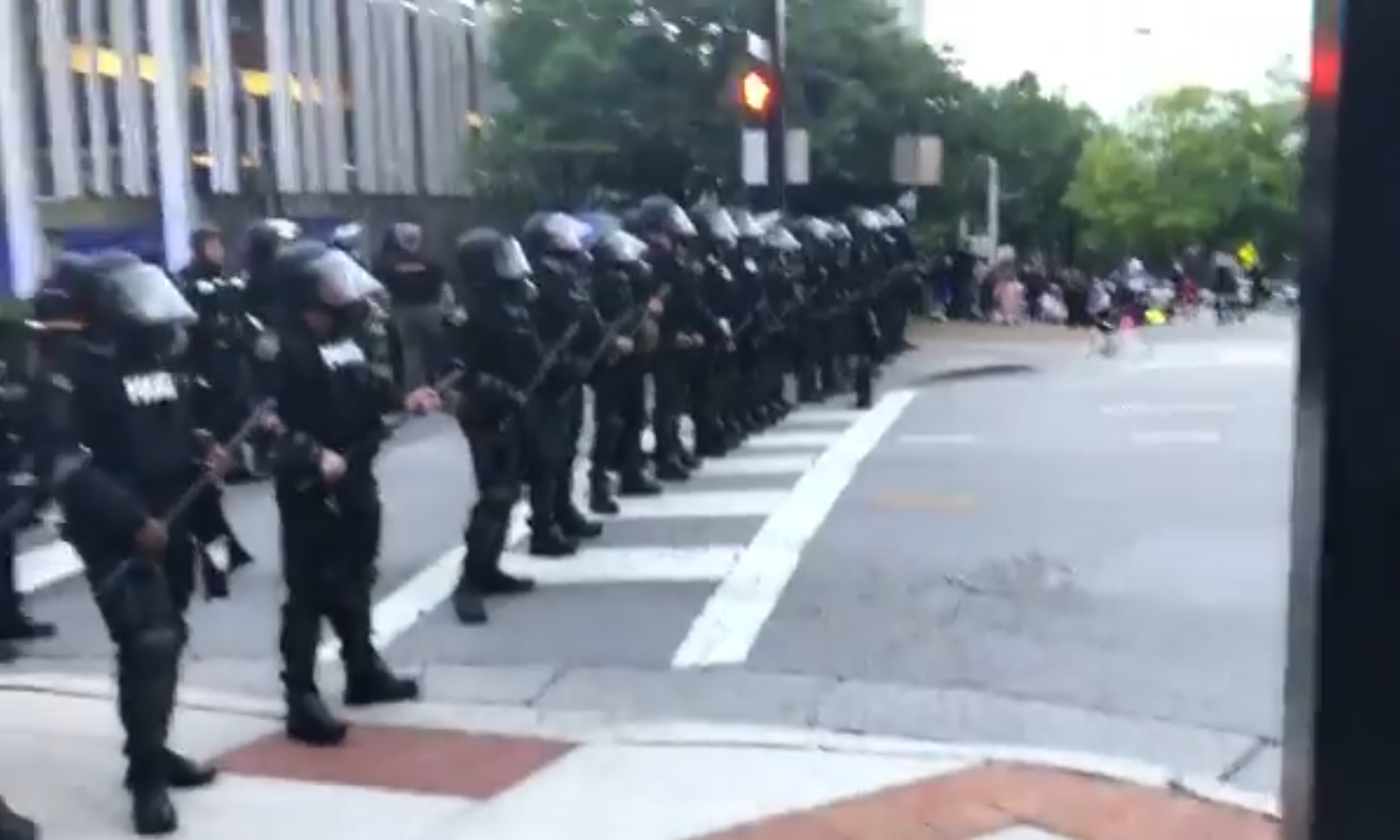 Huntsville police and state troopers with the Alabama Law Enforcement Agency deployed tear gas and fired rubber bullets at peaceful protesters and demonstrators chanting "I can't breathe" in downtown Huntsville Wednesday evening, injuring several people, including a small child.
Video from the scene shows demonstrators at the aftermath of an Alabama NAACP rally peppered with rubber bullets and tear gas as law enforcement helicopters hovered overhead.
One reporter on the ground described it as a "war zone."
State Rep. Anthony Daniels, D-Huntsville, the minority leader in the Alabama House, said the scene was reminiscent of Bloody Sunday in Selma as at least 35 state troopers were called in to forcefully disperse a peaceful crowd.
"Unnecessarily Using Force Against Peaceful Protesters in Downtown Hunstville," Daniels said on his Facebook page. "Who called the State Troopers? I am so disappointed in our local and county leadership. This is not Bloody Sunday. Why the hell were the State Troopers called."
In an interview with APR Wednesday evening, Daniels said it was very disappointing that it got to this point and he is demanding answers from local and state officials about why such a show of force and violence on the part of law enforcement was necessary.
"Thirty-five state troopers," Daniels said. "This is the type of presence that was at Bloody Sunday."
Daniels said there were several thousand people present at the formal demonstration, and several hundred stayed after the permit expired, but none of it appeared violent or disruptive.
"Peaceful protesters and concerned citizens — where there is no evidence of any type of disruption, in my mind," Daniels said. "I don't understand why local, county and state law enforcement — to the sum of 35 state troopers being present with full gear. It's just ridiculous to me and very disappointing. I'm waiting for answers."
Daniels and another state representative spoke at the rally earlier in the evening. He said he wondered if there was a threat posed or intelligence, which would be the only justification for such a deployment of force, and, if so, why he wasn't notified.
"It leads me to believe that it was an effort to justify the actual number of law enforcement there," Daniels said. "It looks to me like they were looking to justify the number of law enforcement that was there."
Audio dispersement attempt. pic.twitter.com/Yv1SaBcvLZ

— Ian Hoppe (@IanHoppe) June 4, 2020
Police began clearing the courthouse square in downtown Huntsville, where a Confederate memorial stands, after 8 p.m. Wednesday, according to AL.com. A protest permit expired at 6:30 p.m., leading armed riot police to disperse the crowd with pepper gas and rubber bullets.
The first sign of any offensive action by protesters came after police deployed smoke and after trooper cars sped through the area. The protesters threw water bottles at state trooper cars.
Pretty shocking scene of what appears to be peaceful protesters shot at by police with rubber bullets and sprayed with tear gas. pic.twitter.com/2RF0NgN752

— Chip Brownlee (@ByChipBrownlee) June 4, 2020
Protesters moved to Big Spring Park near Huntsville's Von Braun Center before they were again dosed with a "heavy" dose of tear gas, which carried across to a media staging area and obscured a Marriott hotel in smoke.
AL.com's Paul Gattis and Ian Hoppe report that a small child — less than four years old — was caught in the tear gas and began screaming.
A small girl, maybe three years old , was just enveloped in a cloud of tear gas. She screamed while her dad ran away with her.

— Ian Hoppe (@IanHoppe) June 4, 2020
Huntsville police said there had been no property damage or violence during the protest.
Lt. Michael Johnson with the Huntsville Police Department told Huntsville's WHNT that the police department ended what they thought was "a pretty peaceful protest."
"Once that permit expired, we still waited a good amount of time," Johnson said.
It appears law enforcement waited about an hour before beginning attempts to disperse the demonstrators with forceful means like tear gas and rubber bullets.
"It started to get a little hostile. A couple of things were thrown at us," Johnson said. "The verbiage, some of the threats, the hostility, blocking the road — we just cannot have that."
Johnson said police were not "going to roll the dice" to see if the protest turned out to be violent.
"We're not going to let this city go through what other cities go through," Johnson said, justifying using a "chemical agent" on peaceful protesters.
Before riot police sprayed them with tear gas and rubber bullets, protesters chanted "we are peaceful."
Daniels said people concerned about police brutality and what he called an inappropriate use of force Wednesday should show up at the ballot box and demand answers.
Print this piece