Blue Origin breaks ground on rocket engine factory in Madison County
Gov. Kay Ivey attended the formal groundbreaking of the Blue Origin rocket engine production facility in Huntsville.
"Blue Origin is a welcome addition to Alabama's roster of world-class aerospace firms, and its new rocket engine facility in Huntsville will expand the state's already robust capabilities in space flight," Ivey said. "Blue Origin is making a significant investment in Huntsville, and I'm certain the company will discover the many benefits of doing business in Sweet Home Alabama's aerospace cluster."
Blue Origin was selected by United Launch Alliance (ULA) in September 2018 to supply their next-generation Blue Engine 4, or BE-4, for the first stage of ULA's Vulcan Centaur Rocket. It will also launch Blue Origin's own rocket.
"United Launch Alliance welcomes Blue Origin to the great state of Alabama and to join the other aerospace companies that have made Rocket City our home for decades," ULA CEO Tory Bruno said. "A little more than three months ago, ULA chose Blue Origin's BE-4 engine to power our Vulcan Centaur rocket, which we are manufacturing at our facility in Decatur, Alabama. I am pleased that Blue Origin has chosen to join the more than 200 ULA suppliers doing business here in Alabama. The state of Alabama knows how to attract and help business grow and I could not be more thrilled to be part of the resurgence of rocket and engine development in the Tennessee Valley."
U.S. Sen. Doug Jones, D-Alabama, praised Sen. Richard Shelby, R-Alabama.
"He could not be here today, but I know the work that he has done on this project," Jones said. "Jones said that growing up in the fifties and sixties he dreamed of going into space like John Glen and Allen Shepherd.
Jones praised the work that ULA does at its rocket factory in Decatur and said that a lot of people did not realize the work that ULA does.
Huntsville area economic developer Nicole Jones told the Alabama Political Reporter, "United Launch Alliance (ULA) selected Blue Origin's BE-4 engine to power the booster of the Vulcan Centaur rocket. Now that the company won the contract, Blue Origin will construct their facility (announced in under the Saturn V rocket at the US Space and Rocket Center in June 2017) on approximately 46 acres in Cummings Research Park."
Since NASA retired the space shuttles with no replacement, the United States has not sent astronauts into space. The U.S. astronauts have been riding with the Russian space agency. The United Launch Alliance's American built rockets in Decatur have been relying on Russian built rocket engines. The BE-4 engines being built in Huntsville changes all of that.
"ULA has been dependent on Russian rocket engines," said Rep. Mo Brooks, R-Huntsville. "We don't want to be dependent on any other nations that may or may not be reliable. It is wonderful that the BE-4 rocket engine is going to be built right where we stand today."
Brooks said that Blue Origin has 1500 employees and is headquartered in Kent, Washington. Brooks said that while Washington is nice, the company should move its headquarters to the Tennessee Valley.
"In addition to bringing hundreds of jobs to the area, the new Blue Origin BE-4 rocket engine production facility will allow the United States – Alabama – to take astronauts once again into space without dependence on other nations," Nicole Jones said. "Two out of three of the major launch systems generated for the next decade of space flight will have engines built at this facility."
"The United States is in the Space Race again," Nicole Jones added.
"And what an appropriate and nostalgic time in history as we, in 2019, will celebrate the 50th anniversary of man on the moon as well as Alabama's bicentennial," said economic developer Nicole Jones. "The brilliant minds at Blue Origin and United Launch Alliance are an incredible asset to our state and nation. The presence of these global organizations highlights their important role as our state maintains its position of leadership in the aerospace industry."
"It's a great day here in Rocket City," said Bob Smith, CEO of Blue Origin. "Thanks to the votes of confidence from United Launch Alliance, from the Air Force for national security missions, and from Huntsville and the state of Alabama, we are breaking ground on a facility to produce our world-class engines and power the next generation of spaceflight."
Blue Origin's BE-4 engine is the most powerful liquefied natural gas (LNG) fueled rocket engine ever developed. Using an oxygen-rich staged combustion cycle, BE-4 is capable of producing 2,447 kN (550,000 lbf) thrust with deep throttle capability. BE-4 is currently undergoing full-scale engine development testing in company facilities in Van Horn, Texas. Construction of the rocket factory in Huntsville will allow full rate engine production.
The BE-4 is America's next rocket engine and is made for both commercial and government missions. The production of this engine would end the nation's dependence on Russia for access to space for critical national security space systems.
The plant will be built on 46 acres at the corner of Explorer Boulevard and Pegasus Drive in Cummings Research Park. The project will produce more than 300 new jobs for Huntsville. The Huntsville manufacturing plant is expected to open in 2020, and the first flight test of the new engine is expected in 2021.
"Our workforce and our community are ready to deliver for Blue Origin, an innovative commercial space company that is changing what we think is possible in space," said Huntsville Mayor Tommy Battle. "These BE-4 engines will power launch systems to put everything from satellites and products into orbit to space tourists and perhaps even space settlers into the final frontier. You truly can't get to space and explore all of its untold promise without going through Huntsville first."
"Today's groundbreaking by Blue Origin celebrates a valued and continued partnership in Madison County and the Rocket City," said Madison County Commission Chairman Dale W. Strong. "Blue Origin recognizes both the strength of local aerospace engineering expertise, and also values the remarkable skill of our advanced manufacturing and workforce capabilities. We're looking forward to Blue Origin writing a new chapter in our history of propulsion capability in north Alabama."
Blue Origin's rocket manufacturing plant is the latest exciting addition to Huntsville's Cummings Research Park, which is the second largest research park in the United States and fourth largest in the world.
"We are thrilled to officially welcome Blue Origin to Cummings Research Park," said Erin Koshut, The Park's Executive Director. "As we like to say, the research and development happening here is driven by science and powered by people. CRP has come a long way since it was established in 1962. It is now 91 percent occupied and growing more by the day. We can't wait to see construction take shape on the new Blue Origin facility and assist the company in recruiting talented people to join their Huntsville team."
"ULA's Atlas and Delta rockets are the most successful space launch vehicles in history, having launched more than 130 missions with 100 percent mission success." ULA's Bruno added.
"Today, we celebrate the culmination of those decades of knowhow and invention into the transition to our new Vulcan Centaur rocket. Vulcan Centaur is one system for all missions. It will embody our expertise and reliability while providing advanced technology to our warfighters, being superior in both cost and capability. Vulcan Centaur is the only launch vehicle with a design that is centered on our customers' national security space mission. Vulcan Centaur will provide for our nation's needs today and into the future. We look forward to our partnership with Blue Origin, building the advanced BE-4 engine to power our next-generation rocket, right here in Alabama!"
Students from Bob Jones High School, New Century High School, and Sparkman High School attended the Blue Origin's groundbreaking in Huntsville to display projects they have been working on for the past year. The engineering classes at the three local high schools are participating in a collaboration project called DreamUp.
Each class is creating a payload that will launch on a future Blue Origin New Shepard mission. The projects will be enclosed in small cubesats weighing less than 1.1 pounds; one will test if voltage is affected by microgravity using a Raspberry Pi, and another will test the electrical current created by heat transfer in space. The students have been working on their projects since Spring 2018, submitting monthly reports to the technical team at NanoRacks. Their work is being done in collaboration with DreamUp PBC, the leading provider of space-based educational opportunities, and NanoRacks, LLC, the world's leading commercial space station company.
Blue Origin is owned by multi-billionaire Amazon founder Jeff Bezos.
Print this piece
The White House and Senate reach deal on a stimulus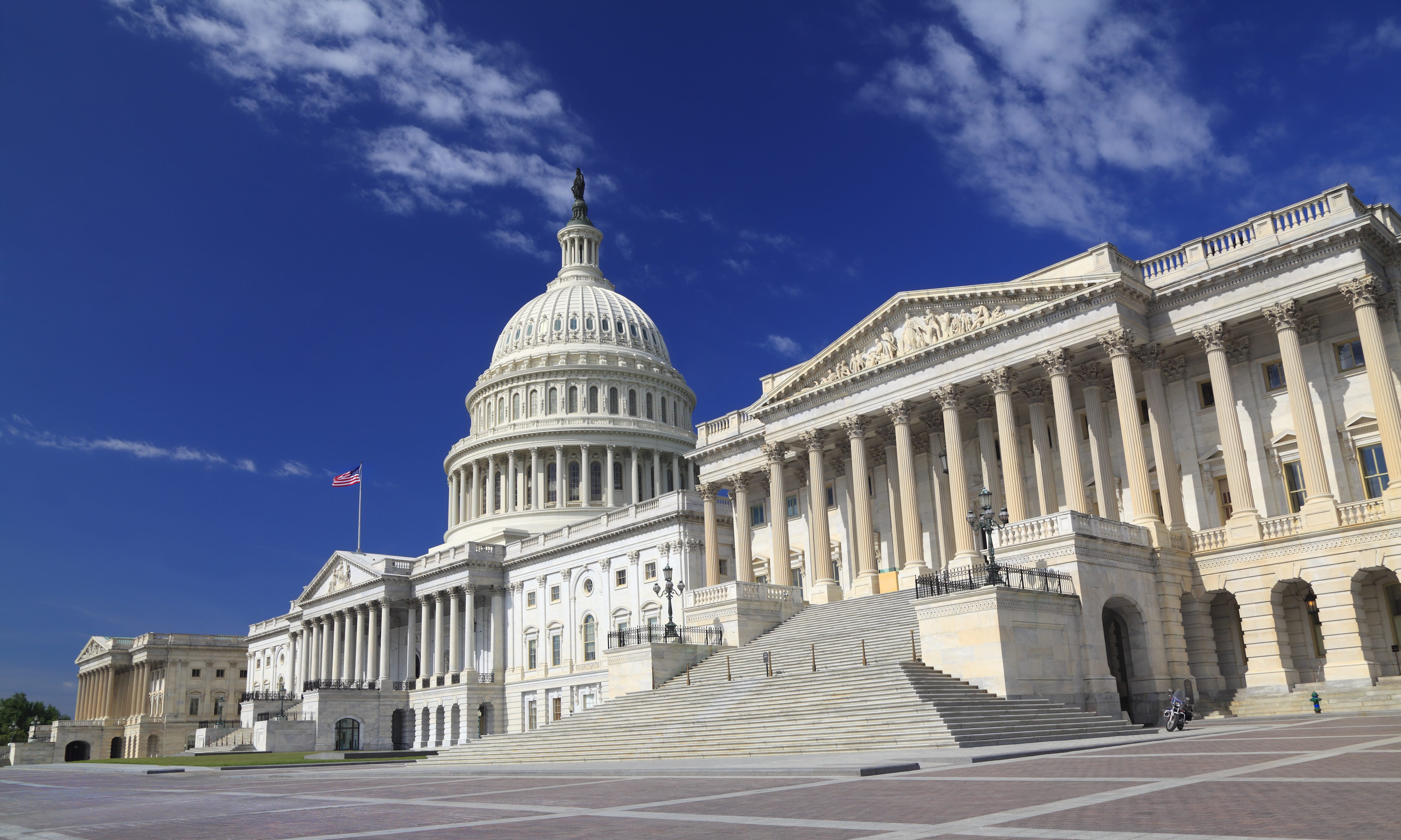 Early Wednesday morning, the White House and Senate leaders finally reached a deal on a massive stimulus package they are hoping can keep the American economy from falling into a deep recession due to the government-imposed economic shutdown to deal with the growing coronavirus threat.
The final version of the Senate bill comes with a two trillion dollar price tag. The plan includes tax rebates, four months of expanded unemployment benefits, a $500 billion corporate liquidity program, $100 billion in aid for hospitals, $150 billion in aid for state and local governments, money for education, transit programs, and airlines, as well as checks to families, and a slue of tax rebates and benefits for businesses and corporations. It also authorized the Federal Reserve in conjunction with the Treasury to make up to $4 trillion in loans to corporations.
Americans who make up to $75,000 a year will get a one time check of $1,200. Americans with no or little tax liability would receive the same amount. The original Republican proposal had given them a minimum of $600. The deal was reached following five intense days of negotiations that began on Friday.
"At last we have a deal. … the Senate has reached a bipartisan agreement," Senate Majority Leader Mitch McConnell (R-Kentucky) said during a speech on the Senate floor after 1:30 a.m. on Wednesday. McConnell pledging that the Senate will pass the stimulus bill later today.
Senate Minority Leader Charles "Chuck" Schumer (D-New York) praised the bill as "the largest rescue package in American history."
"This bill is far from perfect, but we believe the legislation has been improved significantly to warrant its quick consideration and passage," Schumer said.
The Hill is reporting that McConnell, Schumer, Treasury Secretary Steve Mnuchin, White House legislative affairs director Eric Ueland and incoming White House chief of staff Mark Meadows were all in the final negotiations. Schumer kept Speaker of the House Nancy Pelosi (D-California) closely abreast of what was happening during the discussions.
Pelosi has introduced her own $2.5 trillion stimulus bill that includes Democratic priorities such as ending photo ID for voting, parts of the Green New Deal, higher fuel economy and emissions standards for airplanes, and increased union collective bargaining powers. Republicans point to items like $35 million for the JFK Center for the Performing Arts as pork in the Pelosi bill.
"With this coronavirus relief package, we're trying to keep people employed—helping companies, large and small, maintain payroll to prevent massive layoffs," said Sen. Mitt Romney (R-Utah). "This isn't a corporate bailout. Spoke with KSL News radio this morning about why this is not the time for my Democratic colleagues to stall this package to add unrelated pet projects."
"With hundreds of thousands being laid off every single day and employers shutting down—some permanently—this is no time for Democrats to dither, hoping to win corporate social engineering points," Romney added. "Shameful, destructive, and dangerous."
Sen. Richard Shelby (R-Alabama) was an early supporter of a COVID-19 stimulus bill.
"It is my hope that in the coming days, we can pass an additional package that will contain comprehensive funding and protections to mitigate this virus and safeguard small businesses and others that make up the economic foundation of our nation," Shelby said before deliberations began.
Sen. Doug Jones (D-Alabama) voted against ending debate (and negotiations) on Monday over dissatisfaction with the bill that McConnell introduced.
"You know the old saying: half a loaf is better than none," Jones said. "But the vote today was not even 1/2 a loaf for hospitals, city & county gov'ts, small businesses & working folks, who would have got just a couple of slices while most of the bread goes to bailouts. That is why I voted NO!"
Jones said in a video statement that his two main sticking points were a lack of support for state and local government and a lack of transparency in the $500 billion corporate stabilization fund.
Republicans conceded both points to Jones.
Republicans hold a 53 to 47 majority in the Senate, but were seriously weakened when Sen. Rand Paul (R-Kentucky) announced that he was infected with the novel coronavirus. This meant that Paul, as well as Utah Republican Sens. Mitt Romney and Mike Lee who are regularly in close contact with Paul, have to self-quarantine for 14 days so are unavailable for votes on the Senate floor.
According to a source in the administration speaking to the Hill, "The legislation creates an inspector general and oversight committee for the corporate assistance program, similar to what was done for the Troubled Asset Relief Program of a decade ago, according to the senior administration official.
Jones had objected to giving Mnuchin sole power to decide what corporations he gave loans and guarantees to corporations. Jones also demanded and got the $150 billion for state and local governments. Those points were both addressed in this version of the bill. On Monday, Jones co-sponsored legislation giving COVID-19 relief to hospitals. This version of the bill includes $100 billion in COVID-19 relief for hospitals. Congresswoman Terri Sewell (D-Selma) cosponsored similar legislation to Jones's bill in the House.
Jones voted to end debate on an earlier version of the bill after Republicans conceded to his points.
A final key sticking point was bailouts for the troubled airlines, who have seen most of their international business grounded by the federal government. Republicans wanted to aid the airlines while some Democrats objected. This bill contains $25 billion in direct aid for airlines and $4 billion for air cargo carriers. The bill includes hundreds of billions of dollars in buffer capital for the Treasury Department to allow the Federal Reserve to hand out an additional $4 trillion in loans to distressed companies such as U.S. airlines and Boeing.
In a nod to Democrats, the bill bans stock buybacks for any corporation that accepts government loans during the term of their assistance plus one year. Schumer asked for and got a provision to ban businesses owned by the president, vice president, members of Congress and the heads of federal executive departments from receiving loans or investments through the corporate liquidity program. The prohibition also applies to their children, spouses and in-laws.
The bill includes $30 billion in emergency education funding, $25 billion in emergency transit funding, and creates an employee retention tax credit to incentivize businesses to keep workers on payroll during the crisis.
Aides are working on drafting the language for the final bill and a vote is expected later today.
(Orignal reporting by the Hill's Alexander Bolton and Jordain Carney contributed to this report.)
Print this piece