Opinion | Let's stop unwanted telemarketing calls
"Sarah, can you get me Floyd at the barbershop?" Such a request was typical of phone service in the 1950's and prior, not only for The Andy Griffith Show's mythical Town of Mayberry, but in communities throughout America. That was when operators used to manually connect callers with wires and a switchboard.
Now technology allows phone service over the internet, and cell phones have, in many cases, become the device of choice for consumers.
The evolution of telephone technology has benefitted society, but unfortunately, it has given rise to the unscrupulous who misuse digital technology to invade the privacy of telephone customers. As a result, the Federal Trade Commission established the National Do Not Call list in 2003, and most states, including Alabama, merged their own Do Not Call lists into the national list. The Do Not Call list continually changes with new registrants added daily. Its effectiveness relies upon telemarketers frequently updating their lists.
The Do Not Call list may limit some telemarketer calls, but it is not the solution most hoped it would be.
Initially, the Federal Communications Commission (FCC) handed down fines to telemarketers when they identified abusers through caller ID information. These fines encouraged companies to comply. However, we now have an ever-increasing number of unwanted telemarketing calls, and it is apparent that many are blatantly ignoring the National Do Not Call list.
The violators often employ a technology called spoofing. This is the common name ascribed to the practice of electronically replacing a caller's true identification and number with a name and number of the caller's choosing. Unscrupulous telemarketers have seized upon spoofing technology to mask their identity and to deceive unsuspecting consumers. Spoofing makes it extremely difficult for regulators and enforcement entities to identify abusive telemarketers and fine them. 100 North Union Street, Suite 800, Montgomery. Alabama 36104 – 334*242•5207
Call blocking appears to be the path the FCC and state attorneys general are pursuing for limiting telemarketing calls. In November 2017, the FCC released an order authorizing telecommunication carriers to adopt advanced call blocking technology for combating unwanted telemarketing calls. The FCC order makes adoption of advanced call blocking technology voluntary for telecommunications providers.
Hopefully, Congress and the Alabama Legislature will consider legislation that ensures all telephone carriers adopt advanced call blocking technology for their customers. Federal and or state legislation should also include a component to educate consumers on the call blocking technology available from their telecommunications provider.
Another issue that should be addressed is the limited collaboration between federal authorities, state authorities and the private sector for targeting abusive telemarketing practices. Future action at the federal level would ideally prioritize collaboration and cooperation between federal and state regulators, law enforcement and telecommunications providers to collectively identify and penalize unscrupulous telemarketers. The FCC should also revisit the Do Not Call list. The list, as it now exists, is ineffective.
The FCC needs to either strengthen the Do Not Call list compliance or develop an entirely new approach to solve the problem.
My pledge as President of your Alabama Public Service Commission is that I will exhaust every effort in pursuit of such measures at the state and federal levels.
This editorial was written by Twinkle Andress Cavanaugh who currently serves as President of the Alabama Public Service Commission. The positions setforth in this document are those of Twinkle Andress Cavanaugh and are not intended to reflect the official position of the Alabama Public Service Commission.
Print this piece
Opinion | Secretary of State responds to Alabama Political Reporter op-ed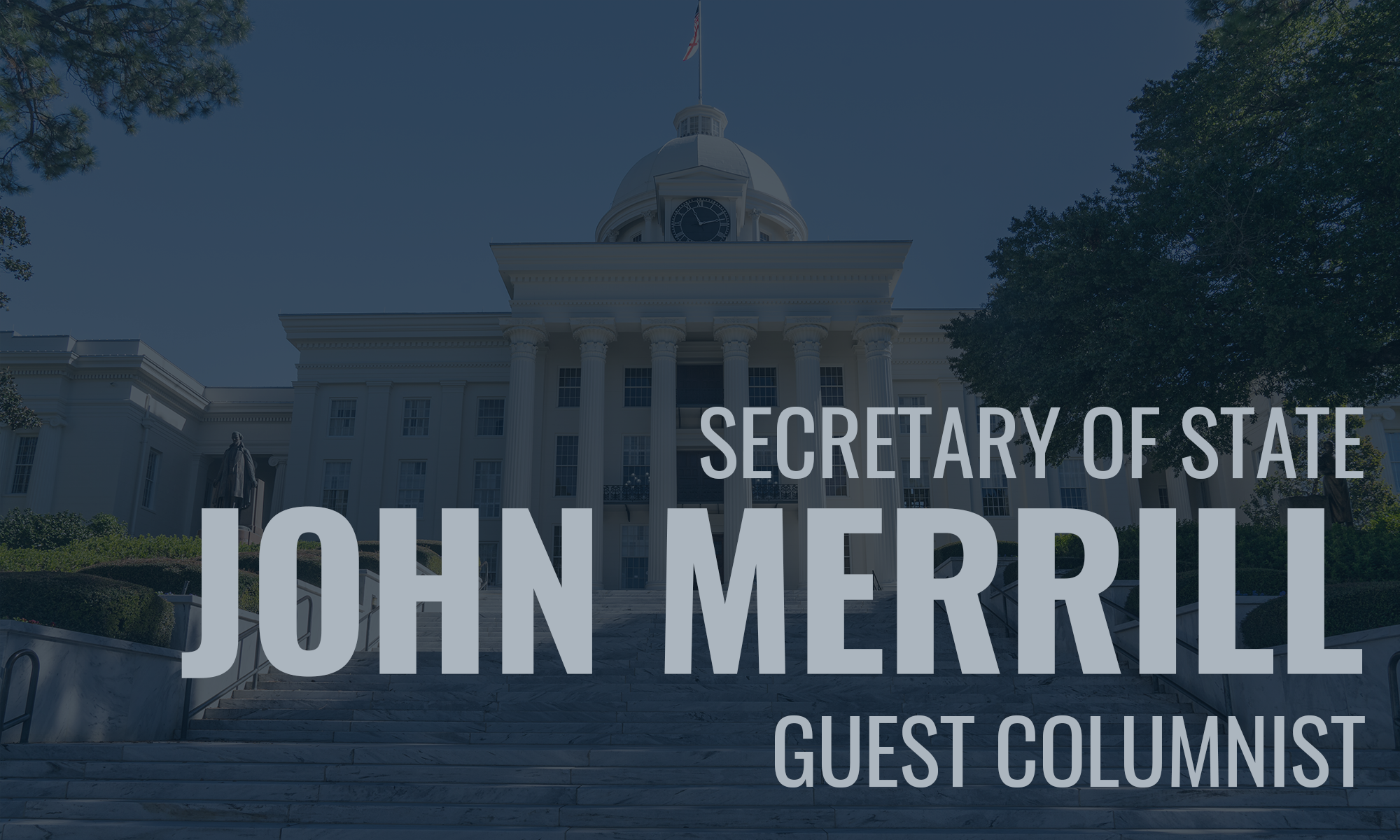 The following statement from Secretary of State John H. Merrill is in response to the inaccurate op-ed published yesterday morning by Josh Moon of Alabama Political Reporter:
This morning, Josh Moon of Alabama Political Reporter alleged that "voting by mail does not lead to fraud."
Moon went on to undermine the six voter fraud convictions and the five associated with tampering with absentee ballots in the last five years, claiming that these numbers are not substantial enough to have basis.
Let's start with the facts, Josh.
When you have one person that violates the trust and confidence in the elections process by committing illegal activity, that is one too many. Whether you have one voter fraud conviction or a thousand, you are proving to the electorate that elections require integrity and credibility! We will continue to work to build trust and confidence in the elections process.
Claiming "you can't commit enough fraud to alter the outcome of such a race" is naive and careless.
In 2018, we saw a member of the legislature who won her race by a mere six votes and another member who won his race by 28 votes. That same year, we witnessed a sheriff's race that was tied even after the recount. It should be apparent to anyone that just a few votes can determine the outcome of an election.
The fraudulent practice of ballot harvesting, which is often associated with voting by mail, led to the defeat of seven Republican candidates in the California 2018 midterm election. Young Kim, who ran to represent California's 39th Congressional District, was leading the vote count on election night and even in the week that followed the election. Two weeks later and after Kim attended New Member Orientation, the Democrat challenger was declared the winner after 11,000 mail ballots were counted. These ballots favored the Democrat challenger at a much higher rate than the previously counted ballots.
Similarly, during the 2018 Election Cycle, the North Carolina Board of Elections appropriately refused to certify the results of the 9th Congressional District's election due to the illegal misuse of absentee ballots.
It has also been reported, through data collected by the Election Assistance Commission, that between 2012 and 2018, 28.3 million mail-in ballots went unaccounted for, which equates to one in five of all absentee or mail-in ballots.
So, obviously, Josh, you can commit enough fraud to alter the outcome of an election.
The issues with mail-in voting far exceed the few that Josh attempts to raise. Consider Nevada where thousands of absentee ballots were just sent to inactive voters in Clark County. Consider the thousands of envelopes piling up in post offices or outside homes, apartments, and other facilities. Consider California in 2016 where 83 ballots were sent to one address housing just two people.
Then, Josh, after you have considered Alabama where in 2016, 109 absentee ballots were sent to the mother of a mayoral candidate in Brighton or when 119 absentee ballots were mailed to an abandoned home in Wilcox County, tell me that mail-in voting does not increase the likelihood for fraud to be committed.
To then pretend "small-town races" in Dothan, which is Alabama's seventh largest municipality out of 463, are not worthy of being noted is ludicrous.
The state's absentee law requiring a photo ID to be submitted with the application, which I remind you was passed last year with bipartisan support and sponsored, at our request, by Rodger Smitherman (D-Birmingham), has worked to prevent these sorts of opportunities in our state. This comprehensive, reform legislation has provided safeguards in our absentee process.
One major consideration that many supporters of mail-in voting fail to mention is cost. Currently, the administration for one Election Cycle (Primary, Runoff, and General) in our state is $16.5 million, whereas the administration of a full mail-in Election Cycle is almost $60 million.
I am positive that even Josh Moon can find a better way to spend $43.5 million generated by taxpayers.
Print this piece