Alabama receives low rating in Human Rights Campaign's State Equality Index
Alabama was placed in the lowest-rated category for the fifth year in a row in the Human Rights Campaign Foundation and Equality Federation Institute's fifth annual State Equality Index.
The SEI is a comprehensive report that details statewide laws and policies that affect LGBTQ people and their families and assesses how well states are protecting LGBTQ people from discrimination.
Alabama falls into the category "High Priority to Achieve Basic Equality" along with 27 other states, including bordering states Georgia, Florida, Tennessee and Mississippi. States in this category have not yet achieved basic equality for LGBTQ people, and HRC advocates in these states focus on gaining municipal protections and opposing negative legislation that targets the LGBTQ community.
The state's score is due to both laws that are and are not in place. There are currently no state anti-discrimination laws protecting LGBTQ people. The state also has multiple discriminatory laws in place, including an unenforceable sodomy law, laws that restrict inclusion of LGBTQ topics in schools and laws permitting discrimination based on religious freedom in adoption and employment.
With recent scandals like Justice Roy Moore ordering probate judges to stop issuing same-sex marriage licenses in 2016 and Gov. Kay Ivey signing a law in 2017 allowing faith-based adoption agencies to refuse to place children with families who contradict their religious beliefs, Alabama has furthered its reputation as an anti-LGBTQ state.
However, rare victories like Neil Rafferty being elected the first openly gay state congressman in 2018 and Doug Jones' historic win over anti-LGBTQ candidate Moore in the 2017 U.S. Senate special election have shown the state is currently changing.
"Alabama has a lot of room to improve when it comes to LGBTQ equality," said Eva Kendrick, HRC Alabama's state director. "While there are no statewide protections for LGBTQ Alabamians, we're encouraged by the actions taken in cities such as Birmingham and Montevallo, which has worked to protect its LGBTQ residents in the absence of action from leaders in the Capitol. We hope that statewide leaders will look at these cities' successful non-discrimination ordinances and understand that there is nothing to fear from expanding the rights of our LGBTQ friends and neighbors. It is our hope that through our work at HRC Alabama, we will improve the lived experience of LGBTQ Alabamians and, in the process, help ensure Alabamians are treated more equally under the law."
There are currently no comprehensive civil rights protections for LGBTQ people in place under federal law, so legal protections often depend on which state they reside in. Because of this, HRC is supporting an upcoming bill to be considered by the U.S. House, the Equality Act.
The Equality Act would establish comprehensive federal protections for LGBTQ people. HRC's Business Coalition for the Equality Act has currently gained support from over 130 major employers nationwide to urge Congress to pass the bill.
"LGBTQ people still face the sobering reality that their rights are determined by which side of a state or city line they call home," said Chad Griffin, HRC's president. "As this year's State Equality Index makes clear, the time has come for us to do away with this patchwork of state laws and to protect al LGBTQ people by passing the federal Equality Act."
Jones votes against Amy Coney Barrett confirmation
Since Justice Ruth Bader Ginsburg's death in September, Jones said he would not vote for a nominee, no matter who it was, until after the Nov. 3 general election.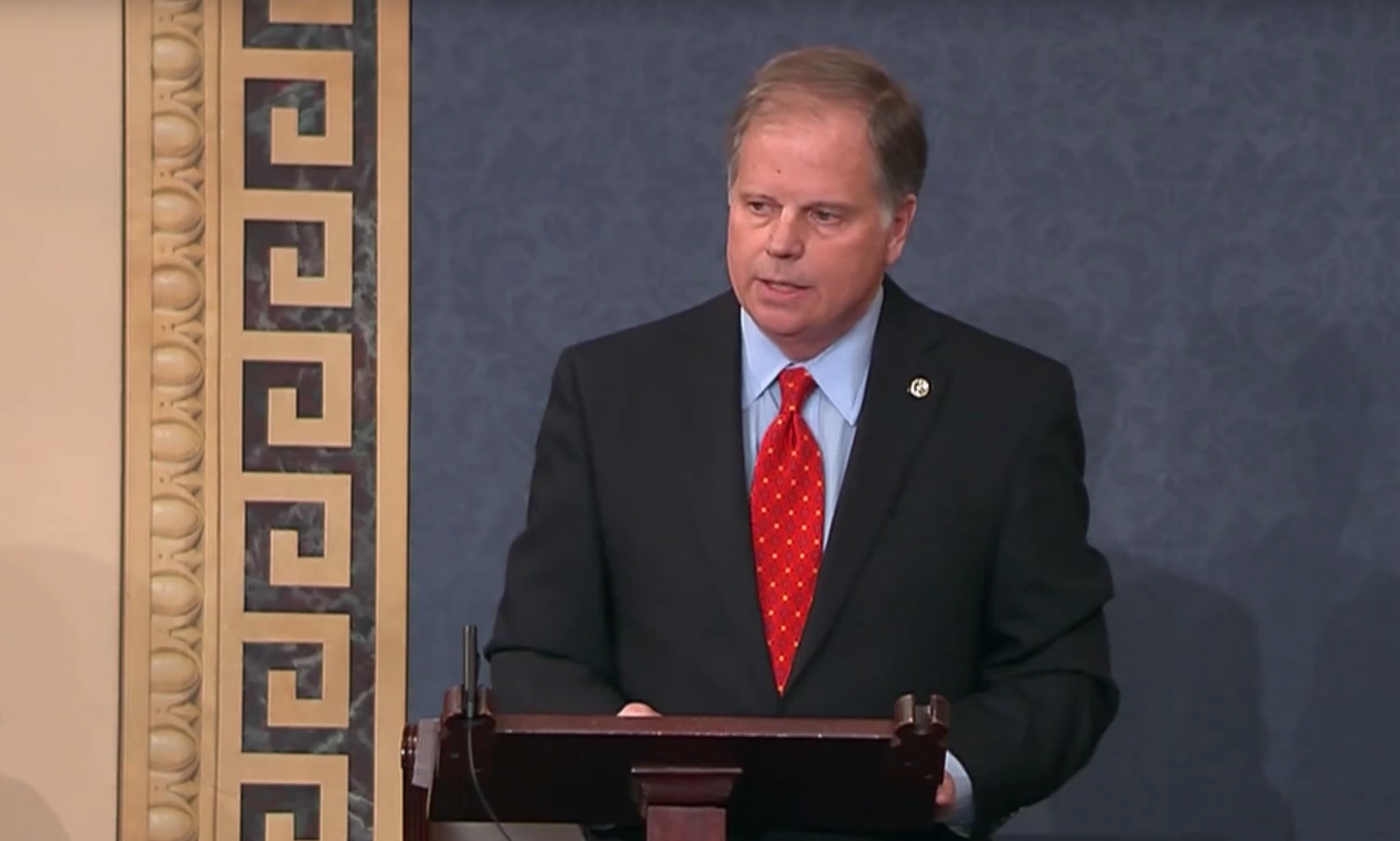 Democratic Alabama Sen. Doug Jones voted with his party and one GOP Senator against the confirmation of President Donald Trump's nominee, Amy Coney Barrett, to the United States Supreme Court.
"This process has been perhaps one of the most blatantly hypocritical in the history of the Senate and has further eroded trust in the independence of the Supreme Court in the eyes of the American people," Jones said. "By forcing this vote only eight days before an election, Mitch McConnell has prioritized temporary political gain over the long term integrity of both institutions. I also believe his decision to force through this confirmation instead of negotiating a bipartisan COVID relief package is an insult to the millions of Americans who are suffering as a result of this pandemic."
Since Justice Ruth Bader Ginsburg's death in September, Jones said he would not vote for a nominee, no matter who it was, until after the Nov. 3 general election.
"I voted no today because I refuse to be a party to Mitch McConnell's power grab, to the hyper-politicization of the Senate and the courts, and to denying the American people a voice in this process while voting for the next President is already underway," Jones added. "Now that Justice Barrett has been confirmed, it is my sincere hope that she will rule in a way that protects our institutions, our democracy, and the rule of law."
In 2016, Republicans in the United States Senate blocked the nomination of Judge Merrick Garland, a centrist jurist, by President Barack Obama, saying his nomination was too close to the 2016 election. Obama nominated Garland in February of that year, months before the election. Barrett's nomination came just weeks before the election this year and her confirmation just days before Election Day.
But Jones's "no" vote on Barrett was quickly denounced by Republicans, including his general election opponent Tommy Tuberville. Republicans attacked Jones for his vote against Barrett's confirmation.
"Senator Doug Jones continued to thumb his nose at our state's majority with his 'no' vote," said Alabama Republican Party Chairman Terry Lathan. "He has once again put the interests of his left wing groups first while ignoring those he is supposed to represent."
Lathan said Alabama voters will snub Jones for his vote next week.
"Alabama will relieve him of his duties on November 3rd when Tommy Tuberville is elected as Alabama's new U. S. Senator. Doug Jones will be a paragraph in a history book as future political pundits study how to be a failure in the arena of public service — ignoring the majority ends your tenure," Lathan said.
Tuberville was sharply critical of his general election opponent.
"Instead of standing up for our conservative Alabama values and voting to confirm Judge Amy Coney Barrett to the Supreme Court, Doug Jones voted against her nomination and represented the liberal beliefs of his high-dollar campaign donors in California and New York," Tuberville claimed.
"But Doug can't help himself because he's a liberal to his core — just like Nancy Pelosi, Chuck Schumer, Bernie Sanders, and AOC," Tuberville continued. "Ever since becoming our temporary senator, Doug Jones has opposed everything Alabamians support and supported everything Alabamians oppose."
"Anti-Trump Democrat Doug Jones voted no today on the confirmation of Amy Coney Barrett to the Supreme Court," said National Republican Senatorial Committee Deputy Press Secretary Paige Lindgren. "In September, before the President's nominee was even announced, Jones stated he would not meet with or vote in favor of any nomination to the court. Jones previously voted against Trump-nominated Justice Brett Kavanaugh."
"Anti-Trump Democrat Doug Jones has long since given up on representing Alabama, and his vote against Amy Coney Barrett is no different," Lindgren said. "Alabamians overwhelmingly support Justice Barrett's place on the Supreme Court and yet their junior Senator has obstructed President Trump at every turn. Jones has once again shown that his loyalty lies with Washington Democrats and not Alabama families."
"The latest poll has Jones down by 14 points against Trump-endorsed Republican Senate candidate Tommy Tuberville," Lindgren added.
Barrett won confirmation on a 52 to 48 vote. She was given the oath of office at a ceremony at the White House by Justice Clarence Thomas. The election is next week.