Sewell celebrates Black History Month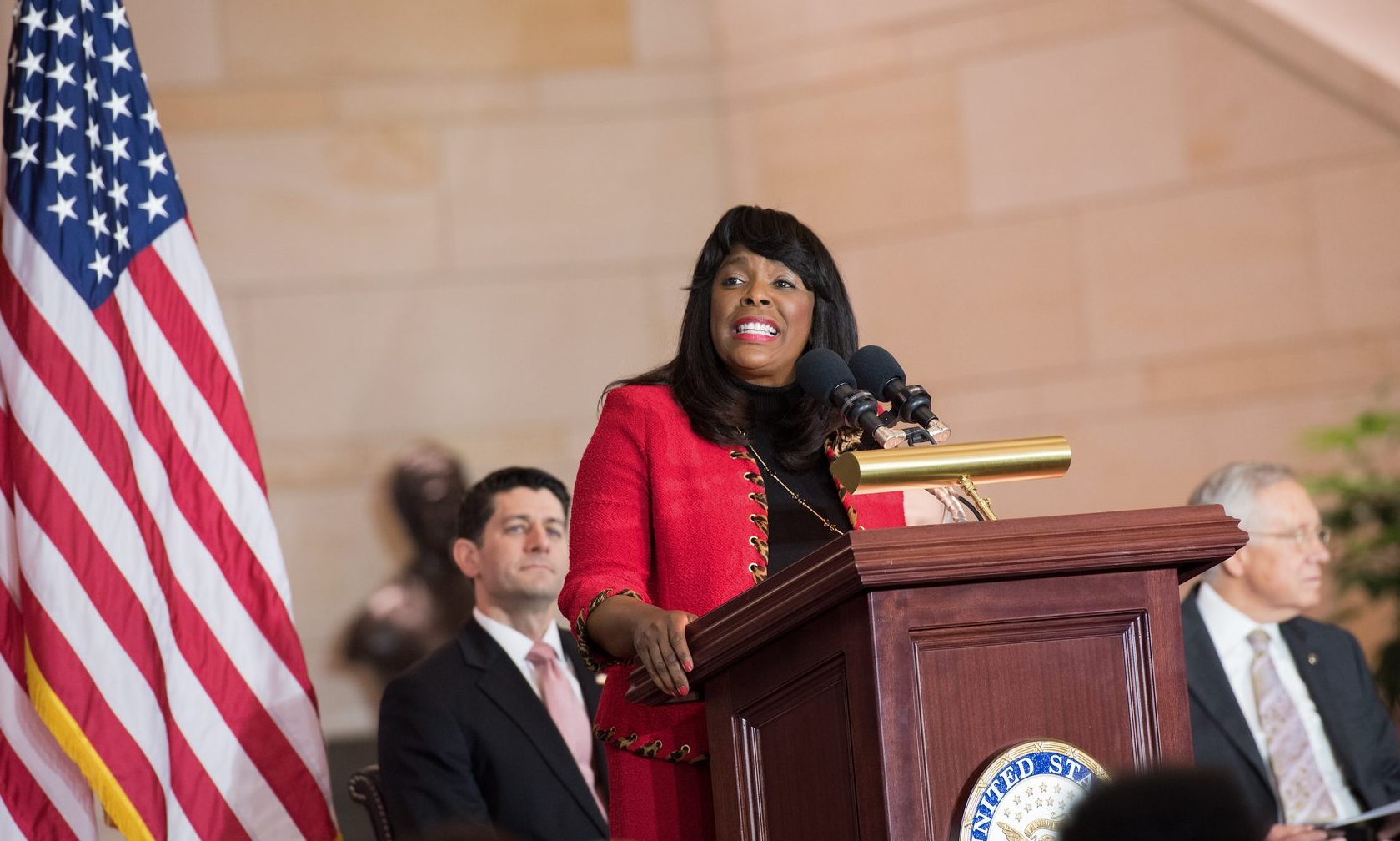 Friday U.S. Rep. Terri A. Sewell, D-Alabama, commented on the annual February celebration of Black History Month.
"During Black History Month, we celebrate the extraordinary contributions and accomplishments African Americans have made to this nation and the world," Sewell said. "As the first black Congresswoman elected from Alabama, a proud native of Selma and representative of Alabama's Civil Rights district, I know I stand on the shoulders of so many giants who courageously fought, bled and died to make our society more just, equal and inclusive for all."
"The legacy of Alabama's 7th District is ordinary people doing extraordinary things in the name of social justice and change," Sewell said. "We must always remember that there is work to be done – and there are always opportunities for every one of us to stand up for equality and justice."
On Thursday, President Donald J. Trump declared February to be African American History Month.
"In the year 1619, a Dutch trading ship sailed into the Chesapeake Bay and dropped anchor at Point Comfort, Virginia," Trump said. "The vessel's arrival marked the beginning of the unscrupulous slave trade in the American colonies. It was from this immoral origin—and through inhuman conditions, discrimination and prolonged hardship — that emerged the vibrant culture, singular accomplishments and groundbreaking triumphs that we honor and celebrate during National African American History Month."
"National African American History Month is an occasion to rediscover the enduring stories of African Americans and the gifts of freedom, purpose and opportunity they have bestowed on future generations," Trump continued. "It is also a time to commemorate the countless contributions of African Americans, many of whom lived through and surmounted the scourge of segregation, racial prejudice and discrimination to enrich every fiber of American life. Their examples of heroism, patriotism and enterprise have given people of all backgrounds confidence, courage and faith to pursue their own dreams."
"This year's theme, Black Migrations, highlights the challenges and successes of African Americans as they moved from farms in the agricultural South to centers of industry in the North, Midwest and West — especially the migrations that occurred in the 20th century," Trump added. "Through these migrations, millions of African Americans reshaped the demographic landscape of America, starting new lives in cities such as Philadelphia, Detroit, Chicago and New York City."
The Birmingham Civil Rights Institute will he holding a free screening of the movie "Buffalo Soldiers" as part of Black History month.
The Birmingham Civil Institute wrote: "Join us for a free film screening of Buffalo Soldiers: A Quest for Freedom, second film by local Alabama filmmakers, the Isabelle Brothers. A century and a half ago, Black soldiers, known as "Buffalo Soldiers" changed the face of the military forever. Despite their astonishing achievements in the face of heartbreaking adversity, the heroic bravery of these men has remained obscure. Until now! Buffalo Soldiers: A Quest for Freedom begins in the turbulent days leading to the Revolutionary War, traverses Frontier expansion and the Spanish American War and concludes with a modern perspective of military officers of color. This documentary chronicles, year by year, the extraordinary tale of these notable African-Americans and their invaluable service for our country."
Sewell is serving her fifth term representing Alabama's 7th Congressional district. She sits on the House Permanent Select Committee on Intelligence and is the vice chair of the powerful House Ways and Means Committee. Sewell is a chief deputy whip and serves on the prestigious Steering and Policy Committee of the Democratic Caucus. She is also a member of the Congressional Black Caucus, serves as vice chair of the Congressional Voting Rights Caucus and vice chair of Outreach for the New Democrat Coalition.
First presidential debate is tonight
Tuesday's debate, set to begin at 8 p.m. CST, will be moderated by Fox News Sunday anchor Chris Wallace.
President Donald Trump and former Vice President Joseph Biden, the Democratic nominee for president, are preparing for Tuesday night's debate.
Tuesday's debate will be moderated by Fox News Sunday anchor Chris Wallace. The debate will be at 8 p.m. CST and is being hosted at Case Western Reserve University and the Cleveland Clinic in Cleveland, Ohio.
Due to COVID-19, the two candidates and the moderator will not shake hands. There will be a small number of ticketed guests inside the debate hall, along with debate officials, crews and TV network anchors including Fox News.
Trump has prepared with help from former New Jersey Governor Chris Christie and former New York City Major Rudy Giuliani but has chosen not to have traditional lengthy practice sessions.
Trump is suggesting he doesn't want to overdo it.
"Sometimes you can go too much in that stuff," Trump told reporters on Sunday.
Biden has been holding mock debate sessions with senior adviser Bob Bauer and top aides, according to CBS News.
"I'm prepared to go out and make my case as to why I think he's failed and why I think the answers I have to proceed will help the American people, the American economy and make us safer internationally," Biden said.
"The president prepares by being president," Trump campaign communications director Tim Murtaugh reportedly said. "And by regularly facing hostile news media. That's pretty good practice by any measure."
The debate as to whether Trump should have appointed Judge Amy Coney Barrett to fill the vacancy on the Supreme Court created by the death of Ruth Bader Ginsburg will almost certainly come up.
"Joe Biden spent a lot of time in his basement to study up," said Lara Trump, the president's campaign adviser and daughter-in-law. "He's been in this game for 47 years. I assume he'll do OK. Quite frankly, the bar has been lowered so much for Joe Biden that if he stays awake for the whole thing it's like maybe he won."
The two candidates are running very different campaigns.
From March until the last week in August, according to news reports, Biden made no in-person speeches or campaign appearances. Biden's events since have been rare and attended by just a few invited guests.
Trump, on the other hand, has been holding mass campaign rallies. Trump has held 14 in-person rallies in September including in swing states New Hampshire, Michigan, Wisconsin, Nevada, Florida, Virginia and Minnesota with multiple trips to Ohio, North Carolina and Pennsylvania.