Alabama executes Muslim inmate after Supreme Court overturns stay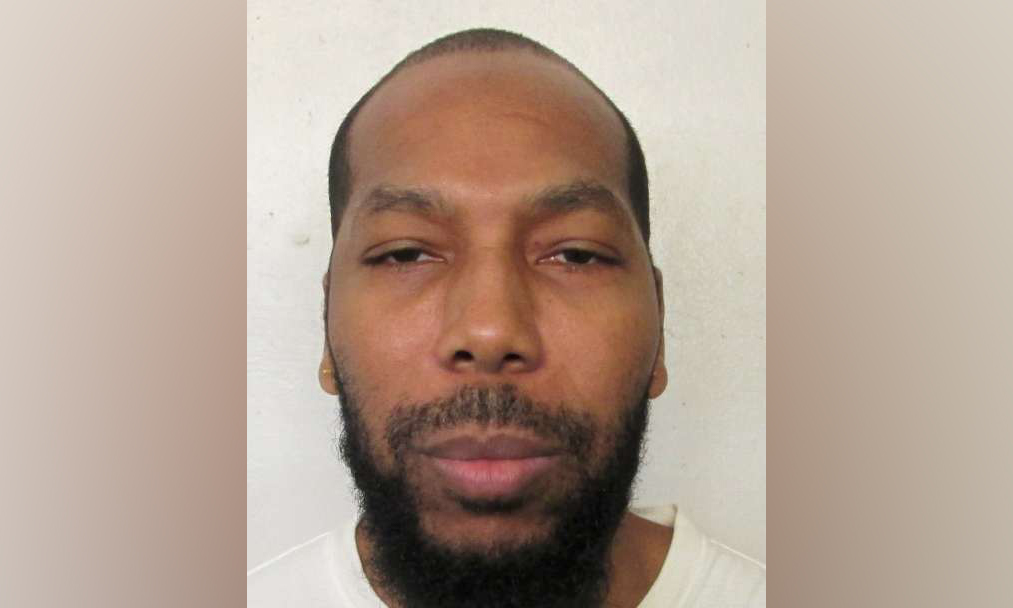 Alabama performed its first execution of 2019 following a legal back and forth over whether the inmate could be put to death without a chaplain of his faith in the chamber.
The state executed Dominque Ray, a Muslim inmate who had appealed to federal courts after the state refused to allow an imam to be in the chamber. He died Thursday at 10:12 p.m. by lethal injection, the Montgomery Advertiser reported.
"It is my duty as the governor of Alabama to uphold the laws of our state," Gov. Kay Ivey said. "A role I hold with much reverence is ensuring that justice is done, by both the victims and the convicted. Due to the nature of his crime, the decision of a jury to condemn him to death and because our legal system has worked as designed, Mr. Ray's sentence was carried out."
The Supreme Court overturned a stay by the 11th Circuit Court of Appeals, allowing the execution to move forward just hours before his death warrant was set to expire.
Ray and his attorneys argued Alabama's policy of having a Christian prison chaplain present in the execution chamber is a violation of the First Amendment. Ray wanted his imam — a local Muslim religious leader — present for his execution and last rites instead of a Christian chaplain.
The high court voted along partisan lines in a 5 to 4 decision to vacate the 11th Circuit's stay. The court said Ray waited too late to challenge the execution.
"Because Ray waited until Jan. 28, 2019, to seek relief, we grant the state's application to vacate the stay entered by the United States Court of Appeals for the Eleventh Circuit," the court found.
They cited precedent in a 1992 case that allows the court to consider the last-minute nature of an application to stay execution in deciding whether to grant equitable relief. The justices in the majority took no position on whether the state's practice does, in fact, violate the First Amendment's Establishment Clause.
Justice Elana Kagan, writing in her dissent, did take a position.
"Under that policy, a Christian prisoner may have a minister of his own faith accompany him into the execution chamber to say his last rites," Kagan wrote. "But if an inmate practices a different religion — whether Islam, Judaism or any other — he may not die with a minister of his own faith by his side. That treatment goes against the Establishment Clause's core principle of denominational neutrality."
To justify religious discrimination, Kagan wrote, the state must show that the policy is narrowly tailored to a compelling interest, citing Supreme Court precedent.
"I have no doubt that prison security is an interest of that kind," she wrote. "But the State has offered no evidence to show that its wholesale prohibition on outside spiritual advisers is necessary to achieve that goal. Why couldn't Ray's imam receive whatever training in execution protocol the Christian chaplain received? The State has no answer."
More directly to the point of the Supreme Court's finding Thursday, Kagan wrote that it could be argued Ray did bring his case within a reasonable time period.
Holman Correctional Facility's warden denied Ray's request to have an imam in the chamber on Jan. 23. Ray filed a complaint five days later on Jan. 28. The 11th Circuit didn't issue a stay until Tuesday, Feb. 6, a day before his execution.
"The state contends that Ray should have known to bring his claim earlier, when his execution date was set on Nov. 6," Kagan wrote in the dissent. "But the relevant statute would not have placed Ray on notice that the prison would deny his request."
Kagan cited Alabama code that state a spiritual adviser and the prison chaplain may be "present at an execution." But family members and newspaper reporters are also listed under the same statute. They are not allowed in the actual chamber but are held in a separate viewing room.
"It makes no distinction between persons who may be present within the execution chamber and those who may enter only the viewing room," Kagan said. "So there is no reason Ray should have known, prior to Jan. 23, that his imam would be granted less access than the Christian chaplain to the execution chamber."
The state is notoriously quiet about its execution protocols, and it doesn't release where it gathers its lethal injection drug cocktail.
Ray was originally scheduled for execution at 6 p.m. Thursday, but his warrant was valid until midnight, giving the state time to move forward with the lethal injection.
No spiritual adviser — including Holman's Christian chaplain — was present for the execution, the AP reported. The state amended its execution policy after the 11th Circuit's ruling, according to court documents.
The state argued that a prison chaplain was only allowed in the execution chamber because he is a Department of Corrections employee trained in execution protocol. Ray's imam would not be trained in the protocol and could be a potential threat to the security of the execution, the state argued as their reason for not allowing him in the chamber.
"To accommodate Ray's stated beliefs and the Establishment Clause, the ADOC has amended its protocol and will no longer allow the prison chaplain, or any other spiritual adviser, in the execution chamber," the state said in its emergency motion to the court.
Ray's lawyer, John Palombi, a federal public defender, said the state's voluntary decision to change its practice last minute for one execution does not make the case any less important.
"Without a definitive court ruling on this question, Alabama could continue to change and unchange its execution protocol at whim," Palombi wrote.
Ray was convicted for the rape and fatal stabbing of a 15-year-old girl, Tiffany Harville, of Selma, and sentenced to death in 1999. It wasn't the first killing Ray was convicted of.
Just five months earlier, he was sentenced to life in prison for his role in the murders of two Selma teenage boys.
"Mr. Ray was convicted by a jury of his peers of killing Tiffany Harville after taking her from the safety of her home," Ivey said. "Courts at every level have upheld Mr. Ray's conviction for his senseless act. Accordingly, the laws of this state have been carried out. It is my prayer that, with tonight's events, the Miss Harville's family can finally have closure."
Ray has tried numerous times to appeal his death penalty. His lawyers have argued that he was not adequately represented during the penalty phase of his trial for Harville's death.
His lawyer in the 1999 trial did not hire an investigator to look into his background for mitigating evidence that could have been used to avoid a death penalty. Though the lawyer "stands by his work" in the trial, he has acknowledged that not all evidence now available was available then.
"I've done this a long time, I've been practicing law now for 34 years, and I know that I could have done better representing Dominique if I would have had somebody to guide our investigation of mitigation evidence," attorney William Whatley told ProPublica.
Whatley had experience arguing against the death penalty in capital murder trials, and Ray was his only client sentenced to death. But Ray allowed his co-counsel, just a few years out of law school, to deliver the presentation during the sentencing phase, which has also drawn scrutiny.
Alabama remains one of 30 states with the death penalty. More than 40 death row inmates have been executed since 2000, and last year, Alabama executed two inmates. After Ray's death, 175 inmates remain on death row.
Print this piece
Man set to be executed Thursday for murders he did not commit
An Alabama man convicted in the 2004 shooting deaths of three police officers he did not kill is set to be executed this afternoon. 
Nathaniel Woods, 44, was convicted in 2005 of capital murder in the shooting deaths of three Birmingham police officers Carlos Owen, Harley A. Chisholm III and Charles R. Bennett. Woods was also convicted of attempted murder in the shooting of officer Michael Collins. 
Woods is set to die by lethal injection at 6 p.m. today at Holman Correctional Facility. 
While Woods was not the one who shot the officers, prosecutors claimed that Woods lured police to an ambush at the apartment in Ensley where the shooting took place. The officers were attempting to serve a misdemeanor warrant on Woods when another man inside the apartment, Kerry Spencer, opened fire.
Spencer was also convicted in the case and is currently on death row. 
Yesterday, Spencer spoke via phone with CNN correspondent Martin Savage, saying he takes full responsibility for shooting the officers and that the shooting was a spur of the moment decision and there was no premeditated plan between him and Woods to kill anyone.  
"I'm the only one who shot anybody that day," Spencer said. "He (Woods) didn't know I was going to shoot anybody… I didn't know I was going to do this s***, so how would Nate know?"
Woods' attorneys released a handwritten letter from Spencer, in which he wrote Woods doesn't deserve to be incarcerated, let alone executed. 
"Nathaniel Woods is 100 percent innocent," Spencer wrote. "I know this to be a fact because I'm the person that shot and killed all three of the officers."
On the steps of the state Capitol, his family proclaimed his innocence in a plea to Governor Kay Ivey to grant him clemency to prevent his execution from being carried out. 
Nathaniel's sister Pamela Woods, accompanied by their father Nathaniel Woods Sr., spoke to reporters outside the Capitol building, proclaiming her brother's innocence and calling on Ivey to stop the execution.
"We really just want people to see that he really is innocent, that he didn't have anything to do with the murders of those officers," Pamela Woods said. "We do feel really bad for what happened that day. We don't wish that on anyone, for their family to have to deal with that. It was very unfortunate that the shooter did what he did. But the main point is that Nathaniel had no parts in those actions of another man, Kerry Spencer."
Yesterday afternoon, Molly Cole, an advocate for the Woods family, delivered letters to Ivey's office asking the governor to stop his execution.
Cole was accompanied by two men who were freed from death row after their convictions were overturned, Garry Drinkard and Randal Padgett.
"I'm not here so much to get into Mr. Woods' case, but I'm here to protest the state-sanctioned killing of human life," Padgett said. "And I would like to quote Gov. Ivey's own words back when she signed the abortion ban last year – the human life protection act. As she was signing it, she said 'Alabamians have a deeply held belief that every life is precious and that every life is a sacred gift from God.' Well, I'm here to say that Mr. Woods' life is precious. And I want her to stand up to her words and protect that life."
"With the trial messed up the way it was, with the ineffective assistance of counsel, he should get some type of hearing, he should get a commutation at the least, in my opinion," Drinkard said.
According to a website dedicated to Woods' case called SaveNate.com, over 31,000 letters have been sent to Ivey's office calling for her to grant a reprieve for Woods.
Advocates for Woods claim there is no evidence that there was any plan or scheme to kill the police officers and that inadequate legal representation during the trial led him to be wrongfully convicted.
Martin Luther King, III, son of civil rights leader Martin Luther King, Jr., sent Alabama Gov. Kay Ivey a letter on Tuesday pleading for her to stop Woods' execution.
"55 years ago, my father, Martin Luther King, Jr., lead a march from Selma, Alabama, where he and fellow civil rights activists were killed and beaten. Under your watch, Alabama is about to produce yet another tragic injustice," King wrote. "It is about time we learn from our past, and be on the right side of history. 
"Killing this African American man, whose case appears to have been strongly mishandled by the courts, could produce an irreversible injustice.
"Are you willing to allow a potentially innocent man to be executed?"
Attorney General Steve Marshall issued a statement yesterday on the Woods' case, calling efforts to stop the execution "a last-minute movement" to save a "cop-killer" from his "just punishment."
"The message of that movement is encapsulated by the headline of a press release sent out today, which declared: 'Surrendered and Innocent Man Set to Die,'" Marshall said in the statement. "That headline contains two falsehoods and one truth. The falsehoods are the descriptors 'surrendered' and 'innocent': neither apply whatsoever to Nathaniel Woods, whose actions directly caused the deaths of three policemen and injury to another. The truth is 'set to die': 
"Nathaniel Woods was correctly found guilty and sentenced to death by a jury of his peers, and that sentence is set to be carried out tomorrow; that is, justice is set to be carried out tomorrow. The only injustice in the case of Nathaniel Woods is that which was inflicted on those four policemen that terrible day in 2004."  
Ivey's office told CNN yesterday that she will have no comment until a decision is made.
Print this piece