Alabama executes Muslim inmate after Supreme Court overturns stay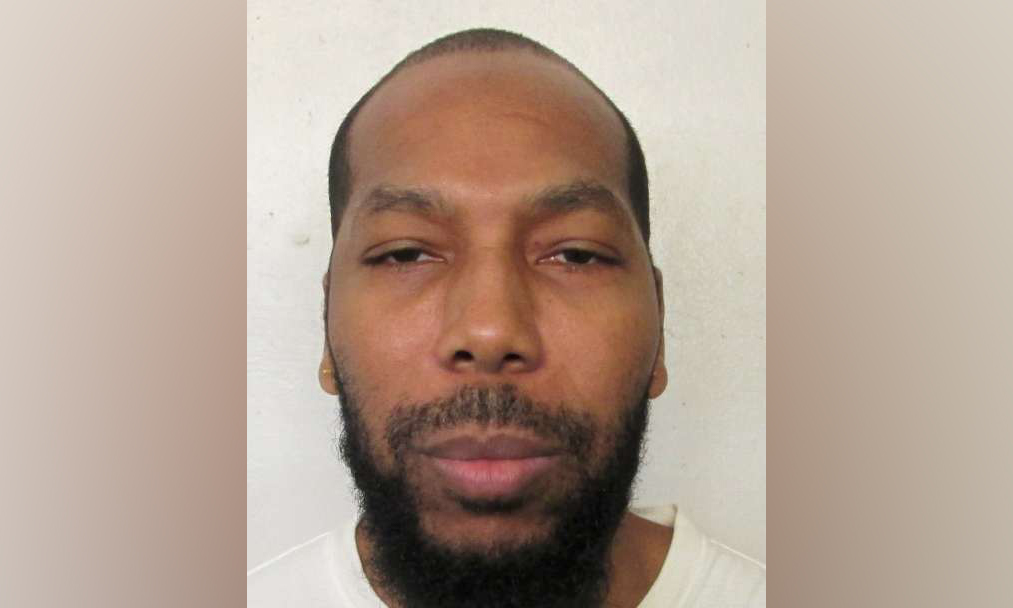 Alabama performed its first execution of 2019 following a legal back and forth over whether the inmate could be put to death without a chaplain of his faith in the chamber.
The state executed Dominque Ray, a Muslim inmate who had appealed to federal courts after the state refused to allow an imam to be in the chamber. He died Thursday at 10:12 p.m. by lethal injection, the Montgomery Advertiser reported.
"It is my duty as the governor of Alabama to uphold the laws of our state," Gov. Kay Ivey said. "A role I hold with much reverence is ensuring that justice is done, by both the victims and the convicted. Due to the nature of his crime, the decision of a jury to condemn him to death and because our legal system has worked as designed, Mr. Ray's sentence was carried out."
The Supreme Court overturned a stay by the 11th Circuit Court of Appeals, allowing the execution to move forward just hours before his death warrant was set to expire.
Ray and his attorneys argued Alabama's policy of having a Christian prison chaplain present in the execution chamber is a violation of the First Amendment. Ray wanted his imam — a local Muslim religious leader — present for his execution and last rites instead of a Christian chaplain.
The high court voted along partisan lines in a 5 to 4 decision to vacate the 11th Circuit's stay. The court said Ray waited too late to challenge the execution.
"Because Ray waited until Jan. 28, 2019, to seek relief, we grant the state's application to vacate the stay entered by the United States Court of Appeals for the Eleventh Circuit," the court found.
They cited precedent in a 1992 case that allows the court to consider the last-minute nature of an application to stay execution in deciding whether to grant equitable relief. The justices in the majority took no position on whether the state's practice does, in fact, violate the First Amendment's Establishment Clause.
Justice Elana Kagan, writing in her dissent, did take a position.
"Under that policy, a Christian prisoner may have a minister of his own faith accompany him into the execution chamber to say his last rites," Kagan wrote. "But if an inmate practices a different religion — whether Islam, Judaism or any other — he may not die with a minister of his own faith by his side. That treatment goes against the Establishment Clause's core principle of denominational neutrality."
To justify religious discrimination, Kagan wrote, the state must show that the policy is narrowly tailored to a compelling interest, citing Supreme Court precedent.
"I have no doubt that prison security is an interest of that kind," she wrote. "But the State has offered no evidence to show that its wholesale prohibition on outside spiritual advisers is necessary to achieve that goal. Why couldn't Ray's imam receive whatever training in execution protocol the Christian chaplain received? The State has no answer."
More directly to the point of the Supreme Court's finding Thursday, Kagan wrote that it could be argued Ray did bring his case within a reasonable time period.
Holman Correctional Facility's warden denied Ray's request to have an imam in the chamber on Jan. 23. Ray filed a complaint five days later on Jan. 28. The 11th Circuit didn't issue a stay until Tuesday, Feb. 6, a day before his execution.
"The state contends that Ray should have known to bring his claim earlier, when his execution date was set on Nov. 6," Kagan wrote in the dissent. "But the relevant statute would not have placed Ray on notice that the prison would deny his request."
Kagan cited Alabama code that state a spiritual adviser and the prison chaplain may be "present at an execution." But family members and newspaper reporters are also listed under the same statute. They are not allowed in the actual chamber but are held in a separate viewing room.
"It makes no distinction between persons who may be present within the execution chamber and those who may enter only the viewing room," Kagan said. "So there is no reason Ray should have known, prior to Jan. 23, that his imam would be granted less access than the Christian chaplain to the execution chamber."
The state is notoriously quiet about its execution protocols, and it doesn't release where it gathers its lethal injection drug cocktail.
Ray was originally scheduled for execution at 6 p.m. Thursday, but his warrant was valid until midnight, giving the state time to move forward with the lethal injection.
No spiritual adviser — including Holman's Christian chaplain — was present for the execution, the AP reported. The state amended its execution policy after the 11th Circuit's ruling, according to court documents.
The state argued that a prison chaplain was only allowed in the execution chamber because he is a Department of Corrections employee trained in execution protocol. Ray's imam would not be trained in the protocol and could be a potential threat to the security of the execution, the state argued as their reason for not allowing him in the chamber.
"To accommodate Ray's stated beliefs and the Establishment Clause, the ADOC has amended its protocol and will no longer allow the prison chaplain, or any other spiritual adviser, in the execution chamber," the state said in its emergency motion to the court.
Ray's lawyer, John Palombi, a federal public defender, said the state's voluntary decision to change its practice last minute for one execution does not make the case any less important.
"Without a definitive court ruling on this question, Alabama could continue to change and unchange its execution protocol at whim," Palombi wrote.
Ray was convicted for the rape and fatal stabbing of a 15-year-old girl, Tiffany Harville, of Selma, and sentenced to death in 1999. It wasn't the first killing Ray was convicted of.
Just five months earlier, he was sentenced to life in prison for his role in the murders of two Selma teenage boys.
"Mr. Ray was convicted by a jury of his peers of killing Tiffany Harville after taking her from the safety of her home," Ivey said. "Courts at every level have upheld Mr. Ray's conviction for his senseless act. Accordingly, the laws of this state have been carried out. It is my prayer that, with tonight's events, the Miss Harville's family can finally have closure."
Ray has tried numerous times to appeal his death penalty. His lawyers have argued that he was not adequately represented during the penalty phase of his trial for Harville's death.
His lawyer in the 1999 trial did not hire an investigator to look into his background for mitigating evidence that could have been used to avoid a death penalty. Though the lawyer "stands by his work" in the trial, he has acknowledged that not all evidence now available was available then.
"I've done this a long time, I've been practicing law now for 34 years, and I know that I could have done better representing Dominique if I would have had somebody to guide our investigation of mitigation evidence," attorney William Whatley told ProPublica.
Whatley had experience arguing against the death penalty in capital murder trials, and Ray was his only client sentenced to death. But Ray allowed his co-counsel, just a few years out of law school, to deliver the presentation during the sentencing phase, which has also drawn scrutiny.
Alabama remains one of 30 states with the death penalty. More than 40 death row inmates have been executed since 2000, and last year, Alabama executed two inmates. After Ray's death, 175 inmates remain on death row.
How qualified immunity affected an Alabama man shot five times during a police sting
Trinell King was driving his girlfriend's car to give an acquaintance, Donavan Brown, a ride when a Warrior Police Department officer pulled him over because the car didn't have a license plate.
King, who is Black, didn't have proof of insurance or a driver's license that September day in 2015, but gave the officer a photo ID.
Brown — on the other hand — gave a false name, and while the officer was back at his police vehicle, King told Brown to be honest with the officer, according to court records in a case over the incident. Brown told King that he had outstanding warrants and a gun. He was going to run.
Brown got out of the car and ran, and the officer ordered King out at gunpoint, handcuffed him and placed him in the back of the police car. King fully cooperated and told the officer that Brown had a gun. Even the responding officers, in court depositions, agreed that King fully cooperated.
Soon, King was surrounded by numerous white officers, one of whom testified in a deposition that King was "extremely cooperative from the beginning" and "willing to give [them] any information without having to really ask."
King's only crime was driving without insurance or a license, not something Warrior police usually arrest someone for, officers said in depositions, but he remained handcuffed while officers tried to coerce him into helping capture the armed man who'd ran from the scene.
"F— him [i.e. meaning King], you don't want to help us out, we're going to throw — we're going to hit you with this charge, you gonna start f—ing us over, we'll f— over you," King said an officer told him, while testifying in a deposition.
Officers repeatedly threatened King that they would "f—" him "over" if he didn't help.
King said he was "nervous" and "scared" — that he "felt threatened." He believed his "life was in danger," according to court records, and after nearly two hours of coercion, he agreed to take part in a dangerous sting operation to capture Brown. Police officers in depositions disputed that they coerced King into helping them with the sting operation, and said it was his idea to do so, according to those records.
"With the negotiation, the threats, everything they was telling me, if I don't cooperate they're going to throw some charges on me, and they going to f— me over. So in the streets that means it could mean anything. It can mean being shot. It can mean being anything. My life —," King said in a deposition.
Going along with the plan, an officer called Brown and put a cell phone to King's ear while he was handcuffed. King told Brown what he was told to say: that police had let him go. He could come and pick Brown up. Police told King to drive his girlfriend's car, pick up Brown and that they'd pull him over again.
Once again, an officer told King "if you f— over us, we're going to f— over you," according to the court documents.
Once King picked up Brown, the officers decided to pull him over before they had discussed, Brown pulled his gun and told King he "had" to shoot the officers, according to court records.
"King could not stop the car before Brown started shooting, and the officers returned fire," King's attorneys wrote in a court filing.
King, who wasn't given a bullet-proof vest, was struck by bullets five times, and there were 20 bullet holes in the car. Brown was shot 13 times, but remarkably both survived. One officer was shot but was protected by a vest. King underwent multiple surgeries, but lost the use of one arm.
King's case is an Alabama example of how the legal doctrine of qualified immunity prevents some who've been harmed by the actions of law enforcement from seeking relief from courts. Qualified immunity, a controversial doctrine established by Supreme Court precedent, protects government officials who have been sued in their individual capacity, unless their actions violate established legal precedent.
King sued, but a U.S. District Court judge in 2017 dismissed the case before it even went to trial on grounds of qualified immunity, and a three-judge panel of the 11th Circuit U.S. Court of Appeals in a June 5 ruling also found that the officers were protected by qualified immunity.
Despite the courts' rulings, witnesses testified that the officers' actions were improper.
Daniel Busken, a retired police chief and law enforcement consultant, testified in a deposition as a witness for King that the officers should have known they were putting King's life at risk.
Busken said that the police "knew, or should have known, that their plan to force Mr. King to assist in their capture of Brown represented a significant danger to Mr. King's safety … and an unpredictable situation for Mr. King," because Brown "was a desperate man in a desperate situation that had showed how desperate he was."
Another officer testified in a deposition that he was unaware of any plan to protect King's life, or if the department had ever conducted such a sting before.
"Nevertheless, Defendants planned to have five vehicles and seven armed officers — all of whom planned to draw their guns on Brown — involved in the sting," King's attorneys wrote in an appeal.
The judges ruled that King could not bring his case before a jury to decide whether the officers should be held accountable for nearly costing him his life — not because his case lacked merit but because of the controversial legal doctrine of qualified immunity
Attorneys for King have appealed the 11th circuit panel's ruling to the full 11th circuit court, and are asking all the circuit judges to reconsider, and to allow the case to go before a jury.
The attorneys argue that the officers violated his Constitutional protections. The June 5 ruling came at the peak of tensions between peaceful protestors and police, some of whom responded with tear gas and so-called rubber bullets.
The judges,  in their opinion, wrote that "even taking King's testimony as true and drawing all reasonable inferences in his favor, there is no evidence that the officers threatened him with false charges" — because the officer's didn't say what he might be charged with if he didn't go along with their plan.
"As for the alleged threats of physical violence, the evidence is similarly thin," the judge's wrote. "If the officers had told King 'help us, or we're going to f–k you up' (or something like that) then King would have a more compelling argument. But that isn't what he said they said."
"Instead, King testified that the officers told him "[if] you don't want to help us out, we're going to throw—we're going to hit you with this charge, you gonna start f–king us over, we'll f–k over you. I don't know where you get your car back," the judges wrote.
King's attorneys in the appeal to the full 11th circuit argue that the case should be heard by a jury of King's peers, and that the all-white judges on the panel are "good people with good intentions" but that they are out-of-touch with "the common experiences of the people, especially Black Americans, and the reasonable inferences that they would draw from the totality of the evidence presented."
"Suffice it to state that Black and other Americans of color, and a significant amount of White and other Americans, would come to a different conclusion than the panel, based on their different life experiences, which is the reason why the Founders insisted that the Seventh Amendment require trial by jury, and not by a panel of judges who do not have the same life experiences," King's attorneys wrote.
King told APR that he was left without a choice, forced to risk his life in a bid to help the officers, with whom he cooperated from the start.
"I can't believe that the courts have given the officers who made me help them catch their suspect immunity after they forced me to go along with their plan to trap him. They knew he was armed and dangerous. They put on their bullet proof vests while I waited, and they made me go pick him up with no protection at all," King said in a statement. "I had done everything I could to cooperate and even told them his name, that he had a gun and had warrants on him, but then they forced me to help them catch him."
"I didn't have any choice because they made it clear that if I didn't go along with their plan they were going to hurt me," King continued. "There was no doubt about that. I was one Black man surrounded by all these white cops who were threatening me. How can judges sit there and say what a jury would think about that?"
Spurred by the death of George Floyd, a Black man killed by a white police officer in Minneapolis, protestors and criminal justice reform advocates are calling for an end to qualified immunity, which they say allows police to escape responsibility for harming the public.
On June 19, in a tribute to Juneteenth, Colorado Gov. Jared Polis signed into law a series of law enforcement reform bills, included among them an avenue for Coloradans to sue police in state court if their rights have been violated. The Enhance Law Enforcement Integrity Act states that "qualified immunity is not a defense to liability."
Colorado is the first state to pass such legislation barring qualified immunity as protection for officials, but the state law can't stop such officials from claiming qualified immunity if a case is brought before a federal court instead of a state court.
That could change, if the U.S. Supreme Court ruled against such protections, but earlier this month, the Supreme Court passed up a chance to rule on the matter.
It was the U.S. Supreme Court in the 1967  Pierson v. Ray case that established qualified immunity as a doctrine as a protection against frivolous lawsuits, and over the years, courts have expanded the protection, and the doctrine still has its supporters.
Democrats have pushed for broad police reforms in the wake of Floyd's homicide, including an end to qualified immunity, but many Republicans argue that doing so would result in frivolous lawsuits and discourage people from becoming law enforcement officers.
The U.S. House of Representatives on June 25 passed a series of policing reforms in a largely party-line vote, but the Trump administration is threatening a veto, and the measure has little support among Republican lawmakers, just three of whom broke ranks and voted for the House bill.
Democrats opposed a GOP proposal in the U.S. Senate, and said the bill didn't go far enough, effectively stalling that bill and leaving the matter in limbo as protests against police brutality continue across much of the country.
Birmingham attorney Rip Andrews, one of King's attorneys, told APR in a statement that he hopes the full 11th circuit considers the case in the current context.
"Qualified immunity has so far kept Trinell from having his day in court in front a jury. Win or lose — a day supposedly guaranteed by the Seventh Amendment," Andrews said. "His only chance now is the hope that the full Eleventh Circuit reads his story in the context of our time and agrees to hear his appeal."