Jones will vote to confirm Trump attorney general nominee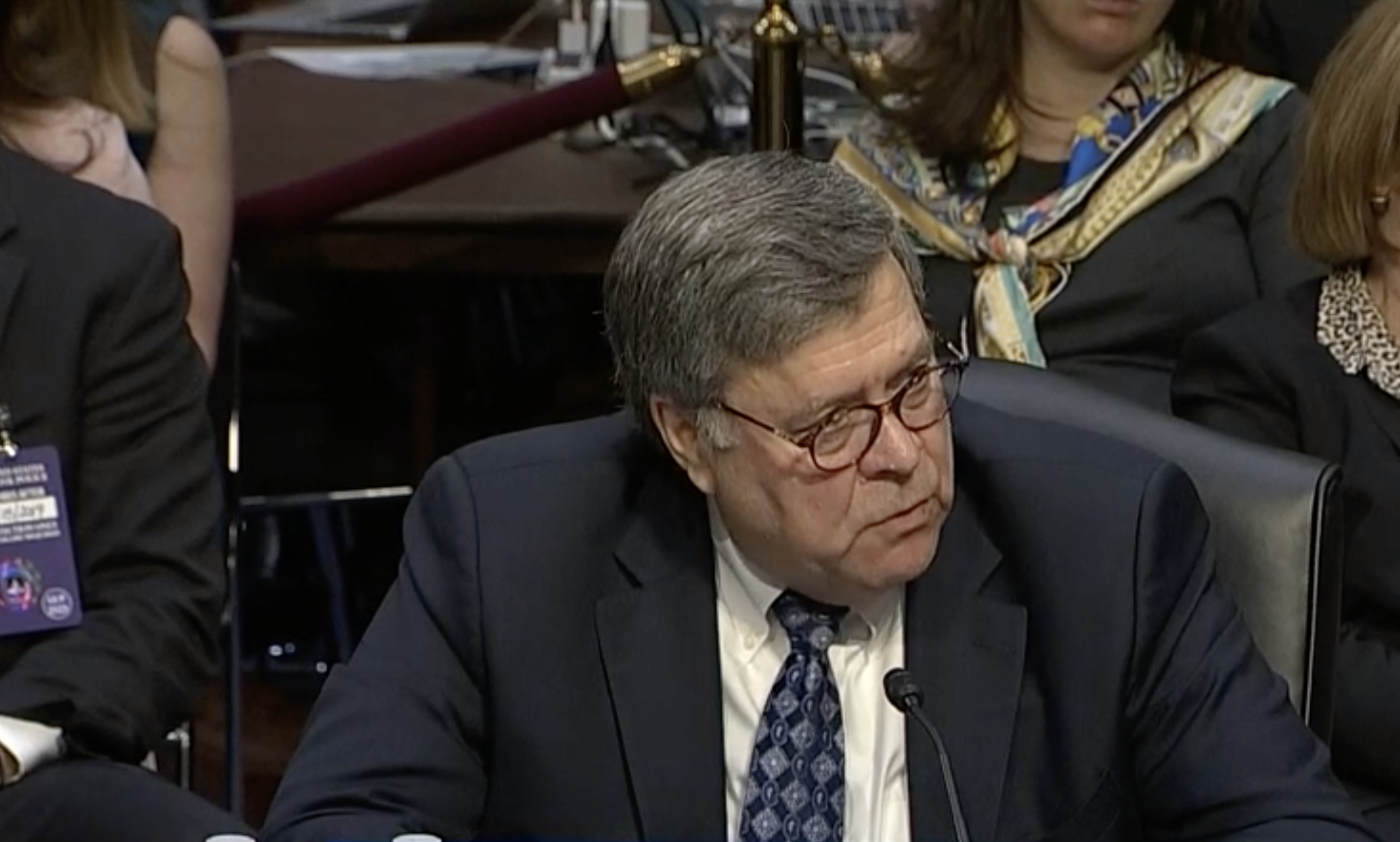 Sen. Doug Jones, D-Alabama, announced Wednesday that he planned to vote to confirm Trump appointee for attorney general, Bill Barr. Jones is the first Democratic Senator to announce that he is supporting Barr.
"As a former U.S. Attorney, I believe the most important responsibility of an Attorney General is to uphold the rule of law and to do so with a commitment to transparency," Jones said in a statement. "I have spent nearly two months examining Mr. Barr's record. I watched his hearings last month, during which he answered difficult but important questions from my colleagues on both sides of the aisle. I have listened to and considered the concerns of my constituents and leaders in the justice community. I have also spoken personally with Mr. Barr and asked him some tough questions of my own, informed by my own experience as a U.S. attorney. After thorough consideration, I have concluded that Mr. Barr is qualified for the position of attorney general, and his record strongly suggests he will exercise independent judgment and uphold the best interests of the Department of Justice. Should the Judiciary Committee move forward with his nomination, I will vote to confirm Mr. Barr as attorney general of the United States."
Sen. Richard Shelby, R-Alabama, is also supporting the confirmation of Barr.
"Today I met with the attorney general nominee William Barr, who previously served as AG under Bush 41,". Shelby said on social media. "Barr has the right experience for the job and is a wise choice by President (Donald) Trump. I look forward to supporting his confirmation."
"While we often talk about the rights and freedoms guaranteed to us under the United States Constitution, the rule of law is what ensures those rights and freedoms are protected," Jones added. "We live in deeply divided times, but it is in precisely this kind of environment that this principle is so important. In addition, I believe that Mr. Barr shares my commitment to the institutional independence of the Department of Justice and that he will bring stabilizing leadership that is badly needed."
The Hill is reporting that Senate Majority Leader Mitch McConnell, R-Kentucky, is planning to bring up Barr's nomination next week.
"Before us is a nominee who remains imminently well qualified to discharge these duties," McConnell said. "The Senate needs to act quickly to put Bill Barr back to work at the Justice Department. I hope and expect he'll be confirmed next week."
Barr served as the 77th attorney general of the United States from 1991 to 1993 when George H. W. Bush was president. Barr is 68.
Jones' defection makes it very difficult for Democrats to block the confirmation. The Hill is reporting that if Jones votes to confirm, then Democrats would need five Republicans to vote to block and other moderate Democrats, including Joe Manchin, D-West Virginia, have not said what they will do yet.
The position of attorney general became vacant when the president forced Jeff Sessions to resign. The president was critical of Sessions' decision to recuse himself from the investigation into allegations that the 2016 Trump campaign colluded with Russian intelligence. Jones was elected to fill the remainder of Sessions term in the Senate. Jones faces the voters in 2020.
Print this piece
Aderholt: Alabama has shown how to reopen for business
Friday, Congressman Robert Aderholt (R-Haleyville) said "Alabama has shown the country and the world how to properly reopen for business." Aderholt made the remarks in an email to constituents.
"As we make our way into the first full week of June, I think it is important to remember the great strides we have made as a country and as a state since the beginning of the Coronavirus pandemic," Rep. Aderholt wrote. "It was just over two months ago when the world stood still and almost everything closed down. Stay at Home orders were implemented and businesses shut their doors."
"Thankfully, things are better now as we have begun the process of returning to normal," Aderholt continued. "The expanded Safer at Home order here in Alabama has been encouraging, and the number of confirmed COVID-19 cases in the United States has decreased significantly. All of this is good news, and I am hopeful that the positive news will continue throughout the month of June."
"Alabama has shown the country and the world how to properly reopen for business," Aderholt exclaimed. "Our state started loosening restrictions several weeks ago, and with each new set of expansions to the Safer at Home order, we have not seen a significant spike in confirmed cases of COVID-19. Just last week Governor Ivey instituted an update to her statewide order that allowed certain entertainment venues, athletic activities, child-care facilities, educational institutions, and even Summer camps to reopen as long as they adhere to social-distancing and sanitation rules and guidelines. This is great news, and I am incredibly pleased that Alabama is one of the most open states in the country."
Aderholt said that Marshall County was the hot spot of the Fourth Congressional District.
"As you may have heard, Marshall County has not only been the hotspot in the 4th District, but it has the most confirmed cases in North Alabama," Aderholt said. "Yet, the good news is that these cases are not translating into hospitalizations. At the end of last week, there were only two COVID-19 patients hospitalized in Marshall County. Then on Wednesday of this week it was announced that there was not a single COVID-19 patient in any Marshall County hospital. Let's hope this trend continues."
There has been 693 diagnosed cases in Marshall County and nine deaths from COVID-19.
Rep. Aderholt warned that the coronavirus remains a threat.
"What remains important, even with newly expanded openings, is the health and safety of you and your loved ones," Aderholt said. "Ensuring we maintain social distancing and proper sanitation is vitally important, and keeping businesses afloat during this pandemic will remain a high priority. If you have any questions or concerns, please do not hesitate to contact my office, we are happy to help in any way we can. Additionally, my website has an entire section dedicated to COVID-19 Information."
Twelve more Alabamians lost their fight with COVID-19 on Sunday taking our death toll to 630. 593 were diagnosed with the illness on Sunday taking the state's total cases to 17.952. The Alabama Department of Public Health reports that 9,355 of them are presumed recovered. 106,198 Americans have died in the global pandemic,
Congressman Robert Aderholt represents Alabama's Fourth Congressional District. He is Alabama's longest-serving member of the House of Representatives.
Print this piece