Jones co-sponsors bipartisan bill to address Chronic Wasting Disease in deer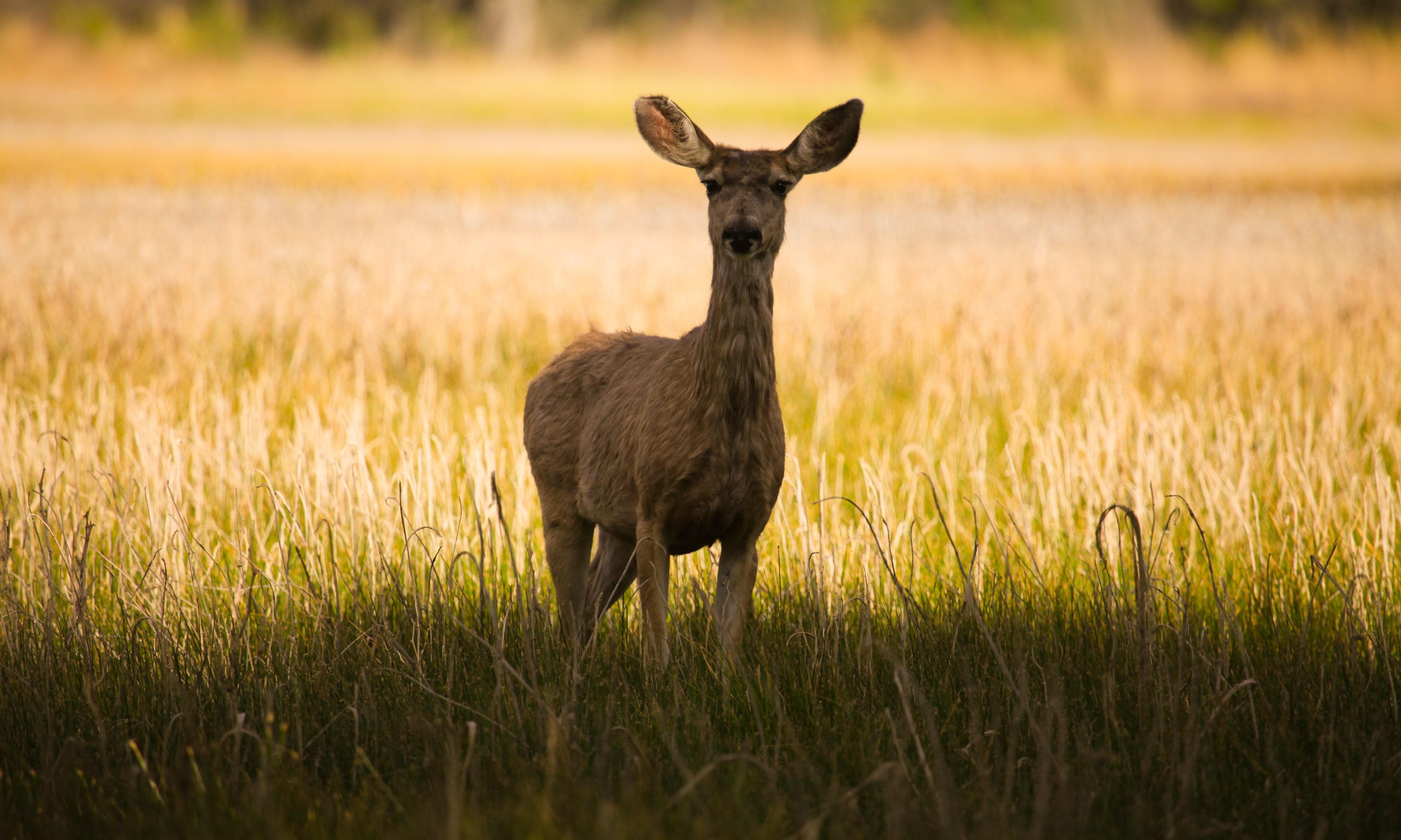 Thursday, U.S. Sen. Doug Jones, D-Alabama, joined Senators John Barrasso, R-Wyoming, and Michael Bennet, D-Colorado, to re-introduce bipartisan legislation to increase wildlife managers' ability to keep wildlife healthy. Whitetail deer hunting is by far the most popular hunting sport in Alabama and CWD presents an existential threat to the state's deer herd.
The bipartisan bill would authorizes a special resource study to determine how chronic wasting disease (CWD) spreads and could be prevented in deer and elk. CWD can affect both wild and domestic herds of deer and elk. CWD has spread over 26 states and several Canadian provinces. While Alabama is currently CWD negative, the disease has spread from state to state despite the best efforts of wildlife manager. Two deer were confirmed CWD positive in Mississippi just last summer. There is still a lot that is unknown about this disease and state recommendations for preventing the spread of the disease vary.
When completed, the study would give state wildlife agencies and wildlife experts information to conduct targeted research on how the disease is transmitted, determine which areas are most at risk, and develop consistent advice for hunters to prevent further spread.
"The spread of chronic wasting disease among the deer population threatens our local economies and, for many, a way of life that has long valued a tradition of hunting and conservation," said Senator Jones, who also spoke on the Senate floor about the bill. "As an avid hunter and outdoorsman, I am deeply concerned about the impact of CWD on our wildlife population across the country and on the boost that deer hunting brings to Alabama's economy. Thankfully, we have not yet seen cases in Alabama, but it has been found in our neighboring states. Our bipartisan legislation would help us better understand this disease and give local wildlife managers better tools to prevent its spread."
"Wyoming's deer, elk and moose populations have been negatively impacted by chronic wasting disease for decades," said Senator Barrasso. "Now, 26 states have detected chronic wasting disease and new cases arise each day. We need to know more about how this disease spreads and which areas are most at risk. Our bill gives wildlife managers the tools they need to research and identify exactly where chronic wasting disease is most prominent and how we can better prevent it. It's a critical first step to addressing this debilitating disease and keeping our wildlife herds healthy."
"Transmission of CWD among deer and elk herds is a critical issue, threatening parts of Colorado's outdoor economy and way of life," said Senator Bennet. "This bill would provide state wildlife professionals with the information they need to standardize their work, improve CWD management, and prevent further spread across the country."
"By understanding how chronic wasting disease spreads, we can begin to eradicate it and protect our hunting heritage and economy," said Whit Fosburgh, president and CEO of the Theodore Roosevelt Conservation Partnership. "This bipartisan legislation will bring the Departments of Interior and Agriculture together to ensure healthy wildlife. Sportsmen and women appreciate the leadership of Senators Barrasso, Jones and Bennet to protect the deer herds that are vital to our way of life."
The bill is supported by the: Association for Fish and Wildlife Agencies, Muley Fanatics Foundation, Boone and Crockett Club, the Congressional Sportsmen's Foundation, The Wilderness Society, the Theodore Roosevelt Conservation Partnership, the Wild Sheep Foundation, the National Wildlife Federation, Rocky Mountain Elk Foundation, and others.
The Chronic Wasting Disease Transmission in Cervidae Study Act addresses the needs identified by state agencies through the Association of Fish and Wildlife Agencies (AFWA). The bill requires the United States Department of Agriculture (USDA) and Interior secretaries to enter into an arrangement with the National Academies of Sciences to review current data and best management practices (BMPs) from federal and state agencies regarding: Pathways and mechanisms for CWD transmission; Areas at risk and geographical patterns of CWD transmission; and Gaps in current scientific knowledge regarding transmission to prioritize research to address gaps.
CWD is a prion disease similar to scrapie in domestic sheep and "mad cow disease" in domestic cattle. Because it is a prion disease, it is very difficult to eradicate once introduced. The shed prions can persist in the soil for decades. The risk to humans is considered slight; but humans are being advised not to eat the brains or spinal materials of deer as a precaution.
The Alabama Department of Conservation and Natural Resources has ramped up testing of deer particularly in Northwest counties of Alabama closest to the last CWD positive deer in Mississippi.
The state has banned the importation of deer carcasses from other states unless the meat has been completely deboned. Deer get the disease from exposure to the carcasses and carcass material of other deer or other cervids.
Senator Doug Jones was elected in a special election in 2017 and faces re-election in 2020.
Attorneys ask court to intervene over numerous Alabama inmate suicides
Charles Braggs died by suicide in an Alabama prison after being kept in solitary confinement for more than two years. His suicide and a rash of others in Alabama prisons prompted attorneys for the plaintiffs in a case against the Alabama Department of Corrections to ask the court Wednesday to intervene. 
Braggs, 28, died at St. Clair Correctional Facility on July 17 after having been housed in segregation for 796 days, according to the court filing by the Southern Poverty Law Center, Alabama Disabilities Advocacy Program and attorneys with Baker, Donelson, Bearman, Caldwell & Berkowitz.
"Mr. Braggs was the seventh person — and the sixth Black person — to die by suicide in ADOC custody since this Court issued its Remedial Opinion and Judgment on Immediate Relief for Suicide Prevention (the 'Suicide Prevention Opinion') in May 2019, in which the Court found 'substantial and pervasive deficiencies' in ADOC's suicide prevention program," attorneys wrote to the court. 
Bragg's suicide was the fifth in Alabama prisons in the last four months, the plaintiffs' attorneys wrote in the fling, in which they call for "swift implementation and robust monitoring of the Parties' various remedial agreements" and for the state to address the use of segregation and "segregation-like" cells, which disproportionately hold Black people.
Alabama prisons kept 1,001 people locked alone in segregation on July 28, according to the court filing. 
"Of those 1,001, ADOC's public database lists 705 people as Black and 273 white—that is, approximately 70 percent of the people in segregation are Black," the filing states, going on to note that Black people make up approximately 52 percent of Alabama's inmate population and about 27 percent of the population of the state. 
U.S. District Judge Myron Thompson in his May 4, 2019 opinion wrote that ADOC argues the department cannot prevent all suicides in prisons.
"It is true that, as in the free world, not all suicides can be prevented. But this reality in no way excuses ADOC's substantial and pervasive suicide-prevention inadequacies. Unless and until ADOC lives up to its Eighth Amendment obligations, avoidable tragedies will continue," the judge wrote.
That 2019 opinion came after the plaintiffs' attorneys asked the court for immediate suicide-prevention relief following 15 inmate suicides over 15 months. Thompson agreed in his opinion to make permanent most of the provisions of a previous agreement between the plaintiffs and ADOC.
Thompson's separate judgment, filed the same day as his opinion, establishes minimum guidelines for how the state assesses and treats incarcerated people who may be at risk of suicide.
Among the prison suicides noted in the court filing was Marco Tolbert, 32, who was diagnosed with Schizophrenia and prescribed anti-psychotic and anti-depressant medication, but on June 20, 2019, three months before his death, his mental health code — used by ADOC to determine care — was reduced, some of his medication was discontinued and he was moved out of Donaldson prison's residential treatment unit and into the general population and "was not provided any follow-up mental health care," according to the filing.
He died by suicide on Sept. 26, 2019, according to court records. 
Marquell Underwood, 22, was placed into segregation at Easterling Correctional Facility on Feb. 23 and died by suicide that same day, according to court records. 
"Mr. Underwood previously reported a history of Bipolar Disorder, was referred to mental health nine times in relation to segregation placements, self-referred once to mental health, and was placed on acute suicide watch twice during the six months before his death," the plaintiffs' attorneys wrote to the court. "Despite all of this, he was never placed on the mental health caseload, never received a psychiatric evaluation, and never received any mental health treatment."
Laramie Avery, 32, died by suicide in his segregation cell at Bullock prison on April 14 and was placed in segregation for "disciplinary" reasons after being stabbed at least eight times in the head and chest, according to the filing. 
"Mr. Avery was referred for a mental health evaluation three days before his suicide, but there is no evidence that the evaluation ever occurred. He was not on the mental health caseload," the court filing states. 
The plaintiffs' attorneys also note the death of Darnell McMillian on June 22 at Donaldson prison. McMillian died while on suicide watch and after having been placed into a cell with another inmate also on suicide watch. 
"After an altercation between Mr. McMillian and his cellmate, correctional officers allegedly deployed pepper spray, which caused Mr. McMillian to become unconscious and may have led to his death. It is unclear what policies ADOC has instituted, if any, to ensure the safety of those on suicide watch who are double-celled," attorneys wrote to the court. 
An ADOC worker told APR in July that correctional officers used an excessive amount of pepper spray in the cell where McMillian and another inmate were housed. The cause of his death is pending an autopsy.