BamaCarry holds legislative conference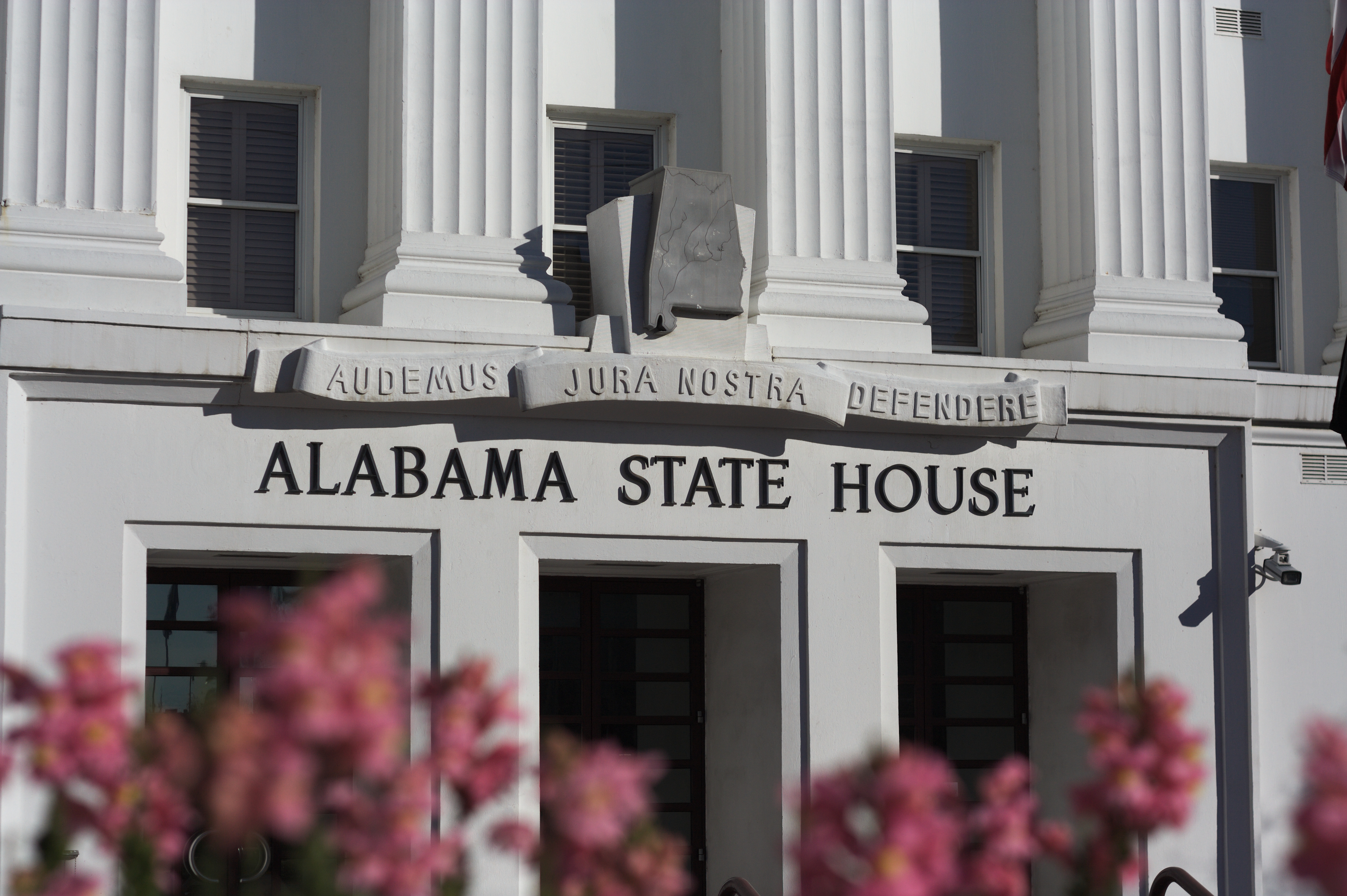 The Second Amendment rights group BamaCarry held their 2019 Legislative Conference on Saturday at the Jasper Civic Center in Walker County. Over 230 people were on hand to promote the expansion of gun rights in Alabama.
"Thank you so much for helping with the campaign," said Lt. Gov. Will Ainsworth.
"I am one of you; I grew up hunting and fishing," Ainsworth said.
State Senate President Pro Tempore Del Marsh, R-Anniston, and State Sen. Gerald Allen, R-Tuscaloosa, are working to get constitutional carry.
"You shouldn't have to get a permit for something that is a right," Marsh said.
Ainsworth said that after the school shooting in Parkland, Florida, teachers in his district asked him to draft legislation to allow them to carry guns to protect the school.
"I have got twin boys that are 9 and a girl that is 7 that are in public school," Ainsworth said. "Gun-free zones are killing zones because you can't shoot back."
Ainsworth's bill did not pass in 2018, but he still believes that it is necessary.
"There are over 400 schools that don't have a school resource officer," Ainsworth said. "I am here to serve y'all. It is an honor to be with you today. It is an honor to help fight for your rights."
Marsh said he supports Allen's SB4, which would eliminate the requirement that Alabama citizens have to have a concealed-carry permit to carry handguns concealed on their persons or in their vehicles.
"I want to thank Gerald Allen for sponsoring SB4," Marsh said. "We will continue to move it through the Senate. It is the House we have to work on."
Marsh said he was in Washington two weeks ago meeting with the NRA's Chris Cox.
"They are constantly under attack for fighting for Second Amendment rights," he said.
"I have more guns than I can count, and I want to keep them," Marsh said. "I am like you. I grew up hunting and fishing. I still have a gun dog named Ray, and we were hunting last week."
"I will continue to work with you," Marsh said and then he gave out his personal cell phone number to the crowd.
On Saturday, Marsh announced that he is seriously looking at running for the U.S. Senate seat currently held by Sen. Doug Jones, D-Alabama.
BamaCarry has over 1300 paid "vested members" and 20,279 Facebook group members.
"Great crowd," Allen told AM 770's David Pinkelton. "I am a member myself. I am carrying a great bill: Senate Bill four. I encourage everyone to call the House members. We have the votes in the Senate to pass this."
"Make that phone call to the Speaker's office," Allen said. "Fourteen states have passed constitutional carry. Where it has passed the sale of permits has gone up."
"My rights do not come from people," BamaCarry President Eddie Fulmer said. "They do not come from government. My rights are ordained by God. If I do not have a right to defend my life, my rights or my property, neither does government. Molon Labe."
"The left has been making an incredible push for more gun control at the national levels and at the state level," said Gunowners of America Executive Director Erich Pratt. "They are pushing a manifest destiny of sorts that they are on the right side of history."
"[The mainstream media] are giving you story after story in order to try to dispirit you," Pratt said. "With the exception of Florida, we saw the blue states get bluer and the red states getting redder. Gallup does a survey of the most important issues to the American people, and last October, the desire for more gun control was not even in the top 15."
"The left wants to dispirit you," Pratt said. "They want you to think that we have reached a tipping point where the majority of Americans want the Second Amendment repealed."
"The number of school districts arming teachers doubled last year," Pratt said. "After Parkland, more states passed stand your ground laws; more states passed constitutional carry. South Dakota became the 15th state to get constitutional carry. We need to get Alabama on board and pass that."
"At GOA we try to make it very easy for you," Pratt continued. "We alert you when legislation comes down the pike that is a threat to your right, and we notify you when there is good legislation we need to support. The biggest battle we are going to be fighting this year is the red flag gun confiscation orders."
"They allow your guns to be confiscated even though you haven't been convicted of a crime or even accused of a crime," Pratt said. "All it takes is someone, usually a family member, to say that they are dangerous."
We have already lost one over this, Pratt said. Gary Willis in Maryland said police came to his door and shot him at 5:15 a.m. A distant relative reported him as dangerous because of a family argument at Thanksgiving. The first time you find out that there has been an order against you is at 5:15 a.m. The police banged on his door. He had his cell phone in one hand and his gun in his other like all of us would if someone was banging on the door at 5:15 a.m. The police shot and killed him.
Pratt said that GOA and BamaCarry were together suing the Trump administration over the ban on bump stocks. The ATF is claiming that a bump stock makes an AR-15 into an illegal machine gun.
He said the measure is too broad, violates previous ATF rulings on the matter and could be written in such a way as for a future more liberal administration to rewrite the rules so that AR-15s could be outlawed as being illegal machine guns under the National Firearms Act of the 1930s.  Pratt said that in the best case scenario the court would just rule the NFA unconstitutional.
Pratt said that they are also challenging New York's restrictive gun laws.
Print this piece
Today, the last Monday in May, is the day we set aside to remember all of the many soldiers, sailors, airmen, and Marines who have died defending this country in this nation's many wars over the last 245 years.
Memorial Day is a state and national holiday. There will be no mail service and banks, courthouses, and many government buildings, as well as many offices and businesses, will be closed today.
Many people have the day off and are spending the holiday with family and friends.
A number of Alabama leaders have released statements paying their respects to America's fallen heroes.
"Memorial Day is a time for all of us to pause and remember the courageous Americans who made the ultimate sacrifice to defend this great nation," said Congresswoman Martha Roby (R-Montgomery). "Everyone should take this opportunity to honor and reflect on those men and women in uniform who lost their lives fighting to protect the freedoms we enjoy. "
"I realize that Memorial Day is the unofficial kickoff to summer. However, I hope you will take time to remember what the holiday is truly about," said Congressman Robert Aderholt (R-Haleyville). "Veterans Day in November is about honoring all veterans, but Memorial Day is specifically for those who gave the ultimate sacrifice and died for our country."
"On Memorial Day and every day, it's important to remember and honor the sacrifice made by the members of our military – those who gave their lives in service to our country, the veterans who are still with us today and those who have passed, and the brave men and women who are currently wearing the uniform," Rep. Roby said. "I extend my sincere condolences to those who lost a family member in the line of duty and my gratitude to those who served or are currently serving. America continues to shine as the Land of the Free, even in the midst of a global pandemic, because of the heroic men and women who sacrificed their lives for our country's future and prosperity."
"It's great that we're able to be out of our homes this Memorial Day," said Second District Congressional District candidate Barry Moore. "Hot dogs and hamburgers on the grill are incredible, but as good as they are we don't need to forget what this day is about. Memorial Day is our special day to honor those who have given their all in the service to our great nation, and May–Military Appreciation Month–is the month dedicated to letting our Veterans and serving military personnel know that we appreciate them and their service. As a Veteran from a family with a strong and proud history of service, and a new father-in-law to an Army Ranger 1st Lieutenant, this day and month have special meaning to me."
"I'm thankful we have a President whose example we can follow in honoring our fallen," former State Rep. Moore continued. "In February, when President Trump traveled to Dover Air Force Base and saluted the coffins of Sgt. Javier Jaguar Gutierrez and Sgt. Antonio Rey Rodriguez when they returned home, he showed the reverence and respect these two young men were due. This Memorial Day we all need to be equally diligent in showing that respect for those who have borne the battle. Take time today to think about what this day means, and if you get the chance during the rest of this month, tell a Vet or serviceman or woman that you're thankful for them. God Bless our troops and those who gave the ultimate sacrifice."
"Together, our nation pays immortal tribute to the extraordinary courage, unflinching loyalty, and unselfish love, and supreme devotion of the American heroes who made the ultimate sacrifice," said President Donald J. Trump (R) on Thursday. "It's the ultimate sacrifice, and it is indeed. They laid down their lives to ensure the survival of American freedom. Their names are etched forever into the hearts of our people and the memory of our nation. And some of you, it's been very close — very, very close. It's very close to your heart. We'll cherish them and our Gold Star families for all time. We take good care of them. They're very special to us. Just as we'll always remember the nearly 82,000 Americans missing in action."
Here is a video that Aderholt and his team put together a few years ago to honor the fallen from Alabama's 4th District.
Print this piece