Marsh tells GOP club he is "looking seriously" at running for U.S. Senate in 2020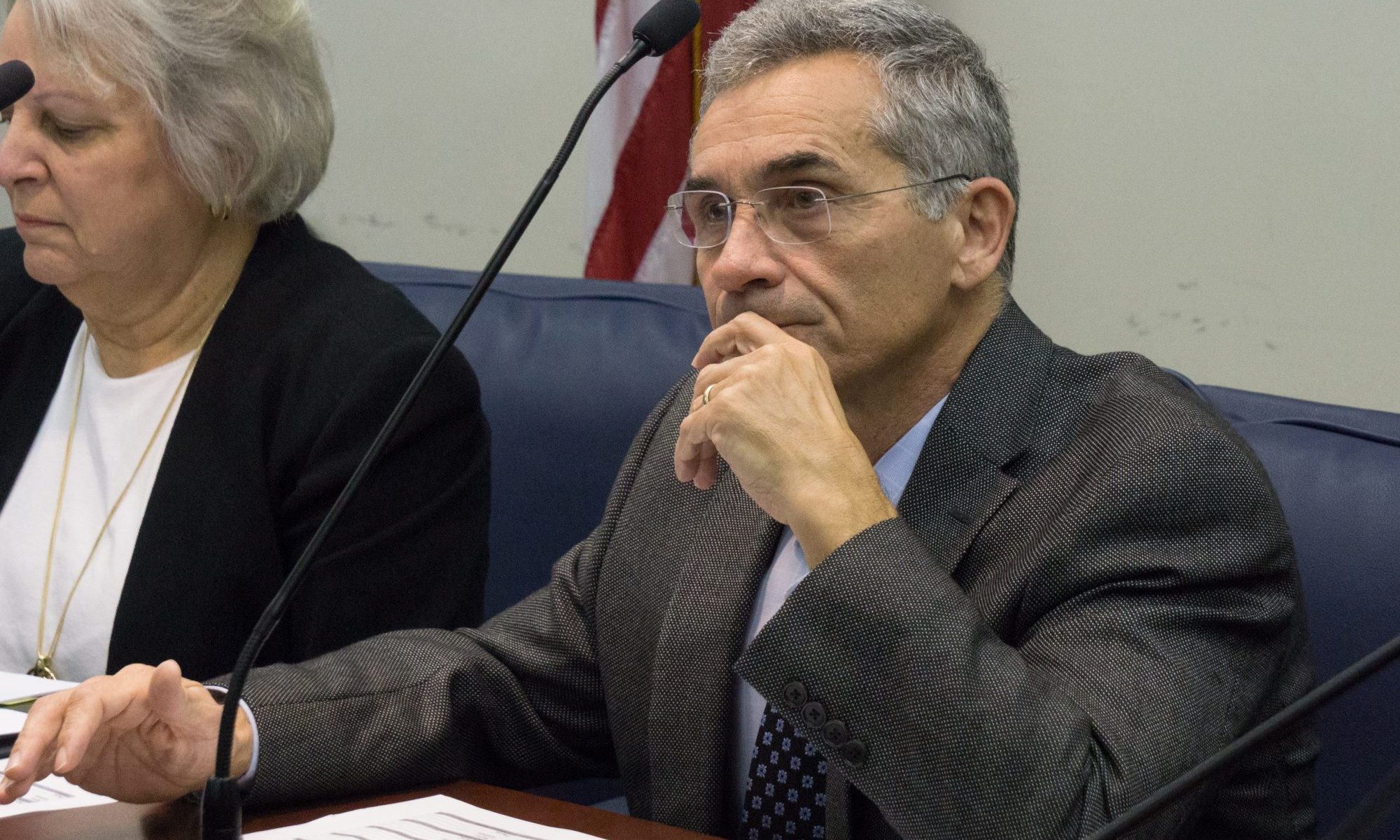 Saturday, the Mid Alabama Republican Club met for their regularly scheduled meeting at the Vestavia Hills Public Library.
Senate President Pro Tempore Del Marsh, R-Anniston, and House Majority Leader Nathaniel Ledbetter, R-Rainsville, gave a preview of the upcoming 2019 legislative session.
Marsh announced that he is "looking seriously" at running for U.S. Senator in 2020. "One thing I do know is that Doug Jones won't be the Senator from Alabama in two years."
The President of MARC is former state Rep. Paul Demarco (R-Homewood).
DeMarco congratulated Alabama Republican Party National Committeewoman Vicki Drummond on her recent election as Treasurer of the RNC.
Former Jefferson County Republican Party Chairman Sallie Bryant said that they planned to introduce a package of either legislation or an amendment to the 1901 Alabama Constitution that will change the qualifications to be a judge including raising the number of years that someone has to have been a lawyer in order to run for a judgeship. That might make a difference. They are also looking at re-drawing the lines of the Bessemer Circuit as well as creating a judicial commission that will recommend the names of attorneys that the governor can chooses from. "We are looking at that."
Bryant is also the treasurer of the Alabama Republican Party.
Butch Zaragoza is the new Jefferson County Republican Party Chairman.
"It is gong to be hard to follow this lady right here," Zaragoza said. "This is almost like following Adolph Rupp in Kentucky." The Jefferson County Republican Party is adopting a new strategic plan and will incorporate young Republicans into all of our clubs. We also need to incorporate minorities and do a better job of making sure that we put the right candidates in place especially for judicial positions. We need to work on the bills that we are going to introduce in the legislature. They will "help not just Jefferson County; but the entire state of Alabama."
While Republicans have completely dominated Democrats in the state of Alabama since 2010; Democrats have dominated the Republicans in Jefferson County. Since the election of 2008, Democratic judicial candidates have systematically defeated every GOP judicial incumbent and now control the Jefferson County judiciary.
Joan Reynolds is the Chair of the Shelby County Republican Party.
"We did meet yesterday with a group of young people" and our steering committee to work with developing an outreach to other organizations Reynolds said. We need to get more young people involved.
"The next meeting of the Shelby County Republican Party will be on Tuesday at 7:00 p.m. in the Shelby County Services Building," Reynolds said. Political columnist Steve Flowers will be our speaker.
We have two Republican Women's groups in Shelby County, Reynolds said. The Republican Women of Shelby County who have their next meeting on Saturday and the North Shelby County Republican Women.
Chair Reynolds said that the Alabama Republican Party Winter Dinner will be on February 22, 2019 in downtown Birmingham at the Sheraton Hotel. Colonel Mark Tillman who was the pilot and commander of Air Force One on 911 will be the speaker.
President DeMarco said, "The most important thing is to leave early if you are going to the BJCC
Jefferson County Commissioner Steve Ammons (R) said, "We are spreading economic development all across the county."
"It is a different commission," Commissioner Joe Knight (R) said. "These new kids, we are bringing them along. We have to work with whoever gets elected. Some of them have a little different agenda. We are working on keeping Jefferson County on a fiscally conservative path."
Phillip Brown is the Chairman of the Alabama Minority GOP.
"We are certainly working on a big tent philosophy," Chairman Brown said. I would like to invite everyone to our annual banquet in Huntsville on March 15th at the Marriott Rocket Center and Conference Center. Dr. C. L. Bryant. He was a NAACP Chapter President who was removed for his conservative views. "He has a national radio show and is very powerful."
The Mid Alabama Republican Club meets on the Second Saturday of each month at the Vestavia Hills Public Library at 8:30 a.m.
ACLU joins lawsuit over Alabama voting amid COVID-19 pandemic
The lawsuit was filed on behalf of several voters who are at greater risk from complications or death due to COVID-19. 
The American Civil Liberties Union and its Alabama chapter have joined in a lawsuit attempting to make it easier for some voters to cast their ballot during the COVID-19 pandemic.
The American Civil Liberties Union and ACLU of Alabama joined in the lawsuit filed in May by the NAACP Legal Defense and Educational Fund, Southern Poverty Law Center and Alabama Disabilities Advocacy Program against Gov. Kay Ivey and Secretary of State John Merrill. 
The U.S. Supreme Court in a 5-4 decision last week blocked U.S. District Judge Abdul Kallon's order that would have allowed curbside voting statewide and waived certain absentee ballot requirements for voters in at least Jefferson, Mobile and Lee Counties.
The lawsuit was filed on behalf of several voters who are at greater risk from complications or death due to COVID-19. 
The lawsuit was also brought on behalf of People First of Alabama, Greater Birmingham Ministries, the Alabama State Conference of the NAACP and Black Voters Matter Capacity Building Institute.
With the Supreme Court's decision, voters in the upcoming July 14 Republican runoff election will have to submit a copy of their photo ID and have either two adult witnesses sign their absentee ballot requests or have it notarized. 
"Alabama is in the middle of a deadly and ongoing pandemic but is refusing to take common-sense steps to protect the public's health and their right to vote for all elections in 2020. That's why we are taking legal action," said Alora Thomas-Lundborg, senior staff attorney with the ACLU's Voting Rights Project in a statement. 
"In the midst of an out-of-control pandemic, Alabama officials should be doing everything they can to ensure that all voters have a safe, fair, and equal opportunity to cast a ballot. Instead, officials have chosen politics over public health and safety. They are fighting to make it harder to cast a ballot and have that ballot counted. This litigation is crucial to ensure safe, fair, and equal opportunity to vote," said Randall Marshall, executive director of the ACLU of Alabama, in a statement.
"As we head into preparations for the November general election with COVID-19 cases rising in Alabama, it is critical that our election officials take seriously the protection of voters, poll workers, and our democracy," said Caren Short, senior staff attorney for SPLC in a statement. "In this critical election season, we are grateful to have Black Voters Matter Capacity Building Institute, the ACLU, and the ACLU of Alabama join this effort to ensure that every voter is heard. No voter should have to choose between exercising their fundamental right to vote and their health or the health of a loved one."
Deuel Ross, NAACP's Legal Defense Fund senior counsel, said in a statement that over the July 4th weekend, Alabama reported nearly 5,000 new coronavirus cases.
"Yet, state leaders insist on enforcing draconian restrictions on in-person and absentee voting that no other state finds necessary to combat the almost nonexistent issue of voter fraud," Ross said. "These restrictions are needless in normal circumstances. They are deadly in a pandemic. At trial in September, we will work to make sure that state leaders comply with their constitutional duty to protect the rights and safety of all voters."
In a Tweet on July 2, Alabama's Secretary of State John Merrill expressed gratitude for the Supreme Court's decision. 
"With the news that we have received a Stay in this process, I am excited that the United States Supreme Court has ruled in favor of those who believe in strict interpretation of the Constitution and has decided to grant the Stay and not endorse legislating from the bench," Merrill said in the tweet.