As states like New York further reproductive health rights, Alabama remains steadily resistant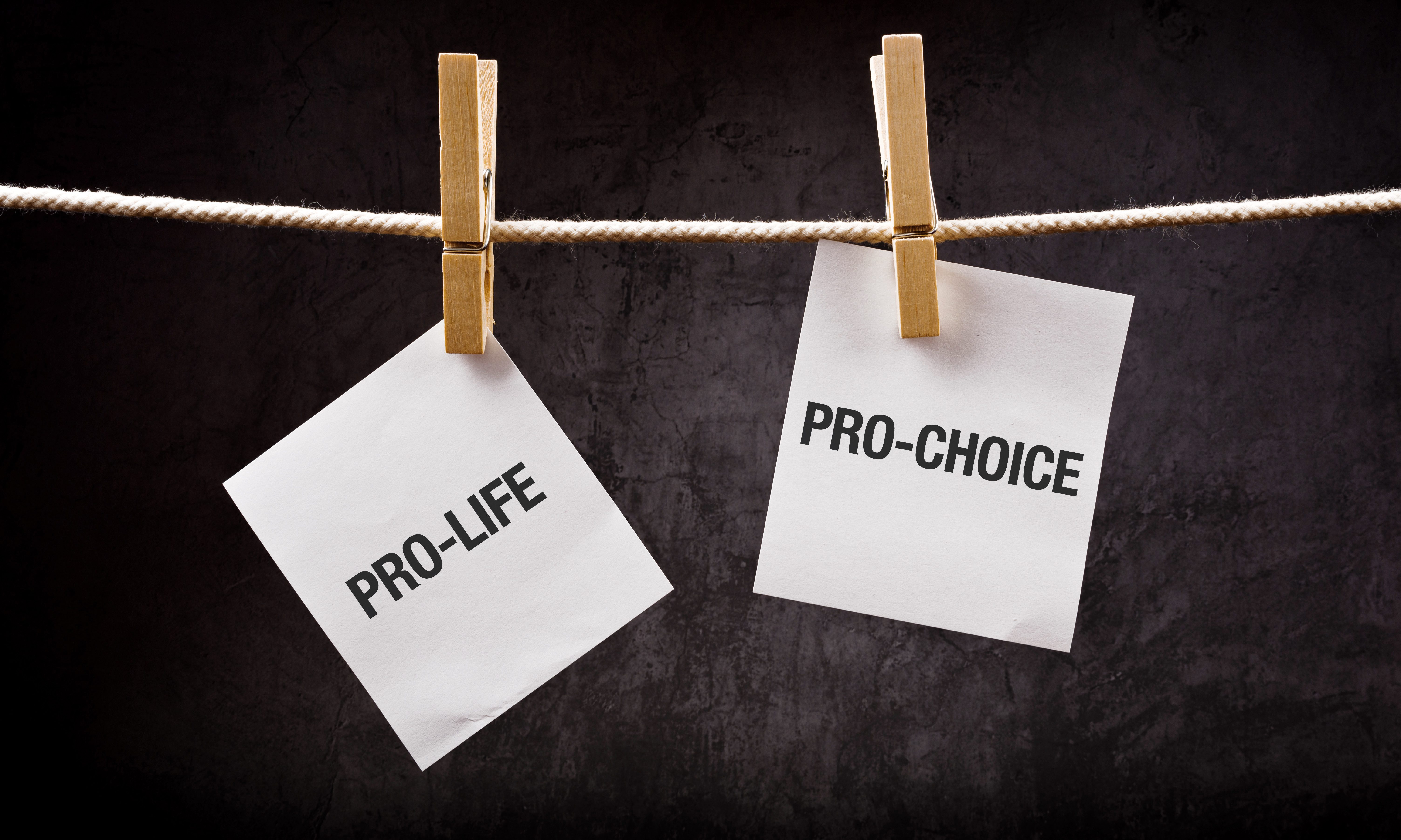 A woman grabs her belongings, exits a car and locks her eyes straight ahead as she rushes past a cluster of berating protestors to make arguably one of the most political decisions she can — the decision to get an abortion.
According to the American Journal of Public Health, nearly one in four women in the United States experiences this before they reach age 45. In more liberal states, this may be a simpler decision to make for one's health or wellbeing, but in Alabama, the social stigma surrounding the procedure can make that decision especially emotionally strenuous.
This strong disapproval of abortion, though seemingly ingrained in Southern culture, was not always the law of the land. In colonial and early America, abortion before "quickening," a term used to describe the feeling of a fetus kicking, which could only be confirmed by the pregnant woman herself, was legal. In the early 1800s, it was common to find abortion providers advertising their services and abortifacient drugs in newspapers.
As time went on, abortion was deemed illegal, but the argument that fetal life is sacred, used by the current anti-abortion movement, was not the common motivator against it until the 1973 Supreme Court decision in Roe v. Wade. Rather, the potential dangers of the procedure at the time and disapproval of premarital sex and adultery took center stage.
Now, 46 years after Roe v. Wade and nearly 27 years after Planned Parenthood v. Casey, which allowed states to regulate abortions so long as no undue burden is placed on the woman, abortion has become one of the most dividing topics in the country.
In the 2018 midterm elections, the majority of people in Alabama firmly declared themselves as anti-abortion by passing statewide Amendment Two, declaring Alabama a "pro-life" state.
The law is a statement of values to the rest of the country and paves the groundwork for a future Alabama if the Supreme Court decides to make any decisions allowing more limitations on abortion rights. It currently has no legal power.
"I think the Alabama law is mostly aspirational," said Bryan Fair, professor of law at The University of Alabama with expertise in constitutional law and civil rights. "The law does little more than state the official policy of the state, even if it's not the official view of lots of people who live in Alabama."
Alabama Public Service Commission President Twinkle Cavanaugh, who co-chaired the amendment campaign along with two other Republican women, confirmed this, saying that the purpose of the amendment was to clearly display that the state of Alabama does not guarantee a right to an abortion or support using tax money to fund abortions.
"We won't be caught in Alabama with a situation where we don't have our Constitution ready to go," Cavanaugh said. "It is clear in Alabama that we are a lighthouse for life, and it is clear how a majority, matter of fact an overwhelming majority, of citizens in this state feel about life."
The amendment drew nationwide attention after being passed. Planned Parenthood Southeast President and CEO Staci Fox said the amendment, which condemns abortion without exceptions for rape or incest, is disrespectful to Alabama women.
"The bottom line here is that abortion is health care, and for some reason, we don't seem to want to understand that for women," Fox said. "What we're saying to women in Alabama is that we don't respect you and your bodily autonomy nor do we want to give you full access to the healthcare you need and deserve."
The amendment shows a stark contrast to laws being passed in other states, specifically New York's Reproductive Health Act. The New York law put protections for reproductive rights in place that would shield the state if federal abortion laws were to change, essentially the opposite of the Alabama amendment.
It also allows abortions after 24 weeks only if the woman's health is in danger or if the fetus is not viable, which has sparked anger among anti-abortion advocates.
"It scares me to death that as a nation we are OK with killing children that are within moments or days of being born," Cavanaugh said. "It is wrong. There's no other way to look at it."
Cavanaugh compared the buildup to the New York law to a slippery slope, saying that the slow addition of more laws that support abortion rights led to this law, which she sees as extreme.
Fox has a different view on the law, seeing it as a step in the right direction.
"I think it's great," Fox said. "I think it's an interesting juxtaposition of how states are preparing for a post-Roe scenario. While New York is doing things proactively to remove barriers [to reproductive care], Alabama is doing just the opposite through Amendment Two and other legislative actions of the past few years."
Fox also saw conservative misunderstandings on the New York law being taken to extremes. President Donald Trump furthered the law's stigma in his State of the Union address on Feb. 5, saying the law allowed for "a baby to be ripped from the mother's womb moments before birth."
"I think we should set the record straight," Fox said. "There is no such thing as an abortion up until or during birth. The claims made by our opposition and the opposition to what's going on in New York are just outlandish, and honestly, they are intentionally deceptive."
Though Alabama is a majority anti-abortion state, disagreements on these laws have brought tension between anti-abortion and pro-abortion rights Alabamians. According to Cavanaugh, many have argued about the subject on social media, while others, like herself, have agreed to disagree.
"In this fight right now between people who believe that it is a life that needs to be protected and people who feel that murder is OK right as a newborn, I think we've come to a point where the two sides are not going to change each other's minds," Cavanaugh said.
Disagreements in Alabama mirror those nationally as states further distance themselves based on political ideology. When it comes to abortion, Fox attributed this strong tension to a lack of knowledge on the subject.
"I think the reason we have a divide is because we have all been complicit in creating shame and stigma around abortion," Fox said. "We don't make space for women to share their stories in an honest way."
Both the New York law and Alabama amendment prepare the states for a situation where the Supreme Court overturns or modifies Planned Parenthood v. Casey or Roe v. Wade. The question is: will this happen?
The answer is fairly complicated and definitely uncertain. With the recent additions of Justices Neil Gorsuch and Brett Kavanaugh, there is now a strong conservative majority in the court, and Trump may have the opportunity to appoint more justices, especially if he is re-elected in 2020.
"Like many people, I'm very excited about the changes that have been made on the court," Cavanaugh said. "I pray that President Trump will have an opportunity to put more judges on the bench and that they will be conservative judges."
However, recent developments may point toward no immediate, drastic changes being made with the current court. On Feb. 7, the Supreme Court blocked Louisiana's Unsafe Abortion Protection Act, which would have required abortion doctors to have admitting privileges at a hospital within 30 miles of their abortion facility, leaving only one current doctor in the state authorized to provide abortions.
A similar Texas law was struck down in 2016 for placing an undue burden on women seeking abortions, violating Planned Parenthood v. Casey.
Fair noted Chief Justice John Roberts as a key person to watch in future Supreme Court decisions. Roberts dissented in the 2016 Texas law case, but this year, he voted alongside liberal justices in the majority opinion for the Louisiana case, showing a possible turnaround in his opinions on abortion.
"If the court continues to follow the undue burden standard of Casey, then most restrictive laws that do place an obstacle in the path to terminate a pregnancy will be struck down," Fair said. "There are lots of ways that the right [to an abortion] can be narrowed in subsequent decisions. Whether the court will do that or not I think is just speculation on all sides."
This uncertainty strikes concern for many pro-abortion rights advocates in Alabama. Should any changes allowing the states to add further limitations to abortion rights occur in the Supreme Court, the state will automatically buckle down under the amendment, making it more difficult for Alabama women to access safe abortions.
"I believe firmly that all women, all humans really, should have an equal and just seat at life's table, and I think that bodily autonomy and that freedom that humans get when they have autonomy over their own lives is one piece of the puzzle to get that seat at that table," Fox said. "Abortion's just the new fight around women's power and autonomy. Before, it was contraception, and before that, it was voting, and before that, it was whether or not women could own property. Until women achieve full freedom, we're going to be fighting these fights."
As the country and the Supreme Court continue to change, all Alabamians can do is wait to see which opinion prevails.
"I just don't imagine going back to a time when people had to secretly find abortion services in back alleys," Fair said. "It's hard to imagine that we would go back to that, but lots of things have surprised me about our country."
CDC confirmed expanded "close contact" definition to Alabama officials in August
It is unclear why the CDC waited until late October to update or clarify its public-facing guidance on its website.
New federal guidance on how a person is determined to have been in close contact with someone infected by COVID-19 won't impact how Alabama works to mitigate the disease, said the state's top health official. That's because the state was already aware of the expanded definition in August before the change was made public last week.
It is unclear why the CDC waited until late October to update or clarify its public-facing guidance on its website when it was giving more precise definitions to at least one state health department and receiving questions from public health officials about the definition.
The delay in announcing the change is raising questions about how state health officials nationwide have been determining the public's possible exposure to the deadly disease and if contact tracing and mitigation efforts will be made more time- and resource-intensive with the more inclusive definition in place.
The CDC on Wednesday expanded the definition of "close contact" to mean a person can be at risk of contracting COVID-19 if that person is within six feet of an infected person for a period of at least 15 minutes over a 24-hour period.
The previous definition stated a person should quarantine if they were within six feet of an infected person for at least 15 minutes. Alternately, in other areas of the CDC's website, the language stated "a total of 15 minutes" in the definition of close contact.
"What they changed their definition to is something they had verbally confirmed to us months ago, and we have always been using that definition," said Alabama State Health Officer Dr. Scott Harris, speaking to APR on Friday.
Harris said a support team from the CDC was in Alabama in July as the Alabama Department of Public Health was preparing plans to reopen schools. Harris said the question was asked of CDC staff because his department was getting questions on the definition of close contact from school officials.
APDH staff took the definition then of "a total of 15 minutes" to mean that there could be several exposures over a period of time equaling that 15 minute threshold, so they asked CDC to clarify that assertion.
"When those folks were here we asked the CDC people directly. Can you confirm for us what that means, and they said, it adds up to a total of 15 minutes in a 24-hour period," Harris said. "And we even got somebody to commit to that in an email somewhere."
Melissa Morrison, CDC's career epidemiology field officer working at the ADPH in Montgomery, in an Aug. 13 email to ADPH's director of the office of governmental affairs, quotes a statement Morrison attributes to her CDC colleague, CDC public health advisor Kelly Bishop. Harris shared the email with APR.
"Yes, I did get a response from the contact tracing team. The 15 minutes for a close contact is cumulative, and they said 'The time period for the cumulative exposure should start from 2 days before the cases' illness onset (or, for asymptomatic patients, 2 days prior to positive specimen collection date) until the time the patient is isolated," Morrison quotes Bishop in the email.
In the August email, Bishop goes on to say, as attributed by Morrison, that "as of now there is no established upper limit on the time period (i.e. 48, 72 hours etc)."
The CDC's expanded definition was reflected in an Aug. 20 statement from the Alabama Department of Public Health.
"The 15-minute time is a cumulative period of time. For example, a close contact might be within 6 feet of a COVID-19 positive person for 5 minutes each at 8 a.m., noon and 5 p.m. This is a standard based on guidance from the CDC," the statement reads.
In an email to APR on Friday, Harris said he'd discussed the matter with Morrison on Friday who "emphasized that the guidance this week from CDC was NOT a change but rather a clarification. They simply used the MMWR corrections story as a convenient time to make the point."
Harris was referring to a CDC's Morbidity and Mortality Weekly Report released Wednesday that detailed findings by Vermont health officials showing that a prison worker contracted COVID-19 during an eight-hour shift in which the worker had 22 close contacts with an infected inmate totaling 17 minutes.
The CDC in statements to numerous news outlets, and to APR, cite that Vermont study in connection to Wednesday's definition change.
"That's kind of why they said it out loud," Harris said of the study and the Wednesday announcement. "But I have to say, when I saw that updated guidance I thought, 'I can't believe anybody ever thought otherwise.'"
Different pages on the CDC's website on Saturday defined close contact as both being "a total of 15 minutes or more" and "a total of 15 minutes or more over a 24-hour period," confusing the matter further, and numerous other state health departments had not yet updated their websites Saturday to reflect the CDC's expanded definition.
A CDC spokesman in an email to APR on Wednesday noted the Vermont study on the prison worker and said "CDC clarified the amount of time it would take for someone to be considered a close contact exposed to a person with COVID-19."
"The CDC website now defines a close contact as someone who was within 6 feet of an infected person for a total of 15 minutes or more over a 24-hour period. Previous language defined a close contact as someone who spent at least 15 minutes within 6 feet of a confirmed case," CDC spokesman Scott Pauley told APR by email Wednesday.
Pauley didn't respond to APR's question on Friday asking why the CDC waited until Wednesday to update its guidance online, given that ADPH had confirmed the definition of close contact in August. He also didn't respond to a request to verify the statement Morrison attributed to her CDC colleague in the August email.
"To us, we thought if it says a total, that means you must be adding up smaller amounts to get to 15 minutes, or you wouldn't use the word total," Harris said. "When they changed it this week, I don't know the details of why that happened, but I think, obviously, everybody didn't have the same message everywhere."
Dr. Bertha Hidalgo, an epidemiologist and assistant professor at UAB's Department of Epidemiology, told APR on Friday that her understanding prior to Wednesday's expanded definition was that a contact was defined as someone who was exposed to the COVID-19 positive individual for at least 15 min or more at a time and explained that the updated guidance complicates how public health officials will engage in contact tracing.
"This means significant efforts for contact tracing moving forward, in effect needing to identify every person that person came into contact with during the possible exposure timeframe," she said.
It was unclear Monday how the definition change impacts Alabama's Guidesafe COVID-19 exposure notification app, which notifies a user if they come into close contact with an infected person. The app was developed by ADPH and University of Alabama at Birmingham, thanks to a partnership between Apple and Google's combined development of the technology, and alerts users to possible exposure while keeping all users' identities anonymous.
Sue Feldman, professor of health informatics, UAB School of Health Professions, in a message to APR on Friday said that due to the anonymity of the app, it would be difficult, but not impossible, to update the app to take into consideration the CDC's expanded guidance.
"We are taking this into consideration for our next update," Feldman said in the message.
Also unclear is how many other states that have similar exposure notification apps, also using Google and Apple's technology, aren't yet using the expanded definition of a "close contact." Colorado is to roll out that state's app on Sunday, and according to Colorado Public Radio News the app will notify a user that they've been exposed if they come "within six feet of the phone of someone who tested positive for at least ten minutes."
New York's exposure notification app also appears to use the old CDC guidance, and will alert users if they come "within 6 feet of your phone for longer than 10 minutes," according to the state's website.
The updated definition, which health departments refer to when conducting contact tracing, is likely to have a serious impact on schools, workplaces and other group settings where personal contact may stretch over longer periods of time including multiple interactions.
It greatly expands the pool of people considered at risk of transmission. "It's easy to accumulate 15 minutes in small increments when you spend all day together — a few minutes at the water cooler, a few minutes in the elevator, and so on," Johns Hopkins Center for Health Security epidemiologist Caitlin Rivers told The Washington Post. "I expect this will result in many more people being identified as close contacts."
The clarification comes as cases and hospitalizations are rising both in Alabama and nationwide. Alabama's 14-day average of cases has increased 41.2 percent over the past two weeks. The percentage of tests that are positive has increased from roughly 13 percent to more than 20 percent over the past 14 days. The U.S. average of new daily infections is now at its highest point of the pandemic, with 481,372 cases reported in a week, according to CNN and Johns Hopkins University.