Educators likely will not see a premium increase on their insurance this year
The Alabama House Ways and Means Education Committee heard an update on the Public Educators Health Insurance Program at a hearing in Montgomery on Tuesday, Feb. 12.
The CFO and Chief Accountant Officer of the Retirement Systems of Alabama Diane Scott briefed the Legislature on the health of the PEEHIP program.
"PEEHIP began in 1983," Scott said. "The purpose was to provide healthcare benefits for education employees and retirees."
Scott said that PEEHIP has three hospital and medical plans as well as dental and vision plans. Most active education employees are with Blue Cross Blue Shield of Alabama. Education employees also have the option of using VIVA Health. Only 2,500 participants are in the VIVA option. Medicare Eligible Retirees are covered by United Health Care.
Scott said that PEEHIP provides healthcare coverage to over 300,000 people. Of those, 83,223 are active education employees, 68,070 are retirees, 149,851 are covered dependents and 97 to 98 percent are Alabama residents. Some retirees live out of state.
"PEEHIP is governed by the same board as [Teachers Retirement System]," Scott said.
"That is a lot of Alabamians covered by the plan," said Chairman Bill Poole, R-Tuscaloosa. "The employer match is paid out of our budget on behalf of the state of Alabama."
Scott said for the first 20 years, the cost was $500 million a year. In the last 17 years, it has gone up to $1.5 billion. A special session was held in 2004 to deal with PEEHIP, so changes occurred starting in 2005. The cost continued to go up to 2010 and 2011.
"Beginning in 2011, we shifted some cost over to our members by increasing deductibles and copays," Scott said. "We did a dependent eligibility verification. Then, we were able to get some dependents off the system. That lowered costs some, and we have continued to do that going forward. Costs leveled off in 2015 and 2016 due to changes made by the Legislature. We stopped some pharmacy scamming that was going on. On Jan. 1 2017, we switched to a Medicare Advantage program for Medicare eligible retirees. That saved $75 million a year."
"We have fewer earlier retirees having to do with legislation that was passed in 2011," Scott said. "I expect that we will continue to see a reduction in the pre-65 enrollments simply because those premiums are so high."
Poole commented on the ration of retirees to active employees on the plan.
"That ratio is increasing toward one to one," Scott said. "We may get to more retirees than actives. The number of actives are flat. We really are not increasing the number of teachers in the classroom over recent years. That means we have to ask for more money from the Legislature."
Retirees are increasing 2,000 to 2,500 a year.
"I don't want to reduce quality of care and reduce benefits," Scott said. "We are putting more focus on the wellness thing. Sixty percent of our population is either diabetic or pre-diabetic."
Scott said that PEEHIP is working on initiatives for weight management. We know that if employees can control their weight; if they control their diabetes to avoid it worsening and getting into costly chronic care; and can avoid moving from a pre-diabetic state to diabetes it will save money Scott said.
Scott said that there has been a 5 percent annual growth rate in costs of medical from 2003 to 2020.
"Members pay almost $400 million out of their pocket," Scott said. "That is in premiums, copays and deductibles. Total employer funding is $947.1 million. $53 million comes from the universities and PEEHIP has $4.39 million in investment income
In the last three years, the cost of PEEHIP to the education trust fund budget has been level at $944.7 million and $944.7 million, Scott said. Scott said that PEEHIP was not increasing their request in fiscal year 2020.
Scott said that cost to the education trust fund is $800 per active member per month for fiscal year. It has been $800 for three years straight fiscal years 2017, 2018 and 2019. Scott said that the fiscal year 2020 request is still just $800 per active employee per month.
"I want to thank PEEHIP for keeping that level for the third consecutive year," Poole said. "For the third year, PEEHIP will not have to increase premiums for teachers. It is up to the PEEHIP board, but that means for the third year, there appears to be level costs. I am very appreciative of that."
Scott predicted that total medical and pharmaceutical costs will be over $1.44 billion in fiscal year 2020. That includes members share. It is expected to rise to $1.52 billion in fiscal year 2021.
"We know that as members get older, they require more healthcare typically," Scott said.
Scott said that PEEHIP received $800 per active per month in funding from the legislature for FY 2018, and $329 of that went to subsidize an active member's coverage. Another $223.62 went to pay for dependents' coverage and $136.46 for retirees care.
Starting in 1987, the individual coverage premium was $2 a month, Scott said. It has gone up since then, but there have been very few premium increases for active members.
From fiscal year 1987 to FY 2010, the individual premium was $2 per month. From FY 2011 to FY 2016, it was $15 per month. From FY 2017 to the present, it is just $30 per month, except for the first three transitional years of PEEHIP's existence — 1984–1986 — dependent coverage from FY 1987 to FY 1989 it was $93 per month. From FY 1990 to FY 2000, it was $122 per month. From FY 2001 to FY 2010, dependent coverage was $132 per month. From FY 2011 to FY 2012, it was $162 per month. From FY 2013 to the present, it has been $177 per month. Starting in 2018, spouse-only coverage was added as an option.
There is a tobacco surcharge. When that was implemented, 16.5 percent of members were tobacco users. By Jan. 31, 2019, that had dropped to where only 8.84 percent are tobacco users. If members don't do their wellness activities, they are charged a $50 a month surcharge.
Administrative costs are just $4 million — .3 percent of the program.
"One thing we do to control costs is to have divorce audits," Scott said. "While the terms of the divorce may require someone to provide health insurance to their divorced spouse, it does not require that they get PEEHIP. We regularly do divorce audits."
Scott said that PEEHIP has a retirees trust fund that was established in 2007. We have a balance of $1.436 billion. The Retiree Trust has been funded by two transfers from PEEHIP in 2007 and 2008 totaling $631 million. In 2015, $92 million was taken out, and in 2016, $32 million was taken out to address funding shortfalls. The Legislature has never appropriated money to the retiree trust, and no member money has been appropriated to the retiree trust.
PEEHIP's unfunded liability has dropped from $12 billion to $8.842 billion in 2017.
Print this piece
South Alabama medical residents work alongside Orange Beach first responders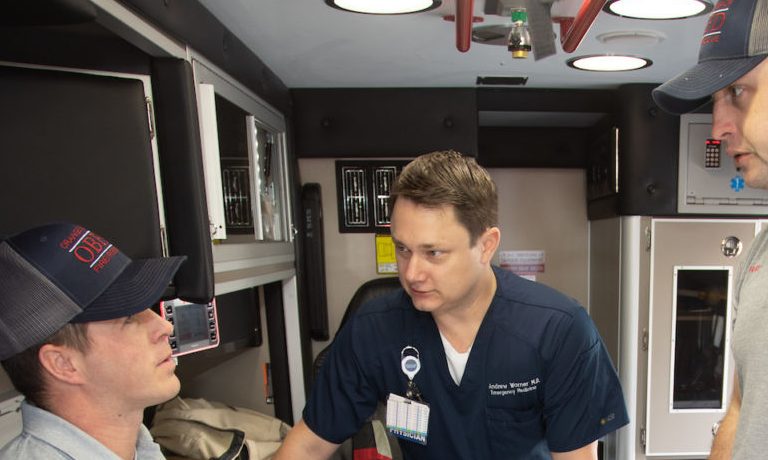 Residents in USA Health's Emergency Medicine Residency Program are given the opportunity to rotate with emergency medical services (EMS) in Orange Beach. The residents are stationed at the Orange Beach Fire Department giving resident physicians the experience of responding to emergency calls alongside paramedics and firefighters.
Paul Henning, M.D. is the associate program director of the Emergency Medicine Residency Program at USA Health and medical director of Orange Beach Fire/Rescue.
"The expertise that a patient gets in the field can determine outcomes," Henning explained. "It bridges the gap between the physician and the paramedic. Seldom, if ever, do physicians have this kind of exposure to prehospital emergency services. It also gives the physician more perspective of what the paramedics are doing in the field. If we have an opportunity to improve the prehospital scope of practice, then we have accomplished our goals."
Henning also serves as an associate professor of emergency medicine at the University of South Alabama College of Medicine.
He said that it is vital that physicians understand what happens in the prehospital stage of care.
The innovative program was established in July 2019.
Andrew Warner, M.D., took a nonlinear path to emergency medicine. Dr. Warner is a former Green Beret, who served with the U.S. Army 5thSpecial Forces Group on tours in Iraq and Afghanistan.
Following his military service, he went on to earn his medical degree from the University of Cincinnati College of Medicine. He completed his residency training in family medicine at USA Health and started in the emergency medicine program as a second-year resident.
Warner expressed his great respect for the Orange Beach first responders, who "epitomize true dedication to patient care and outcomes."
"I have further learned to appreciate just how critical those precious seconds in the prehospital setting are for patient survivability," Warner added.
Justin Thomas, M.D. is a second-year emergency medicine resident and was the first USA Health resident to rotate in Orange Beach. Thomas said that the experience opened his eyes to the constraints paramedics endure while working in the field, particularly when responding to calls in rural areas of the county.
"There are locations they respond to that may be in the middle of the woods, or down a dirt road someone only goes down once every couple of weeks," Thomas said. "They have to lug their supplies and the stretcher to the house, assess and care for the patient, and then bring them to the ambulance."
The medics are limited by the supplies and tools they have with them, Thomas said. "It's much different being at a hospital with all the resources at your disposal versus working from an ambulance with limited capabilities."
Thomas earned his medical degree from the American University of the Caribbean. He took a nontraditional route to emergency medicine. As a resident in USA Health's Family Medicine Residency Program, he rotated in the emergency department at University Hospital and was attracted to the field.
After graduating from his family medicine residency in June 2019, Thomas was offered a spot in the new Emergency Medicine Residency Program. Dr. Thomas was given approval from the American Board of Emergency Medicine to start as a second-year because of his months of training in emergency medicine during his family medicine residency.
Economic developer Dr Nicole Jones told the Alabama Political Reporter, "Response time is critical, especially in rural areas and areas that have longer distances to medical facilities than urban counterparts. The partnership between USA Health emergency medicine residency program and Orange Beach paramedics and fire rescue is a win-win situation. Both parties learn from one another and gain a deeper understanding of the pre-hospital setting, and most importantly, having professionals available in emergency situations with unique skill sets can ultimately save more patients' lives."
The partnership is mutually beneficial for USA Health's emergency medicine residency program and Orange Beach's paramedical and fire-rescue services. By adding the resident physicians the paramedics are able to provide a higher level of care to patients.
"I love to hear the interaction between our staff and the residents," said Orange Beach Fire Chief Mike Kimmerling. "Even when they're not running calls, there is a tremendous amount of knowledge being transferred in their conversations."
The residents gain more diversity of exposure in Orange Beach than in a larger city like Mobile, Henning said. "Most fire and rescues in large cities are close to hospitals, so the transport time is usually 10 minutes or less, whereas in Orange Beach the time could be significantly longer. When they are able to render care for a longer period of time, they have the chance to sharpen their skills and have more patient exposure."
Dr. Henning said that Orange Beach also gives the residents the unique experiences of working on fire and rescue boats.
Henning said that before starting the EMS rotation, the residents are required to be fully licensed by the state and to have completed an online medical direction course. If any questions or concerns arise, Henning and other emergency medicine attending physicians with USA Health are always available to provide their medical direction. Residents cannot start the EMS rotation until their second year. As the first class of residents graduate to their second year, six residents will rotate throughout the academic year. Third-years have the option to do an additional EMS rotation.
(Based on original reporting by USA Health's Lindsay Lyle.)
Print this piece