Opinion | Everyone is going to pretend that Steve Marshall didn't break the law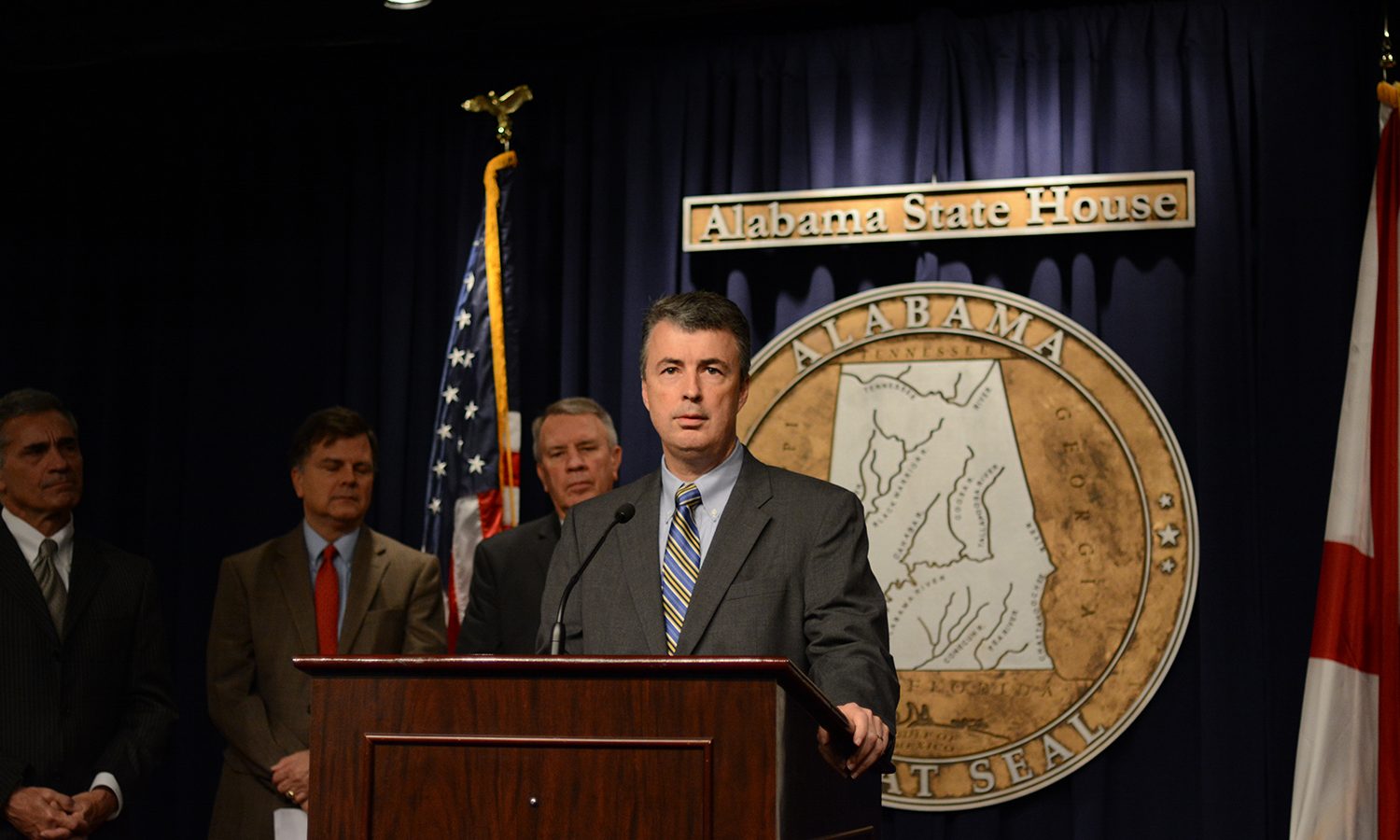 Steve Marshall is going to get away with it.
In a response to questions from APR, Gov. Kay Ivey's office said this week that it won't be moving forward with an investigation into Attorney General Marshall's questionable campaign contributions that appeared to violate Alabama's ban on political action committee transfers. Instead, Ivey said she "welcomes … a legislative solution" for strengthening Alabama's campaign finance laws.
I wasn't aware they could legislate having a spine.
That's the only option for the Legislature, because there is no problem with the law. There is no ambiguity. There are no holes. There is no confusion.
This is all really quite simple: Steve Marshall violated Alabama's ban on PAC-to-PAC transfers — blatantly and shamelessly — and the people who should hold him accountable for it aren't.
Because they are playing partisan politics. Because they had higher ambitions. Because the heat was just too much. Because they're scared.
Here are the key facts:
Alabama bans PAC-to-PAC transfers, and the law states plainly that it applies to both in-state and out-of-state PACs.

Marshall accepted $735,000 from the Republican Attorneys General Association PAC, which conducted PAC-to-PAC transfers.

Marshall was alerted to this and informed that the Alabama law provides 10 days for a candidate to return the funds or face a felony penalty with up to a 20-year prison sentence for each violation.

Marshall laughed and spent the money on his campaign.
These are the bare bones facts, laid out as plainly and simply as they can be. And to be clear, laying them out in such a manner is not intended to mask some complexity that makes what Marshall did understandable.
When the original ethics complaint was filed against Marshall over this issue — filed by his Republican challenger — Marshall was forced to put on paper his defense for accepting the funds and keeping the funds.
His only real defense was that the RAGA PAC wasn't subject to Alabama laws, which made it legal for RAGA to participate in PAC-to-PAC transfers and legal for it to donate to Marshall.
And Marshall claimed that Alabama law didn't specifically require candidates to return donations from a federal PAC.
I would like to pause here for just a moment and ask that you consider what's being said here. The state's attorney general is arguing FOR a loophole in the law.
Oh, and to increase the hypocrisy of it: Just a few months earlier, Marshall argued in a brief submitted to the U.S. Supreme Court that Alabama's PAC-to-PAC transfer ban was so vital, so important that it was the "only legal protection standing between Alabama voters and the reality or appearance of quid pro quo corruption."
He was right the first time. The PAC-to-PAC transfer ban was put in place to ensure citizens knew who was contributing to candidates. The PAC-to-PAC transfers mask that by shuffling money from one to another, co-mingling funds from other donors, and then transferring it to candidates.
Which is how $735,000 landed in the Alabama Attorney General's campaign account and no one knew the original source.
Was it gambling interests? Was it Planned Parenthood? Was it anti-second amendment groups? Was it George Soros?
No way to know. Because Marshall violated Alabama's law.
But don't take my word for it. Take the word of the only judge to review the facts of the case and make a ruling based on the evidence — former Montgomery County Circuit Court Judge Charles Price.
Price serves on the Alabama Ethics Commission now, and he was one of two votes on a motion saying there was "ample evidence" that Marshall violated the law. That vote would have sent the allegations to a local district attorney's office for prosecution.
But instead, three of Price's colleagues decided the heat was too much for them. They couldn't bring themselves to clear Marshall, but they let him off the hook just the same, voting that there was "insufficient evidence" to forward to a DA.
However, there was still a DA out there with authority to investigate and put the case before a grand jury. A DA with a credible complaint filed by two practicing attorneys in the state.
For weeks, rumors swirled that Montgomery DA Daryl Bailey was going to do what the Ethics Commission wouldn't — take the charges against Marshall before a grand jury and see what regular citizens thought about it all.
In the end, Bailey bailed too. Citing several conflicts of interest, Bailey recused his office and laid it all at Ivey's feet. And the governor has now punted too.
In fairness to Ivey, this shouldn't be her problem. It shouldn't fall to the governor to pick up the pieces and do the job that all these other people should have done. And that's particularly true considering that those people not doing their jobs made the whole thing worse.
There is now a gaping hole in Alabama's law banning PAC-to-PAC transfers, and state PACs should be scrambling to create new federal PACs. Then they'll be free to move money around left and right, unimpeded by those pesky disclosure laws.
That way, the average voter will be absolutely clueless. The special interests can dump money in and buy up everybody running. And the candidates can secretly accept massive amounts of money from all sorts of shady sources. 
Just like Steve Marshall, the state's AG, just did.
Opinion | Tommy, can you hear me?
That Morning Consult poll of Alabama voters that showed Republican Tommy Tuberville with a 17-point lead over incumbent Democratic Sen. Doug Jones for the U.S. Senate was such a stunner, a Jones campaign aide rushed out an email fundraiser trying to quell any panic.
Until now, most polls have shown Jones to be competitive against an unnamed Republican and, specifically, Tuberville, the former Auburn football coach who defeated Jeff Sessions to win the Republican nomination.
"I would never respond to an outside poll, but a new poll is out there showing Doug Jones losing by … wait for it … 17 points," writes Joe Trippi, senior adviser for the Doug Jones for Senate campaign.
"Here is my comment," Trippi writes. "No way."
Unfortunately, in Alabama, there is a way.
Republicans in the state tend to vote straight ticket in overwhelming numbers. Alabama is one of a handful of states that even allows straight-ticket voting, but the reality is, it does. So voters who want to cast their ballot for, say, Donald Trump in November, but who also like Jones, will have to split their ticket.
The Morning Consult poll showed that a large number of independent voters are undecided, and that could swing the election toward Jones. But straight-party voting can be a hope killer.
Not yet, though. It's still early. The election is still nearly three months away. We've not seen Tuberville do much of anything but bow before Trump, who endorsed him over his former attorney general. But that's Trump loyalty for you.
Indeed, the country is going so poorly right now, one wonders other than the hard-core racists, who still supports Trump.
I know, I know: Alabama is different (plus, we still have more than our share of hard-core racists). But c'mon, folks, more than 157,300 Americans are dead from the COVID-19 pandemic, completely mismanaged by the Trump administration. There have been more than 4.7 million cases. In Alabama, there have been more than 90,000 cases and more than 1,600 deaths.
Meanwhile, the U.S. and Alabama economies are in shambles and getting worse, not better. Trump has sided with Confederate statues and flags over eliminating the systemic racism found in police departments and other government agencies. Plus, most recently, Trump sent his secret army of unidentified goons to sweep protesters off the streets in American cities.
Trump is nobody's friend but his own.
Then there's Tuberville. A decent if mediocre football coach, Tuberville certainly is no Nick Saban. Tuberville isn't even a Gus Malzahn.
Sessions tried to argue that Tuberville wasn't a resident of Alabama, either, but that's not fair. Where Sessions is concerned, unfair is a character trait.
While Tuberville does maintain properties in Florida, he and his wife have owned a home in Auburn for at least three years. Too, they both are registered voters in Alabama, though Sessions said Tuberville cast his ballot in Florida during the 2018 midterms.
What's more important is where Tuberville stands on the issues. And that, we don't know much about. We know Jones is a moderate who works with members of both parties. He clearly represents Alabama's best interests as well as any U.S. senator who has served from Alabama.
Though the loons try to paint Jones as a liberal-socialist-communist bogeyman, he's nowhere close. Certainly, he's different from Sessions, who held that Senate seat for two decades before becoming Trump's attorney general. He's different from Sessions in that he actually gets legislation through the Senate. Sessions mainly interfered with progress while a senator.
The first U.S. senator to support Trump's candidacy, Sessions identified with Trump most likely because they're both die-hard racists. Trump rewarded that loyalty by back-stabbing Sessions out of Washington.
At some point, though, Tuberville must make his positions clear, and not simply that he'll support anything Trump does. That would be a disaster for Alabama, as much as Trump is a disaster for the United States.
The former Auburn University football coach can't just continue being a sycophant for Trump, whose own poll numbers are tanking and who is likely not going to win re-election.
Should Alabama send a Republican to represent the state with a Democratic president, a likely Democratic Senate and a solidly Democratic House? That would be useless.
But Trippi, in his email, did show how Tuberville wins easily: "One bad poll turns all of us off … you write the race off, and Tuberville coasts to victory because no one is paying attention," says Trippi. "Everyone abandons Alabama except Mitch McConnell, who is ALL IN to beat Doug. The proof is in the money he (McConnell) is spending now."
It's true that McConnell is working hard to unseat Jones to protect Republicans' wobbly control of the U.S. Senate, and if they weren't concerned that Jones has a good shot at winning re-election, McConnell would spend that campaign money in another state.
Tuberville must do more than hide behind Trump. We need to hear Tuberville's plan, where he stands on the issues and what he'll bring to Alabama that Jones hasn't already.
Let's hear it, Coach Tommy. But you'll have to scoot back a bit first.