Ivey addresses PARCA event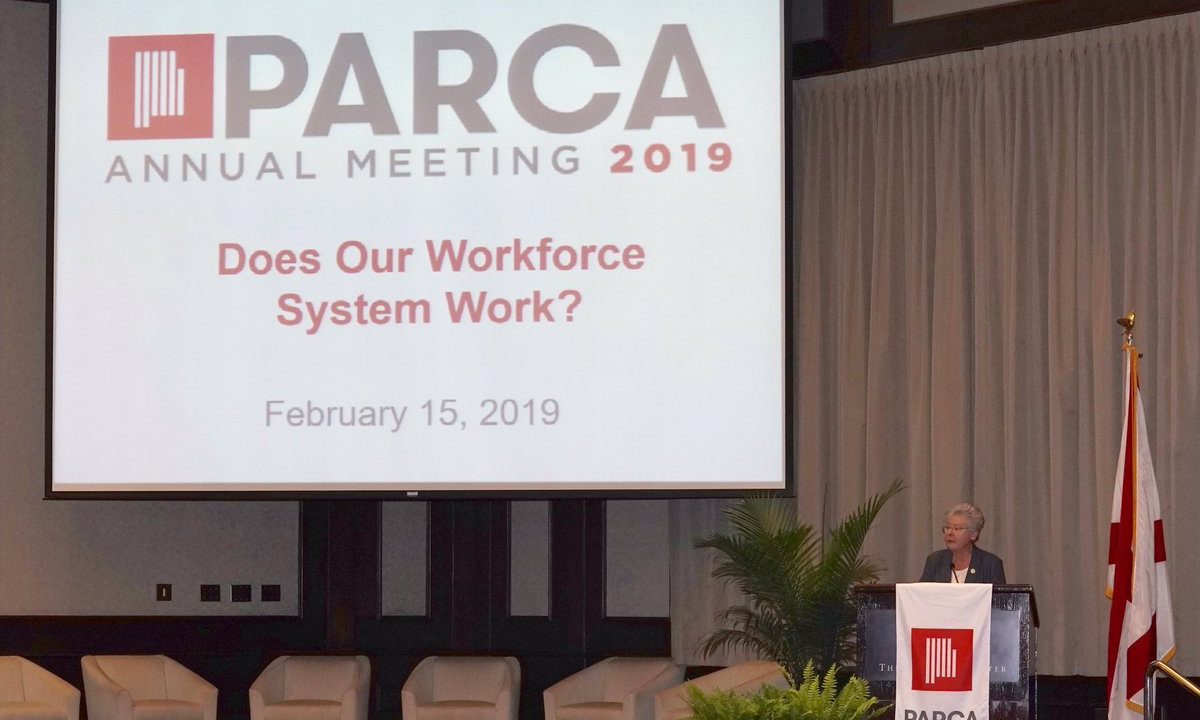 Friday, Alabama Gov. Kay Ivey addressed the Public Affairs Research Council of Alabama's annual Albert Brewer annual meeting at the Harbert Center in Birmingham. This year's focus was on workforce development.
"More Alabamians are working than ever before in history," Ivey told the group. "It proves that what we are doing is, in fact, effective."
"Alabama is in a position to achieve greater success," Ivey said in her keynote address. "And as we look to our future, more than ever before, now is the time that we must be sure that our workforce is well-equipped to face the opportunities and the jobs of tomorrow."
The event drew some of the top government, business, and academic leaders in Alabama. Notable attendees included Gov. Ivey, Secretary of Labor Fitzgerald Washington, Raphael Bostic of the Federal Reserve Bank of Atlanta, Chauncy Lennon of the Lumina Foundation, Nick Moore, Education Policy Advisor Coordinator with the Governor's Office of Education and Workforce Transformation, State Treasurer John McMillan, Commissioner Nancy Buckner of the Alabama Department of Human Resources, Commissioner Jeff Dunn of the Department of Corrections, State Representative Mike Ball, State Representative Tim Wadsworth, Economic Developer Nicole Jones, Vince Brewton from the University of North Alabama, Walter Givhan from Troy University, Marcus Paramore of the Troy City Council, and numerous additional representatives from businesses, nonprofit organizations, state agencies, Federal Reserve Bank of Atlanta, municipalities, libraries, community colleges, state universities, and school systems.
Nicole Jones, economic developer, told the Alabama Political Reporter, "The PARCA Annual Meeting provided a diverse set of viewpoints from members of the public and private sector of how to respond to workforce development-related challenges. Communication between businesses and school systems is a two-way street and must be a reciprocal, continuous process. No legislation is required to pick up the phone, start a conversation, and collaborate to design programs for the betterment of our future workforce."
Chauncey Lennon of the Lumina Foundation said, "Alabama needs a system that makes the value of degrees more transparent so students can see what they actually can earn. College and high school are only two of the credentials that matter in the labor market. Alabama needs to focus on all ways to help employees earn better wages such as diplomas, apprenticeships, degrees, certifications, badges, licensures, micro-credentials, and certificate programs. Alabamians can add certifications to degrees to enhance their skills and marketability."
Raphael Bostic is the President and CEO of the Federal Reserve Bank of Atlanta.
"Workforce development can play a central role by helping individuals build their knowledge and skills and make a decent living," President Bostic said. "The results are higher tax receipts and lower spending on public assistance, incarceration, and other programs."
"The labor force participation rate—particularly for individuals between their mid-20s and mid-50s—is lower in the Southeast than in the rest of the country," Bostic said. "Alabama, Louisiana, and Mississippi have especially low rates. In these three states, an unusually large share of people report that they don't participate in the job market because they are too sick or disabled to work, according to Atlanta Fed research. Interestingly, the prevalence of disability and illness in Alabama is higher than in most states across all ages, non-Hispanic ethnicities, and education levels, and in both urban and rural areas. If Alabama's labor force participation rate were closer to the national level, then another 200,000 people would become part of the state's workforce, which could help resolve what are projected to be fairly serious labor shortages in the coming years."
"As we go forward with workforce programs and systems, please know that one person can make a difference in helping someone find doorways to opportunity that are not always apparent," Bostic added. "We at the Atlanta Fed look forward to working with you as you help others find these doorways."
Economic developer Nicole Jones told APR, "When appointed to his position in 2014, Secretary Fitzgerald Washington of the Alabama Department of Labor analyzed a trend in unemployment rates and discovered that five counties (Wilcox, Dallas, Perry, Lowndes, and Greene) had consistent, unusual unemployment. The department then took a proactive approach to identify the need and address the issue."
"Wilcox County, in 2014, had an unemployment rate of 16.1 percent – the highest in Alabama and in the United States," Secretary Washington said. "The Alabama Department of Labor recruited employers and hosted a job fair in these rural counties. In October 2017, unemployment fell in these counties below the double digits."
"Unemployment is sometimes an awareness issue," Washington said. "People do not know what jobs are out there. If you visit joblink.alabama.gov, 28,000 jobs are available now. Currently unemployment is at 3.9 percent, the lowest unemployment rate in state history."
PARCA is Alabama's first and only independent research center. It is a nonpartisan nonprofit research center that promotes best practices and evidence-based decision making in Alabama's governments, schools, and nonprofits. Founded in 1988,
PARCA says that it provides objective research and evaluation, policy education and recommendations, and technical assistance in the areas of government efficiency, education and workforce development, and quality of life
PARCA studies issues including: state and local finances and taxes, school performance, workforce development, government operations, infrastructure, education outcomes, and government and nonprofit performance measures.
To read Atlanta Fed President Raphael Bostic's full presentation.
Print this piece
Governor awards $9.5 million in grants to expand internet access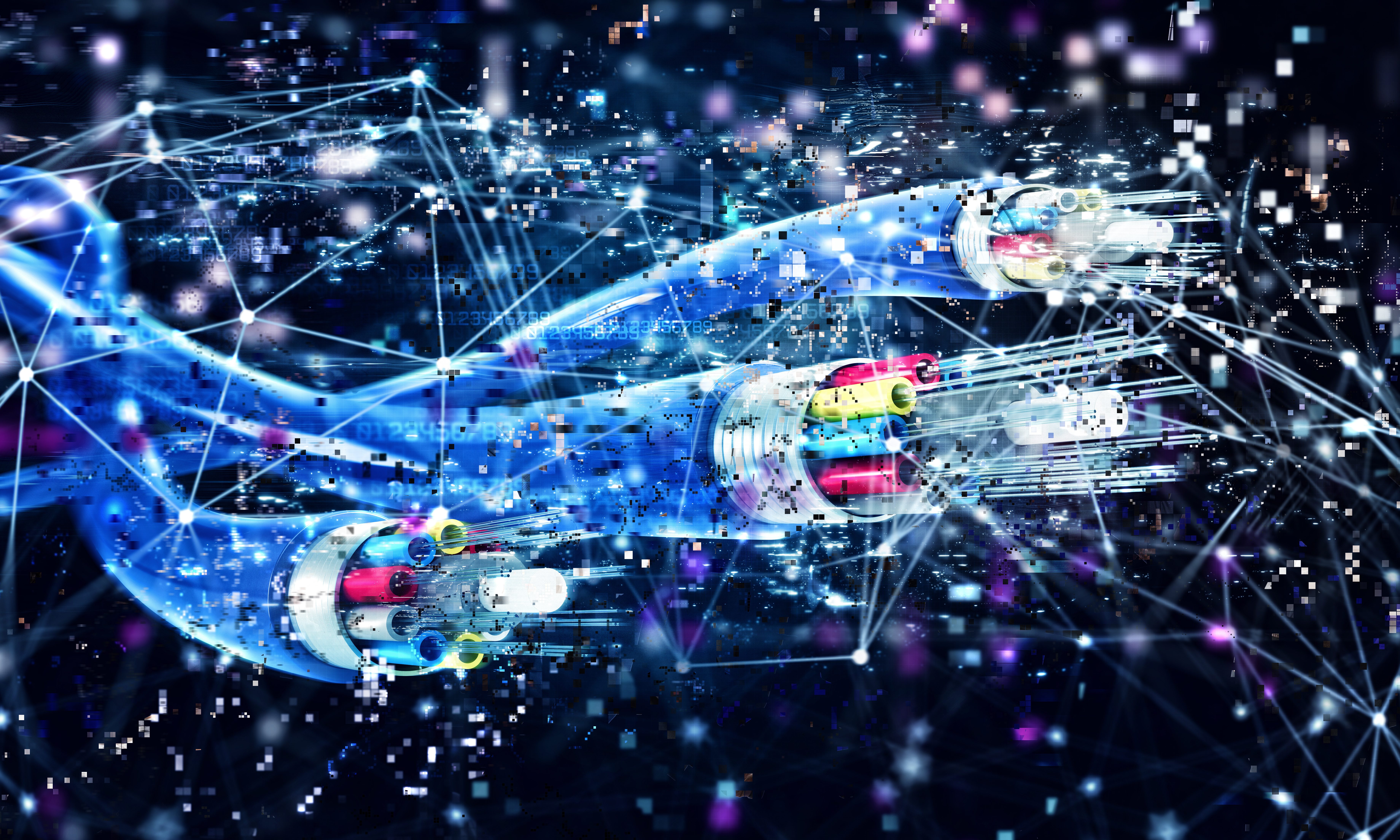 Gov. Kay Ivey has awarded 20 grants totaling more than $9.5 million to provide high-speed internet access to numerous communities throughout Alabama.
The grants, part of the Alabama Broadband Accessibility Fund, were awarded to nine broadband providers to fund multiple projects in their coverage areas.
"Availability of high-speed internet has always been vital, but the events of the past several weeks magnify just how imperative it is that all Alabamians have access to broadband," Gov. Ivey said. "I am pleased to support these projects and look forward to the day when every household, school, healthcare facility, emergency service and business throughout Alabama is afforded broadband availability."
The fund, which is being administered through the Alabama Department of Economic and Community Affairs, was created by the Alabama Legislature in 2018 to provide high-speed internet to rural and underserved areas of the state.
"As our day-to-day way of living has been impacted over the past few weeks, it has underscored the value and necessity of high-speed broadband services. That is something that Governor Ivey, the Legislature and ADECA have been working to address through the Broadband Accessibility Fund," ADECA Director Kenneth Boswell said. "ADECA takes its role in administering this program seriously and is honored to be entrusted with the responsibility."
This latest round of Broadband Accessibility grants came from applications submitted in late December 2019. Additional awards from this round of applications could also be announced.
Grants awarded and coverage areas are:
Central Alabama Electric Cooperative – $224,175 to provide broadband services in north Lowndes County including 301 households and 15 businesses.
Central Alabama Electric Cooperative – $289,100 for service in southwest Autauga and southeast Dallas counties including 343 households and 38 businesses.
Central Alabama Electric Cooperative – $480,200 for service in northwest Autauga, northeast Dallas and south Chilton counties including nearly 500 households and 31 businesses.
Central Alabama Electric Cooperative – $682,325 for service adjacent to the town of Billingsley in Autauga County which includes 656 households and 45 businesses.
Central Alabama Electric Cooperative – $1.06 million for service in Chilton County south of the city of Clanton and north of the town of Billingsley which is in neighboring Autauga County. The project will offer service to 1,093 households and 41 businesses.
Central Alabama Electric Cooperative – $557,987 for service in north-central Autauga County and parts of south-central Chilton County to include service offerings to 743 households and 21 businesses.
Central Alabama Electric Cooperative – $531,650 for service in southeast Chilton County, northeast Autauga County and northwest Elmore County including 509 households and 17 businesses.
Central Alabama Electric Cooperative – $279,300 for service in northwest Chilton County and east Bibb County including 409 households and 12 businesses.
Charter Communications – $336,830 for service in the town of Autaugaville in Autauga County including 641 household and 14 businesses.
Comcast of Alabama – $820,750 to service the Town of Dauphin Island in Mobile County including 2,500 households and 24 businesses.
Hayneville Telephone Co. – $205,705 for service in Lowndes County's Black Belt and Hicks Hill communities including 258 households and four businesses.
Hayneville Telephone Co. – $125,671 for service in an area southeast of the town of Hayneville including 187 households and one business.
Hayneville Telephone Co. – $143,265 for service southwest of the town of Hayneville including 191 households and two businesses.
Hayneville Fiber Transport Inc. (Camellia Communications) – $90,072 for service in the Butler County community of Poorhouse community northeast of the city of Greenville.
JTM Broadband – $404,414 for service in Lauderdale County east of the town of Killen including 1,303 households and 247 businesses.
Mon-Cre Telephone Cooperative – $529,707 for service in north Crenshaw County and south Montgomery County including 350 households.
National Telephone of Alabama – $357,171 for service in the Red Rock community in Colbert County including 205 households and six businesses.
Roanoke Telephone Co. – $308,882 – for service in an area of south Randolph County between the municipalities of Roanoke and Wadley including 269 households and four businesses.
Troy Cablevision – $1.38 million for service in parts of Coffee, Covington, Geneva and Houston counties including 1,190 households and 80 businesses.
Troy Cablevision – $750,625 for service in parts of Coffee, Crenshaw and Pike counties including 603 households and 38 businesses.
ADECA administers a wide range of programs that support law enforcement, victim programs, economic development, water resource management, energy conservation and recreation.
Print this piece