Shelby votes for Barr confirmation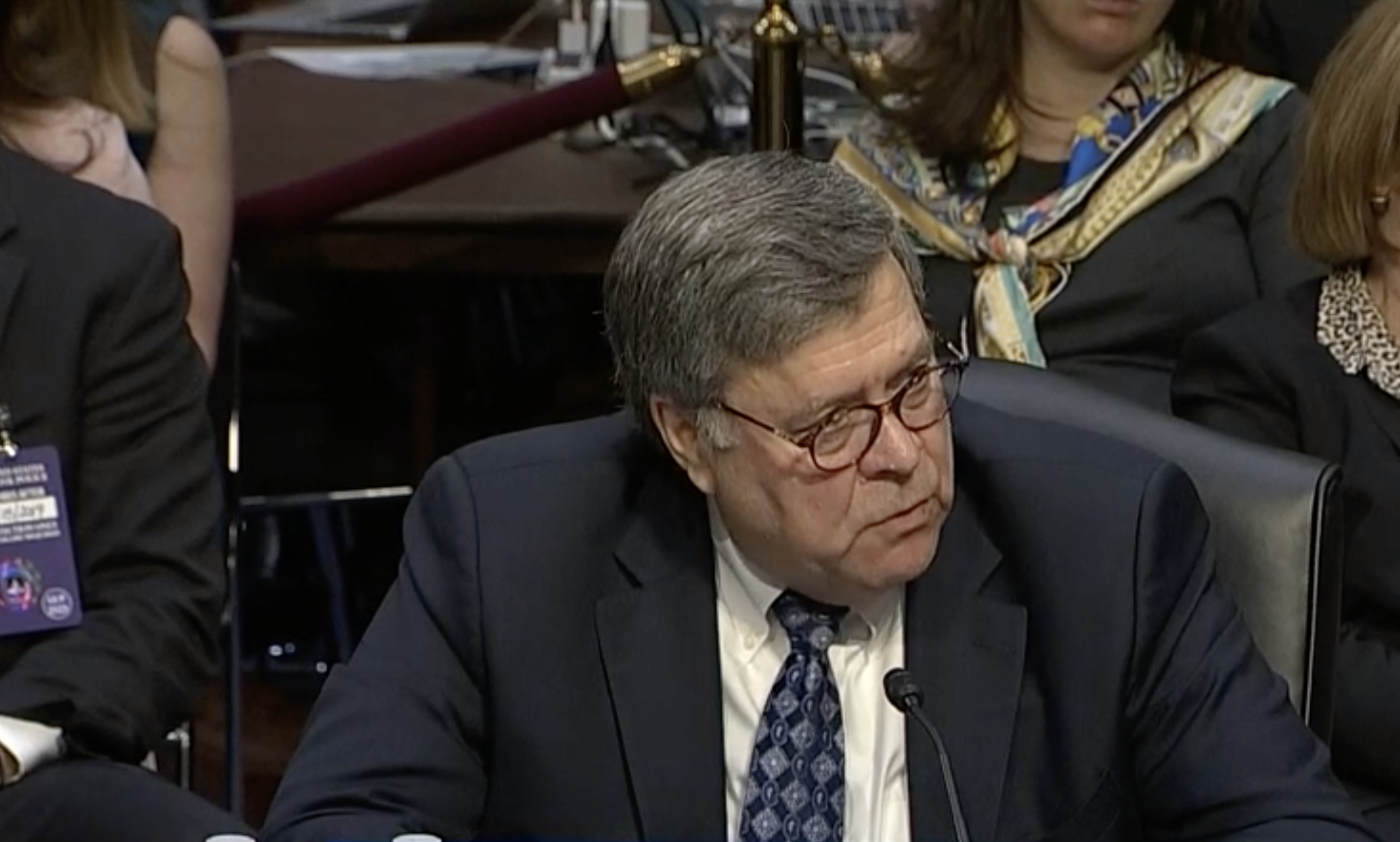 The U.S. Senate confirmed William Barr as U.S. attorney general on Thursday. Sen. Richard Shelby, R-Alabama, said he was proud to have voted to confirm Barr as attorney general. Barr previously served as AG under former President George H. W. Bush.
"I am proud to have voted for the confirmation of William Barr to serve as the next attorney general of the United States," Shelby said. "I believe his previous experience as attorney general, and decades of experience in other legal roles make him extremely well suited to step into this position. I am looking forward to working with him."
Barr was confirmed on a 55 to 45 vote with most Republicans voting to confirm and most Democratic senators voting not to confirm.
Three Democrats voted for Barr's confirmation. Democratic Sen. Doug Jones, D-Alabama, voted along Joe Manchin, D-West Virginia, and Kyrsten Sinema, D-Arizona, were the three Democrats that voted for Barr's confirmation.  Rand Paul, R-Kentucky, was the sole Republican to vote against.
"As a former U.S. attorney, I believe the most important responsibility of an attorney general is to uphold the rule of law and to do so with a commitment to transparency," Jones said in a statement. "I have spent nearly two months examining Mr. Barr's record. I watched his hearings last month, during which he answered difficult but important questions from my colleagues on both sides of the aisle. I have listened to and considered the concerns of my constituents and leaders in the justice community. I have also spoken personally with Mr. Barr and asked him some tough questions of my own, informed by my own experience as a U.S. attorney. After thorough consideration, I have concluded that Mr. Barr is qualified for the position of attorney general, and his record strongly suggests he will exercise independent judgment and uphold the best interests of the Department of Justice."
President Donald Trump nominated William Barr to fill the vacancy created by Trump's forced resignation of Jeff Sessions.
Some in the civil rights community have suggested that Barr might not be sufficiently independent of Trump and the White House.
Vanita Gupta, president and CEO of The Leadership Conference on Civil and Human Rights, issued the following statement on the confirmation of William Barr as U.S. attorney general.
"As Attorney General, Mr. Barr must vigorously enforce our federal civil rights laws, fight discriminatory barriers for the most vulnerable, and reject any effort by the president to undermine the role of the Justice Department as an independent guardian of the rule of law," the statement read. "There was an avalanche of opposition to Mr. Barr's nomination based on his extensive record, and his tenure now must be met with unflagging vigilance and oversight. Americans deserve an independent attorney general who will honor the federal government's commitment to civil rights and the fair and impartial administration of justice. We urge Mr. Barr to rise to the task."
The Leadership Conference on Civil and Human Rights is a coalition charged by its diverse membership of more than 200 national organizations to promote and protect the rights of all persons in the United States. The Leadership Conference works toward an America as good as its ideals. For more information on The Leadership Conference and its member organizations, visit www.civilrights.org.
Ainsworth returns to work after testing positive for COVID
Ainsworth's office on Sept. 21 announced he had tested positive earlier that week, having been tested after someone in his Sunday school class tested positive for the disease. 
Alabama Lt. Gov. Will Ainsworth on Wednesday announced that he was returning to work that day and had met public health requirements for quarantining after testing positive for COVID-19 some time last week.
Ainsworth's office on Sept. 21 announced he had tested positive earlier that week, having been tested after someone in his Sunday school class tested positive for the disease. 
"While many have battled with coronavirus, my symptoms never progressed beyond some mild congestion that I usually experience with seasonal allergies," Ainsworth said in a statement. "During the quarantine period, I participated in several Zoom calls, caught up on some office work, spent some quality time with my family, and completed a number of overdue projects on my farm."
Members of Ainsworth's staff who were in close contact with him haven't tested positive for COVID-19 but will remain in quarantine for a full 14-day period as a precaution, according to a press release from Ainsworth's office Wednesday. 
"Ainsworth once again urges all Alabamians to practice personal responsibility, which may include wearing masks, maintaining social distancing whenever possible, and taking other precautions to lessen chances of exposure to COVID-19," the press release states.
Ainsworth still disagrees with Gov. Kay Ivey's statewide mask mandate, he said. According to the release, he considers such orders "a one-size-fits-all governmental overreach that erodes basic freedoms and liberties while removing an individual's right to make their own health-related choices." 
The wearing of cloth or medical masks has been proven to inhibit the spread of COVID-19 and the more people who wear masks, the better. While not perfect, masks limit the spread of respiratory droplets that may contain infectious virus shed from the nose and mouth of the mask wearer.
It is possible — even likely — for symptomatic, pre-symptomatic and mildly symptomatic people to spread the virus. That's why it's important to wear a mask even when you're not sick.
Cloth masks offer only minimal protection from others who are not masked, meaning that masks are not simply a matter of personal safety but safety of others. Masks are also only effective when worn over both the mouth and the nose. [Here's a guide on how to wear masks properly.]
Dr. Deborah Birx, coordinator of the White House's coronavirus task force, told Ivey after she announced the statewide mask order that it was a "brilliant" idea. The order has been credited by Alabama infectious disease experts as having dramatically reduced the number of cases, hospitalizations and deaths in the weeks after the order went into effect. 
Dr. Don Williamson, president of the Alabama Hospital Association, told APR on Tuesday that from personal observation he is seeing more people not wearing masks, or wearing them improperly, and said the state could dramatically reduce the risk of COVID-19 if the public regularly wore masks and wore them properly.
Hospitalizations of COVID-19 patients in Alabama on Monday crossed the 1,000 mark for the first time since Aug. 31 — a sign that Alabama may be headed for another peak in hospitalizations as the state prepares for winter and flu season.