Doug Jones, John Lewis, Terri Sewell, and Martha Roby to lead Congressional Civil Rights Pilgrimage to Alabama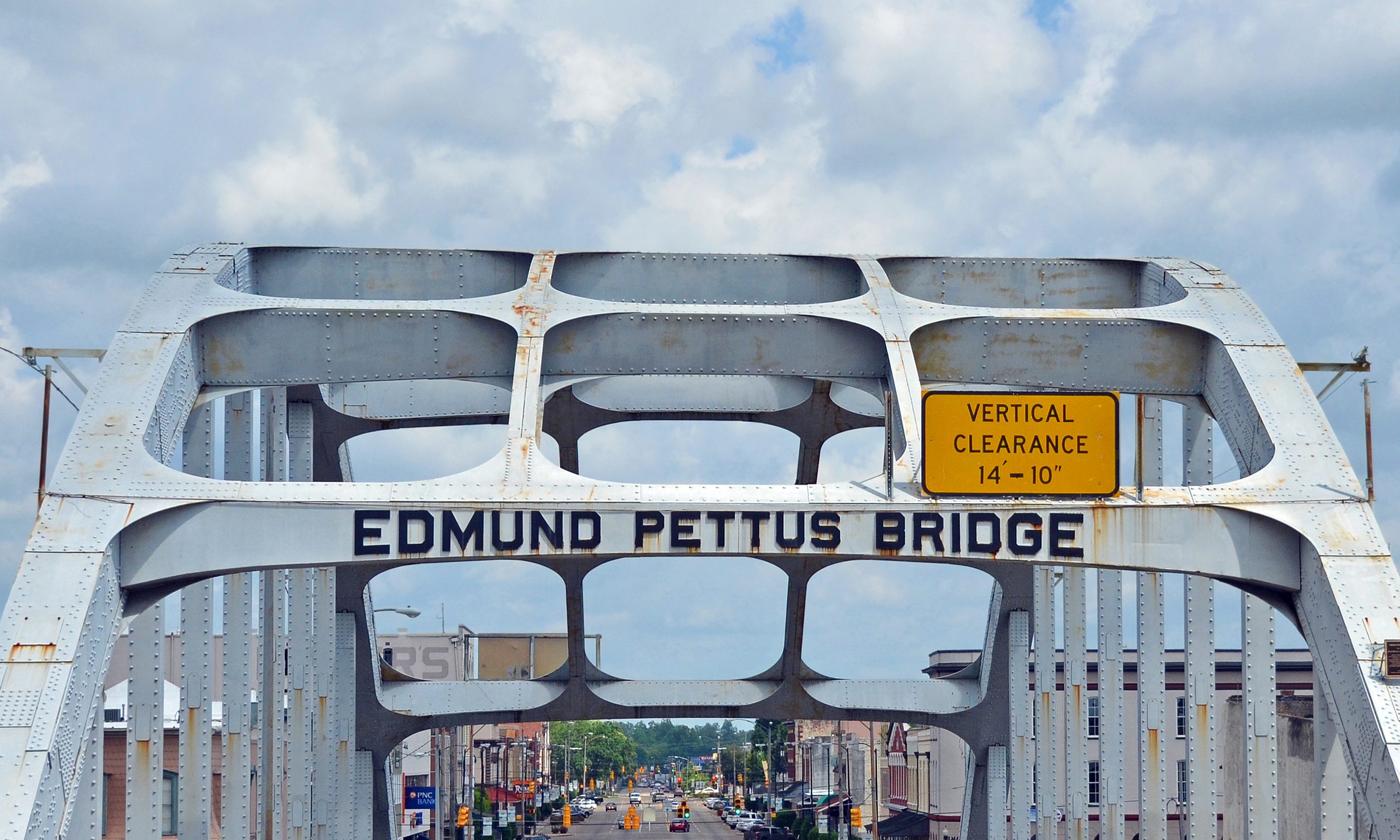 The Faith and Politics Institute will return to Alabama March 1 through March 3 to lead a bipartisan Congressional delegation of nearly 50 members from the U.S. House and U.S. Senate on the 2019 Congressional Civil Rights Pilgrimage.
The delegation will visit historic civil rights sites in Birmingham, Montgomery and Selma and engage members of Congress on the events of the Civil Rights Movement during the 1950s and 1960s.
This year's pilgrimage will be led by Alabama born civil rights legend, U.S. Representative John Lewis, D-Georgia, and co-hosted by U.S. Senator Doug Jones, D-Alabama, U.S. Representatives Terri Sewell, D-Selma, and Martha Roby, R-Montgomery.
House Majority Leader Steny Hoyer, D-Maryland, House Majority Whip Jim Clyburn, D-South Carolina, and Republican Conference Vice Chair Mark Walker, R-North Carolina, will join the delegation, along with dozens of members of Congress including more than ten freshman House members, dozens of students, seminarians and clergy.
Joan Mooney, FPI President and CEO, said of the Pilgrimage said, "Together, we will explore powerful and often painful lessons of history to help us better face our challenges of division today and find much-needed hope for our collective future."
"This pilgrimage to the sites that defined the modern-day voting rights movement in America may be more important now than ever before," Congressman Lewis said. "At a time when there are interests who want to tear down the pillars of our democracy and reverse the progress we have made, it is important that members of Congress, both new and seasoned, never forget the blood that was shed and the sacrifices that were made to build a more fair, more just democracy in this country. We don't want to go back. We want to move forward, and in order to advance the cause of voting rights in America, members must know injustice when we see. That's how this past informs our work today."
"The annual civil rights pilgrimage is a valuable opportunity to turn toward this painful chapter in our history, rather than away from it," Senator Jones said. "By reflecting on the sacrifices and injustices of that time, we can better apply their lessons to our daily lives. We are seeing a resurgence of the kind of dangerous rhetoric that inspired hate and violence in our past and undermined the values we hold dear. To honor those who bravely fought and bled in the pursuit of equality, we must continue to shine a light on their actions and stand up against those who would once again use hate as a tool to divide us."
"Each year, I am honored to lead my friends and colleagues on this historic Pilgrimage in our nation's civil rights district, Alabama's 7th Congressional District," Congresswoman Sewell said. "As Alabama's first Black Congresswoman, I know I stand on the shoulders of so many giants who courageously fought, bled and died to make our society more just and inclusive for all. I hope this Pilgrimage will help us reflect on all that we can do – individually and collectively – to advance justice and equality in our nation."
"It is my distinct pleasure to serve as a co-host of the Faith and Politics Institute Civil Rights Pilgrimage to Alabama," Congresswoman Sewell said. "Each year, this event serves as a unique opportunity for lawmakers to immerse themselves in the history of my home state and to better understand its place in the American Civil Rights Movement. I encourage this year's participants to share their experiences and Alabama's stories with residents of their home states so that all Americans can take part in building a legacy of hope, faith, and justice for generations to come. Together, we will shape a brighter future."
The theme of this year's pilgrimage is "Finding Hope from History". The bipartisan congressional delegation will visit historic civil rights landmarks such as Birmingham's 16th St. Baptist Church, Montgomery's Dexter Baptist Church, and Selma's Edmund Pettus Bridge.
The Civil Rights Pilgrimage will also bring members of Congress to The Legacy Museum and National Memorial for Peace and Justice in Montgomery to learn about the history of domestic slavery and lynching in the United States. The Museum opened in 2018 as, "the nation's first memorial dedicated to the legacy of enslaved black people, people terrorized by lynching, African Americans humiliated by racial segregation and Jim Crow and people of color burdened with contemporary presumptions of guilt and police violence."
Bryan Stevenson is the founder and Executive Director of the Equal Justice Initiative.
"We are shadowed in America by a history of racial inequality that can only be overcome by the light of truth," Stevenson said. "We must confront the legacy of slavery, lynching and segregation in this country if we truly want to be free."
The 2019 Pilgrimage will provide members of Congress the opportunity to walk in the footsteps of the civil rights icons in Alabama and hopefully achieve greater personal understanding through dialogue and engagement with colleagues.
This year's pilgrimage is occurring in the wake of prominent Linden editor and publisher Goodloe Sutton's call for the Ku Klux Klan to ride again and lynch members of Congress.
"If we could get the Klan to go up there and clean out DC, we'd all been better off," Sutton told the Montgomery Advertiser, "We'll get the hemp ropes out, loop them over a tall limb and hang all of them."
Linden is just 49.6 miles from Selma. Sutton has been formally censured by the Alabama Press Association for his comments. Roby, Sewell, and Jones all calling on Sutton to resign Tuesday.
First presidential debate is tonight
Tuesday's debate, set to begin at 8 p.m. CST, will be moderated by Fox News Sunday anchor Chris Wallace.
President Donald Trump and former Vice President Joseph Biden, the Democratic nominee for president, are preparing for Tuesday night's debate.
Tuesday's debate will be moderated by Fox News Sunday anchor Chris Wallace. The debate will be at 8 p.m. CST and is being hosted at Case Western Reserve University and the Cleveland Clinic in Cleveland, Ohio.
Due to COVID-19, the two candidates and the moderator will not shake hands. There will be a small number of ticketed guests inside the debate hall, along with debate officials, crews and TV network anchors including Fox News.
Trump has prepared with help from former New Jersey Governor Chris Christie and former New York City Major Rudy Giuliani but has chosen not to have traditional lengthy practice sessions.
Trump is suggesting he doesn't want to overdo it.
"Sometimes you can go too much in that stuff," Trump told reporters on Sunday.
Biden has been holding mock debate sessions with senior adviser Bob Bauer and top aides, according to CBS News.
"I'm prepared to go out and make my case as to why I think he's failed and why I think the answers I have to proceed will help the American people, the American economy and make us safer internationally," Biden said.
"The president prepares by being president," Trump campaign communications director Tim Murtaugh reportedly said. "And by regularly facing hostile news media. That's pretty good practice by any measure."
The debate as to whether Trump should have appointed Judge Amy Coney Barrett to fill the vacancy on the Supreme Court created by the death of Ruth Bader Ginsburg will almost certainly come up.
"Joe Biden spent a lot of time in his basement to study up," said Lara Trump, the president's campaign adviser and daughter-in-law. "He's been in this game for 47 years. I assume he'll do OK. Quite frankly, the bar has been lowered so much for Joe Biden that if he stays awake for the whole thing it's like maybe he won."
The two candidates are running very different campaigns.
From March until the last week in August, according to news reports, Biden made no in-person speeches or campaign appearances. Biden's events since have been rare and attended by just a few invited guests.
Trump, on the other hand, has been holding mass campaign rallies. Trump has held 14 in-person rallies in September including in swing states New Hampshire, Michigan, Wisconsin, Nevada, Florida, Virginia and Minnesota with multiple trips to Ohio, North Carolina and Pennsylvania.