Ivey issues State of Emergency due to flooding, potential severe weather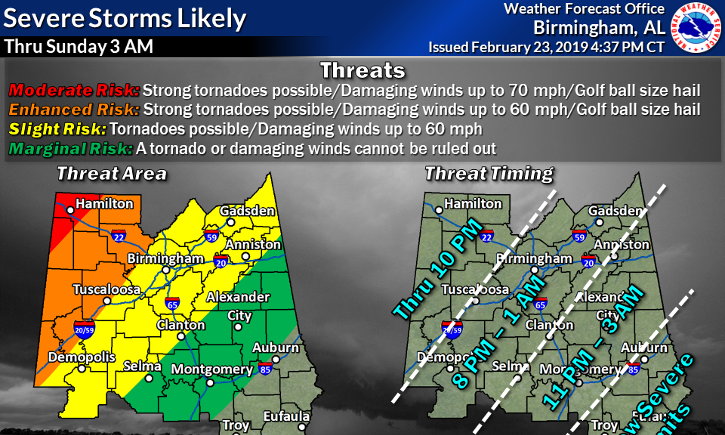 Alabama Gov. Kay Ivey has issued a State of Emergency effective at 9:00 p.m. on Saturday, Feb. 23, 2019, for several counties due to flooding caused by heavy rains over the past several days and ongoing severe weather this weekend.
The counties include Blount, Cherokee, Colbert, Cullman, Dekalb, Etowah, Fayette, Franklin, Jackson, Lamar, Lauderdale, Lawrence, Limestone, Madison, Marion, Marshall, Morgan, Walker and Winston.
These counties are likely to be or are already being impacted by flooding, tornadoes and high winds. According to the National Weather Service, rain and severe thunderstorms will continue to move across Alabama throughout Saturday and into early Sunday morning.
"Parts of North Alabama have seen days of rain and the ground can no longer absorb it. Those rains combined with the ongoing severe weather today have caused a need for this State of Emergency," Ivey said. "I pray that the people of Alabama will remain safe throughout the night and heed citizens to stay aware of weather conditions. We stand ready and are sending resources to help those who are in need tonight."
Ivey has ordered the State Emergency Operations Center in Clanton activated to respond to local requests as needed. The governor also ordered the Adjutant General of Alabama to activate the Alabama National Guard as required.
"Areas in Alabama affected by several days of rain have seen or will see historic flood levels," said Alabama Emergency Management Agency Director Brian Hastings. "The State of Emergency provides the Governor with authorities to deploy resources to assist in disaster response and recovery operations if required."
By declaring the State of Emergency, Ivey is directing the appropriate state agencies to exercise their statutory authority to assist the communities and entities impacted by the ongoing flooding and impact of today's severe weather.
Democratic women condemn comments on Gov. Kay Ivey's appearance
"These comments are disrespectful, inappropriate in every way, and represent a broader culture of casual sexism," read a joint statement from four Democratic women.
A group of Democratic women on Wednesday issued a statement condemning comments made by a state school board member who was critical of Gov. Kay Ivey's weight. 
Wayne Reynolds, a Republican who represents portions of northwest Alabama on the board, wrote during a live stream event that Ivey, who is also a Republican, "is gaining weight." 
Afterward, in an interview with AL.com, Reynolds doubled — and then tripled — down on his comments as he critiqued Ivey's choice of clothing. 
"She looked heavy in that white suit," Reynolds said of Ivey, who held a press conference on Wednesday to update the state's "safer-at-home" order. "I don't know what she weighs. I just made an observation."
Later in the interview, Reynolds said the pantsuit Ivey wore was unflattering and that he had seen her wear other suits "that were more slimming on her."
The backlash to Reynold's comments was swift and bipartisan with women around the state rightfully taking issue. 
"These comments are disrespectful, inappropriate in every way, and represent a broader culture of casual sexism," read a joint statement from four Democratic women. "Women all over Alabama know what it is like to be subjected to unfair criticism on the basis of their appearance or weight. 
"We need to cultivate an environment where individuals are judged on the basis of their skill and proficiency. Alabama elected officials should be discussing policy, not the physical appearance of policymakers. Anything less is a disservice to Alabamians. We are disturbed by Mr. Reynold's remarks, and we hope other elected officials and candidates will likewise condemn his comments. Mr. Reynolds was wrong and we deserve better."

The statement was signed by Amy Wasyluka, president of Alabama Democratic Women, Phyliss Harvey Hall, a District 2 congressional candidate, Dr. Adia Winfrey, a District 3 congressional candidate and Laura Casey, a candidate for president of the Alabama Public Service Commission.