2019 legislative session begins Tuesday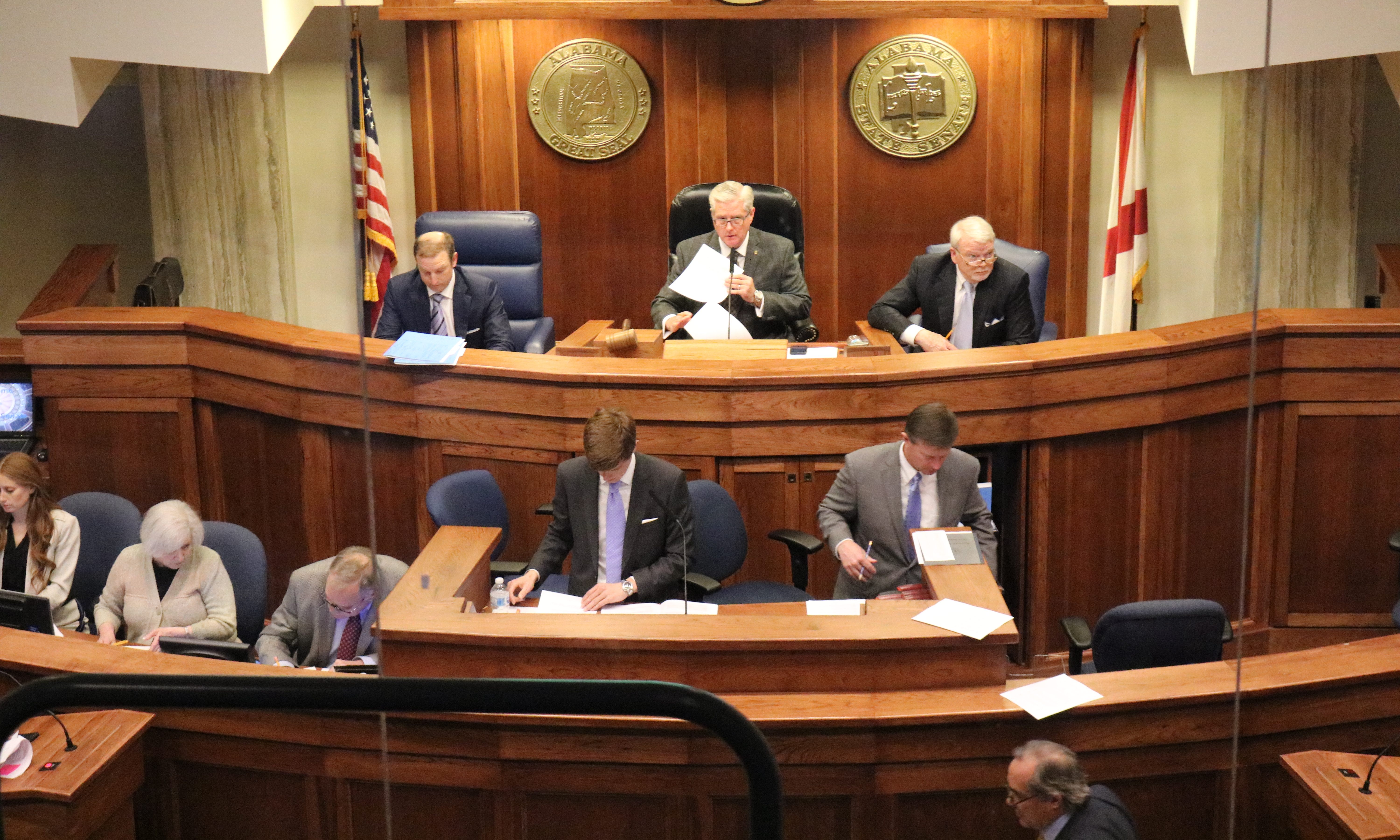 The 2019 regular session of the Alabama legislature begins today Alabama Gov. Kay Ivey will give her annual state of the state address to a joint session of the Alabama Legislature tonight at 6:30 p.m. There are several key issues that will be decided by the legislature in these weeks.
Fuel tax increase – This is the Governor's biggest priority. It is also the most controversial piece of legislation that the legislature has seen in many years. State Senator Clyde Chambliss, R-Prattville, and State Representative Bill Poole, R-Tuscaloosa, are sponsoring this legislation. Motorists would see a ten cent a gallon fuel tax increase phased in over the next three years plus the bill includes a provision to index the fuel tax to the cost of road construction so could lead to future tax increases without a vote of future legislatures. The bill would generate an additional $310 million a year in new revenue that would be split between the Alabama Department of Transportation, county road departments, municipalities, and a $10 million a year subsidy for dredging the shipping channel in Mobile Bay so that the port can accommodate the new super container ships. The Alabama Republican Party Executive Committee has urged the legislature to reject the bill. The Business Council of Alabama, the Association of County Commissions, the League of Municipalities, and various trade associations are urging legislators to pass the bill. Expect the governor to call a special session so that proponents can ram this through in as little as ten calendar days.
Common Core repeal – This issue has been a conservative priority since the Bob Riley administration first agreed to the experimental new education curriculum. Repeal efforts have gotten new vigor in recent years because the schools have done such a poor job of implementing the change. Alabama's public schools have been ranked as low as 50th on some measures in recent testing. The Alabama Department of Education is rewriting the math course of study and is urging the legislature to hire math coaches and reading coaches to coach teachers on how to teach, but conservatives are urging the legislature to just abolish the much-maligned Alabama College and Career Ready Standards. In the past, repeal efforts could not get out of committee; but Senate President Pro Tempore Del Marsh, R-Anniston, has promised repeal advocates that repeal can get to the floor of the Senate.
Hunting hogs and deer over bait – This issue has come up repeatedly over the last four years and evokes passion by proponents and opponents alike. Feral swine is an enormous problem in Alabama. The invasive species preys on crops, ground nesting birds, and native plants. Proponents argue that hunting hogs over bait is necessary to control the species. Opponents argue that this is just a ploy to get approval of hunting deer over bait. Hunters feed the deer then harvest the animals at their convenience. Opponents argue that this is not fair chase.
Lottery – State Senator Jim McClendon, R-Springville, is bringing a lottery bill. Polls show that most Alabamians support a lottery; but the details are where the legislature gets side tracked. The general fund is where the state needs revenue; but many people prefer an education lottery like Georgia has. Gambling proponents could kill the lottery bill over demands that a gambling bill legalize bingo machines at Greenetrack, Shorter, the Birmingham Race Course, and Lowndes County. Casino proponents know that if the legislature passes a lottery bill that does not provide any legalization of electric bingo or actual casino games then it is highly unlikely they will pass a gambling bill in future legislative sessions. McClendon's bill is not expected to include any legalization of slot machines or electronic bingo. Any lottery or gambling bill would still have to be approved by voters, whom rejected a lottery when Governor Don Siegelman (D) last brought one to voters.
Permitless Carry – gun proponents including the National Rifle Association (NRA), Gunowners of America (GOA), and Bamacarry are all in support of Senator Gerald Allen's, R-Tuscaloosa, bill to end the requirement that Alabama citizens must have a concealed carry permit in order to carry a handgun on their person or concealed in their automobile. The Alabama Sheriff's Association and Moms Demand Action for Gun Sense in America both strongly oppose this legislation. In the past the bill has gotten out of the Senate; but is unable to get out of committee in the Alabama House of Representatives.
Medicaid Expansion – the Alabama Hospital Association is floating a plan to expand the Medicaid program to cover non-disabled adults. They would pay for the state's portion of the program with a per bed fee on the hospitals. The hospitals claim that expanding Medicaid is necessary to keep struggling rural hospitals from closing. Expanding Medicaid will have opposition in a conservative legislature which is already troubled by the rising costs of funding regular Medicaid.
Ethics reform – last year the legislature tasked a committee with preparing recommendations on how to reform Alabama's 2010 ethics law. The committee is expected to recommend legislation to make economic developers exempt from the requirement that they have to register as lobbyists. Proponents argue that this is necessary to keep the state competitive in recruiting new industry. Opponents argue that the legislature is simply weakening the Alabama Ethics Law. Marsh has expressed concerns that there were unintended consequences with the 2010 ethics law that have prevented legislators from serving while operating their businesses.
Arming teachers – The only way to stop a bad guy with a gun is a good guy with a gun. That phrase will be used to justify a number of suggestions to increase the numbers of armed personnel in Alabama schools. An effort is underway to increase the number of school resource officers in schools. There will also be a bill introduced to arm some trained school teachers and administrators. Armed teachers is supported by pro-Second Amendment groups, but is opposed by Moms Demand Action. Legal liability concerns are a major issue as well.
Prisons – Federal Judge Myron Thompson has ruled that the state does not provide adequate mental health care for its inmates. The legislature is going to have to increase funding for mental health workers to comply with the federal court order. It is also going to have to come up with funding to hire hundreds more corrections officers for the chronically overcrowded and understaffed state corrections facilities. Gov. Ivey is expected to authorize the construction of three new large capacity men's prisons. She could do that through executive action and go around the legislature. Doing a bond issue with the legislature is likely to be considered, but past efforts to get similar bills through the legislature all failed.
Budgets – the economy is doing strong so revenues are up and neither the general fund budget or education budget are expected to be difficult. The 2020 fiscal year education budget is anticipated to be the largest in state history. There will still be efforts to un-earmark more money. Any effort to actually combine all state funding into one pot would have to be approved by the voters and there seems to be little support for that in the legislature.
Alabama lawmaker faces sharp criticism over celebration of former KKK leader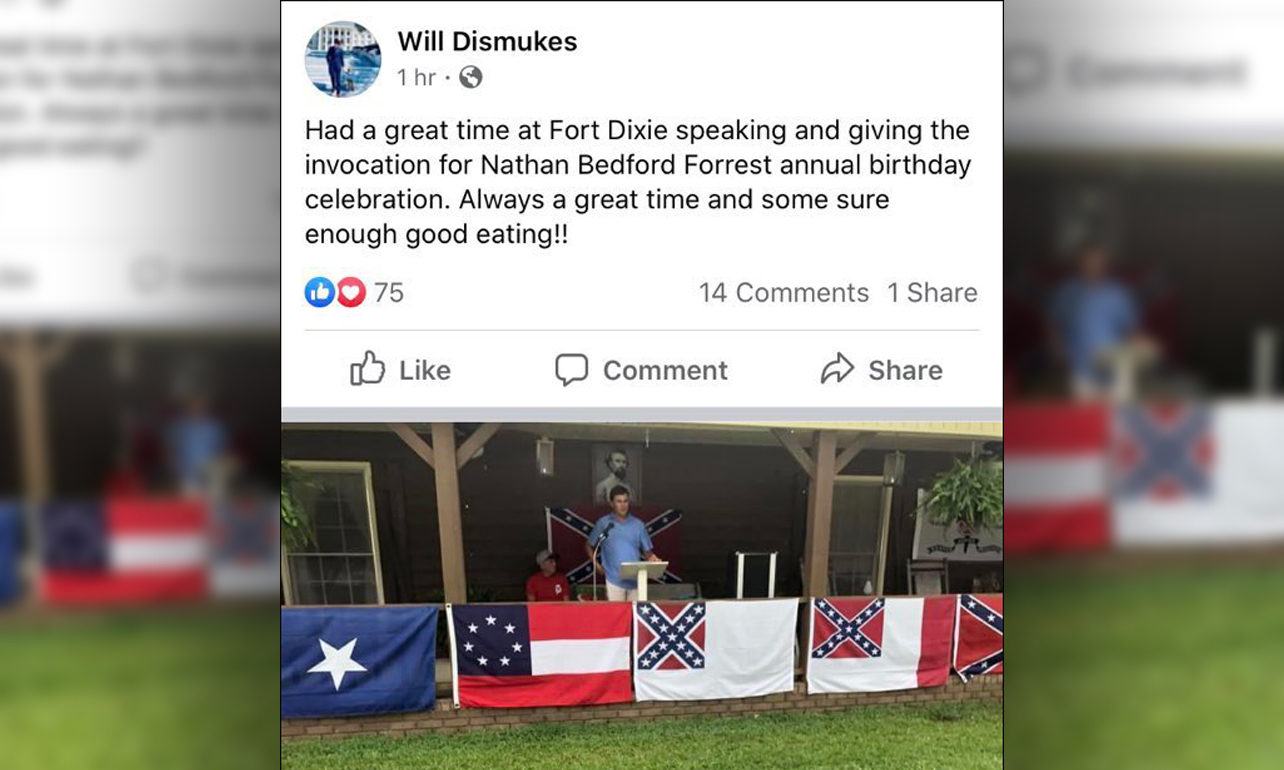 State Rep. Will Dismukes, R-Prattville, is again facing calls to resign over a social media post he made about his participation in an event honoring Confederate heritage.
Dismukes posted a photo of himself on Sunday speaking at Fort Dixie the day before, where a yearly event was held celebrating the birthday of Nathan Bedford Forrest, a Confederate general and first Grand Wizard of the Ku Klux Klan.
"Had a great time at Fort Dixie speaking and giving the invocation for Nathan Bedford Forrest annual birthday celebration. Always a great time and some sure enough good eating!!" Dismukes wrote above a photo of himself speaking on a porch adorned with a portrait of Forrest and several Confederate flags. The post is no longer visible.
Criticism was swift on social media as word spread that Dismukes attended the celebration on the same weekend that the late Congressman and Civil Rights hero, Rep. John Lewis, was honored in Selma, where Lewis was nearly beaten to death in 1965, during the march for voting rights that crossed the Edmund Pettus Bridge.
Alabama Democratic Party Executive Director Wade Perry called for Dismukes to resign.
"Will Dismukes has demonstrated yet again why he is unfit to hold public office," Perry said in a statement. "Americans don't celebrate racists or traitors. Nathan Bedford Forrest was both. And a founder of the Klan. The Alabama Democratic Party renews our call for Dismukes to resign. It's 2020 and it's time for racial extremists like Will Dismukes to go away."
Dismukes posted a statement on Monday addressing the criticism: "First and foremost, my post yesterday was in no way related to disrespecting the passing of Rep. John Lewis. That wasn't even a thought in my mind. That is not who I am as a person.
"I am a transparent person. To the point that as a public official I lay it all there for the people to see for better or for worse at times. My post yesterday was as usual me sharing a previous days events. The post was in no way intended to seem as if I was glorifying the Klan or any party thereof. The very atrocities and actions they committed are a disgrace to our country.
"Also, we are all individual members that make up our legislature. I made a post independent of my colleagues. My regret is that I have allowed them to be put in a negative light. If you disagree with me and my beliefs do not hold them under the same umbrella. I can live with a dislike for me, but not fellow members, or members of my own personal family. Our body as a whole is made up of some of the finest people I have ever had the honor of knowing and working with, both Democrat and Republican.
"I close by reiterating that my post was in no way glorifying the Klan or disrespecting the late Rep. John Lewis."
Alabama Republican Party Chairman Terry Lathan issued a statement addressing the post:
"While Rep. Dismukes has released a statement attempting to clarify his actions as a private citizen attending a celebration of the first Grand Wizard of the Klu Klux Klan, Alabamians hold their elected officials to a high standard of actions. So does the Republican Party.
"Rep. Dismukes offered no explanation for why he participated in a birthday celebration of Nathan Bedford Forrest. Additionally, I find his statement to be shallow in understanding why his activities are deeply offensive to so many Alabamians. His constituents will be the final decision-makers of his political future.
"The Alabama of today was on full, honorable display as we paid humble tribute this weekend to the life of Congressman John Lewis. That is the Alabama that we are proud of – showing the nation and world that we are one in the common goals of equality for all of our citizens.
"It is one thing to honor one's Southern heritage, however, it is completely another issue to specifically commemorate the leader of an organization with an indisputable history of unconscionable actions and atrocities toward African-Americans. I strongly urge his constituents to contact Rep. Dismukes to articulate and share with him their thoughts on his personal actions."
House Majority Leader Nathaniel Ledbetter, R-Rainsville, issued a statement saying that the beliefs of one member don't reflect the beliefs of all, and that several Republican Caucus members expressed concern to him about the content and timing of Dismukes' post.
"We live in a nation that guarantees each citizen the right to express the ideas they wish to share, and in the case of a public official, voters will ultimately decide if they agree with those ideas."
Speaker of the House Mac McCutcheon, R-Monrovia, on Monday issued his own statement:
"The Alabama House cannot police the beliefs, statements, and activities of its members outside the Legislature as that is a job best assigned to voters in each House district across the state.  
"It is important to note, however, that I and many other members of the House devoted our weekend toward honoring an Alabama native and civil rights icon who dedicated his life to securing freedom, liberty, and equality for all Americans."
Rep. Danny Garrett, R-Trussville, tweeted a stern rebuke on Sunday: "I cannot fathom why anyone in 2020 celebrates the birthday of the 1st KKK Grand Wizard. And while the body of a civil rights icon beaten by the Klan lies at state Capitol being honored by GOP/Dem leaders from all over the state. This mentality does not rep my party or my faith."
Another GOP colleague, Rep. Allen Farley, R-McCalla, responded to a constituent about the matter in a tweet: 
"Scott, As a Christian, Conservative, member of the Republican Party, I was proud of the comments of my colleague Rep. Danny Garrett. Rep Will Dismukes' actions were also unfathomable to me. I believe it will take the voters in House Dist. 88 to remove Rep. Dismukes from office," Farley said.
While fellow Republican officials said that Dismukes' constituents should decide if he remains in office, the College Republican Federation of Alabama issued a statement on Monday calling for him to resign.
"Representative Dismukes's Facebook post of him at an event that celebrated former KKK Grand Wizard Nathan Bedford Forrest is unacceptable and has no place in the State Legislature or the Republican Party," the statement said.