Moore's defense team releases information bringing Leigh Corfman's character into question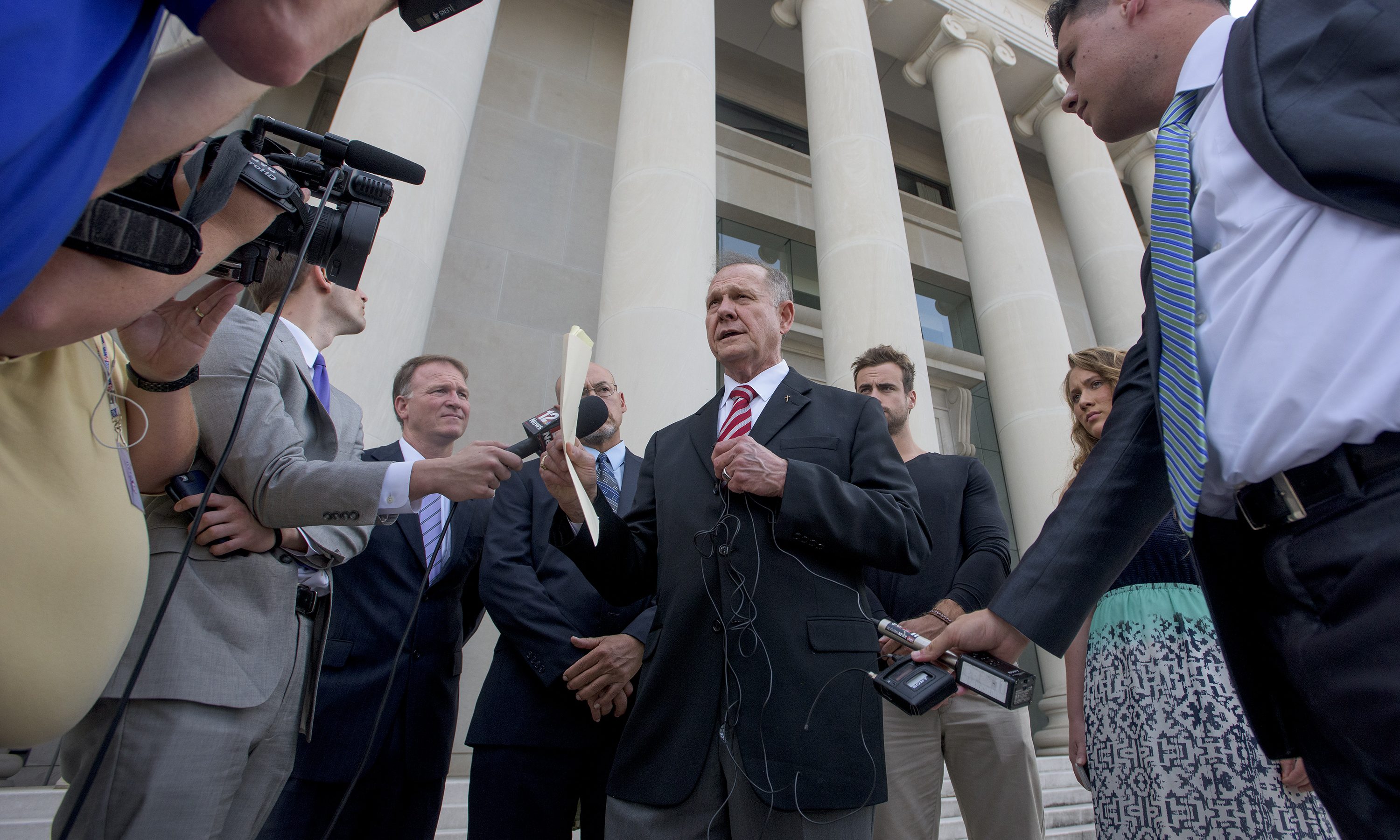 Roy Moore attorney Melissa Isaak and the Moore legal defense team fought back against the perception that Moore is attacking Leigh Corfman's character.
The Moore defense team argues that instead, Moore is simply relating testimony taken under oath of Corfman's former attorney and lifelong friend Eddie Sexton, and of Sexton's client, Gary Lantrip.
The Moore defense team released some excerpts from depositions to the press including:
According to Lantrip: "When Eddie [Sexton] said he was going to drop her, he said she's (F'd expletive) everybody in Gadsden, including himself, and that her dad was a doctor and they used to throw sex parties when she was young so she was put in with that as a young girl, and he's known her whole life." (Lantrip deposition, p. 110)
When Sexton was asked under oath if he had, in fact, made the above statement, he answered:
"I don't know if that is exactly what I said. I probably did. I mean, I probably did tell him that I had sex with her." (Sexton deposition, p. 113)
When asked about sex parties being thrown when Corfman was young, Sexton stated: "I don't know — I don't know about young. I said that I had heard that, too. I mean, I probably did tell him that." (Sexton deposition, p. 118)
Sexton was subsequently asked, who he had heard that from, and he replied; "I don't know. Probably people at the Country Club, kinda sorta. Like it would have been kids. I don't know nothing. I doubt that it would have been somebody that would have claimed to be there." (Sexton deposition p 119)
When asked if he thought any of his comments, as related by Lantrip, were "disparaging" of Leigh Corfman, Sexton replied: "I think they could be, yeah." (Sexton Deposition, pp. 119-20)
The Moore legal defense team argues that the person disparaging Leigh Corfman is her former attorney who has "known her, her whole life!"
The Moore defense team claims that "Judge Moore has simply been defending himself against Corfman's false and malicious allegations. The truth should be told!"
Isaak and the Moore defense team has released only excerpts to the press; not the whole transcripts of these depositions.
Leigh Corfman sued Roy Moore for defamation of character after Moore denied allegations that she and Moore had an illicit encounter in the seventies when she was just 15 and he was an Etowah County District Attorney. The allegation, which was backed by claims by women that they had dated Moore when they were teens, narrowly derailed former Chief Justice Moore's bid for U.S. Senate in 2017; after the tales were published by the Washington Post. Moore has countersued Corfman, as well as his other accusers.
Moore has hinted that he may be considering challenging Senator Doug Jones (D-Alabama) next year.
Attorneys ask court to intervene over numerous Alabama inmate suicides
Charles Braggs died by suicide in an Alabama prison after being kept in solitary confinement for more than two years. His suicide and a rash of others in Alabama prisons prompted attorneys for the plaintiffs in a case against the Alabama Department of Corrections to ask the court Wednesday to intervene. 
Braggs, 28, died at St. Clair Correctional Facility on July 17 after having been housed in segregation for 796 days, according to the court filing by the Southern Poverty Law Center, Alabama Disabilities Advocacy Program and attorneys with Baker, Donelson, Bearman, Caldwell & Berkowitz.
"Mr. Braggs was the seventh person — and the sixth Black person — to die by suicide in ADOC custody since this Court issued its Remedial Opinion and Judgment on Immediate Relief for Suicide Prevention (the 'Suicide Prevention Opinion') in May 2019, in which the Court found 'substantial and pervasive deficiencies' in ADOC's suicide prevention program," attorneys wrote to the court. 
Bragg's suicide was the fifth in Alabama prisons in the last four months, the plaintiffs' attorneys wrote in the fling, in which they call for "swift implementation and robust monitoring of the Parties' various remedial agreements" and for the state to address the use of segregation and "segregation-like" cells, which disproportionately hold Black people.
Alabama prisons kept 1,001 people locked alone in segregation on July 28, according to the court filing. 
"Of those 1,001, ADOC's public database lists 705 people as Black and 273 white—that is, approximately 70 percent of the people in segregation are Black," the filing states, going on to note that Black people make up approximately 52 percent of Alabama's inmate population and about 27 percent of the population of the state. 
U.S. District Judge Myron Thompson in his May 4, 2019 opinion wrote that ADOC argues the department cannot prevent all suicides in prisons.
"It is true that, as in the free world, not all suicides can be prevented. But this reality in no way excuses ADOC's substantial and pervasive suicide-prevention inadequacies. Unless and until ADOC lives up to its Eighth Amendment obligations, avoidable tragedies will continue," the judge wrote.
That 2019 opinion came after the plaintiffs' attorneys asked the court for immediate suicide-prevention relief following 15 inmate suicides over 15 months. Thompson agreed in his opinion to make permanent most of the provisions of a previous agreement between the plaintiffs and ADOC.
Thompson's separate judgment, filed the same day as his opinion, establishes minimum guidelines for how the state assesses and treats incarcerated people who may be at risk of suicide.
Among the prison suicides noted in the court filing was Marco Tolbert, 32, who was diagnosed with Schizophrenia and prescribed anti-psychotic and anti-depressant medication, but on June 20, 2019, three months before his death, his mental health code — used by ADOC to determine care — was reduced, some of his medication was discontinued and he was moved out of Donaldson prison's residential treatment unit and into the general population and "was not provided any follow-up mental health care," according to the filing.
He died by suicide on Sept. 26, 2019, according to court records. 
Marquell Underwood, 22, was placed into segregation at Easterling Correctional Facility on Feb. 23 and died by suicide that same day, according to court records. 
"Mr. Underwood previously reported a history of Bipolar Disorder, was referred to mental health nine times in relation to segregation placements, self-referred once to mental health, and was placed on acute suicide watch twice during the six months before his death," the plaintiffs' attorneys wrote to the court. "Despite all of this, he was never placed on the mental health caseload, never received a psychiatric evaluation, and never received any mental health treatment."
Laramie Avery, 32, died by suicide in his segregation cell at Bullock prison on April 14 and was placed in segregation for "disciplinary" reasons after being stabbed at least eight times in the head and chest, according to the filing. 
"Mr. Avery was referred for a mental health evaluation three days before his suicide, but there is no evidence that the evaluation ever occurred. He was not on the mental health caseload," the court filing states. 
The plaintiffs' attorneys also note the death of Darnell McMillian on June 22 at Donaldson prison. McMillian died while on suicide watch and after having been placed into a cell with another inmate also on suicide watch. 
"After an altercation between Mr. McMillian and his cellmate, correctional officers allegedly deployed pepper spray, which caused Mr. McMillian to become unconscious and may have led to his death. It is unclear what policies ADOC has instituted, if any, to ensure the safety of those on suicide watch who are double-celled," attorneys wrote to the court. 
An ADOC worker told APR in July that correctional officers used an excessive amount of pepper spray in the cell where McMillian and another inmate were housed. The cause of his death is pending an autopsy.