Opinion | A legacy of compassion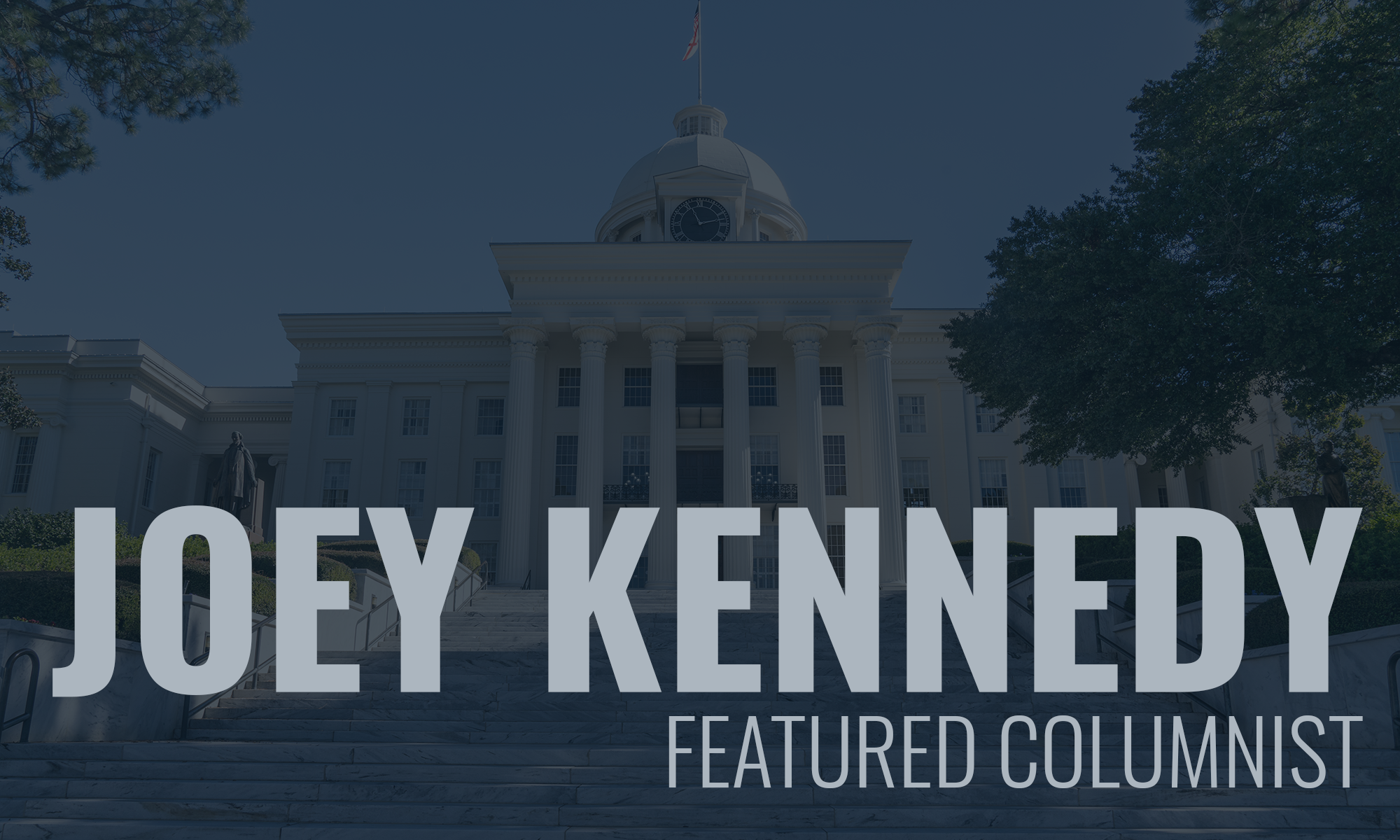 I am in no way opposed to Gov. Kay Ivey's gas tax hike for bridge and road infrastructure. It's been a long time since the gas tax was raised, and during all that time, Alabama's roads and bridges have not been repairing themselves.
I'm all in. But that is not the legacy Ivey should want to leave. When somebody fills up their tank at a higher price because of the tax, they're not going to thank Ivey for the privilege.
When that school bus crosses a bridge that was repaired with money from Ivey's higher gas tax, the driver isn't going to tell his rambunctious bus full of middle-schoolers that, thanks to Ivey, we can go this way.
Roads will be repaired, and they'll fall into disrepair again. A pothole is filled, and a few days later, traffic recreates it.
A road or a bridge isn't going to make a legacy, even if it's named the Kay Ivey Parkway and Bridge. One day, too soon, people will be asking each other: Who was Kay Ivey, anyway?
There will be other fuel tax hikes. There will be other infrastructure needs.
If Ivey wants a great legacy, she has one clear path: Expand Medicaid as allowed under the Affordable Care Act.
Most states, even those with Republican-Obama-Hating Republicans as governors, have expanded Medicaid, and they're reaping the benefits of that expansion.
Even if you're just mean and don't want the state's working poor to have access to affordable health care, you can't deny the economic benefits a Medicaid expansion brings. The economic studies have been done; they're out there for anybody to see. Expanding Medicaid in Alabama will bring the state billions of dollars in development.
But more important, it will help keep Alabama's cash-strapped rural hospitals in business and, in turn, keep those businesses that depend on that rural hospital's traffic, in business.
I got a close up look at America's "World's Best" health care system again this week when my wife was at University Hospital to fix some issues with her liver. After contacting her doctor over last weekend, she was advised on Monday to go to the emergency room to be evaluated.
We wanted to go to his office; the emergency room is expensive, and the wait is usually counted in hours.
Go to the emergency room, she was told, for this non-emergency. Now my wife has the gold standard in health insurance: Medicare plus a Blue Cross/Blue Shield supplement. Insurance wasn't the issue.
UAB's emergency room is highly efficient, and that wasn't the issue, either. But as the state's only Level 1 Adult Trauma Center as designated by the American College of Surgeons, it's really, really busy. It's unusual when the emergency room's 45-plus treatment beds aren't full.
They were full this past Monday.
While Veronica was quickly placed in the queue, it was fully 10 hours before she made it back to a treatment bed, then a few hours later before she was admitted to the hospital for tests and observation.
I don't know how the emergency room nurses and doctors or the hospital's nurses and doctors could have done a better job. For a hospital stay, it was genuinely positive. Veronica is fine, we're back home again, and all is well.
So how would expanding Medicaid help those with long waits at an emergency room?
Expanding Medicaid will help people who can't afford insurance to have other options besides simply showing up at the emergency room when they're sick. The emergency room physicians, at whatever emergency room they're at, will likely offer treatment, but that's a very expensive way to deliver care.
Also, people usually show up at emergency rooms when their illness is already out of control, making the care even more expensive.
And keeping those struggling rural hospitals open will help keep people from having to drive to Birmingham or another city center to get emergency care when all they really need to do is see their doctor or access an ER closer to home.
We felt the same this week. Veronica just wanted to see her liver specialist; he was too busy to accommodate her, so she was sent through the emergency room.
But expanding Medicaid will bring more health care professionals to Alabama. There will be new doctors – liver and otherwise — making Alabama their homes. Better care for all will be expanded.
Besides all the economic and medical benefits, expanding Medicaid is the compassionate decision to make. There truly are many people in Alabama who aren't as fortunate as we are. They work hard, day in and day out, but have no health insurance or simply cannot afford it.
That's the real, cruel world. Ivey and the Legislature can make it better for many thousands of their constituents by expanding Medicaid.
Ivey's legacy isn't going to be all those repaired roads and bridges. She's not the first governor to put forward an infrastructure plan; can you name the last? Right.
Ivey can, however, ensure a compassionate, kind legacy by expanding Medicaid. Forget about the legacy, though; expanding Medicaid is the smart decision to make: For better health care in Alabama, for economic development, for improvements in rural health care access, for creating jobs even outside the health care field.
Please, Gov. Ivey, don't let Alabama be the last state in the nation to take advantage of what objectively is a really good thing. And don't forget that legacy.
Joey Kennedy, a Pulitzer Prize winner, writes a column every week for Alabama Political Reporter. Email: [email protected]: justify;">That's the real, cruel world. Ivey and the Legislature can make it better for many thousands of their constituents by expanding Medicaid.
Opinion | Tommy, can you hear me?
That Morning Consult poll of Alabama voters that showed Republican Tommy Tuberville with a 17-point lead over incumbent Democratic Sen. Doug Jones for the U.S. Senate was such a stunner, a Jones campaign aide rushed out an email fundraiser trying to quell any panic.
Until now, most polls have shown Jones to be competitive against an unnamed Republican and, specifically, Tuberville, the former Auburn football coach who defeated Jeff Sessions to win the Republican nomination.
"I would never respond to an outside poll, but a new poll is out there showing Doug Jones losing by … wait for it … 17 points," writes Joe Trippi, senior adviser for the Doug Jones for Senate campaign.
"Here is my comment," Trippi writes. "No way."
Unfortunately, in Alabama, there is a way.
Republicans in the state tend to vote straight ticket in overwhelming numbers. Alabama is one of a handful of states that even allows straight-ticket voting, but the reality is, it does. So voters who want to cast their ballot for, say, Donald Trump in November, but who also like Jones, will have to split their ticket.
The Morning Consult poll showed that a large number of independent voters are undecided, and that could swing the election toward Jones. But straight-party voting can be a hope killer.
Not yet, though. It's still early. The election is still nearly three months away. We've not seen Tuberville do much of anything but bow before Trump, who endorsed him over his former attorney general. But that's Trump loyalty for you.
Indeed, the country is going so poorly right now, one wonders other than the hard-core racists, who still supports Trump.
I know, I know: Alabama is different (plus, we still have more than our share of hard-core racists). But c'mon, folks, more than 157,300 Americans are dead from the COVID-19 pandemic, completely mismanaged by the Trump administration. There have been more than 4.7 million cases. In Alabama, there have been more than 90,000 cases and more than 1,600 deaths.
Meanwhile, the U.S. and Alabama economies are in shambles and getting worse, not better. Trump has sided with Confederate statues and flags over eliminating the systemic racism found in police departments and other government agencies. Plus, most recently, Trump sent his secret army of unidentified goons to sweep protesters off the streets in American cities.
Trump is nobody's friend but his own.
Then there's Tuberville. A decent if mediocre football coach, Tuberville certainly is no Nick Saban. Tuberville isn't even a Gus Malzahn.
Sessions tried to argue that Tuberville wasn't a resident of Alabama, either, but that's not fair. Where Sessions is concerned, unfair is a character trait.
While Tuberville does maintain properties in Florida, he and his wife have owned a home in Auburn for at least three years. Too, they both are registered voters in Alabama, though Sessions said Tuberville cast his ballot in Florida during the 2018 midterms.
What's more important is where Tuberville stands on the issues. And that, we don't know much about. We know Jones is a moderate who works with members of both parties. He clearly represents Alabama's best interests as well as any U.S. senator who has served from Alabama.
Though the loons try to paint Jones as a liberal-socialist-communist bogeyman, he's nowhere close. Certainly, he's different from Sessions, who held that Senate seat for two decades before becoming Trump's attorney general. He's different from Sessions in that he actually gets legislation through the Senate. Sessions mainly interfered with progress while a senator.
The first U.S. senator to support Trump's candidacy, Sessions identified with Trump most likely because they're both die-hard racists. Trump rewarded that loyalty by back-stabbing Sessions out of Washington.
At some point, though, Tuberville must make his positions clear, and not simply that he'll support anything Trump does. That would be a disaster for Alabama, as much as Trump is a disaster for the United States.
The former Auburn University football coach can't just continue being a sycophant for Trump, whose own poll numbers are tanking and who is likely not going to win re-election.
Should Alabama send a Republican to represent the state with a Democratic president, a likely Democratic Senate and a solidly Democratic House? That would be useless.
But Trippi, in his email, did show how Tuberville wins easily: "One bad poll turns all of us off … you write the race off, and Tuberville coasts to victory because no one is paying attention," says Trippi. "Everyone abandons Alabama except Mitch McConnell, who is ALL IN to beat Doug. The proof is in the money he (McConnell) is spending now."
It's true that McConnell is working hard to unseat Jones to protect Republicans' wobbly control of the U.S. Senate, and if they weren't concerned that Jones has a good shot at winning re-election, McConnell would spend that campaign money in another state.
Tuberville must do more than hide behind Trump. We need to hear Tuberville's plan, where he stands on the issues and what he'll bring to Alabama that Jones hasn't already.
Let's hear it, Coach Tommy. But you'll have to scoot back a bit first.