Chairwoman: ALGOP is "building an army"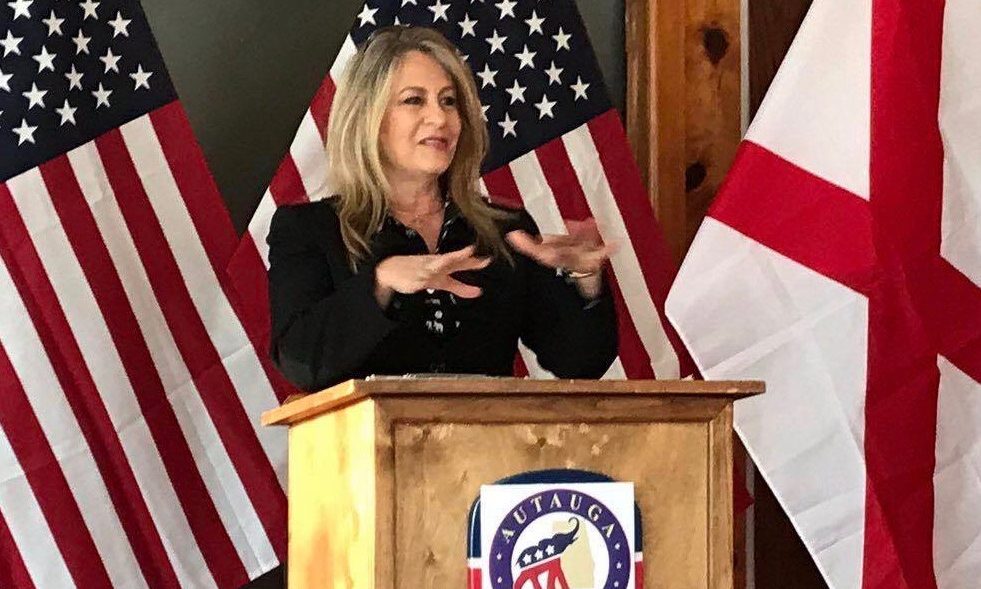 Alabama Republican Party Chairman Terry Lathan spoke to the Mid-Alabama Republican Club at their regular monthly meeting in Vestavia Hills on March 9.
MARC President and former state Rep. Paul DeMarco, R-Homewood, asked the group for a moment of silence to remember the 23 people killed when a Tornado touched down in Lee County earlier that week.
Chairman Lathan said that the Chair of the Republican National Committee, Ronna Romney McDaniel, had called to check on the state following the tornado.
Lathan said, "The number one thing I have heard from Republicans as I travel the state is who is running (for Senate against Doug Jones) and what are we going to do?"
"There is a hunger for that seat like I have never seen before," Lathan said. Doug Jones votes like he is a Senator from Vermont, but he is a Senator from Alabama, "The Trumpiest state in America. I am liking our odds."
"We are going to have a 67-county plan," Lathan said. "I don't care if its Wilcox County and there are only 400 of them we are going to get them to vote. We need this seat not just for Alabama but for America."
"Right now we are building an army," Lathan said.
Lathan said that the 2018 election was enormously successful for Republicans in Alabama. The Alabama GOP won every statewide race, elected Governor Kay Ivey, grew GOP supermajorities in both Houses of the Alabama Legislature, and now control an unprecedented 65 percent of the elected offices in Alabama with a party affiliation.
Lathan said that the Alabama GOP is planning on, "How we can build on that to be even stronger."
Lathan said that she agreed with state Representative Jim Carns, R-Vestavia, and that Republicans should not form "a circular firing squad" in the aftermath of the gas tax vote by the state legislature.
Lathan denounced, "The ridiculous statements that Doug Jones made about voter suppression."
Secretary of State John Merrill (R) agreed with Lathan about Jones's controversial comments.
"He is entitled to his own opinion, but he is not entitled to his own facts," Sec. Merrill said.
Merrill said that while he has been Secretary of State, the state has registered 1,211,706 voters. Alabama now has a record 3,468,000 registered voters. We have also taken thousands of people off of the rolls, because "they have moved away, passed away, or been put away."
Merrill said that HR1 in the Congress would make removing someone from the voter rolls against the law. "When someone passes away, they need to be removed."
Merrill said that he is awaiting additional indictments in Brighton. We will put Brandon Dean in the penitentiary for voter fraud.
Merrill said that his office has already gotten six convictions in this state for voter fraud.
Sec. Merrill said that Alabama's voter participation broke every record. 2.1 million people voted in the 2016 presidential election. On December 12, 2017 1.3 million voted setting a record for participation in a special election. In November 2018, 1.7 million people voted, breaking every record for a non-presidential general election…."And not one person was denied because they do not have a photo ID."
There is not another state with those kinds of results, Merrill said. "We have led the nation in voter registration and participation for the last three years. When Doug Jones tells the lies like he is telling now, I am going to bust him in the chops."
Merrill said that he has explained what the state is doing to encourage voter participation to Hillary Clinton, Bernie Sanders and John Lewis.
"We have done a lot and we are going to do a lot more," Merrill said. "91 percent of all Caucasian, white, or whatever you want to call the majority of the people in this room are registered to vote in Alabama. 94 percent all voters are registered to vote and 96 percent of all Blacks are registered to vote.
Merrill said that the national media does not report that because it doesn't fit their narrative.
"We are making it easy to vote and hard to cheat," Merrill said.
A member of the audience asked Merrill to run for the U.S. Senate seat held by Doug Jones.
"We are going to have some outstanding candidates that will run for that," Merrill said. "Don't create a circular firing squad like we have done in the past."
The Mid-Alabama Republican Club meets on the second Saturday morning of each month.
The 2020 Alabama primaries for U.S. Senate, President of the United States, and other offices are less than a year away.
Adia Winfrey reports from campaigns trail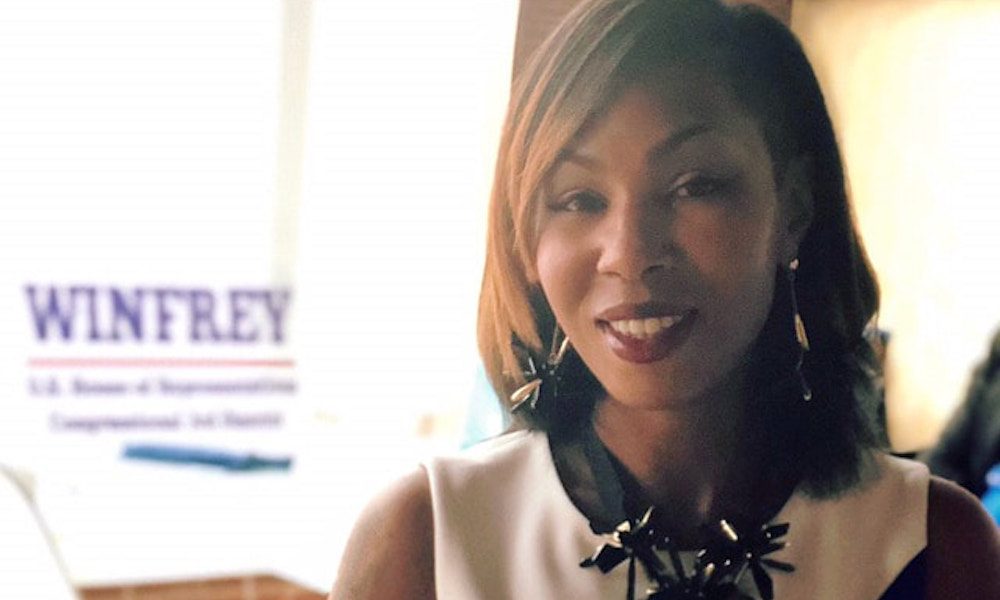 The November 3 general election is in less than two weeks and congressional candidate Adia Winfrey is reporting back from the campaign trail.
"They say a picture says a thousand words, so I wanted to share a few shots from the campaign trail with you!" Winfrey said in an email to supporters. "We still need your support as we get closer to November 3rd. A poll released yesterday showed Senator Doug Jones with a huge lead among early absentee voters! This lets us know that what Democrats are doing is working, and we've got to keep the pressure on. Every day is Election Day!"
"We need your help to spread the word and continue reaching out to voters to help Democrats up and down the ticket," Winfrey continued. "Make sure you tell your family and friends to get to their local courthouse for in-person absentee voting on any weekday between now and October 29th. Many counties are also hosting Saturday voting on October 24th, so look out for that option as well! Check with seniors in your communities and churches to make sure they're able to get out to vote safely in this important election."
Winfrey is running in the Third Congressional District. Winfrey is the Democratic nominee. She is challenging incumbent Congressman Mike Rogers (R-Saks). Rogers is seeking a tenth term in the U.S. House of Representatives.
According to NBC News more than 35 million Americans have already voted early and absentee. This is already more early and absentee votes than were cast in the 2016 election.
The Alabama Democratic Party said in a statement, "We're only two weeks out from Election Day! We are proud of everything we have accomplished so far. From rebuilding of party to successfully pressuring counties into offering Saturday voting, we have already made history this fall!"
"We are going to spend the rest of this week pressuring other counties to offer their voters this same opportunity," the ADP continued. But we need your help. We've reached out to over 3 million Democrats across Alabama. We have prioritized reaching out to voters who traditionally never hear from us. Now, it's time to put our GOTV plan into action."
Adia Winfrey is a psychologist and native of Talladega. Winfrey has a bachelor's degree in psychology from Wilberforce University and a doctorate of clinical psychology degree from the Wright State University School of Professional Psychology. She is the founder of the H.Y.P.E. (Healing Young People thru Empowerment) movement.
Election day is November 3.