Chairwoman: ALGOP is "building an army"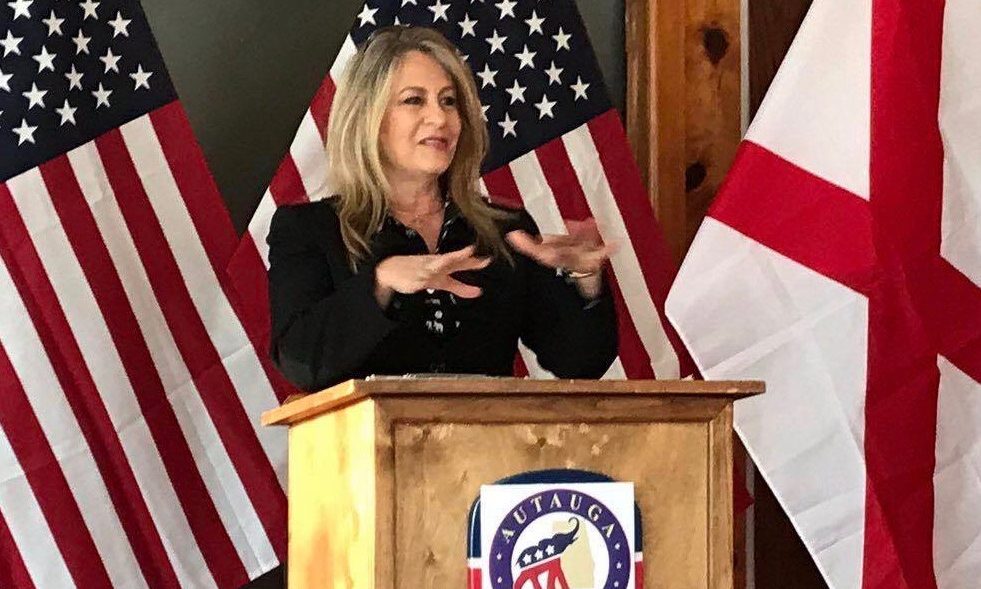 Alabama Republican Party Chairman Terry Lathan spoke to the Mid-Alabama Republican Club at their regular monthly meeting in Vestavia Hills on March 9.
MARC President and former state Rep. Paul DeMarco, R-Homewood, asked the group for a moment of silence to remember the 23 people killed when a Tornado touched down in Lee County earlier that week.
Chairman Lathan said that the Chair of the Republican National Committee, Ronna Romney McDaniel, had called to check on the state following the tornado.
Lathan said, "The number one thing I have heard from Republicans as I travel the state is who is running (for Senate against Doug Jones) and what are we going to do?"
"There is a hunger for that seat like I have never seen before," Lathan said. Doug Jones votes like he is a Senator from Vermont, but he is a Senator from Alabama, "The Trumpiest state in America. I am liking our odds."
"We are going to have a 67-county plan," Lathan said. "I don't care if its Wilcox County and there are only 400 of them we are going to get them to vote. We need this seat not just for Alabama but for America."
"Right now we are building an army," Lathan said.
Lathan said that the 2018 election was enormously successful for Republicans in Alabama. The Alabama GOP won every statewide race, elected Governor Kay Ivey, grew GOP supermajorities in both Houses of the Alabama Legislature, and now control an unprecedented 65 percent of the elected offices in Alabama with a party affiliation.
Lathan said that the Alabama GOP is planning on, "How we can build on that to be even stronger."
Lathan said that she agreed with state Representative Jim Carns, R-Vestavia, and that Republicans should not form "a circular firing squad" in the aftermath of the gas tax vote by the state legislature.
Lathan denounced, "The ridiculous statements that Doug Jones made about voter suppression."
Secretary of State John Merrill (R) agreed with Lathan about Jones's controversial comments.
"He is entitled to his own opinion, but he is not entitled to his own facts," Sec. Merrill said.
Merrill said that while he has been Secretary of State, the state has registered 1,211,706 voters. Alabama now has a record 3,468,000 registered voters. We have also taken thousands of people off of the rolls, because "they have moved away, passed away, or been put away."
Merrill said that HR1 in the Congress would make removing someone from the voter rolls against the law. "When someone passes away, they need to be removed."
Merrill said that he is awaiting additional indictments in Brighton. We will put Brandon Dean in the penitentiary for voter fraud.
Merrill said that his office has already gotten six convictions in this state for voter fraud.
Sec. Merrill said that Alabama's voter participation broke every record. 2.1 million people voted in the 2016 presidential election. On December 12, 2017 1.3 million voted setting a record for participation in a special election. In November 2018, 1.7 million people voted, breaking every record for a non-presidential general election…."And not one person was denied because they do not have a photo ID."
There is not another state with those kinds of results, Merrill said. "We have led the nation in voter registration and participation for the last three years. When Doug Jones tells the lies like he is telling now, I am going to bust him in the chops."
Merrill said that he has explained what the state is doing to encourage voter participation to Hillary Clinton, Bernie Sanders and John Lewis.
"We have done a lot and we are going to do a lot more," Merrill said. "91 percent of all Caucasian, white, or whatever you want to call the majority of the people in this room are registered to vote in Alabama. 94 percent all voters are registered to vote and 96 percent of all Blacks are registered to vote.
Merrill said that the national media does not report that because it doesn't fit their narrative.
"We are making it easy to vote and hard to cheat," Merrill said.
A member of the audience asked Merrill to run for the U.S. Senate seat held by Doug Jones.
"We are going to have some outstanding candidates that will run for that," Merrill said. "Don't create a circular firing squad like we have done in the past."
The Mid-Alabama Republican Club meets on the second Saturday morning of each month.
The 2020 Alabama primaries for U.S. Senate, President of the United States, and other offices are less than a year away.
GOP candidate Tommy Tuberville leads Trump "boat parade" in Orange Beach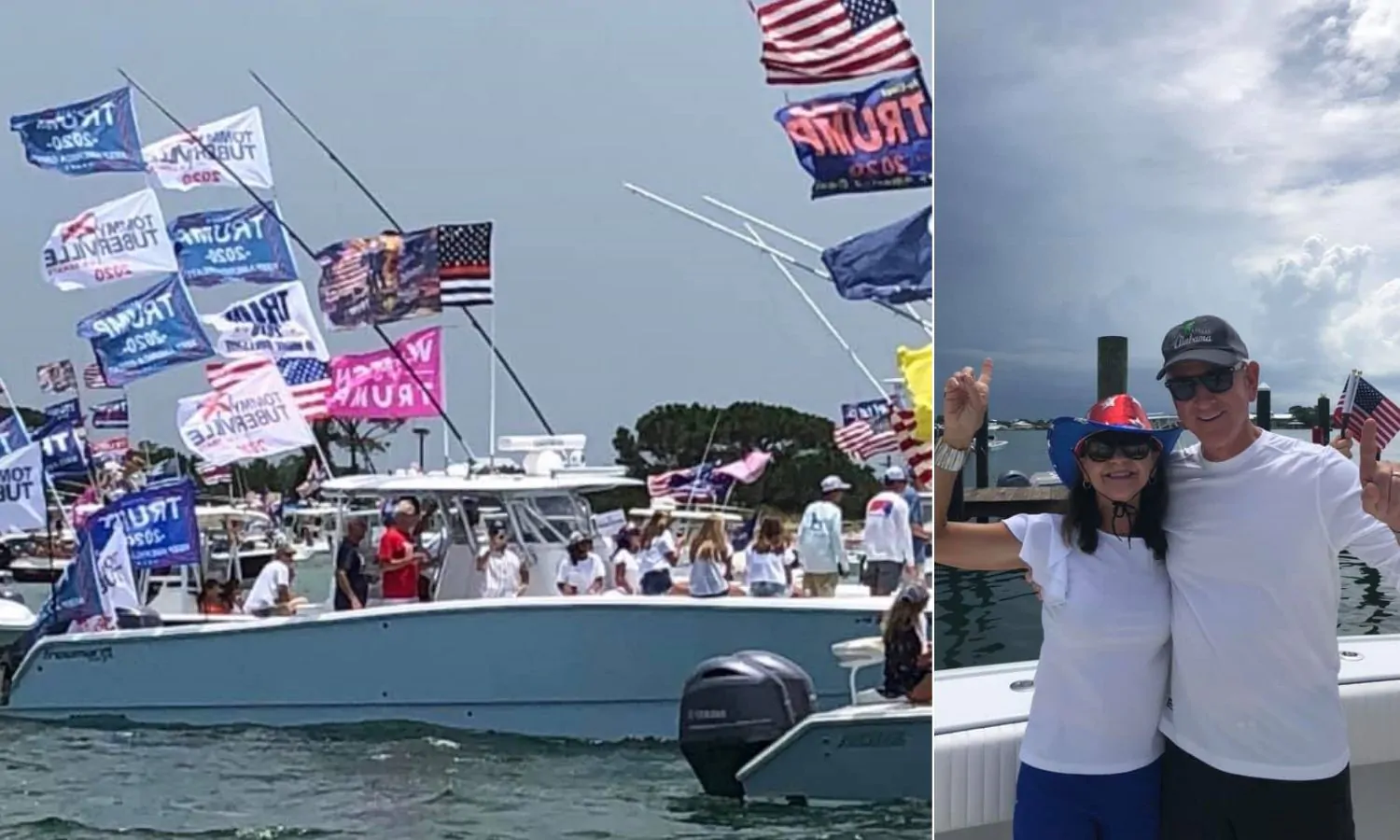 Senate candidate Tommy Tuberville rode in the lead boat in a "boat parade" on Sunday in Orange Beach, celebrating Independence Day and the launch of President Donald Trump's re-election campaign.
Hundreds of boats participated in the Trump parade in the Perdido Pass area. WKRG TV estimates that more than 8,000 people joined. Orange Beach and Gulf Shores boats joined boats from Pensacola and Dauphin Island.
Trump supporter and Alabama Republican Executive Committee member Perry Hooper Jr. was also present.
"It was Awesome having Coach Tommy Tuberville on The TRUMP Boat at Orange Beach Alabama," Hooper said. "Tommy was a Great Coach and he will be a Great US Senator. It's Great To Be A TRUMP/ TUBERVILLE AMERICAN. Everybody was so Happy cheering for The President and Tommy on! Fun Day!"
Hooper is a former state representative from Montgomery.
Tuberville is a former Auburn University head football coach. The Arkansas native lives in Auburn.
President Donald Trump spoke at Mount Rushmore in South Dakota on Friday.
"Today we pay tribute to the exceptional lives and extraordinary legacies of George Washington, Thomas Jefferson, Abraham Lincoln, and Teddy Roosevelt," Trump said. "I am here as your president to proclaim before the country and before the world, this monument will never be desecrated, these heroes will never be defamed, their legacy will never ever be destroyed, their achievements will never be forgotten, and Mount Rushmore will stand forever as an eternal tribute to our forefathers and to our freedom."
Trump accused opponents of trying to dismantle America.
"Make no mistake. This left-wing cultural revolution is designed to overthrow the American Revolution," Trump alleged. "In so doing they would destroy the very civilization that rescued billions from poverty, disease, violence, and hunger, and that lifted humanity to new heights of achievement, discovery, and progress. To make this possible, they are determined to tear down every statue, symbol, and memory of our national heritage."
"President Trump has given several good Speeches," Hooper said. "This Speech was by far his best! It was straight up AWESOME! His speech was all about the Greatness of America! President Trump loves our Country and its great History. President Reagan has given some of the best speeches ever. This speech topped Reagan's best. As for Perry O. Hooper Jr., I would get in a foxhole and fight for him to the end. God Bless President Donald J. Trump and GOD BLESS THE USA!"
Trump faces a stiff challenge from former Vice President Joe Biden, who is leading in the polling.
Tuberville has been endorsed by Trump in the July 14 Republican primary runoff for U.S. Senate. Tuberville faces former Sen. Jeff Sessions.