Community Colleges System enters agreement with Von Braun Center for Science and Innovation
Monday, the Alabama Community College System and the Von Braun Center for Science and Innovation's University Consortium announced that they have signed a Memorandum of Understanding that fosters the advancement of programs which center on a number of emerging technologies.
The ACCS is the first community college system to participate in the multi-state consortium.
The MOU is designed to create the opportunity to partner, collaborate, and manage projects that expand programs relevant to aerospace and defense communities. The memorandum mirrors existing agreements between VCSI-UC and four-year institutions in Alabama, Louisiana, Mississippi, and Tennessee.
ACCS participation in the consortium brings the total number of colleges in the group to 40.
Chris Crumbly is the Executive Director of VCSI.
Crumbly said that a core effort of the ACCS partnership will be to create a new curriculum for a system engineering technology degree that would strengthen students' competency within aerospace, automotive manufacturing, maritime, digital transformation, and engineering technology.
Director Crumbly said that the degree would combine and add to some of the current community college course offerings in computer science, advanced manufacturing, and engineering technology in order to train students in systems engineering modeling.
In addition, Vizitech technology, in partnership with VCSI, maximizes training in 3D technology, augmented reality (AR), and virtual reality (VR) learning programs, and is projected to increase students' competency in their careers.
"We are very excited to welcome ACCS into the VCSI-University Consortium," Crumbly said. "Our partnership adds more opportunities to combine innovative research with the exceptional workforce development training occurring at our community colleges in Alabama."
The Alabama Community College System Chancellor is Jimmy Baker. He noted the opportune timing for the partnership.
"Alabama's economic growth is a prime advantage for partnerships such as this to gain traction as a model for what an excellent workforce will look like locally, statewide and worldwide for years to come," Baker stated.
Jeff Lynn is the Alabama Community College System Vice Chancellor for Workforce Development.
Lynn said that the consortium is bound to elevate workforce development in the state.
"This is a prime opportunity to partner with the consortium and share our work and research related to programs in advanced manufacturing," Lynn said.
Economic developer Nicole Jones told the Alabama Political Reporter, "The Von Braun Center for Science and Innovation (VSCI)'s model combines the work of brilliant thought leaders in academia, industry, and other subject matter experts to advance space and defense technology for organizations such as NASA and the Department of Defense (DoD)."
Economic developer Nicole Jones shared, "The participation of the Alabama Community College System (ACCS) in the Von Braun Center for Science and Innovation's University Consortium reaffirms our state's willingness to collaborate and train a workforce that can perform well in high-demand careers centered upon constant technological advancements. This workforce development initiative will aid in research and development and will also help cultivate the skills desired by employers in dominant industries in Alabama such as aerospace, defense, and advanced manufacturing."
Sen. Jones: Millions for Alabama priorities in annual defense bill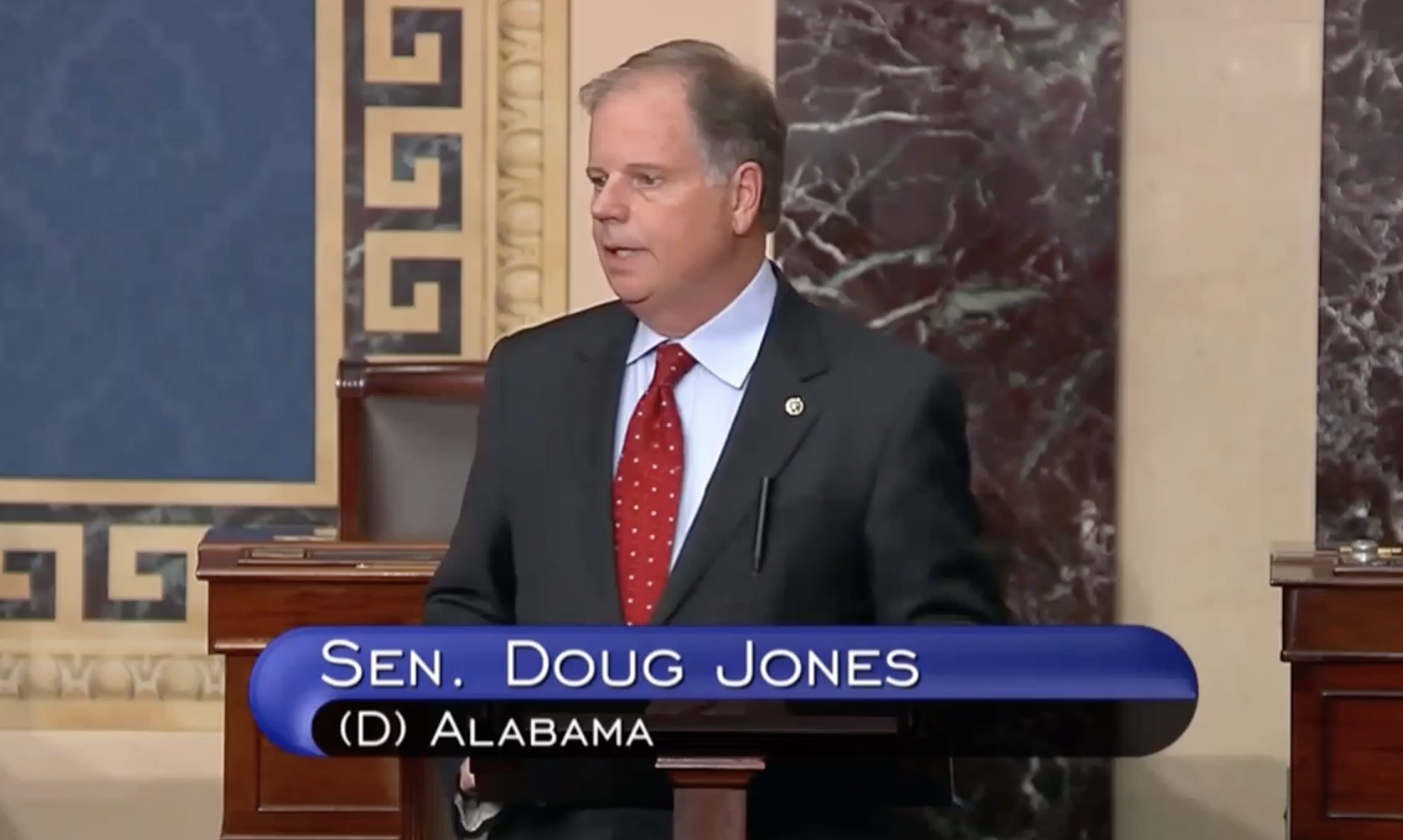 Sen. Doug Jones, D-Alabama, on Thursday highlighted how the latest National Defense Authorization Act could positively impact Alabama service members, state universities and businesses that work with the U.S. military.  
The fiscal year 2021 National Defense Authorization Act (NDAA), approved on Thursday by the Senate Armed Services Committee, now goes before the full Senate for a vote. 
"Alabama is an undisputed leader in securing our nation and this legislation recognizes that by providing significant funding for our troops, including a three-percent pay raise, and continued funding for our defense assets," Jones, a member of the Senate Armed Services Committee, said in a statement. "Each year, this bill is an example of the kind of work we can do when we come together on a bipartisan basis around a common goal – protecting our country and supporting our service members and their families. This bill provides the support and funding needed for Alabama to continue to lead in this effort, and I look forward to its passage in the full Senate soon."
Jone's office in a press release noted that the latest NDAA provides a three-percent pay raise for service members for a second year in a row, and addresses several quality of life issues for military children and spouses. 
Key provisions in the FY 2021 NDAA for Alabama's servicemembers and their families, military installations, and contractors and research institutions are listed below.
 Strengthening Alabama's Defense Infrastructure and Industry
$24 million for advanced electrical generation and storage facilities at Fort Rucker in Dale County;

$23 million for next generation fighter aircraft (F-35) facilities at Maxwell Air Force Base;

$18 million to construct a small arms parts demilitarization facility at the Anniston Army Depot;

$10 million to help steel manufacturers meet future defense needs, protecting current and future employment of thousands in Birmingham;

$5 million to improve efficiency and readiness at the Army's Aviation and Missile Center in Huntsville; and,

$2 million for the Aerospace Education Research and Innovation Center (AERIC) at Tuskegee University, and a $5 million increase overall for Historically Black Colleges and Universities.
Funding for Alabama's Contribution to the National Defense Strategy
$349.7 million for an additional THAAD ballistic missile defense battery, key parts made in Troy;

$35 million for Long Range Anti-Ship Missiles (LRASM), made in Troy;

$10 million for research into lightweight power sources for Navy ships. The University of Alabama conducts leading edge research and development of silicon carbide power sources;

$7.3 million for continued research and development of advanced plastics technology. The Mobile area is home to a company that is pioneering thermoplastic tailorable composite manufacturing;

$5 million for research into advanced repair and modification processes. The University of Alabama is currently working with the DoD to develop these technologies;

$5 million to complete development of new satellite technology. Huntsville is home to companies that are leaders in this field and are well-positioned to compete for these funds;

$5 million to accelerate the Army helicopter modernization program. Bell Helicopter, in Ozark, is participating in this program;

$3 million to develop a hypersonic missile testing facility. Huntsville is home to a number of companies that contribute to the Defense Department's hypersonics research and development;

$10.5 million to build a high energy laser system lab to help with the Army's weapons modernization programs. The Army's high energy laser program is headquartered at Redstone and works with a number of Huntsville companies; and,

$3 million for hybrid additive manufacturing research and development to help with the Army's weapons modernization programs. The additive manufacturing industry is robust and growing in Alabama, with research and development ongoing in Birmingham. 
Support to Improve the Safety and Health of Military Housing and Bases
Requires the Secretary of Defense to implement within 90 days all applicable security and emergency response recommendations to protect U.S. military installations, which follows a

call by Senator Jones to increase base security

after Enterprise, Alabama native Joshua Kaleb Watson was killed during a terrorist attack at Naval Air Station Pensacola last year; and,

Requires the Secretary of Defense to ensure that each installation conducts or develops a plan to conduct regular live emergency response training with first responders.
Funding for Coronavirus Response
Increases funding to support the Defense Department's coronavirus vaccine research and to integrate with other vaccine research programs; and,

Authorizes hazard pay for troops deployed in response to the coronavirus.
Expanding Support and Opportunity for Minority Service Members
Authorizes pilot programs to reduce barriers to participation in satellite ROTC programs and to provide flight training scholarships at HBCUs;

Takes steps toward identifying and eliminating barriers to minority participation in elite units in the armed forces; and,

Supports continuing and expanding the Air Force JROTC pilot training scholarship program to increase diversity in the pilot ranks and address the pilot shortage.
 Support for Military Spouses and Children
$50 million for Impact Aid to schools that serve military children;

$20 million for aid to military children with disabilities;

$15 million for Science, Technology, Engineering, and Math (STEM) youth educational programs (STARBASE);

Authorizes a pilot program to expand eligibility for attendance at DoD schools for military dependent children living off-base;

$4 million to continue development of interstate agreements on licensed occupations for military spouse; and,

Increases reimbursement to military spouses for state licensure and certification costs resulting from relocations.