Bills setting legislative districts can be read aloud for hours on end. This would change that.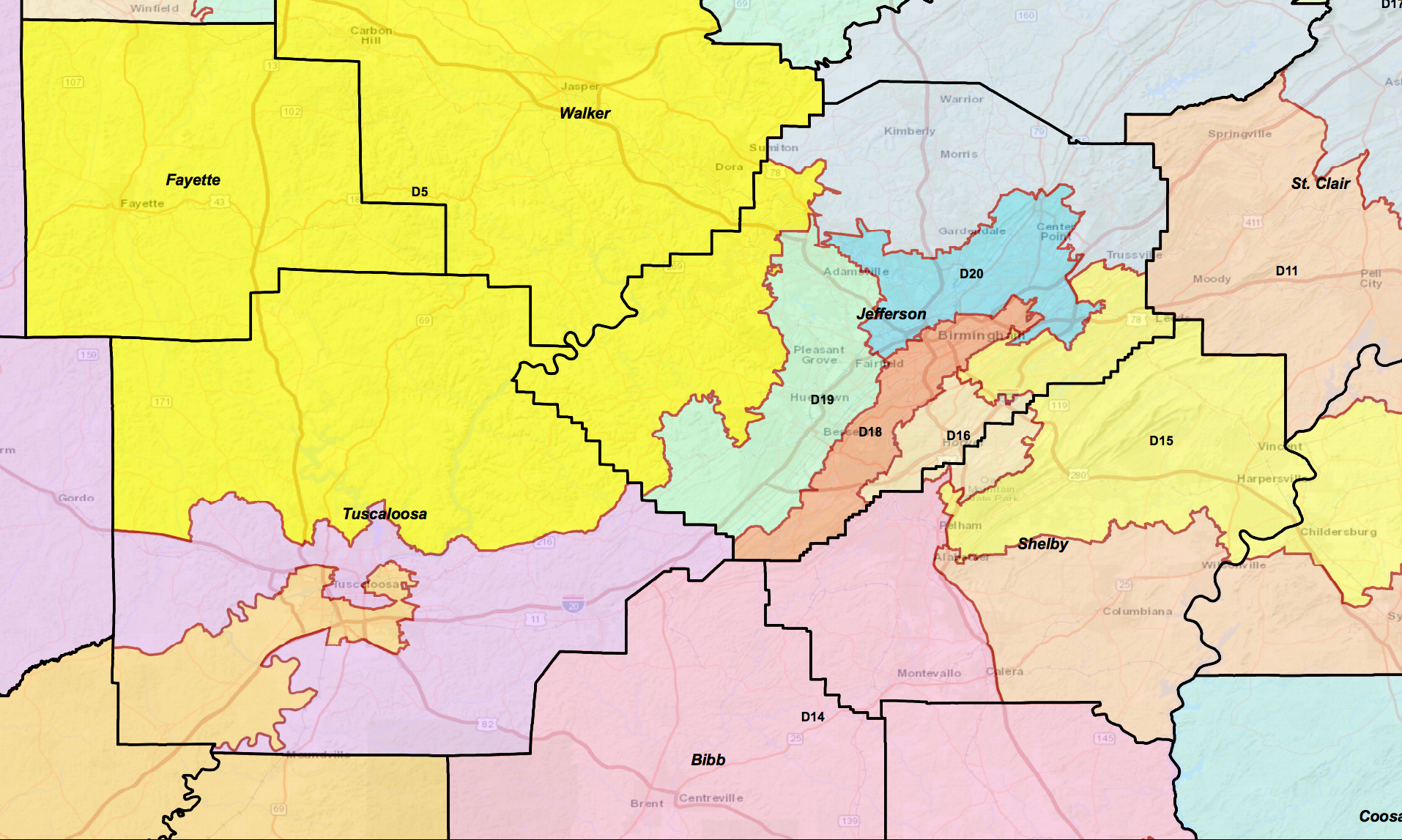 A robotic voice that reads long bills at length in the Alabama Legislature might have one less job if one lawmaker has anything to say about it.
When lawmakers were working to approve redrawn legislative districts in 2017 after a federal court ruled them unconstitutional, the robotic voice echoed through the halls of the Alabama Statehouse for nearly 16 hours.
The bill to shift about 70 House districts was being read at length at the call of Democratic lawmakers hoping to delay its approval.
The robotic machine chugged along, reading the 580-page bill and its more than 80,000 blocks and tracts until the GOP-held House passed the redistricting measure by a vote of 70-30.
---
---
"The machines are reading in this drone of a voice," said Sen. Jim McClendon, R-Springville, who is sponsoring a constitutional amendment that would do away with redistricting bills being read at length.
"You can listen to it, and even if you pay attention to it, you can't make any sense out of it," McClendon said. "You have no clue what they're talking about."
No other legislation could move while the full bill was read. Things stalled. But no one could go home for a nap. The lawmaker who requested the reading could withdraw their request and a vote would immediately follow.
The process in the House — where debate in 2017 was most contentious — ended up eating almost two legislative days as the 2017 legislative session neared its end.
Republicans were irritated with the Democrats' tactics, but the minority felt they had no other option after the majority voted to cloture debate.
"If you were in that situation and did not have a voice, you would use every tool you had to try to get your message out," Rep. Mary Moore, D-Birmingham, said at the time. "We used the tools we had to try to get the message out."
The bill redrawing Senate districts killed nearly a full legislative day in that chamber, too. It also ended up passing. The courts later upheld the redrawn districts after forcing lawmakers to make new maps following a ruling that the original districts, drawn by GOP lawmakers in 2011, were improperly based upon race.
Three of the districts were Senate districts and nine were in the House.
With less than two years until lawmakers will again be in the position of redrawing Alabama's legislative and congressional districts after the 2020 census, one lawmaker is already looking ahead.
 McClendon, has introduced a constitutional amendment to end the practice of bills being read at length.
As things stand now, no vote is needed to initiate the reading process. If a lawmaker requests it prior to a vote, the electronic reading machine is turned on.
But the reality is that the process is enumerated in Alabama's Constitution, and it's been that way for decades.
"I'm sure it was a practical request in 1901," McClendon said. "They didn't have copy machines. They probably computers or laptops. I would imagine there were some legislators who made it to Montgomery who weren't that accomplished at the written word anyway. But it's not a good idea now."
Democrats regularly use the procedural tactic to delay votes on all sorts of bills, but reading at length is most effective — and most time-consuming — with reapportionment bills, which typically run hundreds of pages.
"The only reason in the modern world to have a bill to be read at length would be to extract some kind of punishment on the people who are supporting the bill," McClendon said. "Because it does not change the outcome at all."
A reading of a full-length House district reapportionment bill could take upward of 25 hours, McClendon said. A full Senate bill could take between 12 and 14 hours.
"The outcome is not affected by reading the bill at length, and it does not enlighten anyone as to the content of the bill," McClendon said.
McClendon's bill would only affect reapportionment legislation.
"I wanted to do a bill that would include all reading at length but I thought I would just focus on this one issue and maybe someone else can come up with another one to get rid of all reading at length," McClendon said.
Reapportionment, though often considered a boring subject to the public and legislators alike, is one of the most important acts of the Legislature. They not only decide state school board and state legislative districts, but they also decide the alignment of the state's congressional districts.
The Black Caucus, who challenged the 2011 lines in the lawsuit, successfully argued in Federal court that the GOP packed black voters, who often support Democrats, into a handful of districts to limit the Democrats' power.
Democrats, who were largely concerned about House districts in Jefferson County, felt they weren't given enough say in the process of redrawing the 12 legislative districts found to be gerrymandered, so they resorted to reading at length.
"It's not fun sitting in here reading where you're not being productive," Rep. John Knight, D-Montgomery, said at the time. "We'd rather be productive, but the only thing we were asking for is fairness. You have just a few people from one little area basically tie up this whole Legislature. So you might as well not have representation from across this state."
McClendon said in an interview with APR that he understands concerns about minority influence, but that reading at length never changes the outcome.
"It's not much of a tool if it doesn't fix anything or change anything. It's just a delay tactic," McClendon said. "If it were taking away something useful from the minority in expressing their position on something or getting something done, I would feel different about it. I don't want to do that."
The reality, though, is that the move does give the minority some leverage, especially at the end of the legislative session when the session has a time limit and other unrelated bills may still need attention.
The next U.S. Census will be held in 2020. The Legislature will receive data for reapportionment in the early part of 2021, and it will need to redraw the lines by election time in 2022.
The process could be even more contentious in 2021 if Alabama were to lose a congressional seat. If lawmakers have to draw out one of the state's seven congressional districts, a serious battle could ensue.
If McClendon's bill makes it out of committee to the floor, it would require approval by both chambers. At that point, it would be put on the 2020 primary ballot. Voters would be able to decide whether or not to end the practice.
"A tidal wave:" ICU beds scarce as Alabama breaks another hospitalization record
Infectious diseases experts worry if hospitals will have enough staff to handle "what might be a tidal wave of patients in the next month."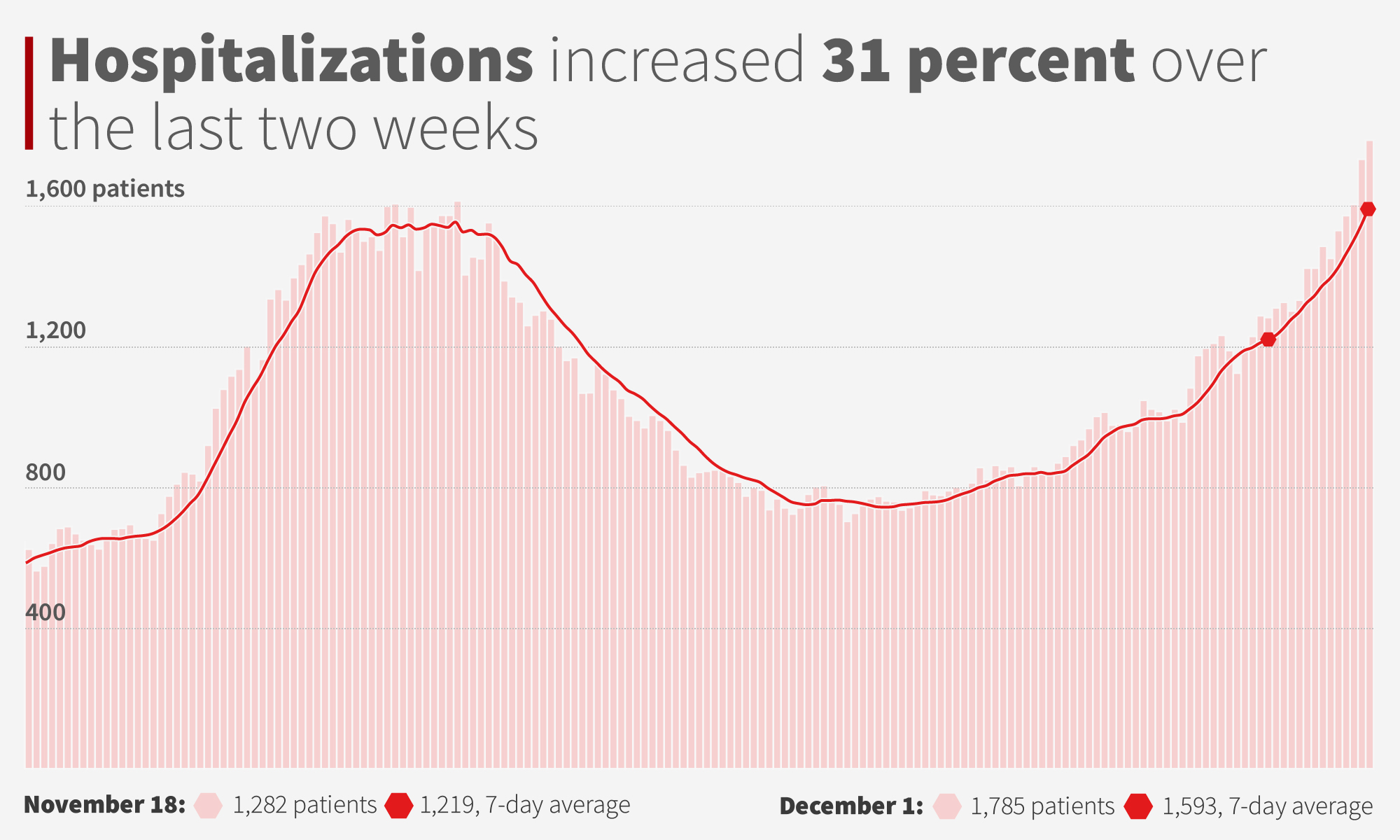 There were no intensive care beds available in Mobile County on Tuesday, the second day in a row Alabama set a record for hospitalized COVID-19 patients, and if models hold up, there could soon be the need to set up temporary medical facilities outside of hospitals, according to a UAB infectious disease expert. 
Dr. Jeanna Marrazzo, director of UAB's Division of Infectious Diseases, told reporters on Tuesday that looking at some models that forecast what might happen in the three weeks after Thanksgiving "you could conceivably see a true need for setting up ancillary care places in three weeks." 
"I hope that doesn't happen. Are we looking at the kind of situation that New York City experienced in March? A lot depends on what happened over Thanksgiving weekend," Marrazzo said, referring to the use of tent hospitals in New York City during the early spring surge there that overran hospitals. 
UAB had a record high 125 COVID-19 patients hospitalized on Monday and Tuesday, and Huntsville Hospital also set a new record Tuesday, with 317 hospitalized. There was a record high 1,785 COVID-19 hospitalizations statewide on Tuesday, and on Monday there had never been fewer intensive care beds available in the state. 
Marrazzo said the health care workforce continues to work valiantly and are "struggling very hard." What keeps her up at night, she said, is worrying if hospitals will have enough staff to handle "what might be a tidal wave of patients in the next month." 
"It may not look like we can affect what's going to happen in two to three weeks, post-Thanksgiving, but we can impact what happens around Christmas time and after that," Marrazzo said. 
The death toll from COVID-19 continues to increase across most of the country, Marrazzo said. On average, the U.S. is seeing between 1,400 and 1,600 people lose their lives to coronavirus each day, she said. In Alabama, at least 3,638 people have died from COVID-19.
Alabama reported an additional 60 deaths on Tuesday and has averaged at least 24 deaths reported each day over the last two weeks.
Each morning, Marrazzo gets a list of those admitted to UAB for COVID-19, those discharged and those coronavirus patients who have died. Not a day goes by when there isn't one name on that list of someone who didn't make it, she said. 
"And I think about that person, and I think about their family," Marrazzo said. "And unfortunately those numbers, as I mentioned before, are going up, and the balance of people being admitted is higher than the number of people who are being discharged." 
Alabama added 3,376 cases on Tuesday, which was the largest single-day case increase, excluding when on Oct. 23 ADPH added older backlogged test results. Tuesday's high number was the product of a delay in reporting to ADPH due to the holiday weekend, the department said in a data note. 
Still, Alabama's case count continues to increase alarmingly and testing is still down, Marrazzo explained. The state's 14-day average of new daily cases on Tuesday was at 2,289. That's a 28 percent increase from just two weeks ago. 
"This is a really, really scary inflection point, "Marrazzo said, "and I don't think that we are going to be able to turn it around without experiencing some more stress and some more pain." 
The positivity rate in Alabama over the last week has been an average of 32 percent, more than five times as high as public health experts say it should be to ensure there are enough tests and cases aren't going undetected. 
"If we would test more we would probably find more, so I think these numbers are an underestimate," Marrazzo said. 
Asked what has gone wrong, that even with the knowledge of how people can protect themselves — wearing masks, practicing social distancing and staying home as much as possible — we're still seeing huge spikes, Marrazzo described a complicated set of circumstances. 
"Is it because they don't believe it's going to affect them?" she asked. 
At first, COVID-19 was something happening in China, and then it moved closer to home, Marrazzo explained. Next, it became a question of "well, it's older people who are getting sick," and there was a sense of invulnerability among the young, who thought they'd be fine and that they wouldn't infect others, she said. 
"And then I think even for people who have been trying to be good there's a huge amount of fatigue," Marrazzo said. Even health care workers become worn down, and may take risks they know they shouldn't and become infected in their own communities, she said. 
"I think we've been hammering it home, but I also think in some ways, we need to do it in a way that's sympathetic and not angry," she said. "Because yeah, I'm pretty upset about what's going to happen in the next couple of weeks, but getting angry with people and shaming them is not the answer at this point, so I think all we can do is to continue to report on the facts."