Bills setting legislative districts can be read aloud for hours on end. This would change that.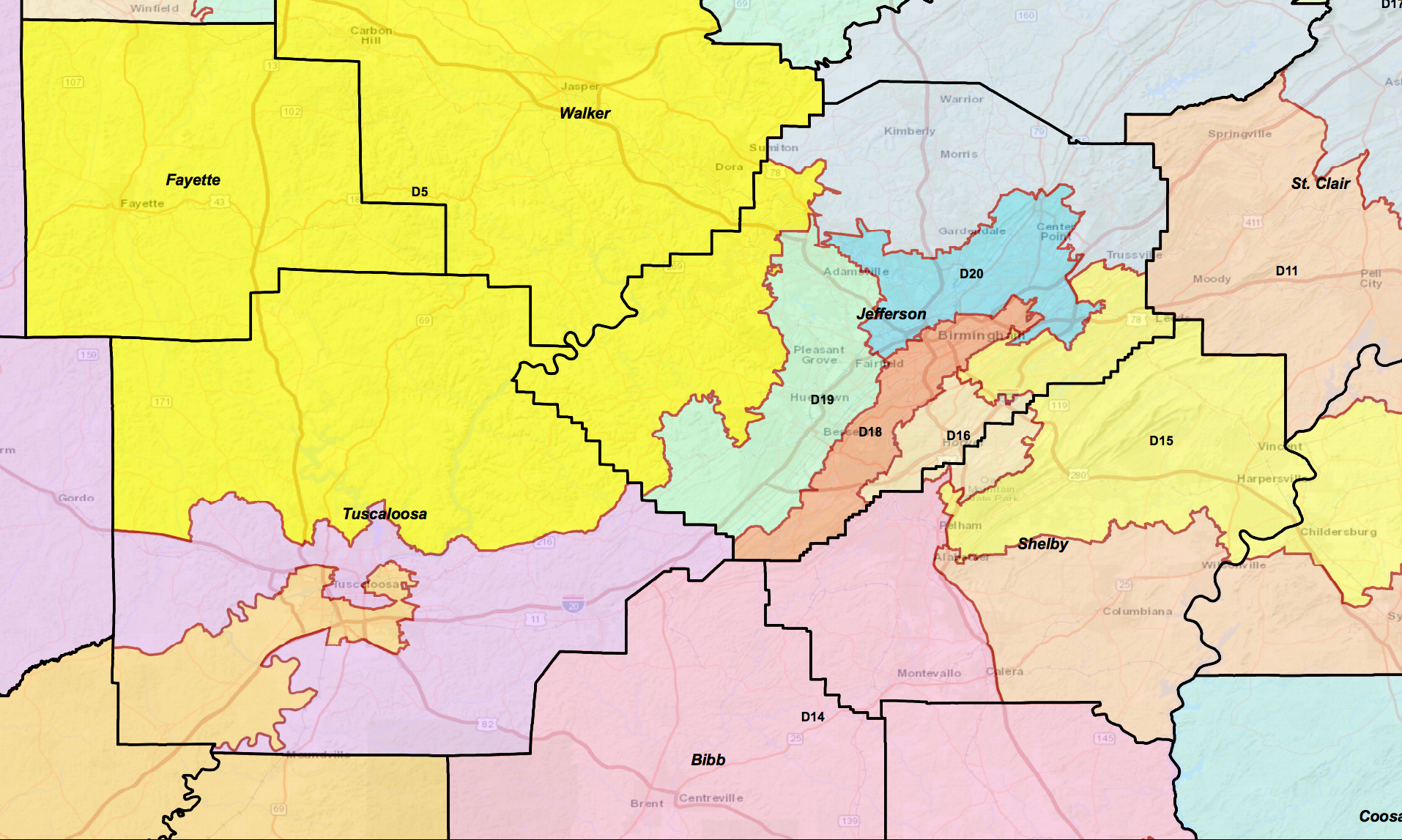 A robotic voice that reads long bills at length in the Alabama Legislature might have one less job if one lawmaker has anything to say about it.
When lawmakers were working to approve redrawn legislative districts in 2017 after a federal court ruled them unconstitutional, the robotic voice echoed through the halls of the Alabama Statehouse for nearly 16 hours.
The bill to shift about 70 House districts was being read at length at the call of Democratic lawmakers hoping to delay its approval.
The robotic machine chugged along, reading the 580-page bill and its more than 80,000 blocks and tracts until the GOP-held House passed the redistricting measure by a vote of 70-30.
---
---
"The machines are reading in this drone of a voice," said Sen. Jim McClendon, R-Springville, who is sponsoring a constitutional amendment that would do away with redistricting bills being read at length.
"You can listen to it, and even if you pay attention to it, you can't make any sense out of it," McClendon said. "You have no clue what they're talking about."
No other legislation could move while the full bill was read. Things stalled. But no one could go home for a nap. The lawmaker who requested the reading could withdraw their request and a vote would immediately follow.
The process in the House — where debate in 2017 was most contentious — ended up eating almost two legislative days as the 2017 legislative session neared its end.
Republicans were irritated with the Democrats' tactics, but the minority felt they had no other option after the majority voted to cloture debate.
"If you were in that situation and did not have a voice, you would use every tool you had to try to get your message out," Rep. Mary Moore, D-Birmingham, said at the time. "We used the tools we had to try to get the message out."
The bill redrawing Senate districts killed nearly a full legislative day in that chamber, too. It also ended up passing. The courts later upheld the redrawn districts after forcing lawmakers to make new maps following a ruling that the original districts, drawn by GOP lawmakers in 2011, were improperly based upon race.
Three of the districts were Senate districts and nine were in the House.
With less than two years until lawmakers will again be in the position of redrawing Alabama's legislative and congressional districts after the 2020 census, one lawmaker is already looking ahead.
 McClendon, has introduced a constitutional amendment to end the practice of bills being read at length.
As things stand now, no vote is needed to initiate the reading process. If a lawmaker requests it prior to a vote, the electronic reading machine is turned on.
But the reality is that the process is enumerated in Alabama's Constitution, and it's been that way for decades.
"I'm sure it was a practical request in 1901," McClendon said. "They didn't have copy machines. They probably computers or laptops. I would imagine there were some legislators who made it to Montgomery who weren't that accomplished at the written word anyway. But it's not a good idea now."
Democrats regularly use the procedural tactic to delay votes on all sorts of bills, but reading at length is most effective — and most time-consuming — with reapportionment bills, which typically run hundreds of pages.
"The only reason in the modern world to have a bill to be read at length would be to extract some kind of punishment on the people who are supporting the bill," McClendon said. "Because it does not change the outcome at all."
A reading of a full-length House district reapportionment bill could take upward of 25 hours, McClendon said. A full Senate bill could take between 12 and 14 hours.
"The outcome is not affected by reading the bill at length, and it does not enlighten anyone as to the content of the bill," McClendon said.
McClendon's bill would only affect reapportionment legislation.
"I wanted to do a bill that would include all reading at length but I thought I would just focus on this one issue and maybe someone else can come up with another one to get rid of all reading at length," McClendon said.
Reapportionment, though often considered a boring subject to the public and legislators alike, is one of the most important acts of the Legislature. They not only decide state school board and state legislative districts, but they also decide the alignment of the state's congressional districts.
The Black Caucus, who challenged the 2011 lines in the lawsuit, successfully argued in Federal court that the GOP packed black voters, who often support Democrats, into a handful of districts to limit the Democrats' power.
Democrats, who were largely concerned about House districts in Jefferson County, felt they weren't given enough say in the process of redrawing the 12 legislative districts found to be gerrymandered, so they resorted to reading at length.
"It's not fun sitting in here reading where you're not being productive," Rep. John Knight, D-Montgomery, said at the time. "We'd rather be productive, but the only thing we were asking for is fairness. You have just a few people from one little area basically tie up this whole Legislature. So you might as well not have representation from across this state."
McClendon said in an interview with APR that he understands concerns about minority influence, but that reading at length never changes the outcome.
"It's not much of a tool if it doesn't fix anything or change anything. It's just a delay tactic," McClendon said. "If it were taking away something useful from the minority in expressing their position on something or getting something done, I would feel different about it. I don't want to do that."
The reality, though, is that the move does give the minority some leverage, especially at the end of the legislative session when the session has a time limit and other unrelated bills may still need attention.
The next U.S. Census will be held in 2020. The Legislature will receive data for reapportionment in the early part of 2021, and it will need to redraw the lines by election time in 2022.
The process could be even more contentious in 2021 if Alabama were to lose a congressional seat. If lawmakers have to draw out one of the state's seven congressional districts, a serious battle could ensue.
If McClendon's bill makes it out of committee to the floor, it would require approval by both chambers. At that point, it would be put on the 2020 primary ballot. Voters would be able to decide whether or not to end the practice.
Print this piece
Opinion | It's time for Alabama Democrats to learn from Alabama Republicans
Democrats never seem to learn from Republicans. 
All around the country, and all around the state of Alabama, Democrats are still playing by the rules. Still listening to the cries and outrage from the other side. Still entertaining the idea that compromise and diplomacy are important to Republicans on some level. 
Still watching Lucy jerk that football away at the last moment. 
It's time that stopped. 
It is time — actually, well past time — for Democrats to adopt the attitudes of their GOP colleagues, and just do whatever the hell you want to do. 
Whatever goal you set, go achieve it. Whatever policy is important, implement it. Whatever action you believe is right, take it. 
This is how Republicans have governed now for years. It is how they have wrestled control of the U.S. Supreme Court — just don't hold a hearing for a duly appointed candidate — and how they have stolen elections — keep blocking attempts to secure elections. It is how they control half of Congress — thanks, gerrymandering! — despite representing nearly 20 million fewer people and how they have managed to offset a growing minority vote — put up every roadblock short of a poll tax. 
In Alabama, it has how they adopted the AAA act to funnel tax money to private schools — just completely rewrite the bill in the dead of night — and how they passed the most restrictive abortion ban — just ignore promises and public opinion. It is how they have stopped attempts to pass gambling legislation — by straight up lying about the law — and how they have steadily cut into ethics laws — pretend that no one can understand the laws they wrote themselves — and how a House Speaker convicted on 12 felonies still isn't in prison three years later — just don't send him. 
They don't care. 
About rules. About the law. About public perception. About basic decency. 
And it's time for Democrats, especially in Alabama, to adopt the same attitudes. 
Because if Republicans can behave this way to implement racist bills and roll back ethics laws and protect the income of the elites, then Democrats shouldn't think twice about doing it to protect rural hospitals or new mothers' health or workers' rights or decent public schools. 
Now, this will be a big change for Democrats, so let me explain how this would look in practice, using the ongoing saga of Confederate monuments. 
Republicans shoved through an absurd bill last year that protects the state's monuments to those who fought to enslave other human beings, and they're shocked — shocked and outraged — that African Americans in Alabama might find it offensive to honor the men who enslaved their ancestors. 
The bill they passed last year was a dumb bill, right down to the portion which levied a fine on cities if those cities removed or damaged a monument. The bill completely screwed up the fines portion, failing to penalize cities for moving or damaging monuments over 40 years old and failing to place a per-day fine on those cities. Instead, the Alabama Supreme Court said the cities would be subject to one $25,000 fine. 
Birmingham has a monument that it desperately wants to move. It has already boarded up the monument in Linn Park, and the ALSC, in the same ruling, ordered the boards to come down. 
And this is the first opportunity for Mayor Randall Woodfin to approach this with a new attitude. 
Tear it down. 
Write out one of those big "Price is Right" checks for $25,000, hold a press conference and award that money to Steve Marshall like he just won at Plinko. 
At the same time, workers should be taking that monument apart piece by piece and moving it to the Birmingham Civil Rights Institute, where it can be viewed for its historical significance instead of serving to honor traitors and racists. 
No apologies. No shame. Don't even entertain their complaints. 
A similar approach should be taken by the city of Montgomery in regards to its occupational tax, which Republicans are attempting to stop through legislative action. 
Montgomery is going broke, and it can't put enough cops on the streets. Part of that is because every day about 70,000 people flood into the city to go to work, and then they leave each afternoon and spend their money in — and give their tax dollars to — surrounding cities and counties. 
Montgomery has to do something to offset the costs, so an occupational tax has been proposed. But just as quickly as it was, the ALGOP — the kings of handouts to people who don't need them — passed a bill to block it. 
So, some creativity is required.
Instead of an occupational tax, pass a public safety tax. 
If you work within the city limits of Montgomery, but live outside of those city limits, your paycheck will now be taxed an extra 1% to offset the cost of the police and fire services that you might use while in the city every day. 
No apologies. No shame. Don't listen to GOP complaints. 
It's a shame that things have to be like this, but they do. Democrats have tried for decades to force rational debate and to promote the value of compromise. Those pleas have fallen on deaf ears, which have been attached to toddler-like brains that have justified atrociously selfish behaviors and awful governance. 
At this point, it has gone on so long and been so successful for Republicans, the only thing that might break through is a taste of their own medicine. 
Give it to them.
Print this piece