Committee approves bill to repeal Alabama's Common Core standards
Senate President Pro Tempore Del Marsh introduced a bill, SB119, into legislative committee on Wednesday that would indefinitely repeal Common Core standards and all of its practices in Alabama public schools.
Common Core, also known by its state version, Alabama College- and Career-Ready Standards, has been a point of controversy among legislators and educators since its adoption in November 2010.
The bill, currently unamended, would require the State Board of Education to replace the Common Core Standards for Math and English Language Arts with the courses of study in place immediately prior to the adoption of the Common Core Standards, pending the adoption of new standards by the board.
Speaking to the committee, Marsh referenced his past support of Common Core.
"Everyone in the room knows I'm the guy that stood in front of doing away with Common Core a couple of years ago," Marsh said. "I was on the education committee to address this."
He now says he's ready to, "clear the field and move forward with education. I'll be down here next week to meet with educator groups and see what we can do."
Marsh provided NAEP test scores to encourage backing for his bill.
In 2017, seven years following the implementation of Common Core, the National Assessment of Educational Progress scored Alabama eighth graders as 46th in the nation in reading, and they were scored as 48th in the nation in mathematics.
Marsh also mentioned that financially, "we have spent, as of 2010, 500 million more dollars in the foundation program, and we have less children in the education system today, and we've still got these kinds of scores. We've got to do something."
Sen. Vivian Figures questioned Sen. Marsh's bill in committee and asked if Common Core was truly the "silver bullet" that was causing these failing test scores in Alabama schools.
"Before making a decision on anything, I'd like to hear all the sides of the issue," Figures said. "And I really would like to hear  — I'm surprised there isn't a public hearing on this bill as it has been in the past. I would like to hear from those other entities who have come before this committee in years past to see where they are. I don't think that in terms of the statistics you gave us are strictly those statistics because of Common Core. I think there are a lot of other things that go with that."
Marsh said his concern isn't that he hates Common Core, but that he's worried it's not effective for Alabama.
"It's not working, and we have got to do something," Marsh said. "This is critical. I currently believe our next hurdle in Alabama, if we don't address this education issue, it's going to catch up with us. I'm going to work with the education committee anyway I can to get us to the right path. This is the wrong path."
Speaking with APR, Figures said lawmakers should take it slow.
"Before a hasty decision is made to repeal Alabama College and Career Ready Standards, we need to make sure that we are dealing with all of the facts and figures, and not making it a political football," Figures said. "Sen. Marsh is moving to repeal it because he says that the test scores have been consistently low. There are a variety of reasons that Alabama scores remain low, and yet we have seen progress."
Common Core has been a target of Republican and conservative ire for years. The plan was pushed by the National Governor's Association and championed by the states. It is a set of voluntary goals and best practices for teaching K-12 students in English and mathematics.
Common Core is, in fact, not really a common curriculum. It is a set of benchmarks that detail what students should know by the end of each year.
State school boards were largely responsible for approving and implementing the standards, but former President Barack Obama's Department of Education did rework federal rules so that adherence to Common Core was a de facto requirement for states to maintain control over federal education dollars.
But states had other options. Texas and Virginia wrote their own standards and maintained eligibility for federal Race to the Top grants. By 2015, Congress barred the federal government from tying federal grants to adherence to Common Core standards.
Gov. Kay Ivey has voiced her support for Marsh's bill.
"As a former educator and president of the Alabama State Board of Education, I know how important it is to have good course materials to teach," Ivey said. "Efforts like this should not be taken lightly, and I believe we should be deliberate in determining a course of study for our state. I support Senator Marsh's efforts to ensure that headlines about Alabama ranking last or close to last in education become things of the past."
The favorable report on SB119 was unanimous and is expected to be heard on the Senate floor in the upcoming weeks.
Alabama lawmaker pre-files legislation to allow removal of Confederate monuments
If passed, the measure would permit counties and cities to relocate historic monuments currently located on public property.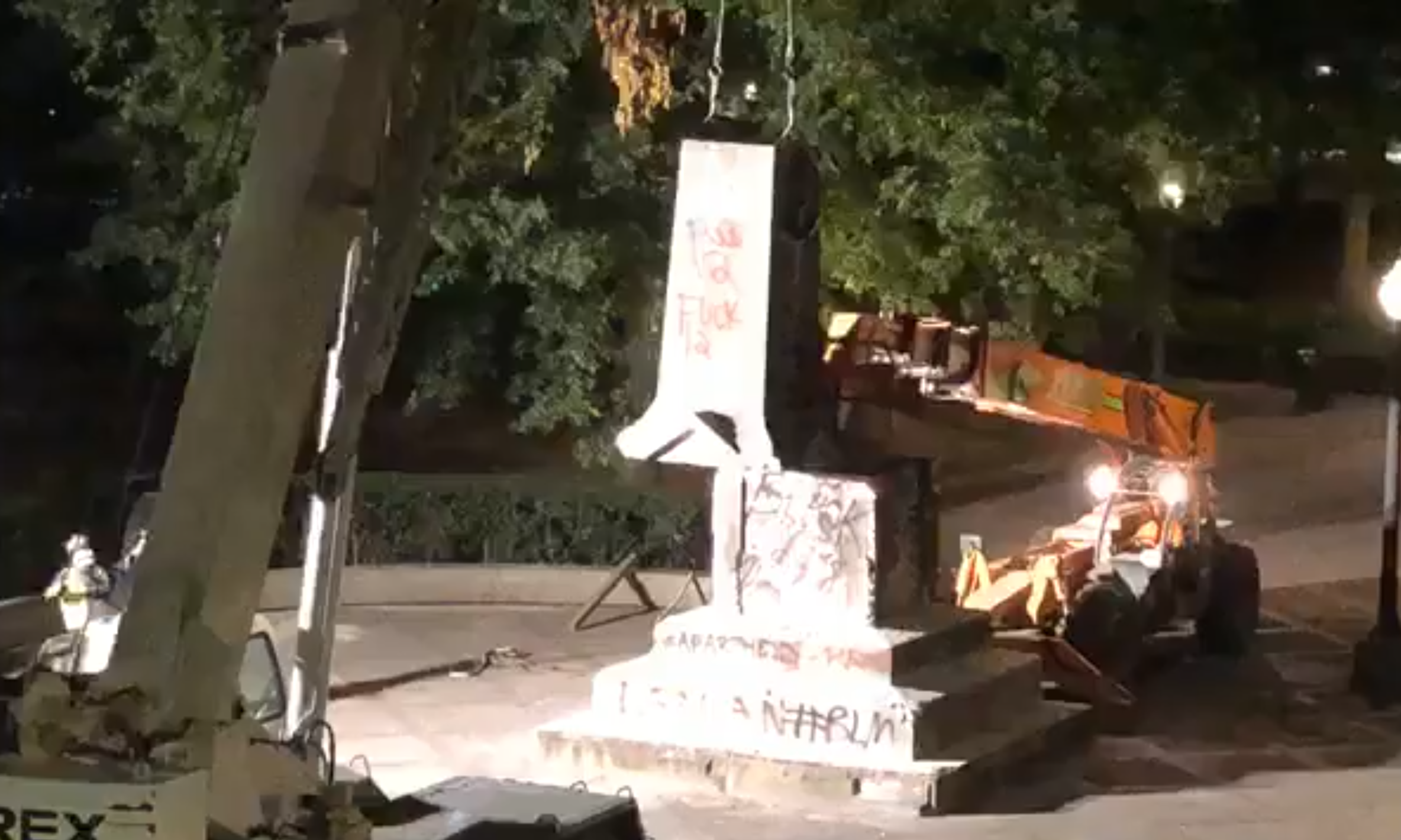 Alabama State Rep. Juandalynn Givan, D-Birmingham, introduced legislation this week in advance of the 2021 legislative session that, if passed, would permit counties and cities to relocate historic monuments currently located on public property. Givan's bill, HB8, would also provide for the relocation of historic memorials to sites appropriate for public display.
"Across the state of Alabama, citizens are calling for the removal of prominently placed statues and monuments that are insensitive or offensive to the communities that surround them," Givan said. "City and county governments must be able to address the demands of their citizens. This legislation provides a tool for local governments to safely remove these artifacts so that they can be moved to a site more appropriate for preserving or displaying the historical monument."
Removing the monuments and historical markers is currently illegal under Alabama's Memorial Preservation Act, which the state Legislature passed in 2017. Givan has been an outspoken opponent of that Republican-sponsored legislation. In 2018, Givan introduced a measure to repeal the bill that barred the removal of monuments.
"I believe HB8 can achieve bipartisan support," Givan said. "My bill seeks to balance the wishes of the people. It respects the will of communities that want the monuments removed. It also respects those who wish to preserve history. With this legislation, Confederate monuments could be relocated to a public site, like Confederate Memorial Park, whose purpose and mission is to interpret and tell these stories. When the Legislature convenes, I hope to have the support of both the House of Representatives and the Senate."
If enacted, HB8 would permit county and municipal governments to remove memorial monuments, including permanent statues, portraits and markers, located on public property in their jurisdictions. It would require a transfer of ownership of the removed monuments to the Alabama Department of Archives and History or the Alabama Historical Commission. Finally, the bill would instruct Archives and History or the Historical Commission to maintain and display monuments removed by local authorities in a location accessible for public display.
The Southern Poverty Law Center, which keeps track of Confederate monuments and memorials across the country, released an update to its Whose Heritage report, which tracks symbols of the Confederacy on public land across the United States. They report at least 30 Confederate symbols have been removed or relocated since George Floyd's death on May 25, 2020.
These include 24 monuments removed, 5 monuments relocated and the Mississippi state flag replaced. Since the Charleston church shooting in 2015, 115 total symbols have been removed from public spaces. These include 87 monuments that have been removed or relocated from public spaces. At least 78 monuments were removed and nine were relocated.
SPLC says there are still nearly 1,800 Confederate symbols on public land, and 739 of those symbols are monuments. The SPLC has prepared an "action guide" to help community activists target Confederate historical markers and memorials for removal.
President Donald Trump has denounced what he calls "cancel culture" that seeks to remove historical monuments and statutes.
"There is a growing danger that threatens every blessing our ancestors fought so hard for, struggled, they bled to secure," Trump said. "Our nation is witnessing a merciless campaign to wipe out our history, defame our heroes, erase our values, and indoctrinate our children."