Republicans call collusion story "nothing more than a political hoax"
On Sunday, U.S. Attorney General Bill Barr notified Congress in a letter that Special Counsel Robert Mueller has turned in his final report and has found no evidence that Donald Trump or his campaign colluded with the Russian government to steal the 2016 election from former Secretary of State Hillary Clinton.
Republicans say that the Mueller Report shows that the entire Russia collusion allegations were nothing more than a political hoax.
"For over two years, the Mainstream Media and their allies in the Democratic party have pushed the fake narrative that President Trump somehow colluded with the Russians to steal the 2016 election," said Congressman Mike Rogers, D-Saks. "Finally, the Mueller report is released and tells us exactly what we've known all along, that it was nothing more than a political hoax. I hope we can all move forward and focus on America's strong economy and securing our border now that this witch hunt can finally be put to rest."
Congressman Gary Palmer, R-Hoover, said on social media, "Special Counsel Mueller's investigation on potential collusion between Russia and the Trump campaign during the 2016 election is finally over. After 22 months and $25 million expended, it proved nothing surprising or new. Over a year ago, the Republican-led House Select Committee on Intelligence conducted its own investigation and found no evidence of collusion. Yet the Democrats persisted in their claims that President Trump colluded with the Russians to steal the election from Hillary Clinton. They are wrong. The Democrats built their case on a fraudulent dossier that was paid for by supporters of Hillary Clinton and her own campaign. This was an illegitimate investigation in an attempt to achieve an unprecedented result—removal of a President from office. We now must work to restore the American people's confidence and trust in our legal system."
Congressman Mo Brooks, R-Huntsville, gave a speech on the floor of the House of Representatives denouncing "Socialist Democrats and their fake news media allies.
"A 'big lie' is a political propaganda technique made famous by Germany's National Socialist German Workers' Party," said Rep. Mo Brooks. "For more than two years, Socialist Democrats and their fake news media allies . . . CNN, MSNBC, the New York Times, Washington Post, and countless others . . . have perpetrated the biggest political lie, con, scam and fraud in American history."
"The accusations of collusion between President Trump and Russia in the 2016 elections are nothing but a Big Lie!" Rep. Brooks said. "After tens of millions of wasted American tax dollars, the finding is succinct. "The report does not recommend any further indictments, nor did the Special Counsel obtain any sealed indictments that have yet to be made public. . . . [T]he investigation did not establish that members of the Trump Campaign conspired or coordinated with the Russian government in its election interference activities." The Mueller Report vindicates President Trump and his 2016 campaign from the Socialists' baseless, reckless, and false "Big Lie" charges of Russian election collusion."
"This sideshow is finally over," said Congressman Bradley Byrne, R-Montrose. "As I expected all along, there are no indictments or charges related to President Trump or his administration. The whole exercise was a waste of time and money. I just hope Democrats will now accept that they lost the 2016 election and let's move on."
"This is a tremendous victory for the President, this is a tremendous victory for the United States, frankly this is a tremendous victory for our system of justice," Trump attorney Jay Sekulow told Fox News's Sean Hannity.
"It is a shame that our country had to go through this. To be honest, it is a shame that your President has had to go through this before I even got elected it began and it began illegally," President Donald Trump told reporters. "This was an illegal takedown that failed and hopefully somebody is going to be looking at the other side. It was a complete exoneration. No collusion and no obstruction."
House committees are still looking at issues that are related to the Mueller probe, as well as the U.S. Attorney's office for the Southern District of New York, and the New York Attorney General. Congress is asking for the Department of Justice to give them the full unredacted Mueller report. In theory, the House Judiciary Committee could still choose to bring articles of impeachment against Trump if they come to the conclusion that there is compelling evidence of obstruction of justice or some other matter exposed by the investigation.
AG Barr has said that he will release as much of the Mueller report as possible.
To view Brooks' full speech:
Print this piece
Opponents accuse Tuberville of supporting amnesty for undocumented immigrants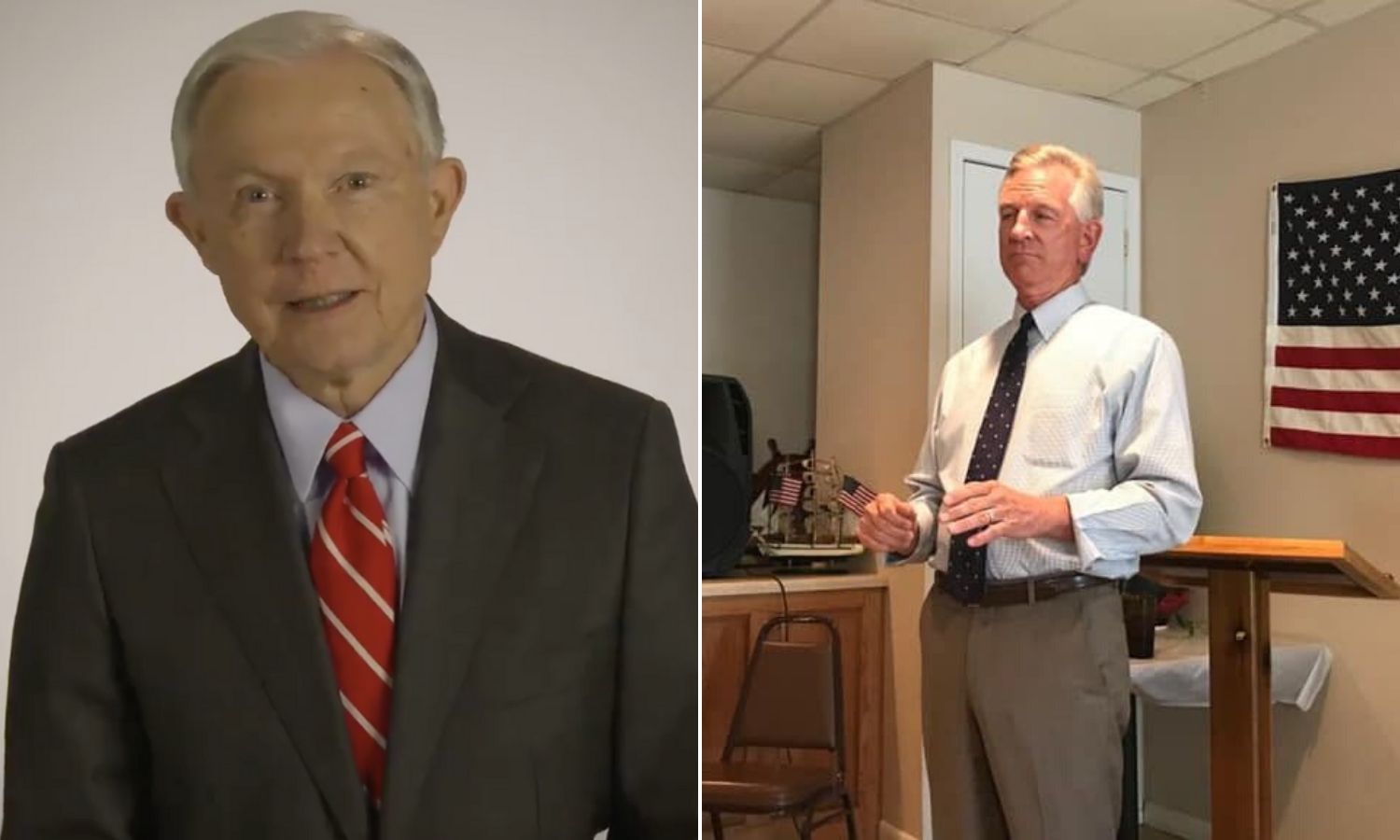 The Senate campaign is heating up as the top three candidates are all going negative. Former Auburn head football coach Tommy Tuberville has attacked Congressman Bradley Byrne (R-Montrose) and former Attorney General and Senator Jeff Sessions of being career politicians. Both Byrne and Tuberville have attacked Sessions for not having adequately served President Donald J. Trump (R) while Attorney General. Byrne has even attacked Tuberville's coaching abilities. The latest attacks on Tuberville accuse him of supporting amnesty for illegal aliens. Sessions even accused Tuberville of being a "tourist."
Wednesday, Sessions announced a new television ad called "Tuberville for Amnesty."
Byrne and Tuberville point to an August speech by Coach Tuberville when he said: "There are people coming across the border that need jobs… and we want them to come over here… Let em' come in and become citizens like we all became citizens."
The Tuberville campaign called the attack "fake news" on Twitter.
Sessions' campaign manager Jon Jones said, "Tuberville is claiming that his own words are 'fake news.' All of them? Tommy Tuberville needs to read the transcript. It is clear that Tuberville supports immigration amnesty, and he is attempting to trick Alabama voters to believe otherwise. In contrast, Jeff Sessions has done more than just say he wants to fix the border – he has already worked alongside President Trump to stop illegal immigration."
The new Sessions ad reads: "Tuberville is trying to trick you, hiding his support for immigration amnesty." Then plays an audio clip of the Tuberville comment from August
Tuesday, Byrne told reporters in Trussville: "I can tell you right now this issue about Tommy Tuberville's position on amnesty is a key issue. And so we're going to keep telling people about his position on that and let him explain why he doesn't think that's amnesty."
"Let em' come in and become citizens like we all became citizens," Tuberville is quoted in the ad.
Tuberville has denied supporting amnesty and says that he supports President Trump's immigration agenda.
The Sessions ad further charges: "And Tuberville's not even from Alabama, he's a tourist here. He lives, pays taxes and even votes in Florida."
On Tuesday, the Tuberville campaign responded with an attack ad of their own.
"The career politicians are desperate to hang on to their paychecks and power, so they have started airing negative ads full of false attacks and baseless distortions," Tuberville said. "Our new commercial allows us to respond with some hard truths about which candidate wants to drain the D.C. swamp and is tough enough to actually help President Trump get the job done."
The Tuberville ad has Byrne with former Secretary Hillary Clinton and Sessions with Congressman Adam Schiff (D-California) who led the impeachment effort against President Trump. The ad even connects Sessions and Byrne with Sen. Mitt Romney (the only Republican in either House of Congress who found that the President did anything wrong.)
State Representative Arnold Mooney, former Chief Justice Roy Moore, Ruth Page Nelson, and businessman Stanley Adair are also running for the Republican nomination for the Senate seat currently held by Doug Jones (D).
The Republican primary is March 3.
Print this piece