Brooks: Fallout from Mueller report will hurt Democrats in the 2020 elections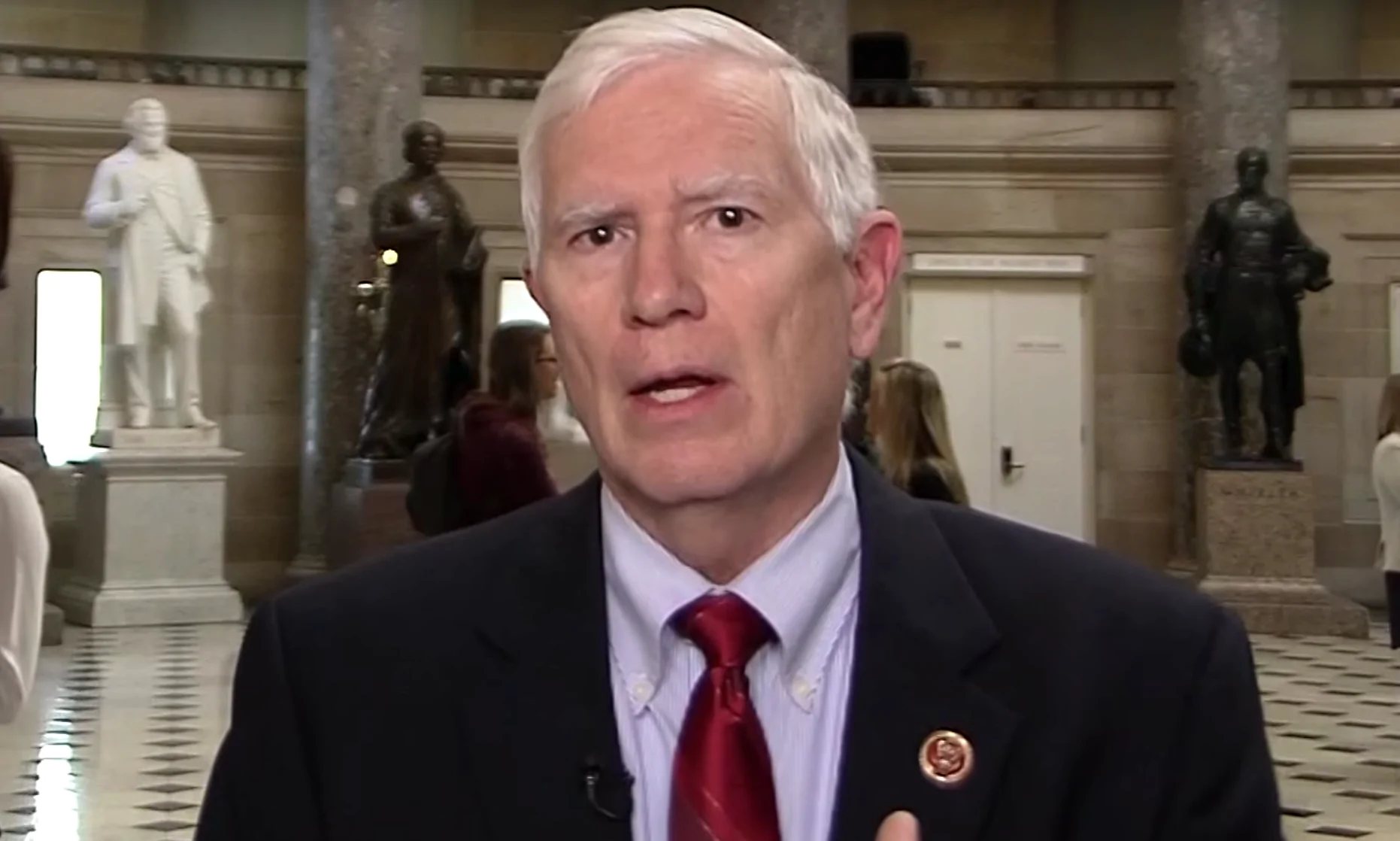 U.S. Rep. Mo Brooks, R-Huntsville, joined One America News Network to discuss the fallout from Special Counsel Robert Mueller report that found no evidence of collusion between the Trump 2016 campaign Russian intelligence agencies.
Brooks explained this view that "Socialist Democrat and fake news media's" Russian/Trump collusion was a "Big Lie." Brooks explained his theory that the "Socialist Democrats" have relied on a "Big Lie" propaganda tactic for over two years and speculated that that will likely hurt Democrats reputations and electability in the 2020 elections.
Jennifer Franco asked: "So, the results [of the Mueller Report] have certainly seemed to have emboldened the president. We saw him on Capitol Hill yesterday joining Republican Senators. Now, it seems to be a different story though on the Democrat side of the aisle. Democrat leaders are trying to move away and focus on policy issues. Then, we have some far-left House members still calling for impeachment. Do you think this division in the Democrat party is going to help the president's reelection bid?"
Congressman Brooks replied, "Well certainly, the fact that the Democrats have relied on a "Big Lie" propaganda tactic over two years ought to adversely affect their reputations and electability in the 2020 elections. So, it ought to help the House of Representatives go back to Republicans. It ought to strengthen our hand in the United States Senate. And, it also ought to help President Trump get reelected. The general public, by and large, should not want to have people who engage in lying to this degree as the Socialist Democrats have done for so long."
Miss Franco said the Mueller report will go to Congress first before the President has had a change to review it for executive privilege. What is your take on executive privilege? Do you still think that the report should be made public?
"I am in favor of releasing the entire report," Brooks said. "However there are probably parts of it that are subject to executive privilege; and there are other parts of it you don't disclose because of other factors such as traditionally grand jury proceedings are considered to be secret. We need to remain patient as the legal process weighs in on it on what can be lawfully disclosed and what can not."
Franco asked if Adam Schiff should be removed as the Chairman of the House Intelligence Committee.
"I really don't have an opinion on whether Adam Schiff be Chair of the Intelligence Committee or not," Brooks replied. "We might get someone who is more of a socialist Democrat, as incredible as that may be, than Adam Schiff."
Franco asked Brooks if the Democrats are going to move away from opposing the border wall.
"It is quite clear to me that Democrats see open borders as a long term political strategy." Brooks said. "Even though 30,000 Americans die each year because of our porous southern border."
Congressman Mo Brooks represents Alabama's Fifth Congressional District. To see the interview in its entirety:
Print this piece
Opinion | It's time for Alabama Democrats to learn from Alabama Republicans
Democrats never seem to learn from Republicans. 
All around the country, and all around the state of Alabama, Democrats are still playing by the rules. Still listening to the cries and outrage from the other side. Still entertaining the idea that compromise and diplomacy are important to Republicans on some level. 
Still watching Lucy jerk that football away at the last moment. 
It's time that stopped. 
It is time — actually, well past time — for Democrats to adopt the attitudes of their GOP colleagues, and just do whatever the hell you want to do. 
Whatever goal you set, go achieve it. Whatever policy is important, implement it. Whatever action you believe is right, take it. 
This is how Republicans have governed now for years. It is how they have wrestled control of the U.S. Supreme Court — just don't hold a hearing for a duly appointed candidate — and how they have stolen elections — keep blocking attempts to secure elections. It is how they control half of Congress — thanks, gerrymandering! — despite representing nearly 20 million fewer people and how they have managed to offset a growing minority vote — put up every roadblock short of a poll tax. 
In Alabama, it has how they adopted the AAA act to funnel tax money to private schools — just completely rewrite the bill in the dead of night — and how they passed the most restrictive abortion ban — just ignore promises and public opinion. It is how they have stopped attempts to pass gambling legislation — by straight up lying about the law — and how they have steadily cut into ethics laws — pretend that no one can understand the laws they wrote themselves — and how a House Speaker convicted on 12 felonies still isn't in prison three years later — just don't send him. 
They don't care. 
About rules. About the law. About public perception. About basic decency. 
And it's time for Democrats, especially in Alabama, to adopt the same attitudes. 
Because if Republicans can behave this way to implement racist bills and roll back ethics laws and protect the income of the elites, then Democrats shouldn't think twice about doing it to protect rural hospitals or new mothers' health or workers' rights or decent public schools. 
Now, this will be a big change for Democrats, so let me explain how this would look in practice, using the ongoing saga of Confederate monuments. 
Republicans shoved through an absurd bill last year that protects the state's monuments to those who fought to enslave other human beings, and they're shocked — shocked and outraged — that African Americans in Alabama might find it offensive to honor the men who enslaved their ancestors. 
The bill they passed last year was a dumb bill, right down to the portion which levied a fine on cities if those cities removed or damaged a monument. The bill completely screwed up the fines portion, failing to penalize cities for moving or damaging monuments over 40 years old and failing to place a per-day fine on those cities. Instead, the Alabama Supreme Court said the cities would be subject to one $25,000 fine. 
Birmingham has a monument that it desperately wants to move. It has already boarded up the monument in Linn Park, and the ALSC, in the same ruling, ordered the boards to come down. 
And this is the first opportunity for Mayor Randall Woodfin to approach this with a new attitude. 
Tear it down. 
Write out one of those big "Price is Right" checks for $25,000, hold a press conference and award that money to Steve Marshall like he just won at Plinko. 
At the same time, workers should be taking that monument apart piece by piece and moving it to the Birmingham Civil Rights Institute, where it can be viewed for its historical significance instead of serving to honor traitors and racists. 
No apologies. No shame. Don't even entertain their complaints. 
A similar approach should be taken by the city of Montgomery in regards to its occupational tax, which Republicans are attempting to stop through legislative action. 
Montgomery is going broke, and it can't put enough cops on the streets. Part of that is because every day about 70,000 people flood into the city to go to work, and then they leave each afternoon and spend their money in — and give their tax dollars to — surrounding cities and counties. 
Montgomery has to do something to offset the costs, so an occupational tax has been proposed. But just as quickly as it was, the ALGOP — the kings of handouts to people who don't need them — passed a bill to block it. 
So, some creativity is required.
Instead of an occupational tax, pass a public safety tax. 
If you work within the city limits of Montgomery, but live outside of those city limits, your paycheck will now be taxed an extra 1% to offset the cost of the police and fire services that you might use while in the city every day. 
No apologies. No shame. Don't listen to GOP complaints. 
It's a shame that things have to be like this, but they do. Democrats have tried for decades to force rational debate and to promote the value of compromise. Those pleas have fallen on deaf ears, which have been attached to toddler-like brains that have justified atrociously selfish behaviors and awful governance. 
At this point, it has gone on so long and been so successful for Republicans, the only thing that might break through is a taste of their own medicine. 
Give it to them.
Print this piece