Remembering State Rep. Dimitri Polizos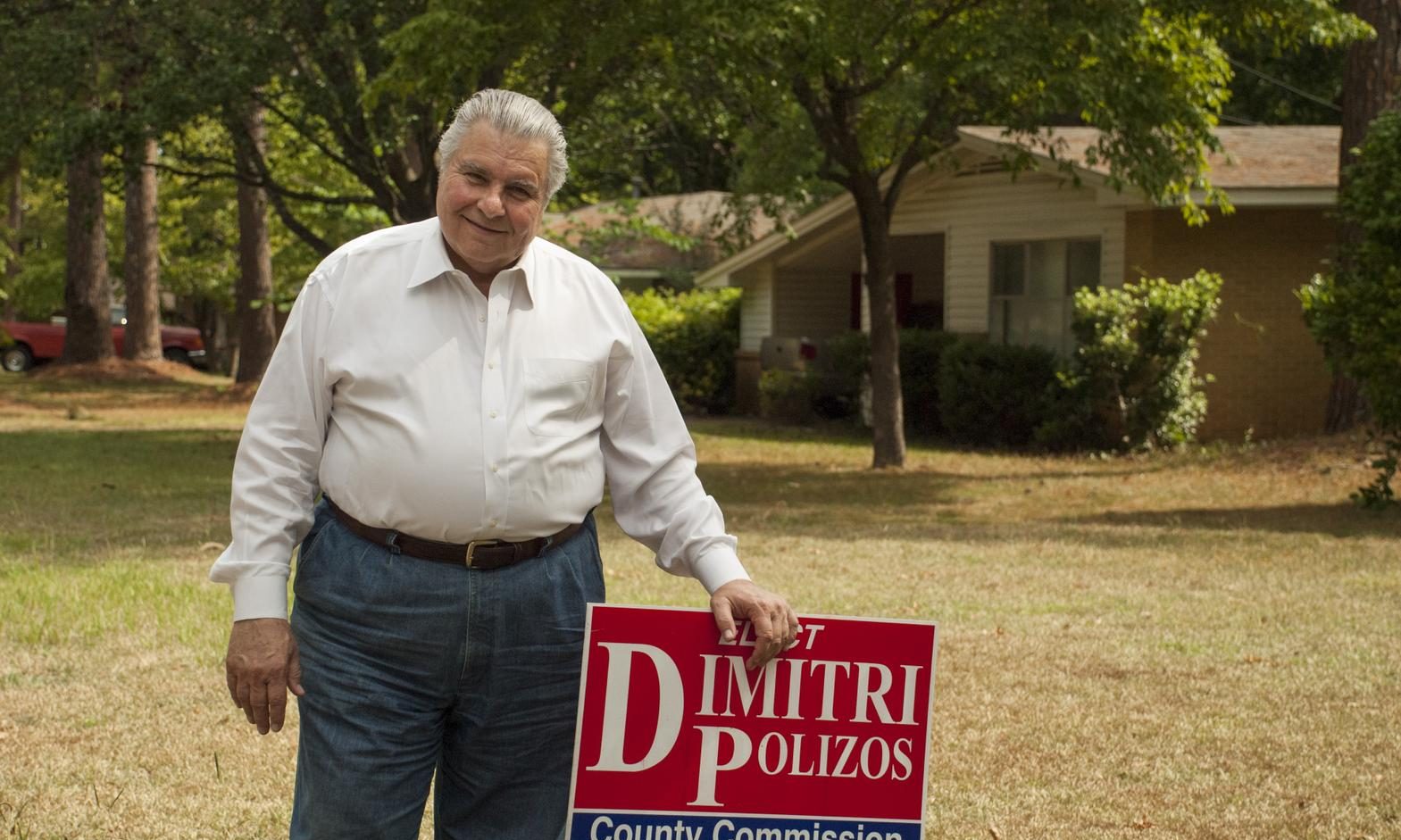 State Rep. Dimitri Polizos, R-Montgomery, passed away Wednesday in a Montgomery hospital the day after suffering a devastating heart attack. He was 68.
"Rep. Polizos was a man of honor and distinction," Gov. Kay Ivey said. "He was first and foremost a proud family man and member of his community. He was a successful small business owner who believed in hard work and treating people the right way. Each day when he went to work in the State House he took that viewpoint with him and served the people of his district with their best interests in mind. His presence will be missed. My prayers for peace and comfort are with his wife Dorothy and their family during this difficult time."
"Dimitri Polizos was a man with a true servant's heart, which was on full display whenever he was filling the needs of his constituents in House District 74, the residents of the Montgomery County Commission district he once represented, or the customers in the many landmark restaurants he owned and operated," Speaker of the House Mac McCutcheon, R-Monrovia, said. "Quick with a smile and an encouraging word to all he met, Rep. Polizos was a unifying and positive force in the Alabama House, and his presence and big personality will be deeply missed."
"Memories of Rep. Polizos bring to mind the words in Matthew 23:11–12, which read, 'The greatest among you shall be your servant,'" McCutcheon continued. "Whoever exalts himself will be humbled, and whoever humbles himself will be exalted. Our thoughts, prayers and condolences go out to his family and his scores of friends who can all rest assured in the knowledge that Rep. Polizos leaves behind a lasting legacy of public service that others would do well to emulate."
Lieutenant Governor Will Ainsworth said he first came to know Dimtri Polizos when they served together in the Alabama House of Representatives, and it was an honor to claim him as both a friend and colleague.
"Dimitri was a humble man who believed that serving others — whether as an elected official or as a beloved and well-known restaurateur — was his true life's calling," Ainsworth said. "He always showed kindness to others, he always stood loyally with his friends and he always followed the simple, biblical admonition that all of us were taught in childhood: Do unto others as you would have them do unto you."
"While all of us who knew him will miss, I know that the angels in Heaven are now enjoying a Greek/Italian feast, and Dimtri is happily serving the tables with a smile, a wink and a joke." Ainsworth said. "His family, friends and constituents have our heartfelt condolences."
"The members of the House Republican Caucus are profoundly saddened by the loss of our friend, our colleague and our fellow lawmaker, State Rep. Dimitri Polizos," said House Majority Leader Nathaniel Ledbetter, R-Rainsville.
"Throughout his legislative service, Rep. Polizos demonstrated his commitment to the conservative principles and ideals that remain at the core of our Alabama Republican Party, and he worked each day to ensure that the needs of his legislative district were met," Ledbetter continued. "A tireless worker for both his constituents and his customers, Rep. Polizos would often spend all day representing his district in the Alabama State House and devote all night to serving the patrons of his famous Mr. G's restaurant."
"In the sometimes partisan and rancorous atmosphere of the Alabama State House, Rep. Polizos was universally respected, liked and appreciated by members on both sides of the political aisle, which offers true testament to his innate kindness and easygoing nature," Ledbetter added. "House District 74 is better for having had Dimitri Polizos as its state representative, and all of us who served with him are better for having had the privilege of calling him our friend. The thoughts and prayers of all of the members of the House Republican Caucus remain with his family at this time of great loss."
"Shocked and saddened at the sudden passing of my friend and colleague Rep. Dimitri Polizos," said State Rep. Matt Fridy, R-Montevallo. "Dimitri was a great man with a huge heart and a quick wit. He will be sorely missed."
State Rep. Reed Ingram, R-Pike Road, served with Ingram in both the House and on the Montgomery County Commission.
"I am saddened this morning at the news that my colleague and dear friend, Rep. Dimitri Polizos, has passed away," Ingram said. "My prayers are for comfort for his family and friends during this time."
"I got up this morning to the sad news that my friend and former colleague Dimitri Polizos had a heart attack yesterday and passed away early this morning," said former state Rep. Jack Williams, R-Vestavia. "Dimitri served as Vice Chairman of the Commerce and Small Business Committee that I chaired for several years. I always enjoyed visiting with him at his restaurant, Mr. Gus'. He would always stop by the table and visit briefly, some nights it looked like he stopped at every table. He always wanted to make certain his customers were happy with their food and service. Dimitri was a good friend, I'm sorry for the loss his family is suffering right now."
Polizos was a well-known restaurant owner specializing in Greek and Italian food, as well as "home cooking."
He is survived by his wife, Dorothy, three children and five grandchildren.
Print this piece
McCutcheon not optimistic about passage of "constitutional carry" legislation
Alabama House Mac McCutcheon, R-Monrovia, discussed gun legislation that could appear before the House of Representatives this year.
In past sessions, constitutional carry legislation has made it out of the Alabama Senate, but stalls in the House. This year, Rep. Andrew Sorrell, R-Muscle Shoals, is carrying the bill in the House. APR asked McCutcheon whether he anticipates it passing this time.
"The mood would tend to be the same that it was in the past," McCutcheon said. "There is a bill out there now for a lifetime carry permit and a procedural check for a permit."
McCutcheon said that under that bill a state database would be used for granting concealed carry permits instead of a local database. Each sheriff of each county would be doing things the same way by ALEA (the Alabama Law Enforcement Agency) being involved in this.
McCutcheon said that the House is "taking a very serious look at that bill."
State Sen. Randy Price, R-Opelika, and State Representative Proncey Robertson, R-Mt. Hope, pre-filed the lifetime permit bill that would establish a cohesive and statewide management level process for administering and managing concealed weapons permits in the state of Alabama. The National Rifle Association has endorsed this legislation.
Robertson's House version is HB39. It has been assigned to the House Public Safety and Homeland Security Committee where it is awaiting action. Price's Senate version is SB47. It has been assigned to the Senate Judiciary Committee where it is also awaiting action in committee.
Currently, the application process and managing of applicants is different county by county. Some rural county sheriffs have issued concealed carry permits, sometimes called pistol permits, without doing background checks. This resulted last year in federal authorities revoking Alabama concealed carry permit holders from being able to buy firearms without having to go through the background check system.
The sponsors promise that this legislation would create a streamlined process of standards for Sheriff Departments to implement and will be monitored by the Alabama Law Enforcement Agency (ALEA). This bill creates a cohesive standard for background checks and will bring 21st century technology to Sheriff's departments and all other law enforcement agencies across the state. Sheriff departments will now have access to electronic information of which all levels of law enforcement will have access to. It will also require municipalities to start reporting those that are convicted of domestic violence as well as Probate Judges to begin reporting individuals that have been involuntarily committed. Applicants will also now have the option to apply for a concealed weapons permit for one year, five years or a lifetime permit.
Sorrell told APR on Saturday that he opposes HB39/SB47 because it creates a statewide database with all of Alabama's concealed carry holders.
In the State of Alabama, it is a Class A Misdemeanor to carry concealed weapons without a permit.
Sorrell's legislation, Constitutional Carry, would eliminate that crime altogether and give every Alabamian the constitutional right to carry a firearm concealed if they so choose.
State Senator Gerald Allen, R-Tuscaloosa, has introduced Constitutional Carry legislation in the State Senate; SB1. That bill has been assigned to the Senate Judiciary Committee where it awaits committee action.
SB1 would allow all Alabama citizens who have not had their gun rights revoked to carry firearms concealed without having to have a concealed carry permit. That legislation could not get out of committee in the Senate last year.
Sorrell told APR that there is momentum in the Alabama House of Representatives for Constitutional Carry and that he hoped to have as many as twenty cosponsors when he introduces his bill.
It is currently legal in Alabama to openly carry firearms without a permit, if your gun rights have not been taken away. A citizen can lose their gun rights due to a felony conviction, being declared mentally unfit by a probate judge, or a misdemeanor domestic violence conviction. While every citizen, who still has gun rights, may openly carry without a concealed carry permit; it is against the law to have a loaded handgun in a vehicle without a concealed carry permit.
Handguns must be unloaded and locked in a box or trunk out of reach. Similarly, if a person is openly carrying a handgun on their side, were to put a jacket on so that the gun was no longer visible that would also be a misdemeanor as they are now carrying concealed, unless they have a valid concealed carry permit allowing them to conceal their handgun. Persons with a concealed carry permit are allowed to have their gun on their person while riding in a motor vehicle or within reach like in the glove box, loaded or not. This does not apply to long guns (rifles and shotguns). All Alabama citizens, who still have their gun rights, may carry their shotgun or rifle with them in their vehicle, without having to obtain a concealed carry permit to exercise that right.
To get your concealed carry permit you must go to the sheriff's department in your home county. The fee varies from county to county.
Twenty percent of adult Alabamians have a concealed carry permit, the highest rate in the country. The Alabama Sheriff's Association have steadfastly opposed Constitutional Carry legislation. According to the National Association for Gun Rights, fifteen states, including Mississippi, have Constitutional Carry already.
Print this piece