Opinion | Clean, renewable biodiesel industry adding jobs, reducing pollution across U.S.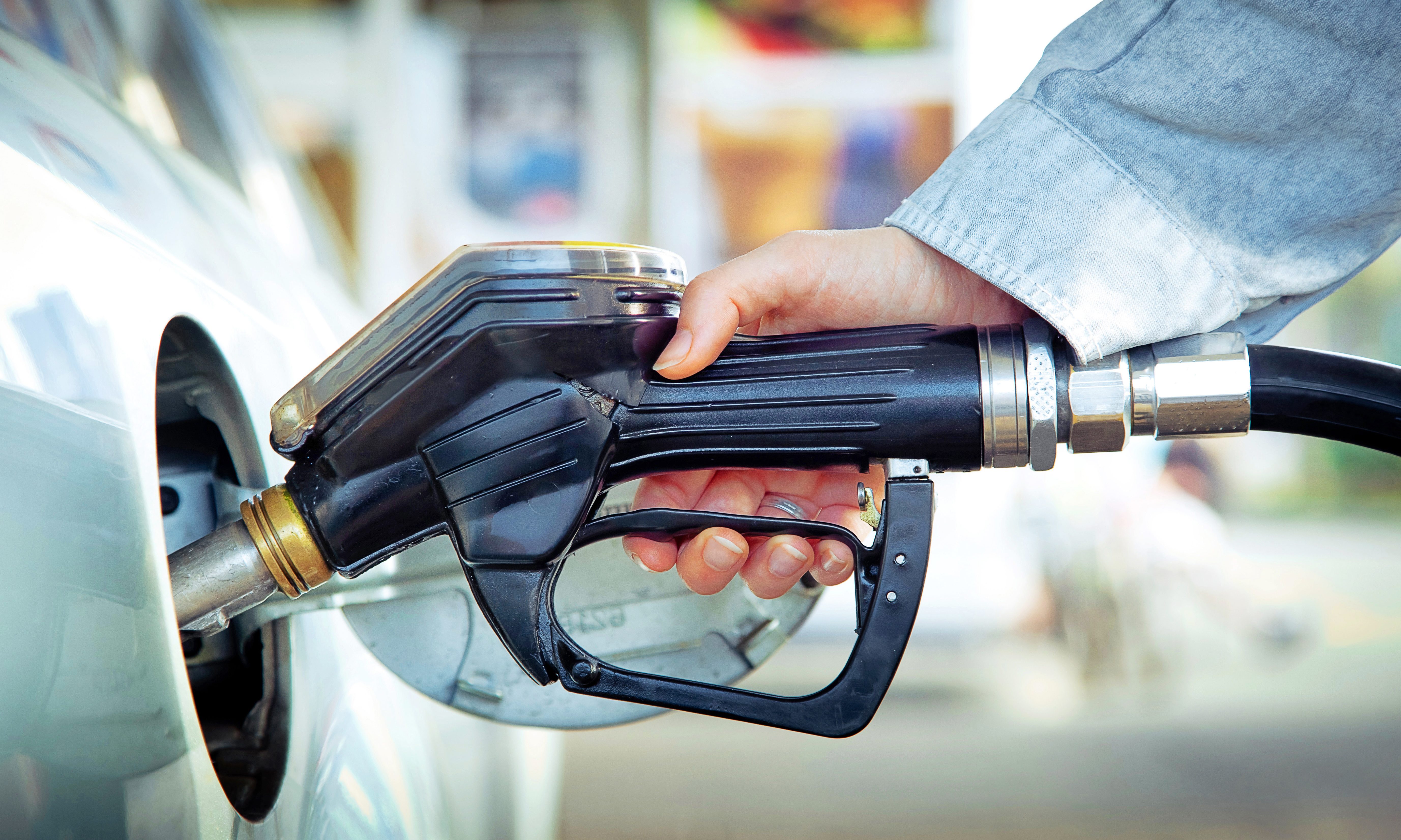 If only Rudolf Diesel could see highways across America today. The inventor of the Diesel engine, which ran perfectly on peanut oil not long after its debut around the turn of the 20th century, would certainly be amazed to see that biodiesel has grown into an industry that supports more than 64,000 jobs, $2.5 billion in wages paid and more than $11 billion in total economic impact in the United States.
It is amazing that consumers in the U.S. saw nearly 2.7 billion gallons of biodiesel and renewable diesel produced in 2018. Biodiesel is the first and only EPA-designated Advanced Biofuel with commercial-scale production nationwide.
Biodiesel is made, after two decades of research and improvements, from an increasingly diverse mix of resources and is one of the most sustainable fuels on the planet. That biodiesel-powered vehicle that passes you on the highway may be running on a mixture of recycled cooking oil, plant oils, animal fats, recycled grease, soybean oil or even algae. We do not sacrifice food for fuel to create biodiesel. Oils and fats for biodiesel are a minor byproduct of producing high-protein feeds, like soybean meal, and quality cuts of meat.
Additionally, biodiesel production adds 11 cents per pound of value to soybean oil, equal to 63 cents per bushel or $36 per acre of additional value. Because of that added value to farmers, the protein from soybean crops can be made more affordable for foods for families or feed for livestock.
In "well to wheels" analysis, 100 percent biodiesel reduces lifecycle carbon emissions more than 50 percent compared to petroleum-based diesel, making it the best carbon reduction tool of any liquid fuel commercially available, according to the National Biodiesel Board. As a result, biodiesel is the first commercially available "Advanced Biofuel" — as designated by the EPA — on the market.
Biodiesel is biodegradable, non-toxic and burns much cleaner than petroleum-diesel. Compared to petroleum-diesel, biodiesel reduces black smoke (particulates), carbon monoxide and harmful unburned hydrocarbons that cause smog. U.S. biodiesel is an advance biofuel that has the highest energy balance of any commercially available fuel. B20 biodiesel, 20 percent biodiesel/80 percent petroleum-based diesel, returns 5.54 units of renewable energy for every one unit of fossil energy needed to produce it.
Clean-burning biodiesel can be used in existing diesel engines without any modification. Production of biodiesel is guided by stringent international (ASTM) fuel specifications, developed through years of testing. The industry also has an excellent fuel quality program that ensures that only the highest quality biodiesel is delivered to your fuel tanks.
While biodiesel is a perfect fuel for regular passenger vehicles, its use for fleet vehicles – trucks and buses, for example – is a great money-saver for industries that are increasingly running on thin profit margins. Using biodiesel also helps our overall economy by reducing our dependence on foreign oil from unstable parts of the globe, while expanding and diversifying our domestic refining capacity. Biodiesel also improves the balance of trade as using this fuel creates added outlets for farm-based products and creates high-paying manufacturing jobs in rural America.
Among U.S. heavy-duty truck segments, which account for more than 87 percent of actual diesel fuel usage, every major engine manufacturer supports B20 in their new engines except for Daimler's Detroit Diesel (which remains at B5). There have been more than 45 million miles recorded of successful, problem-free real-world operation with B20 biodiesel blends in a wide variety of engines, climates and applications.
The Alabama Clean Fuels Coalition will host two free biodiesel workshops on April 10 and 11, in Bessemer and Montgomery. The Bessemer workshop on April l 10 is from 9 a.m. until noon, including lunch, at Lawson State Community College's Ethel Hall Room 201 at 1100 9th Avenue Southwest. The Montgomery event, also 9-12 on April 11, is at the auditorium of the Alabama Department of Agriculture and Industries at 1445 Federal Drive.
Those in attendance will hear from experts who will provide information and resources necessary to allow fleet managers to make the sound business decision to add biodiesel to improve their bottom line. The workshops are an opportunity to open up an honest conversation to address any concerns about biodiesel. This fuel is a sound choice for municipalities, school districts, fuel distributors, service station owners – and all consumers. All are welcome to attend the free workshop. Registration is required at www.alabamacleanfuels.org/blog/post.cfm/free-biodiesel-workshops.
If Rudolf Diesel were around – he'd be there.

Mark Bentley is Executive Director of the Alabama Clean Fuels Coalition.
About the Alabama Clean Fuels Coalition:
Alabama Clean Fuels Coalition, a nonprofit membership-based organization, is the state's principal coordinating point for alternative fuels and advanced technology vehicles. ACFC is a member of the U.S. Department of Energy's Clean Cities program. The promotion of clean, renewable, domestic energy sources helps reduce our dependence on foreign oil, improves local air quality and increases economic development opportunities in our local communities. For more information, please visit www.AlabamaCleanFuels.org or call 205-402-2755.
Inaugural Alabama Works innovator awards presented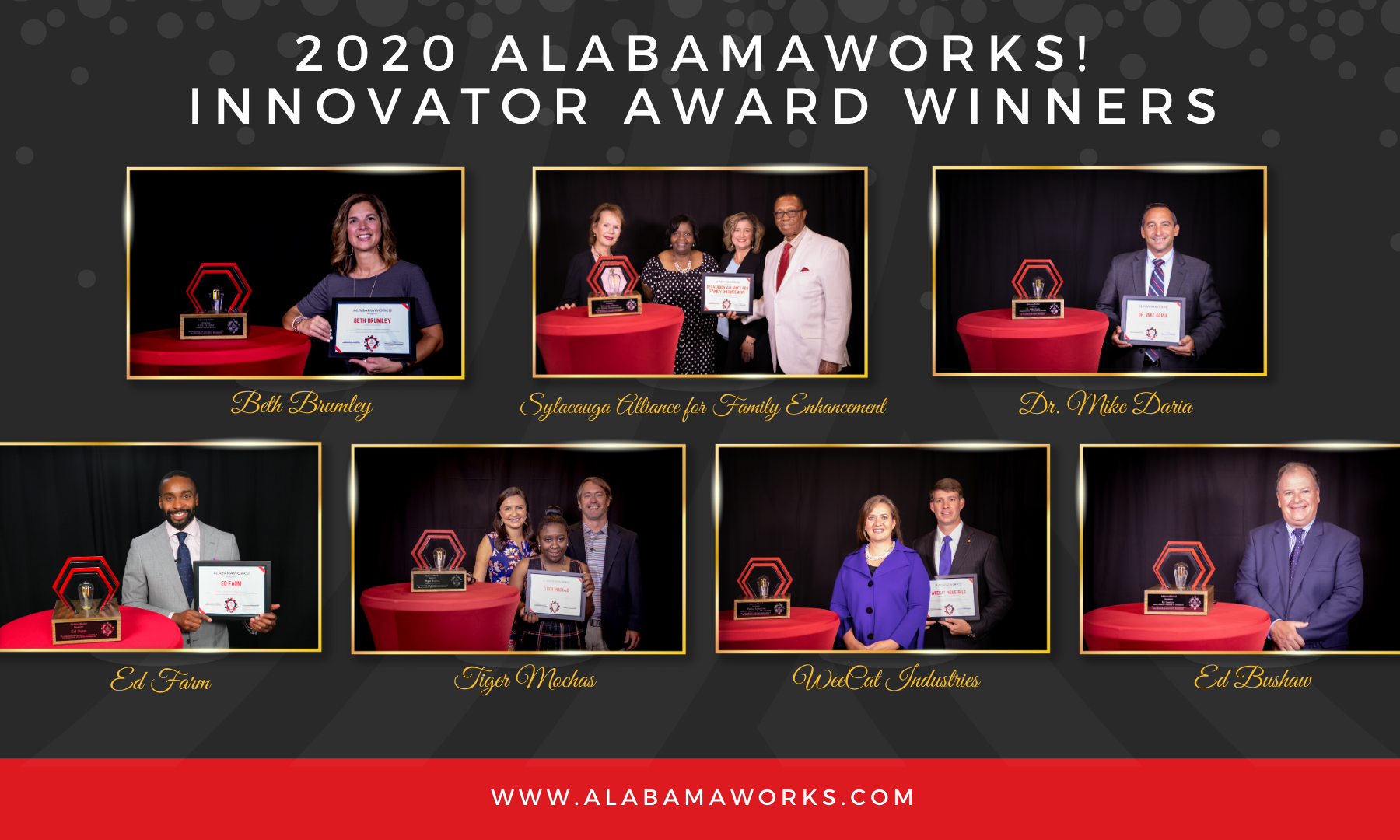 The inaugural AlabamaWorks! Innovator Awards were presented by Gov. Kay Ivey and Deputy Director of Commerce and AIDT Director Ed Castile Thursday during the AlabamaWorks! Virtual Conference.
The awards were developed to highlight people and programs across the state that take an innovative approach to solving workforce challenges and help advance Ivey's Success Plus attainment goal of adding 500,000 highly skilled workers by 2025.
At the time of the inception of the awards, Alabama was unaware of the impact COVID-19 would have on the workforce and although the attainment goal has not changed, our economic and workforce recovery post-COVID-19 will hinge on innovators like those recognized.
"The workforce challenges that we face today are not the same ones that we faced six months ago due to the COVID-19 pandemic that has completely reshaped the workforce landscape," said Gov. Kay Ivey. "The State of Alabama is relying on those who are leading the charge by implementing innovative solutions in their cities, counties and regions to further economic and workforce development."
The recipients are visionaries, outside-of-the-box thinkers and problem solvers. The programs test boundaries, explore new opportunities and reach deeper to bring about change. "It is important to recognize these leaders of innovation and to thank them for their hard work and dedication to the citizens, communities and industries of Alabama," said Ed Castile, deputy director of commerce and AIDT director. "Their innovative approach to workforce development will be key to opening doors, breaking barriers and propelling Alabamians forward."
The recipients of the first-ever AlabamaWorks Innovator Awards are as follows:
Region 1 – North AlabamaWorks – Beth Brumley, Colbert County Schools
Beth Brumley built the Health Science Program for Colbert County Schools from the ground up by using her experience in the healthcare field to provide critical, real-world skills to her students. She developed key relationships within the healthcare community to provide her students enhanced learning opportunities and exposure, which resulted in increased demand for program graduates. Beth was also named the 2020 National New Teacher of the Year through the Association for Career and Technical Education. By bridging the gap between education and employer, Beth has created a formula for success that positively impacts the workforce.
Region 2 – East AlabamaWorks – The Sylacauga Alliance for Family Enhancement (SAFE)
SAFE has been a model for supportive services to empower individuals and families while fostering positive and healthy development of the community for nearly 25 years. In their program, SAFE combines occupational and employability skills to help job seekers be ready to enter the workforce regardless of barriers they may have faced in the past. Their dedication to providing practical solutions to modern problems is a testament to their heart for service and passion for helping their community and region.
Region 3 – West AlabamaWorks – Dr. Mike Daria, Superintendent Tuscaloosa City Schools
Dr. Daria has played a crucial role in the success of West Alabama's workforce development by fostering important relationships between industry and education. His leadership has focused on increased Career Technical Education (CTE) enrollment, supporting local Worlds of Work events and the Educator Workforce Academy. Dr. Daria's emphasis on the importance of identifying career pathways for the students in his district and then providing viable opportunities for students to take those paths, make him invaluable to West Alabama.
Region 4 – Central Six AlabamaWorks – Ed Farm
Ed Farm is the signature program of TechAlabama that focuses on encouraging children and adults to discover and pursue STEM careers. Ed Farm has a vision for a world full of invention, led by citizens who have been equipped with the necessary tools to fill or create the careers of the future. Through equipping educators and communities with innovative tools, strategies and programs they are able to support active learning for all students. With three signature tracks, Ed Farm is poised to help increase educational equity and improve learning outcomes through technology all while preparing the future tech workforce.
Region 5 – Central AlabamaWorks – Tiger Mochas, Auburn City Schools
Tiger Mochas is a collaborative effort between special education students, FCCLA (Family, Career, and Community Leaders of America) members and peer volunteers at Auburn High School. This student-led organization is serving up a lot more than hot cups of coffee to their peers because through their work, students are provided meaningful, hands-on work experience that teaches important functional, social and daily living skills. Graduates of the program leave with not only work and employability skills, but in-demand soft skills that will help them succeed in life and work.
Region 6 – Southeast AlabamaWorks – WeeCat Industries
WeeCat Industries uses a simulated workplace model to meet the growing demand for a skilled workforce. WeeCat saw an opportunity to begin teaching work ethics and employability skills as early as preschool, and rose to the challenge. Their students clock into work, run an assembly line, fill orders, check invoices, meet production quota, interview for new positions and implement quality control all while earning a "paycheck" to be spent at the WeeCat Store before they can even spell the word "school". WeeCat Industries places invaluable skills at a crucial age in development which will shape the future of the workforce.
Region 7 – SAWDC AlabamaWorks – Ed Bushaw
Ed Bushaw with the South Baldwin Chamber of Commerce researched and developed initiatives to address the region's workforce supply to meet the needs of the growing hospitality and tourism industry in his region. His collaborative efforts with business and industry officials resulted in the development of the first Hospitality and Tourism registered apprenticeship program in Alabama. Apprentices receive classroom instruction as well as valuable real-world experience within the hospitality and tourism industry and finish the program with a credential that can be used to advance their career. Ed's ability to adapt to the needs of industry and implement programs that address those needs are vital to the continued success of southwest Alabama.