Opinion | In Alabama, money is god
If you have ever participated in an organized cleanup effort of pretty much any piece of land anywhere in this country, you know one thing is true: plastic grocery bags are everywhere.
They're stuck in bushes, half buried, clinging to other trash, in trees, floating in every body of water, and clinging to every barbed-wire fence alongside any moderately busy road. And they never go away.
Which is why some cities have started to either ban the bags or to tax them in order to pay for their eventual cleanup.
But not in Alabama.
In Alabama, our lawmakers, concerned that someone somewhere in this state might start considering the environmental cost of our current behavior and want to do something proactive to stop it, are on the verge of banning a ban (or tax) on plastic bags.
Apparently, MAGA doesn't include the air, water or land of America.
If you're wondering how this could possibly be — how any group of people in a state that proclaims to cherish so deeply its outdoors and outdoor activities could thumb its nose at the very idea of limiting the trash that blemishes those areas we love — there is but one simple answer.
Money.
The answer is always money. It will always be money.
Money is why we are dead last in every single meaningful area of life — from health care to education to infrastructure.
It's why we have one of the highest rates of smoking. Alabama lawmakers were some of the last to believe the "scientific" studies that labeled smoking harmful. Mainly because Alabama lawmakers — and southern lawmakers in general — received more contributions from big tobacco companies.  
It's why we have one of the highest rates of obesity. Alabama lawmakers fought to keep restaurants from being forced to disclose calorie and other health-related information on their menus. Because the restaurant associations, fearing the loss of revenue to their clients if everyone knew that the fried chicken salad was 1,800 calories, dumped money into Alabama lawmakers' campaigns.
It's why we can't swim in some of our lakes. Why we can't eat the fish from our rivers. It's why other states send their hazardous waste — and their human waste — to this state to dump. And it's why we have coal ash ponds sitting within feet of waterways.
Money. Money. Money.
The two guys sponsoring the ban on plastic bag bans — Republicans Steve Livingston and Nathaniel Ledbetter — explained their reasoning. They talked about the costs to stores that use plastic bags (It's not less expensive to use plastic instead of paper) and they were worried about what this would do to their local businesses.
Neither Livingston nor Ledbetter discussed their donations from Koch Industries, one of the country's largest plastic bag manufacturers and one of the biggest funders of efforts to knock down plastic bag bans in states all over the country. But then, I don't guess they needed to.
Because … money.
You and me, we don't care about plastic bags. Our groceries carry fine in paper sacks or reusable bags. If every store in America replaced plastic with paper tomorrow, it wouldn't affect our lives in the least, from a practical standpoint. It would, however, make a hell of a difference in the amount of garbage that's collecting in landfills and along roadways.
But that doesn't matter.
Money matters.
And to be honest, I'm getting sick of the hypocrisy — sick of this bunch of Bible-thumping crooks (on both side of the aisle) selling out people and the environment left and right all while simultaneously pretending to be devout Christians so familiar with the word of God that they can justify their condemnation of other humans by reciting the most obscure passages.
Yet, despite all of that churchin' they never seem to land on the multiple passages — most of them highlighted in red — that warn against greed, the love of money, the indifference to human suffering. They somehow miss the instructions to care for the least of us, to take care of the children, to protect the earth.
Before you argue, might I present the evidence:
Our politicians have sold out sick children in Birmingham. They've excused away undrinkable water in north Alabama. They've pretended not to see the hundreds of thousands going sick without health insurance. They've turned a blind eye to prisons that we would close tomorrow if they housed dogs.
And those are just the most egregious. That list doesn't cover the mundane, everyday malfeasance — the backroom deals, the brother-in-law setups, the no-show jobs, the wink-and-nod laws that serve to benefit one or two big mules, the bans on plastic bag bans.
We might as well admit it, because at this point, with all of the studies finding this state the most corrupt around, everyone knows our problem. We're like a junkie trying to hide the track marks. And we should stop pretending. Stop trying to cover it up with religious pandering bills and photo ops with Bibles. 
Because it's all phony. There is only one true god worshipped in Alabama.
Money.
Print this piece
Opinion | Facts are stubborn things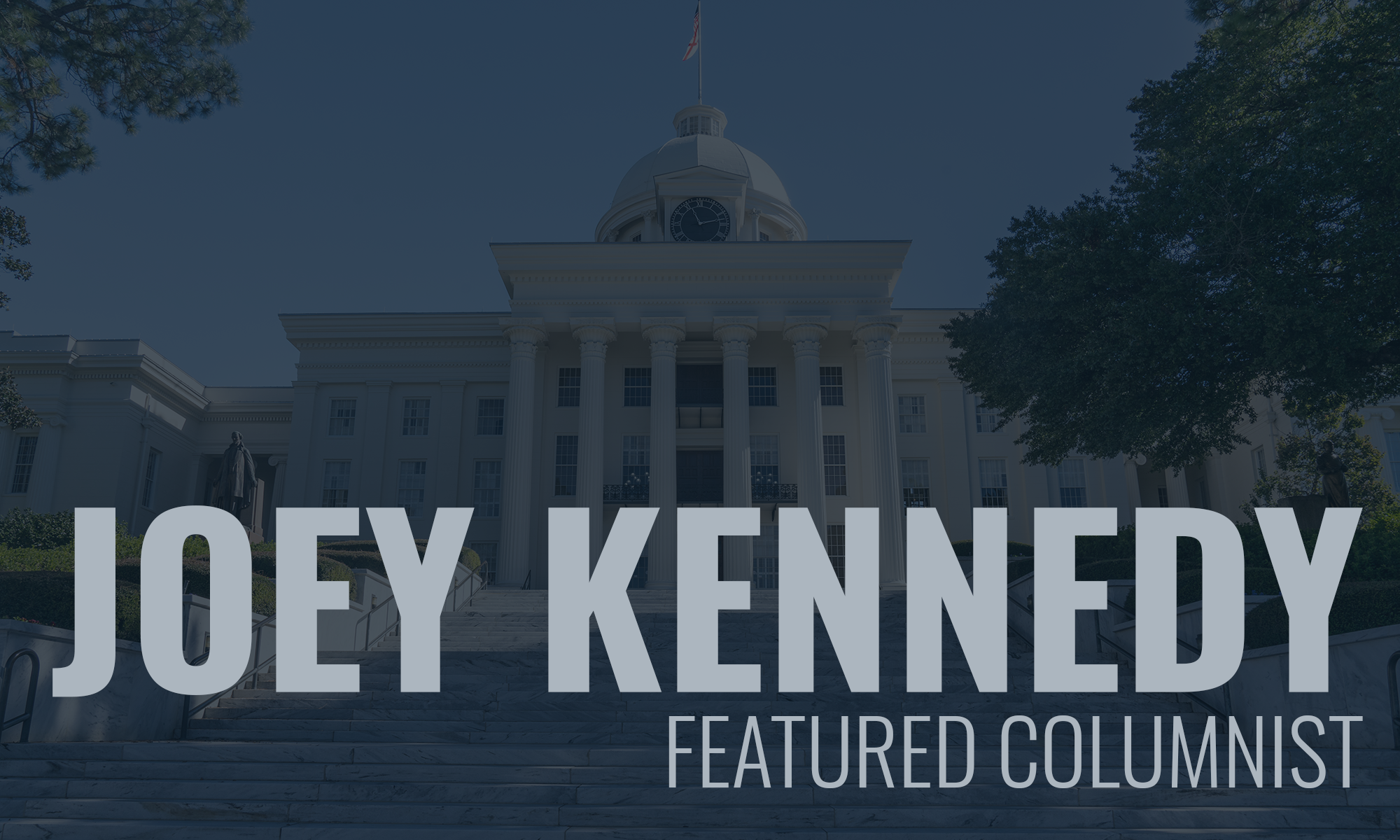 I'm in my 20th year of teaching in the English Department at UAB. I've never taught my primary discipline, journalism, and I really don't have much of a desire to, either.
Yet, in 2017, the leadership of UAB's University Honors Program asked me to be a part of their interdisciplinary faculty for the fall. UHP's fall semesters are themed, and that year, the first year of Donald Trump's term as president, the theme was appropriate: "Evidence and Belief in a Post-Truth Society." For UHP, I was a "communications" (journalism) professor. I taught with a scientist and public health professor, a religion professor, a philosophy professor, a literature professor and a psychology professor.
The students in this program – all 100-plus of them – are among the smartest students on campus. Needless to say, I was intimidated. For my first lecture before the students, I took a Xanax (it's prescribed because I do have anxiety sometimes). The Xanax didn't make me lecture better, but it made me not really care if I screwed up.
I'm sort of a one-trick pony – I teach and write in the only language I know: English. Here, you had neuroscience and biology and chemistry majors galore. And, yes, there were a few English and history and business and engineering students, too. Pretty much every discipline taught at UAB is represented in UHP, and certainly in its umbrella school, the UAB Honors College.
That fall went by quickly. I only took the Xanax for the first lecture. I settled into my groove pretty quickly. But when it was over, I ached for the continued intellectual stimulation I received as a teacher. I'm a lifetime learner, and that program taught me a lot. And I got to teach others a lot, too.
I thought it was a one-shot deal. Until, that is, the program's director, Dr. Michael Sloane, asked me to return in the fall of 2018 to direct the first-year students' literary analyses. And that fall, I was also asked to propose a UHP seminar class for the spring of 2020. I returned last fall to once again direct the first-year literary analysis. And I've been asked to return for first-year LAs again this coming fall.
This semester, I'm teaching the class I proposed, "Media and Social Justice." And I've already got another self-created UHP seminar class scheduled for next spring, "Media and War: Men and Women Making a Difference on the Front Lines."
Unlike my composition and literature classes in the English Department, these seminars have no template. I have to create the teaching as I go. Some days, I'm very confident; others not so much.
I divided the "Media and Social Justice" class into six two-week units: Nellie Bly (mental illness and investigative journalism), The Jungle (food safety and immigration), Jim Crow Lives (the civil rights era and voter suppression), #MeToo (sexual assault and harassment), Black Lives Matters (police and other shootings of people of color), and March for Our Lives (gun violence and sensible gun regulation).
These classes are limited to 16 honors students, but 19 students wanted in my "Media and Social Justice" class, so I have 19 students.
I teach these classes as a communications professor, not an English professor. I direct the literary analyses as a literature professor, not a communications professor.
We're covering historical topics, for sure, but also contemporary topics. It doesn't get any more current than Black Lives Matter, #MeToo, voter suppression, or March for Our Lives.
We don't just talk about the journalism around these topics, but also about other media. For example, I find protest songs for each topic. While it's not on our plate, did you know Trump has inspired a whole catalog of protest songs? Most every president inspires protest songs, though Trump has inspired an awful lot of them.
Maybe at some point, I'll create a "Media and Donald J. Trump" class. There is plenty of material.
The point, though, is that we all should be lifelong learners. I can't tell you how much I've learned from by English students and my honors students, how much the English faculty has taught me, and how much the faculty and directors of the University Honors Program have taught me.
That I get to return the favor by teaching these unique classes says a lot about UAB, and how it values critical thinking and learning.
I hope I never lose my enthusiasm for learning, or become too stubborn to change when the facts point toward another direction. That is our responsibility to the truth. I guess I am stubborn in one way: There are no alternative facts. Facts are truth, reality. The alternative is false, untruth, lies.
Readers, that's a fact, and like me sometimes, facts are stubborn.
Joey Kennedy, a Pulitzer Prize winner, writes a column every week for Alabama Political Reporter. Email: [email protected].
Print this piece