The bill that would have killed Alabama ethics laws is dead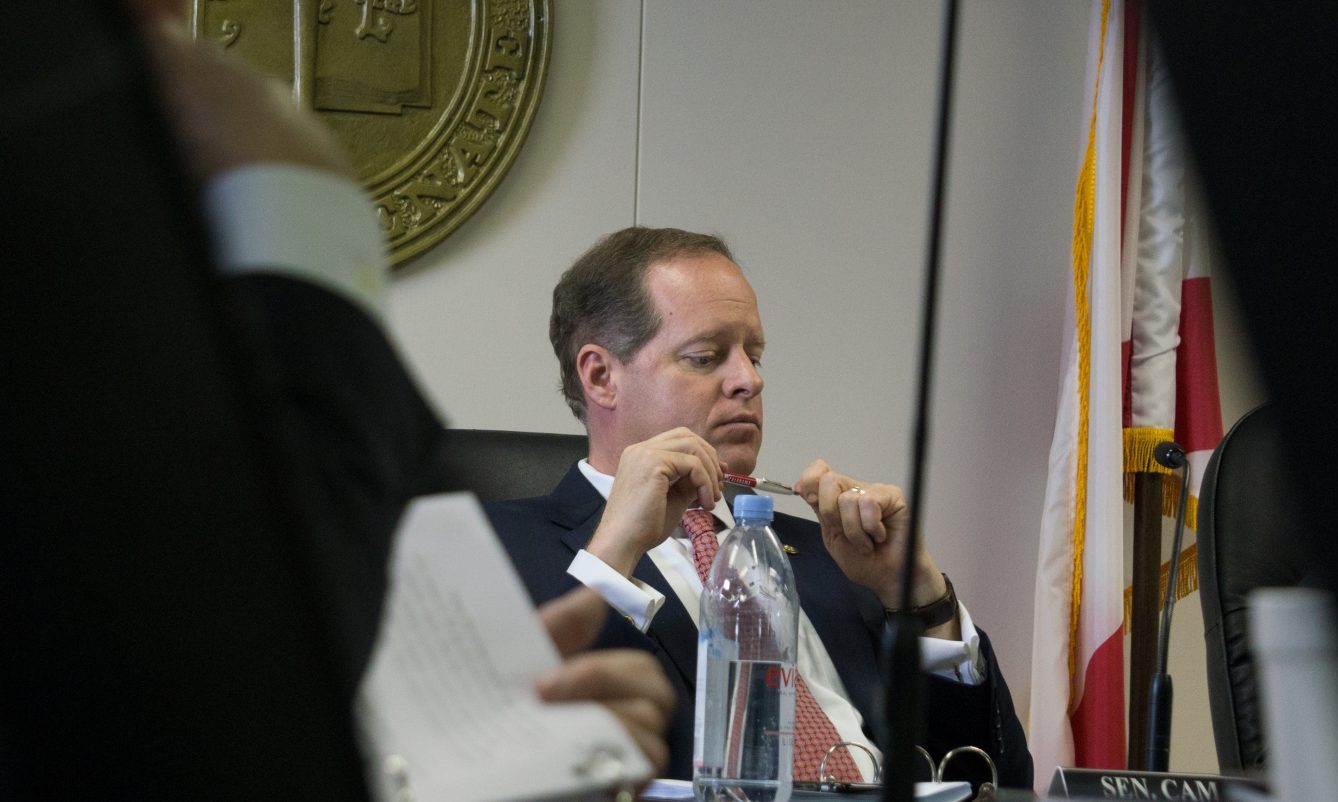 The worst bill this legislative session (so far) is dead.
Sen. Greg Albritton's rewrite of state ethics laws — which all but eliminated ethics laws — will apparently never leave the Senate Judiciary Committee, chairman Cam Ward said Wednesday afternoon.
"It's dead in my committee," Ward told APR.
It was an odd turn of events for a bill that sparked immediate controversy and drew opposition from both the Alabama Ethics Commission and the Alabama Attorney General's Office. Both of those entities issued statements saying the bill would undermine ethics laws and make prosecuting public corruption more difficult.
Despite that opposition, however, Albritton's bill faced remarkably little opposition from his fellow senators — from either side of the aisle.
Several different senators spoke on the bill during Wednesday's Judiciary Committee meeting, and only one — Sen. Vivian Figures, D-Mobile — raised questions about the AG's and Ethics Commission's opposition.
Republican Sen. Sam Givhan also suggested slowing down the bill's progression so it could be studied further.
Otherwise, senators seemed to be fairly accepting of the proposed changes, which included removing the limits on lobbyists' gifts to lawmakers and all but eliminating the Ethics Commission. It also removed the AG's office from prosecuting public corruption cases.
Following a brief discussion of the bill on Wednesday morning, though, Albritton oddly asked that it be held.
And Ward quickly pounced, saying the bill would be held over and possibly come back next week.
Later in the day, however, Ward was clear that the bill was dead, first telling the Montgomery Advertiser's Brian Lyman that it would not return.
He confirmed that with APR and there has been no pushback from Albritton or the bill's other co-sponsors.
Former Barbour County sheriff arrested, charged with taking money from sheriff's office
Upshaw was charged with two crimes connected to taking more than $85,000 from several accounts that belong to the sheriff's office.
Alabama Attorney General Steve Marshall on Tuesday announced the arrest of Leroy Davie Upshaw, the former sheriff of Barbour County, on charges that he used his office for personal gain. 
Upshaw, 49, surrendered to the Barbour County Sheriff's Office on Monday and was released on bond, according to a Marshall's office. He had served as sheriff until his term ended in January 2019. 
Upshaw was charged with two crimes connected to taking more than $85,000 from several accounts that belong to the sheriff's office, Marshall's office alleges. One charge alleges that he used his public office to receive personal financial gain and the other charge alleges that he used his office to obtain financial gain for members of his family. 
The Dothan Eagle reported in 2018 that Upshaw's troubles began when the sheriff's office was audited and cited for 11 errors, including one in which Upshaw gave himself the additional salary that had gone to the former work release administrator.
If convicted of the class B felony of using his office for personal gain, Upshaw could face up to 20 years in prison.