During payday presser, two Alabama Republicans break with Trump, side with liberal advocates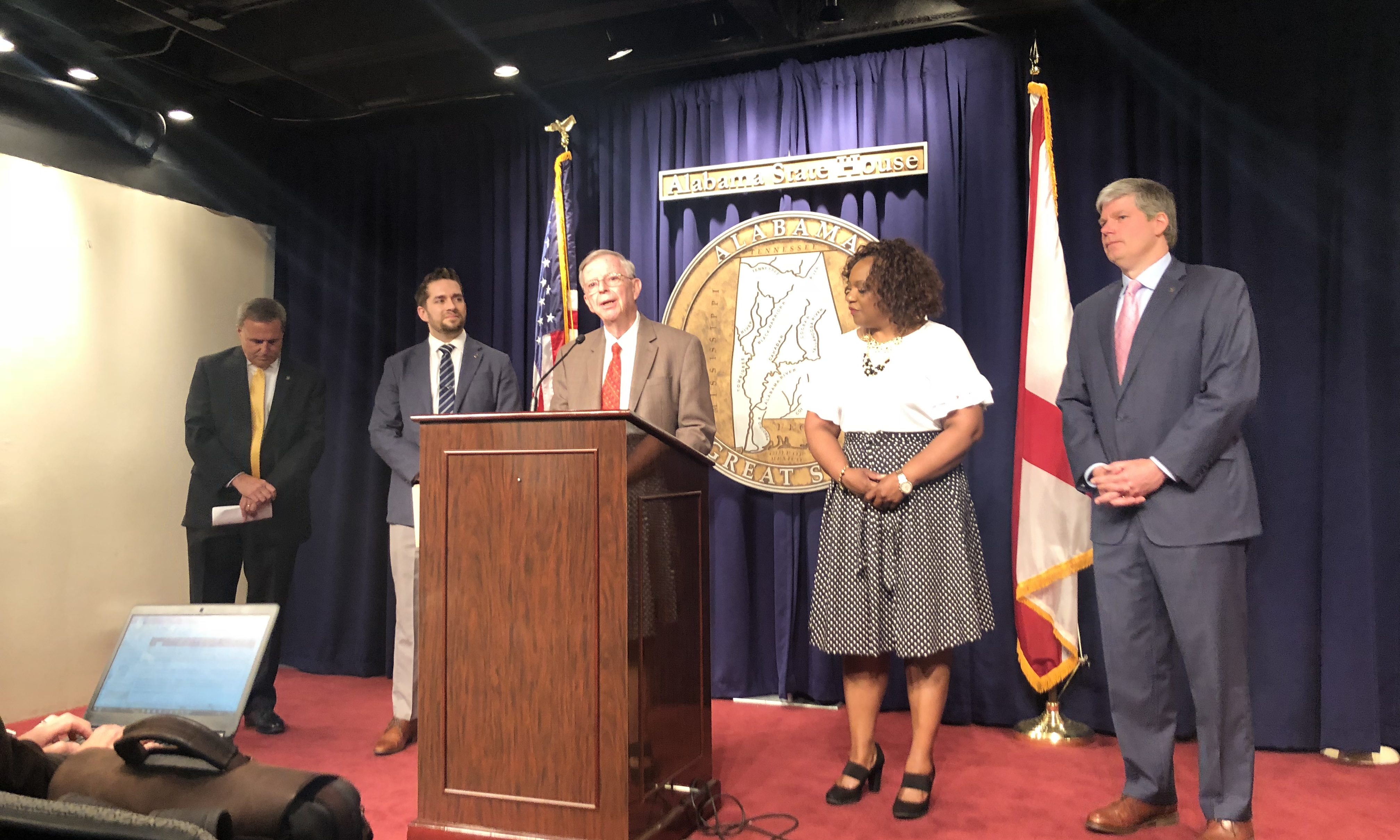 In the media room on the third floor of the State House, a self-identified group of liberals and conservatives took the stage to introduce legislation to restrict small consumer payday loans further.
In a surprising move, Republican lawmakers at the event voiced their disagreement with President Donald Trump with one stating he is not a "sycophant," presumedly referring to those who are fully aligned with Trump's "Make America Great Again" agenda.
Decatur Republican Sen. Arthur Orr, along with Republican Reps. Danny Garrett, R-Trussville, and David Faulkner, R-Mountain Brook, have joined forces with liberal activist organizations the Southern Poverty Law Center, Alabama Appleseed Center for Law & Justice, Alabama Arise, Community Foundation of Greater Birmingham and others to cap payday lending fees and extend the time borrowers have to satisfy their debt.
SPLC is usually at the forefront of such announcements, but with recent negative headlines and the departure of its top leadership, SPLC was not among those presenting information at the press conference.
During the presser, Neal Berte, president-emeritus of Birmingham-Southern College, referred to a PARCA survey as proof that Alabamians wanted to restrict payday lending further. Garrett and others used the same poll as evidence.
Berte also said Alabama had the third-highest concentration of payday lenders in the nation.
Berte, Garrett and others used the PARCA survey as well as anecdotal evidence to sway the gathered press corps of the need to place new regulations on small borrowers.
What Berte, Garrett and others failed to do was to inform those present that the PARCA study was paid for by the Community Foundation of Greater Birmingham.
Kim Rogers, program officer for the Community Foundation of Greater Birmingham, told Alabama Political Reporter that not only had the foundation paid for the report, it also formulated the questions presented to survey participants.
"The statewide survey utilized a random-digit-dial sample of both landlines and cell phones provided by Survey Sampling International," according to PARCA. "The survey produced 421 completed interviews yielding a margin of error of +/- 4.78%. Responses were weighted by race, gender and age to match state demographics."
When APR asked Berte if the survey included those who had used a financial product such as payday loans, he avoided the direct question saying they had conducted focus groups.
The statistics that Berte used to claim the state had the third highest concentration of payday lenders in the nation was from a study released in 2016, with information gathered in 2015 and earlier.
The study Berte quoted was before the reforms by the Legislature in 2015 were fully implemented. A study prepared for lawmakers show a nearly 50 percent drop in the number of payday lenders in the state — something Berte failed to mention. In 2013, there were 1,043 licensed payday lenders, statistics from the state now show only 609.
In his opening remarks, Berte said borrowers who rolled over their loans "an average of 12 times in a year could wind-up easily paying 456 percent interest." Berte said his figures are based on a report from the Alabama State Banking Department. Other speakers quoted the APR that consumers pay on payday loans, as well.
Payday lenders charge a flat fee for its loans, not compound interest or APR.
Most consumer loans do charge compound interest with an APR attached to those loans, however that is not true on payday loans which only charge a flat fee.
Equating a flat fee as Berte and others did with an annual percentage rate can confuse or mislead someone who is not familiar with industry standards.
President Trump has made rolling back Obama-era regulations on small consumer borrowing a part of his Make America Great Again agenda. When Garrett and Faulkner were asked if they supported MAGA, Garrett didn't equivocate saying, "I'm not a sycophant. I have my own opinions on issues."
Faulkner said APR's question about MAGA was unfair, at which time APR withdrew the question. However, Faulkner did take to the microphone to expand on his views saying he opposed certain CFPB regulations adding, "It's possible to — to examine on an issue-to-issue basis to take positions and not fall in line, in lockstep." Adding, "I don't think Donald Trump has looked at our laws and our payday lending law, and I don't think he has weighed in on our law. You won't find anybody more pro-business, pro-jobs, more pro-economic development, frankly less regulations for businesses than this guy."
He went on the say the state's current law has loop holes.
During the press conference, a sponsored poll, an outdated fact-sheet, misstating a fee as an interest rate and a horror story about a couple whose home was foreclosed on by a bank was the evidence given as to why the state needs to reform payday lending.
None of the speakers addressed the some 1,200 jobs that may be lost if their legislation is adopted, nor did they say where individuals who use payday loans can turn if payday lenders are driven out of business.
Orr left the presser early without taking questions.
In an email to APR after this story's initial publication a spokesperson for SPLC wrote, "[O]ur internal changes have not prevented us from participating in or hosting press conferences in Alabama or elsewhere.
Print this piece
Report: 92 percent of small employers negatively impacted by coronavirus
Thursday, the National Federation of Independent Businesses said that 92 percent of small employers surveyed report that they have been negatively impacted by the forced economic shutdown to fight the spread of the coronavirus.
The NFIB Research Center's latest survey on the current impact of the COVID-19 outbreak on small business shows continued deterioration of the small business sector. The severity of the outbreak and the regulatory measures that cities and states are taking to control it are having a devastating impact on small businesses.
92 percent of small employers are negatively impacted by the outbreak of the novel coronavirus. This is a marked increase from just ten days ago when 76 percent of small employers reported negative impacts to their businesses.
Only 3 percent reported that they are positively impacted. These firms are likely experiencing stronger sales due to a sharp rise in demand for certain products, goods, and services. Grocers, for example, are listed by government as essential businesses and are allowed to operate. With the closing of restaurants and all the schools means more people are eating their meals at home.
The NFIB believes that this will likely ease in the coming weeks as consumers feel more secure about their personal supply levels.
While State-specific data is unavailable, Alabama NFIB State Director Rosemary Elebash said, "Without a doubt, the coronavirus has taken a tremendous toll on Alabama's small businesses. Our members are determined to get through this, and they're working to apply for Paycheck Protection Program loans and other forms of financial relief so they can avoid layoffs and having to close the doors for good."
Alabama Lt. Governor Will Ainsworth said, "We have organized an Emergency Small Business Task Force to identify problems our businesses are facing during this difficult time. We need to bring clarity to issues and government orders that are often confusing and to effectively communicate solutions and direct business owners to resources that can help. NFIB is an indispensable member helping to guide this task force."
Nationwide, almost all small employers are now impacted by economic disruptions related to COVID-19. Just five percent of small businesses are not currently affected by the outbreak.
Of these businesses, 44 percent anticipate that changing if the outbreak spreads to, or spreads more broadly in, their immediate area over the next three months.
Of the small businesses that were negatively impacted. 80 percent report slower sales, 31 percent report that they are experiencing supply chain disruptions, and 23 percent report concerns over sick employees.
Even President Donald J. Trump (R) has expressed concerns that the cure may be worse than the virus.
The big questions for the economy going forward is how long are these extreme measures going to last going forward and how long can small businesses continue to operate under the current conditions?
About half of small employers report that they can survive for no more than two months of this. About one-third said that they believe they can remain operational for 3 to 6 months.
Many small business owners are anxious to access financial support through the new small business loan program in the CARES Act to help alleviate some of the financial pressures building up.
Just 13 percent of small employers reported not as severely impacted and expect that they can remain open indefinitely.
Almost all small business owners are taking some sort of action in response to the outbreak by adjusting to changing economic conditions or protecting themselves from potential disruption.
Only 5 percent of owners have not taken any action in response to the outbreak. This is a marked departure from more than half (52%) that reported not taking action three weeks ago.
The actions taken by most small employers are those related to recommended CDC steps to protect and prevent the spread of COVID-19 in the workplace including talking to employees about hand washing and social distancing and disinfecting and cleaning offices and workplaces more frequently.
56 percent have scaled-down or adjusted business operations. 26 percent have delayed payments to their creditors.
The level of concern among small business owners about the coronavirus impacting their business has increased significantly over the past three weeks.
About 72 percent of small business owners surveyed reported being "very" concerned about its potential impact on their business now compared to just 16 percent on March 10th. 22 percent said that they are "somewhat concerned". Only six percent surveyed said that are "slightly" concerned; while only one percent reported that they are not at all concerned.
Due to escalating financial stress on the small business sector, more small businesses are talking with their bank about financing needs than was the case 10 days ago. About 29% of small employers have talked with someone at their bank or with the Small Business Administration about finance options, and 23% are planning to do so soon. Another 38% of small employers have not, and do not, intend to do so.
The CARES Act includes new small business loans through the Paycheck Protection Program (PPP). Almost two-thirds of the small employers surveyed plan to apply for the loan. The PPP is another targeted loan assistance program to help small businesses weather the rapidly changing economic crisis.
The vast majority of small businesses are now impacted by the COVID-19 outbreak, and owners are taking the threat to their business seriously.
Many owners have already sought out financial help and more are planning to do so in the near future. The outbreak has left few, if any, owners unscathed. The economic impact is immense, and now, the questions are how long will this last and how quickly can the small business sector recover when this ends.
This survey was conducted with a random sampling of NFIB's 300,000 members. The survey was conducted by email on March 30, 2020. NFIB collected 1,172 usable responses. The small employers surveyed have between one to as many as 465 employees.
As of press time, COVID-19 has killed 6,096 Americans. 228,875 Americans have been confirmed as having active cases. Of these 5,421 are in serious or critical condition. Dr. Anthony Fauci estimates that between 100,000 to 200,000 Americans will die if the public will practice the social distancing policies that the administration is recommending to combat the spread of the coronavirus strain that causes COVID-19, SARS-CoV-2.
The number of American deaths from COVID-19 has doubled since Sunday and has been doubling every three or four days for weeks. The White House Coronav-2irus Task Force has presented modeling showing over one million American dead over the coming months if we do not practice their social distancing recommendations.
Print this piece