Zeigler says recent U.S. Senate poll was "fatally flawed"
State Auditor Jim Zeigler said a poll of the U.S. Senate Republican primary is "fatally flawed."
The state auditor said that the poll omitted four potential candidates with name recognition.
Those omitted included Zeigler himself, who has formed an exploratory campaign eyeing a possible run for the Senate seat now held by Democrat Doug Jones.
Zeigler pointed out that the Mason-Dixon Poll also left out former Auburn head football coach Tommy Tuberville; former governor Robert Bentley; and former Miss America Heather Whitestone.
"The results would be shockingly different if this had been a valid poll of potential candidates," Zeigler said. "This was a poll for a purpose. The Washington Insiders believe that Sen. Doug Jones cannot be re-elected unless the Republican nominee is Roy Moore. They left out candidates with name recognition and pockets of support to highlight a possible Jones v. Moore re-match."
Mason-Dixon Polling interviewed 625 registered Alabama voters by both landline and cellphone from April 9 to 11. The margin of error was plus or minus 4 percentage points. The margin of error was 5 percent. 400 registered Republican voters surveyed.
Tuberville has held his first campaign event in which he said that Donald Trump was his inspiration to seek public officer.
Former governor Robert Bentley has said that he is considering the senate race and obtained clearance from the prosecutor in his misdemeanor guilty plea to run despite a provision agreeing not to run for office. The plea agreement was to a state offense, and the U.S. Senate is a federal office. Also, Bentley's probation period is over.
Heather Whitestone is former Miss Alabama and the only deaf Miss America. She also announced that she is considering running.
The poll included former Chief Justice Roy Moore, Moore said that he is "prayerfully considering" a run. The National Republican Senate Leadership Committee has vowed not to support Moore if he gets the nomination; and to spend $millions in the Republican primary to prevent Moore from getting the nomination.
Senate President Pro Tempore Del Marsh, R-Anniston, has formed a team of professional advisors to explore a Marsh Senate bid.
Other candidates included in the poll were: former gubernatorial candidate, and the son of two term governor Fob James, Tim James, and three Alabama congressmen: Mo Brooks, Gary Palmer and Bradley Byrne. Byrne and Tuberville are the only declared candidates. Byrne has begun campaigning across the state.
The poll showed Moore leading with 27 percent. He is followed by: Brooks at 18 percent, Byrne at 13 percent, Palmer at 11 percent, Marsh at 4 percent, and James a 2 percent. 25 percent of likely Republican primary voters said that they are still undecided.
"I expect the leader board to be quite different when a valid poll is run that includes me and other potential candidates with name recognition," Zeigler predicted. Zeigler says inclusion of his own name would "take some votes from the large undecided column, some Constitutionalists away from Roy Moore, and some Mobile and Baldwin area votes away from Bradley Byrne."
Zeigler said that he thinks that the inclusion of Tuberville in the poll would "take some votes from the undecided column and some name recognition votes away from Moore."
The qualifying deadline is not until November 8.
The Republican primary is March 3, 2020.
Senator Doug Jones has expressed confidence that he can beat any Republican nominee.
Trump Truck and boat parades this weekend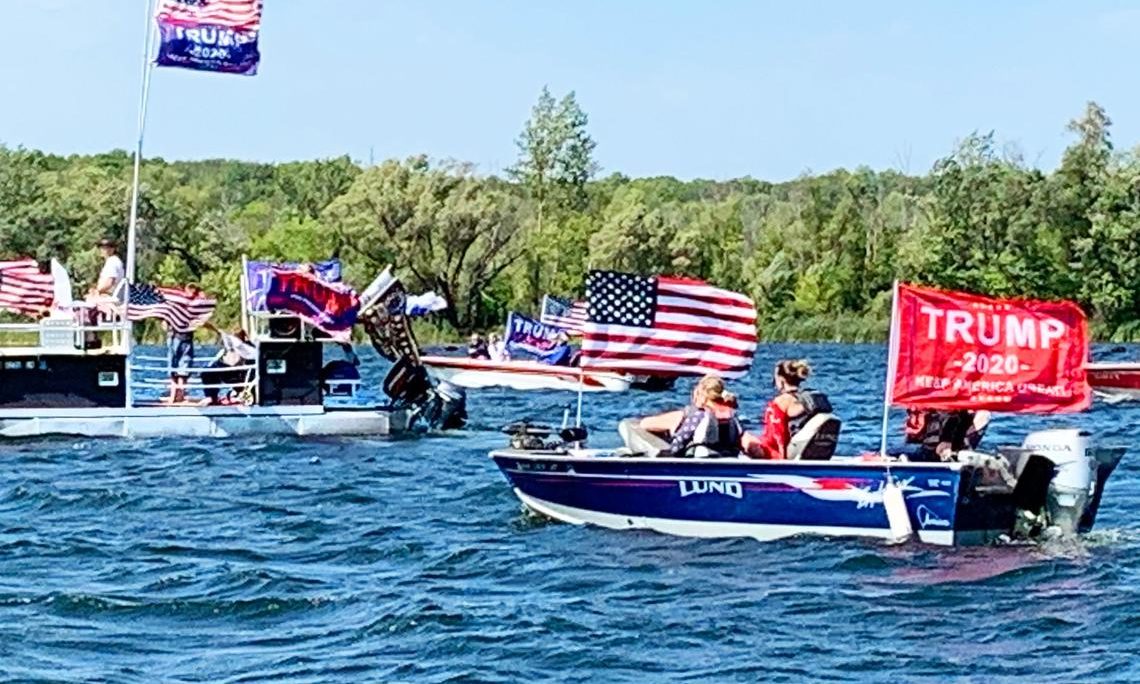 As Election Day draws near, Alabama Republicans are excited about promoting the re-election of Donald J. Trump as President and the election of Tommy Tuberville for U.S. Senate. This weekend two pro-President Trump events are happening in the state. There will be a truck parade from Ashland to Phenix City on Saturday sponsored by the Clay County Republican Party, while there will also be a boat parade on Wilson Lake in the Shoals sponsored by the Colbert County Republican Party on Sunday.
The pickup trucks will assemble at the Ashland Industrial Park in Clay County, 8240 Hwy 9, Ashland. There is a pre-departure rally at 10:00 a.m. central standard time. The trucks will depart at 11:00 a.m. and then proceed on a parade route that will take them into the bitterly contested swing state of Georgia. The Trump Pickup Parade will wind through east Alabama and West Georgia traveling through LaGrange and Columbus before concluding near the Alabama/Georgia line in Phenix City, 332 Woodland Drive, Phenix City at approximately 2:00 p.m. central time. Speakers will begin at 3:00. Trump flags will be on sale at the event.
The Phenix Motorsports Park will be hosting what sponsor hope could possibly the world's largest Pickup Tuck parade in U.S. history that is routing over 50 mile through Georgia in effort to "pickup" President Trump's numbers in GA.
A number dignitaries have been invited to address the Phenix City rally, including Coach Tuberville. Former State Sen. Shadrack McGill, Trump Victory Finance Committee member former State Rep. Perry O. Hooper Jr., and Paul Wellborn, the President and CEO of the largest Family owned Kitchen Cabinet manufacture in the USA are among the featured speakers who have committed to speak at the event.
Entertainment will be provided by: Charity Bowden, an up and coming country music singer who was the runner up on "The Voice". Charity will sing 'I am Proud to be an American' as well as songs from her Voice performances. The McGill Girls will also perform. The three beautiful and talented sisters will be singing patriotic songs in three part harmony. Geoff Carlisle, a professional DJ will be keeping the crowd pumped with music and entertainment.
Following the speakers and the entertainment there will Trump truck-vs- Joe Bidden truck races down the drag strip for the finale.
The Northwest Alabama boat parade will be on Sunday. The boats will gather at 2:00 p.m. near Turtle Point and then the flotilla will parade around the open waters of Wilson Lake til 3_00 p.m.. There will be a contest for best decorated Trump boats.
Trump supporters have held a number of large boat parades across the state to show their support for the re-election of Pres. Trump.
Boat parade sponsors say that this parade will be: pro-American, pro-law enforcement, pro-military.