Alabama voting survey finds overwhelming bipartisan support for caregiver assistance
A new survey of Alabama registered voters ages 40-plus finds that the vast majority, 82.3 percent, of current caregivers said they will provide future caregiver or assistance on an unpaid basis to an adult loved one. It also found that eight in 10 voters think it is very important to have more community resources and training for family caregivers.
The survey of 1,000 registered voters ages 40-plus conducted by AARP Alabama in February and March also found that 70.4 percent of current caregivers are feeling stressed and 61.1 percent of current working caregivers are stressed trying to balance work and family.
AARP is fighting to support America's 40 million family caregivers who help make it possible for older Americans to live independently at home — where they want to be. One measure being considered this week in the Alabama Statehouse will bring needed support to Alabama's 761,000 caregivers.
The bipartisan Alabama Family Caregivers Act, Senate Bill 376, sponsored by Sens. Vivian Figures and Steve Livingston, has already been enacted in 39 states. This commonsense legislation based on three proven practices supporting the family caregiver works to prevent hospital readmissions and helps reduce caregiver stress.
Voters show overwhelming bipartisan support for all three proven practices of the Family Caregivers Act:
– Ninety-five percent feel hospitals should be required to explain and demonstrate any medical or nursing tasks family caregivers will need to perform after the patient returns home.
– Ninety-two percent believe hospitals need to keep a family caregiver informed of major decisions,
like transferring or discharging the patient.
– Eighty-five percent favor requiring hospitals to record the name of a patient's family caregiver in
the medical record upon admission.
"More than half, 58 percent, of current and former caregivers are taking care of parents, meaning that many have to balance the demands of work, their own children and other needs," said AARP Alabama State Director Candi Williams. "That is why there is such strong support for this simple measure that will make their labor of love less stressful and demanding."
Alabama's family caregivers spend 708,000,000 hours each year caring for loved ones – a contribution totaling about $7.7 billion annually in unpaid care. They carry out tasks like managing finances, providing transportation, helping with bathing and dressing, cooking meals and more.
According to the survey, some family caregivers even take on complicated medical and managing medications. Once only done by doctors and nurses in hospitals, these tasks are now performed by family caregivers at home, most with little to no training.
"Family caregivers take on tasks that are exhausting, overwhelming, and stressful," Williams said. "And the Alabama Family Caregivers Act is a no-cost, commonsense step to make these big responsibilities a little bit easier while also saving taxpayers money by lowering hospital readmissions."
A copy of the 2019 survey can be found on states.aarp.org/alcaregivers.
AARP is the nation's largest nonprofit, nonpartisan organization dedicated to empowering people 50 and older to choose how they live as they age. With a nationwide presence and nearly 38 million members, AARP strengthens communities and advocates for what matters most to families: health security, financial stability and personal fulfillment. AARP also produces the nation's largest circulation publications: AARP The Magazine and AARP Bulletin.
To learn more, visit www.aarp.org or follow @AARP and @AARPadvocates on social media.
Pro-Growth Conference kicks off with Doug Jones, discussions on COVID impact and a living wage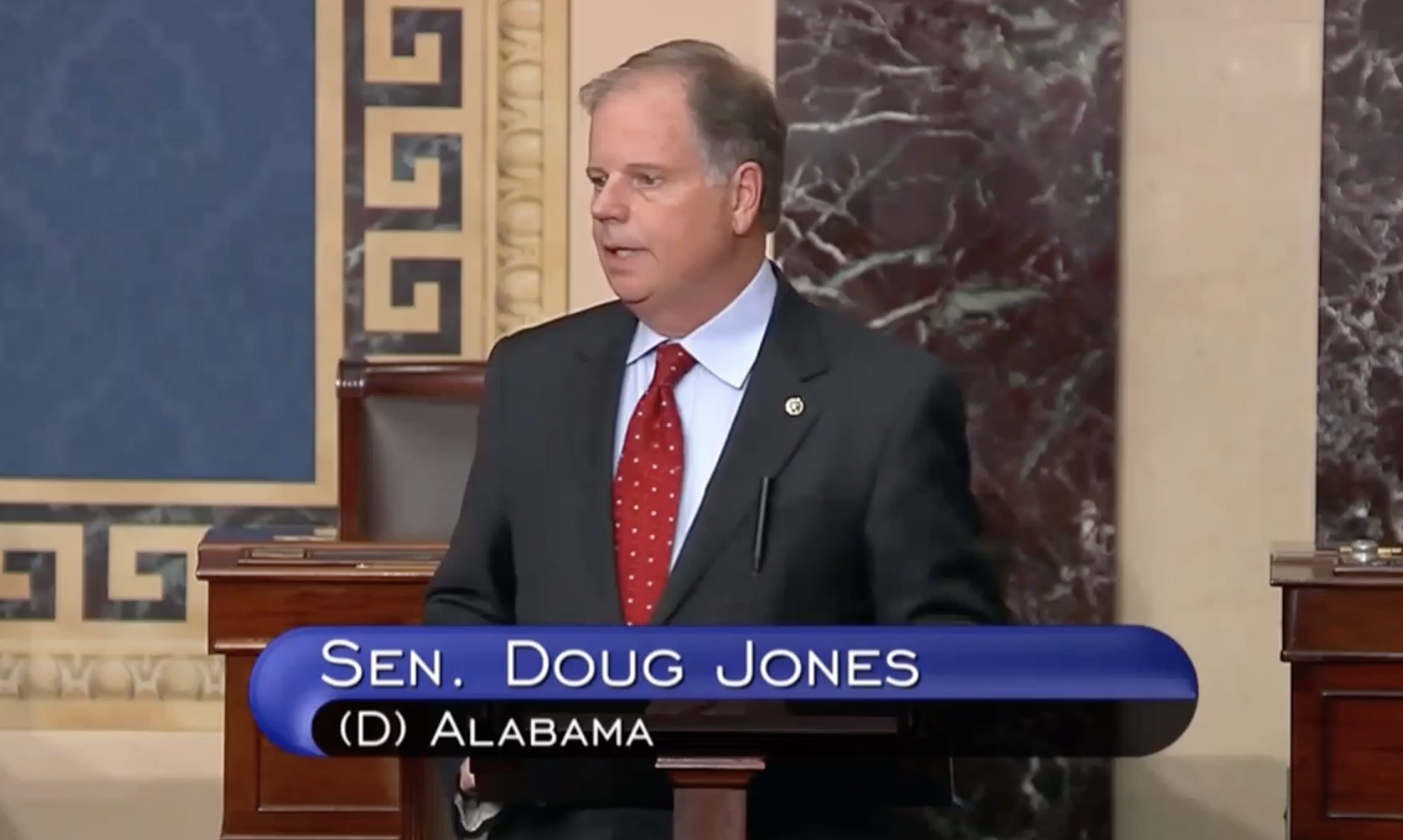 What happens if you just give impoverished citizens $500 per month — no strings attached? Good things, it turns out. The people use that income to buy food, medicine and basic necessities for life. They take a day off work if they're sick and actually get treatment. They quit a second, hourly-wage job that they are overqualified for and instead work towards obtaining a better, higher-paying primary job. 
These are things that the city of Stockton, California, has learned in its year-long living wage program.
The program, while limited in size — only 125 people — has proven to be a larger success than city officials had hoped, and it has opened their eyes to a new, more proactive style of governance, Stockton Mayor Michael Tubbs told Alabama elected officials. 
Tubbs was the featured speaker on Tuesday at the first day of the Pro-Growth Policy Conference, a three-day forum for Alabama elected leaders with guest speakers from around the country offering tips and best practices. 
The first day of the conference began with an opening talk from Sen. Doug Jones, who pressed the need for Medicaid expansion and how expansion has aided other red states. Jones also highlighted the need for broadband expansion and talked about a bill he has in the Senate that would create a broadband main office and dish out about $20 million in money for affordable access.
"Now (with COVID), we know how needed it really is," Jones said. "We see the homework gap that we have. We know there's a need for more telemedicine. My bill would consolidate in one office all of the monies for broadband … and provide affordable access."
Jones said the current COVID pandemic has highlighted just how badly we need better access to broadband in Alabama, and a major area of concern right now is healthcare. 
Highlighting that point, Brandon Garrett, the chief operating officer of the National Minority Quality Forum, and Dr. LaTasha Lee, the vice-president of social and clinical research, demonstrated the many ways in which inequality in health care and health care options is harming impoverished communities. 
A number of factors play into that inequality, but a lack of access to updated means of communication and tools is one of the biggest. 
"(Dr. Martin Luther King Jr.) said that, 'Of all the forms of inequality, injustice in health care is the most shocking and inhumane because it results in physical death,'" Lee said. "That's what we're seeing currently with COVID-19 and sickle cell disease. These two diseases are affecting the minority community and causing death, and they make a great argument that such health care disparities really are a social justice issue."
Correcting such issues was one of the goals of Stockton's living wage experiment. Now, Tubbs said, a working person can afford to stay home or get tested if they're feeling symptomatic, whereas before that person — scared of missing a paycheck or losing the job altogether — might come to work with the virus and infect an entire workplace. 
That alone, Tubbs said, has restored dignity to a number of residents. 
"This is not easy, especially with budgets the way they are," Tubbs said. "But I don't know how we continue to live with the status quo as it is.
"I think part of being a leader, as we are, is having the courage to do something about what we're seeing. We have to be able to do that."
The Pro-Growth Policy Conference will run both Wednesday and Thursday, 10 a.m. until 2 p.m. Wednesday's round of conferences will focus on state grants, economic development around the state and what the 2021 legislative session might look like. 
On Thursday, the event will wrap up with talks by the Equal Justice Initiative's Bryan Stevenson and Alabama Congresswoman Terri Sewell.