New abortion ban draws large protests to State Capitol, other cities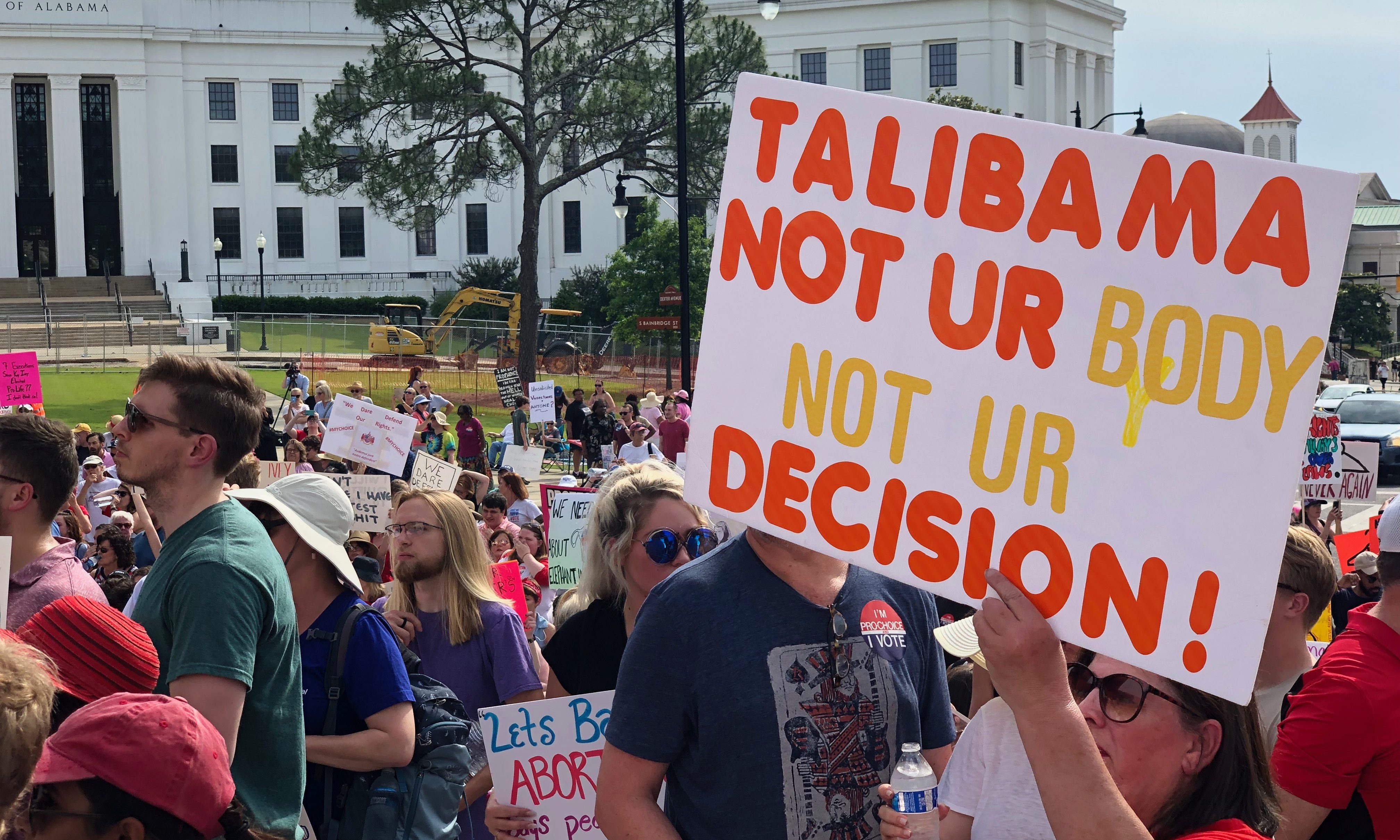 On Sunday afternoon, Alabamians protesting the abortion ban bill recently passed by 25 white Republican men in the Alabama Senate and signed into law by Gov. Kay Ivey, turned out in large numbers to protest the bill at a March for Reproductive Freedom held in downtown Montgomery
The large crowd was diverse in every way: gender, race, ethnicity, age and disability status. While the majority of protesters were females, males were significantly represented, many of whom wore brightly colored vests that read "Clinic Escort."
One of Montgomery's most famous downtown landmarks, the Court Square Fountain at the end of Dexter Avenue, was the gathering spot for the event organizers. People began arriving in a steady stream at around 3:30pm and the crowd grew quickly.
By 4 p.m, the march began and a large and vocal crowd of at least 500 protesters began walking up Dexter Avenue towards the steps of the State Capitol building.
Staci Fox, director of Planned Parenthood Southeast, held the megaphone at the front of the march and led the protesters with chants of "My body, my choice! Your body, your choice!" and "Vote them out! Vote them out!"
Marchers carried signs with statements such as "Stop the war on women!" and "Keep your theology off my body!" Many signs depicted coat hangers
Upon arriving at the State Capitol steps, rally attendees were greeted and heard from a series of speakers from the various advocacy groups opposed to the abortion ban bill, including the ACLU of Alabama, Hometown Action and Yellowhammer Fund, a nonprofit that helps low-income women obtain abortions. Emerge Alabama, an organization dedicated to recruiting and resourcing female political candidates, indicated that they are actively seeking female Democratic candidates to run for the Alabama Legislature.
Additionally, everyday Alabamians stepped forward to share their personal experiences with abortion. A powerful moment occurred when a female rally attendee in the crowd asked to come forward and share her personal story, something she stated she had never publicly done until that day.
She stepped up to the podium, paused and asked the crowd to please be patient in case she began to cry.
After a chorus of support from the crowd, she continued, "I am the 'exception to the rule' that everyone pushing this harmful bill keeps talking about. I was raped at age 13 and again at age 18. The second time I was raped, I became pregnant."
She explained that she confided in her parents, who helped her explore all options available to her.
"Option three was the clinic, the Planned Parenthood clinic. I chose the clinic and it was by far the best decision for me," she said.
She also discussed the nature of sexual trauma experienced by victims, stating that Alabama's abortion ban bill repeatedly traumatizes survivors of rape and other forms of sexual violence.
Elsewhere in Alabama, similar protest rallies were held this weekend. On Saturday, the Mobile protest rally began in the city's historic Bienville Square and included a march throughout downtown.
Most other protests, marches and rallies around the state were held on Sunday afternoon. In Birmingham, Democratic presidential candidate U.S. Sen. Bernie Sanders held a scheduled campaign rally at 4 p.m., just prior to the 6 p.m. Birmingham protest rally in Kelly Ingram Park, ensuring a large and enthusiastic crowd of more than 2,000.
In Huntsville, so many attendees were expected that the event was relocated to a larger venue to accommodate the anticipated crowd. Rep. Anthony Daniels, the Democratic Minority Leader in the Alabama House of Representatives and a member of the Huntsville legislative delegation, spoke out against the bill to a crowd of more than 1,000 protesters assembled in Butler Green Park.
Shoals area protesters also held a March for Reproductive Freedom in Florence.
Additional protests are planned throughout the state. Protesters in Anniston have announced a protest rally at 5 p.m. on Noble Street, while Auburn High School students will rally and protest at the State Capitol in Montgomery on Saturday at 10:30 a.m.
Pro-Growth Conference kicks off with Doug Jones, discussions on COVID impact and a living wage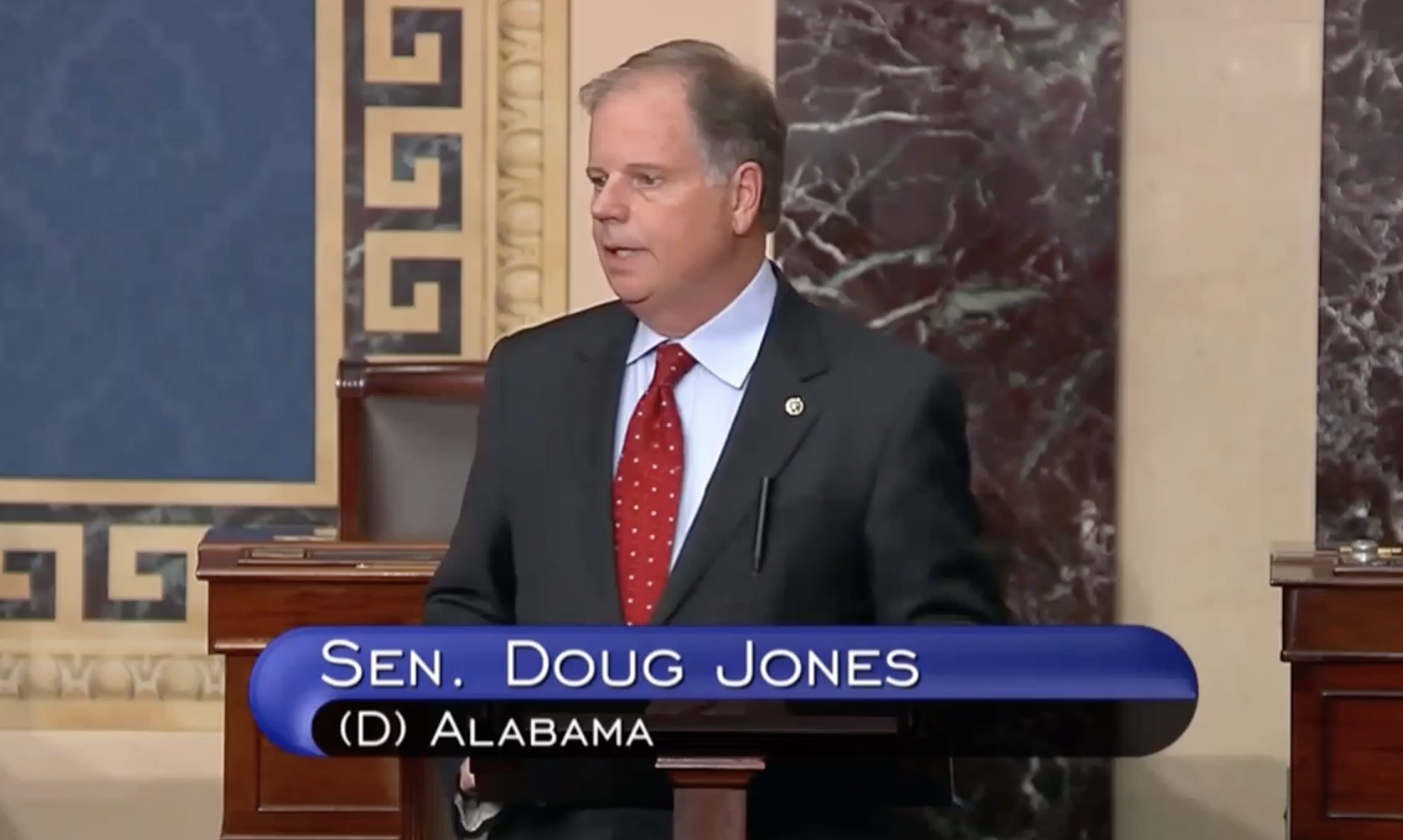 What happens if you just give impoverished citizens $500 per month — no strings attached? Good things, it turns out. The people use that income to buy food, medicine and basic necessities for life. They take a day off work if they're sick and actually get treatment. They quit a second, hourly-wage job that they are overqualified for and instead work towards obtaining a better, higher-paying primary job. 
These are things that the city of Stockton, California, has learned in its year-long living wage program.
The program, while limited in size — only 125 people — has proven to be a larger success than city officials had hoped, and it has opened their eyes to a new, more proactive style of governance, Stockton Mayor Michael Tubbs told Alabama elected officials. 
Tubbs was the featured speaker on Tuesday at the first day of the Pro-Growth Policy Conference, a three-day forum for Alabama elected leaders with guest speakers from around the country offering tips and best practices. 
The first day of the conference began with an opening talk from Sen. Doug Jones, who pressed the need for Medicaid expansion and how expansion has aided other red states. Jones also highlighted the need for broadband expansion and talked about a bill he has in the Senate that would create a broadband main office and dish out about $20 million in money for affordable access.
"Now (with COVID), we know how needed it really is," Jones said. "We see the homework gap that we have. We know there's a need for more telemedicine. My bill would consolidate in one office all of the monies for broadband … and provide affordable access."
Jones said the current COVID pandemic has highlighted just how badly we need better access to broadband in Alabama, and a major area of concern right now is healthcare. 
Highlighting that point, Brandon Garrett, the chief operating officer of the National Minority Quality Forum, and Dr. LaTasha Lee, the vice-president of social and clinical research, demonstrated the many ways in which inequality in health care and health care options is harming impoverished communities. 
A number of factors play into that inequality, but a lack of access to updated means of communication and tools is one of the biggest. 
"(Dr. Martin Luther King Jr.) said that, 'Of all the forms of inequality, injustice in health care is the most shocking and inhumane because it results in physical death,'" Lee said. "That's what we're seeing currently with COVID-19 and sickle cell disease. These two diseases are affecting the minority community and causing death, and they make a great argument that such health care disparities really are a social justice issue."
Correcting such issues was one of the goals of Stockton's living wage experiment. Now, Tubbs said, a working person can afford to stay home or get tested if they're feeling symptomatic, whereas before that person — scared of missing a paycheck or losing the job altogether — might come to work with the virus and infect an entire workplace. 
That alone, Tubbs said, has restored dignity to a number of residents. 
"This is not easy, especially with budgets the way they are," Tubbs said. "But I don't know how we continue to live with the status quo as it is.
"I think part of being a leader, as we are, is having the courage to do something about what we're seeing. We have to be able to do that."
The Pro-Growth Policy Conference will run both Wednesday and Thursday, 10 a.m. until 2 p.m. Wednesday's round of conferences will focus on state grants, economic development around the state and what the 2021 legislative session might look like. 
On Thursday, the event will wrap up with talks by the Equal Justice Initiative's Bryan Stevenson and Alabama Congresswoman Terri Sewell.