A Democratic lawmaker is already trying to repeal Alabama's abortion ban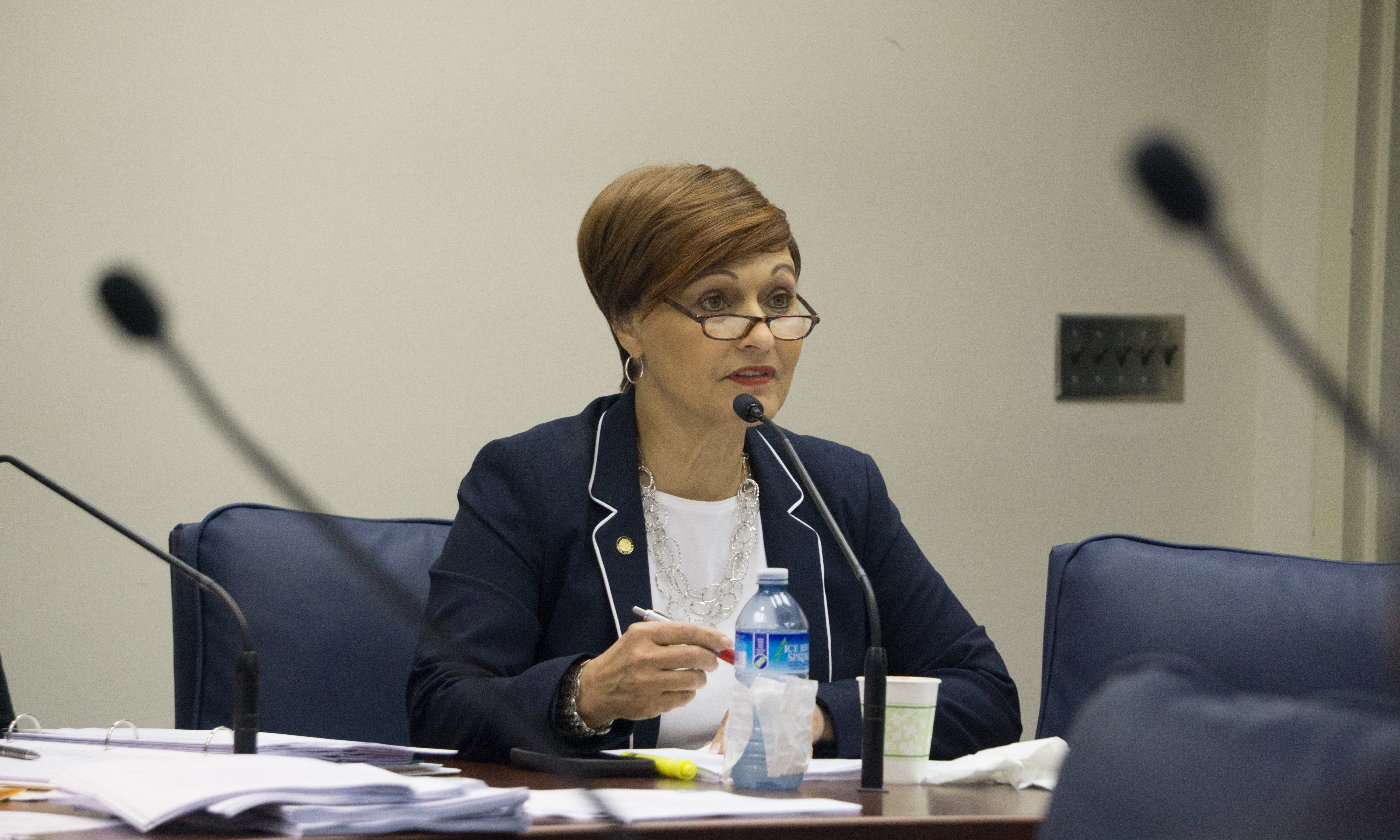 Alabama Democratic state Sen. Vivian Figures has filed a long-shot bill in the State Legislature that would reverse the near-total abortion ban approved and signed by Gov. Kay Ivey last week.
The repeal is unlikely to pass in either of the legislative chambers where Republicans hold supermajorities and passed the abortion ban along partisan lines. Every Republican present in the Senate last week voted for the ban.
Despite the low odds that the repeal would ever happen, Figures is hoping to send a message that Democrats are not happy with the ban, which would criminalize nearly all abortions even in cases of rape and incest.
"There are consequences for every decision we make as legislators, and for every vote we cast, there are ramifications," Figures said. "However, some of these effects are unintended, and I truly believe this has been the case for SB314. I do not believe my Republican colleagues had any idea what the consequences for passing this bill would be."
The only exceptions in the law are for the life of the woman seeking an abortion and if the fetus has a fetal anomaly, which would lead to the fetus's death.
Figures cited criticism from televangelist Pat Robertson, Sen. Mitt Romney and RNC Chairwoman Ronna McDaniel as reasons for reconsidering the law. National Republican leaders — including President Donald Trump — have distanced themselves from the law, which they said goes too far without exceptions for rape and incest.
"I felt that the least I could do was to offer a bill to repeal HB314 with the hopes that it would help to heal some of the wounds that my Republican brothers and sisters have inflicted on the great state of Alabama," Figures said. "Unfortunately, this bill is serving as a detriment to the entire state of Alabama in terms of revenues and in terms of healthcare, particularly for women."
The bill's sponsors said they wrote the bill with the intent of challenging Roe v. Wade, the 1973 decision that officially recognized a woman's right to an abortion, before a more conservative Supreme Court that appears primed to reconsider the precedent.
Alabama's law defines the fetus as a person, and the sponsors hope the court would agree if they ever take up the case. It's possible — if not likely — that the law will never go into effect. Lower federal courts are likely to enjoin the law. It would go into effect in six months without an injunction.
Figures said national and international concern about the measure could hurt Alabama's business environment and tourism industry.
"I have heard from people all over the country saying they planned a vacation to Alabama's beautiful beaches, but when this extreme abortion ban was signed into law, they immediately canceled those plans," Figures. "If we care about the future and well-being of our state, this law must be repealed."
It's unlikely that Figures' repeal measure would make it before a committee before the Legislature adjourns sine die to end this year's legislative session. Though there are several legislative days left, lawmakers hope to be done by the end of May, further limiting the window for Figures' legislation to be considered.
Print this piece
House passes bill to make it a hate crime to attack law enforcement
The Alabama House of Representatives passed legislation Thursday that would add law enforcement officers to Alabama's hate crimes statute. It now moves to the Senate.
The House passed HB59 by a margin of 92 to 0.
Under current law a crime become a hate crime if a person is victimized because of their race, creed, or disability. Murder to make money, in a crime of passion, or in the commission of a crime is murder. If a racist targets a person because of their race, then it become a hate crime and additional sentencing enhancements kick in under Alabama sentencing guidelines. House Bill 59 would make targeting a member of law enforcement because they are a member of law enforcement also a hate crime.
House Bill 59 is sponsored by State Representative Rex Reynolds (R-Huntsville).
Reynolds said that Alabama Attorney General Steve Marshall supports the legislation.
"An attack on law enforcement in Alabama is an attack on all of her citizens—an attack on all Alabamians.…" Marshall said on social media. "If you take the life the life of a law enforcement officer, you will likely have forfeited your life as well."
Marshall stated, "To the brave men and women who wear that badge, my heroes: Don't give up. Don't lose heart. Keep fighting the good fight, because your cause is righteous. Know that you have our support and our eternal gratitude."
Reynolds said that attacks on law enforcement, whether it is throwing water on them, assaults, or assassinations are up across the country. "We are not going to stand for it anymore."
State Representative Mary Moore (D-Birmingham) said, "I support the bill, but there are too many guns on the street."
Moore proposed banning high powered rifles and AR-15s. "We need to level the playing field for them." :We stand ready to come up with a bipartisan bill to curb the number of guns on the street. We need men and women who are not afraid of the National Rifle Association."
"We have got to change how police officers are treated," said Rep. Allen Treadaway (R-Morris). "I have been to too many police funerals."
Treadaway is a police captain with Birmingham Police Department.
"The disrespect for police officers is unprecedented," Treadaway said. "I have been a law enforcement officer for 30 years and I have not seen anything like it. We can't hire police. We can't retain police."
Rep. Artis "A. J." McCampbell (D-Livingston) said, "We have had eight police officers killed in the last 13 months."
"How do we enhance the crimes when we already have a capital case for the murder of a police officer?" McCampbell asked.
Reynolds said that the sentence enhancements would apply when the police were targeted; but it is not a capital crime. 6,500 police officers were assaulted last year.
Reynolds said that harming an officer while attempting to escape or resisting arrest would not qualify as a hate crime. Attacking police because the motive is hate of the police would be a hate crime and then sentencing enhancements would apply.
Reynolds said that under current law if they are convicted of a capital crime of killing the police they get the death penalty.
Rep. John Rogers (D-Birmingham) said, "Is there a way to just give them the death penalty without going through all the appeals?"
Reynolds said, "I sure wish we could."
Rogers said, "The death penalty should be automatic."
Rogers daughter Mary Smith mas murdered.
"It has to be adjudicated in the court system before these enhancements would not come into play," Reynolds said. "I hope there will come a day when a bill like this is not needed because people respect law enforcement."
Rep. Arnold Mooney (R-Indian Springs) said that the police, sheriffs, and other law enforcement and first responders at the thin blue line protecting us and our families.
Mooney is a Republican candidate for U.S. Senate.
Print this piece