Jones' bill to alleviate "kiddie" tax hike on gold star families passes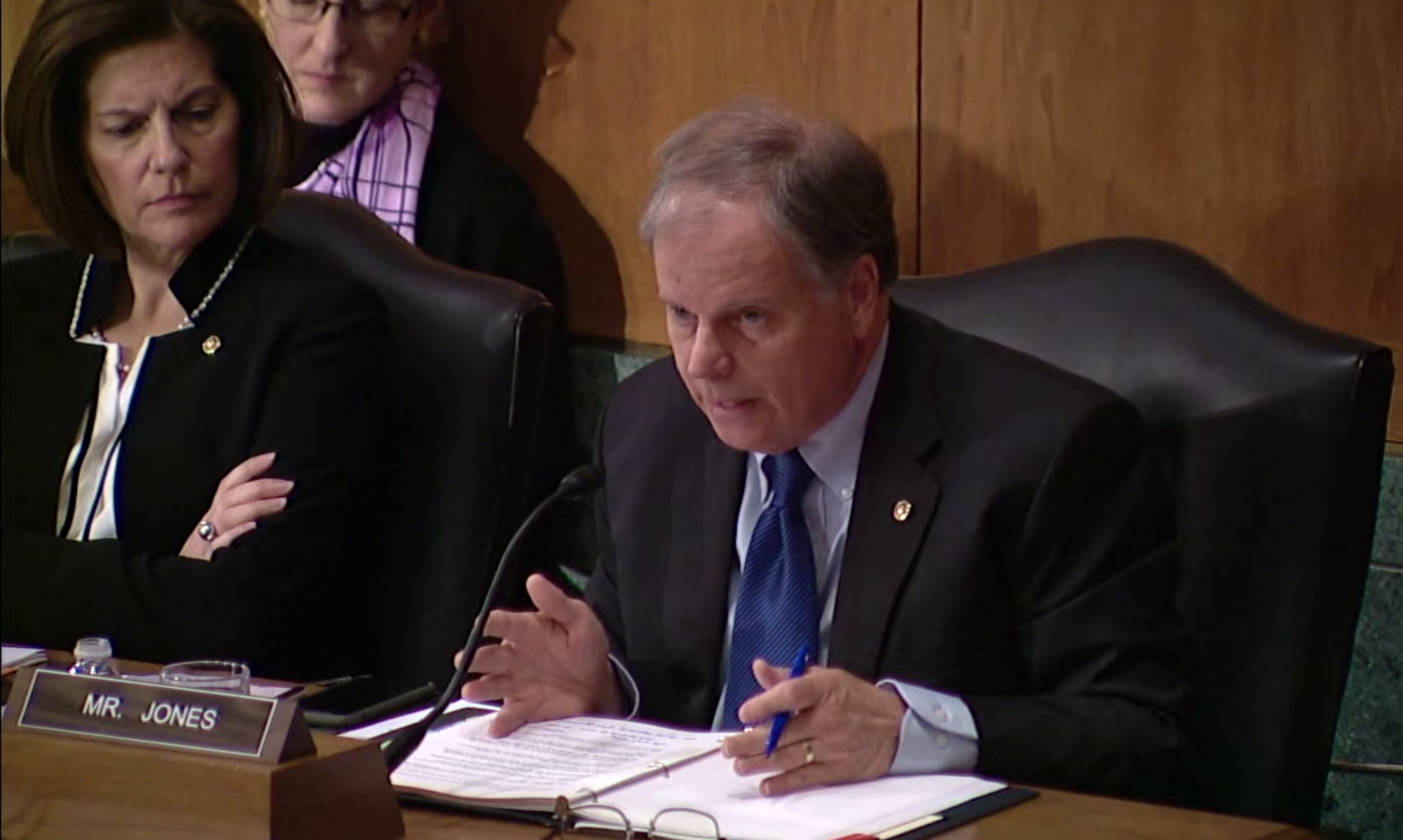 U.S. Sen. Doug Jones, D-Alabama announced Tuesday that the Gold Star Families Relief Act passed the Senate with unanimous bipartisan support. The bill was introduced earlier in May by Jones, Sen. Bill Cassidy, R-Louisiana, and a bipartisan group of senators. It is intended to provide tax relief for survivor benefits that children who have lost a parent during military service receive.
In the 2017 Tax Cuts and Jobs Act, there was a provision that raised the taxes on these survivor benefits to as high as 37 percent. This is referred to as the "kiddie tax."
"Gold Star families have sacrificed so much for our nation, and passing this legislation to remove the exorbitant tax on surviving children's benefits is the least we can do," Jones said, who is a member of the Senate Armed Services Committee. "We can never truly thank these families enough for the sacrifices that they have made, but we can do everything in our power to honor and care for them. I am proud to have the bipartisan, unanimous support of the entire Senate in passing this bill."
Jones also recently introduced another piece of legislation to repeal the "widow's tax," a law that prevents as many as 65,000 surviving military spouses nationwide from receiving their full survivor benefits from both the Department of Defense and Veterans Affairs.
The legislation is called the Military Widow's Tax Elimination Act. Incidentally, many of the families who are affected by the widow's tax are also affected by the separate kiddie tax.
The widow's tax has caused many gold star parents to put their DoD benefits in their children's names in order to collect the full survivor benefits they are due and have also paid for in the form of annuities for a voluntary DoD life insurance program. Jones' Military Widow's Tax Elimination Act has garnered 68 sponsors, which means it has enough support in the Senate to be immune to a veto.
Mark McDaniel reappointed to NASA Human Exploration and Operations Advisory Committee
Congressman Mo Brooks, R-Huntsville, announced Thursday NASA administrator Jim Bridenstine's reappointment of Huntsville's Mark McDaniel to a two-year term on the Human Exploration and Operations Committee of the NASA Advisory Council.
Brooks initially recommended McDaniel in 2018 to Bridenstine. Bridenstine is a personal friend and former House colleague of Brooks. Brooks cited McDaniel's past record of exemplary service on the NASA Advisory Council. The NAC is NASA's highest civilian advisory board.
"Mark McDaniel has done an exemplary job advising NASA on its future missions as a member of NASA Advisory Council's Human Exploration and Operations Committee," Brooks said, praising the decision. "Mark's past service and qualifications make him an excellent choice for reappointment to another term on the committee. I congratulate Mark on his reappointment."
"I greatly appreciate my friend NASA Administrator Jim Bridenstine for his thoughtful consideration in reappointing Mark McDaniel," Brooks continued. "Jim's leadership at NASA has been exemplary, and I am glad he recognized Mark's contributions to this important NASA advisory committee."
"Mark McDaniel has been a dedicated member of the NAC for several years, and we look forward to him continuing to provide his expertise to the Committee," said Bridenstine. "As we prepare to go forward to the Moon and beyond, it is critical that NASA has top experts like Mark on our team. His wealth of knowledge is a great benefit to the Artemis program, as well as our mission to send human explorers to Mars."
"Congressman Mo Brooks has provided great leadership to our nation, state and NASA," McDaniel said. "I thank Congressman Brooks for recommending my reappointment to the NASA Advisory Council- Human Exploration and Operations Committee."
"I am confident that under the leadership of Administrator Jim Bridenstine and the tremendous team he has put together, our nation will put the first woman and next man on the Moon by 2024," McDaniel added. "Under Administrator Bridenstine's leadership NASA is setting the stage for human exploration of Mars and the heavens beyond."
Then-NASA administrator Daniel Goldin appointed McDaniel to the NASA Advisory Council in October 2000, and then-NASA administrator Sean O'Keefe reappointed McDaniel to the council in November 2002 and November 2004. During McDaniel's tenure on the NAC, President George W. Bush announced the "Moon, Mars, and Beyond Initiative," which set the nation on a more aggressive pace for space exploration.
On Jan. 26, 2007, McDaniel received the NASA Public Service Medal for his "Leadership and Council to America's Space Agency, his advocacy of Human Space Flight and Exploration and dedication to the Aerospace Community at large."
Brooks is in his fifth term representing Alabama's 5th Congressional District. NASA and its contractors are a major employer in the 5th District.