Ivey approves pay raises, bonuses for corrections officers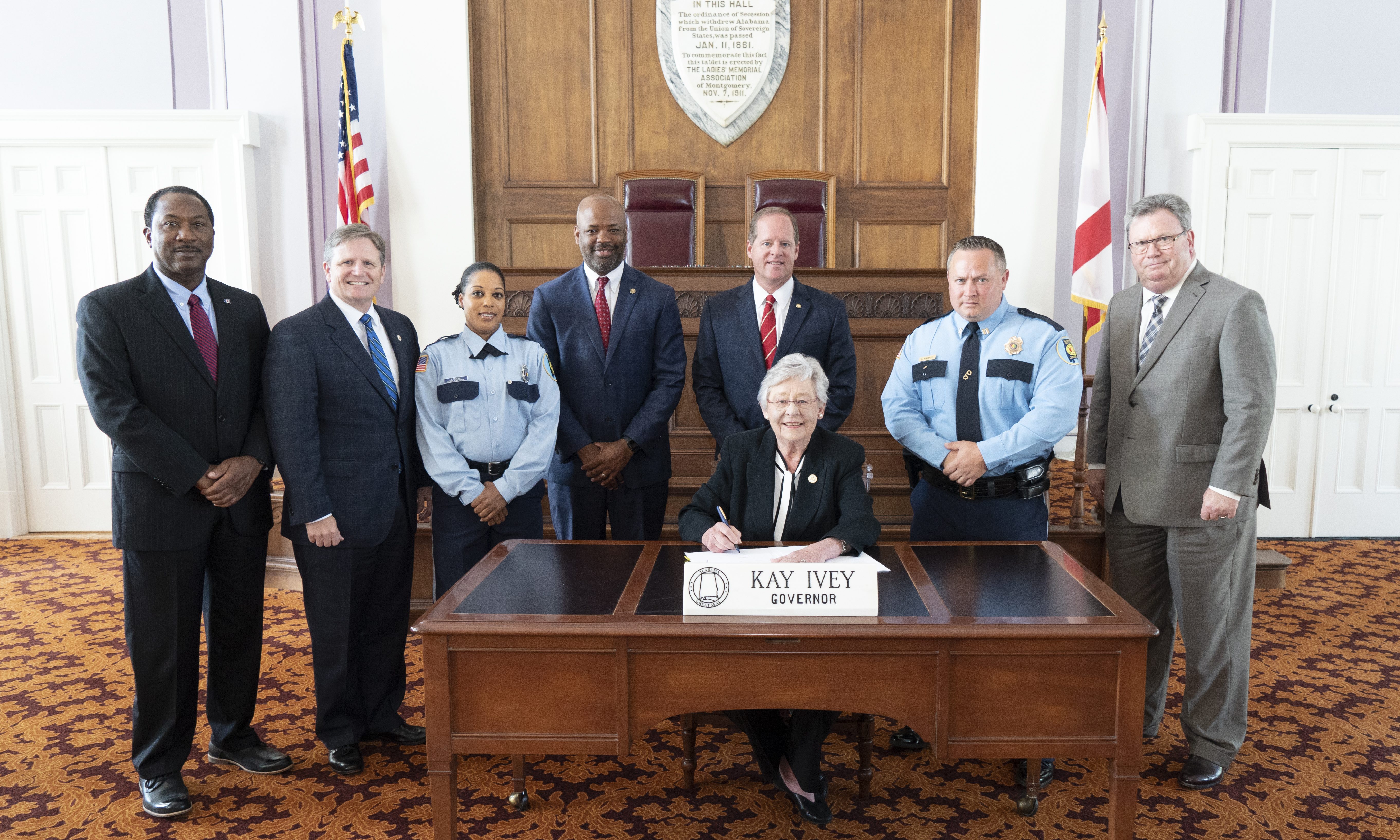 Some corrections officers in Alabama will soon be getting a pay raise.
Gov. Kay Ivey has signed a bill into law that would provide a two-step pay raise for certain employees of the Alabama Department of Corrections. The measure all expands the incentive program to include bonuses for officers who get additional training achievements.
"While there is no single solution to the multi-faceted, complex problems of Alabama's prison system, this legislation is an important step in fully staffing our correctional facilities," Ivey said. "This bill will go a long way in improving our recruitment and retention efforts, while addressing our understaffed prisons. I'm encouraged by the Legislature's tireless efforts and willingness to find common ground to provide an 'Alabama solution to this Alabama problem.'"
State Rep. Christopher England, D-Tuscaloosa, sponsored the legislation in the House.
The legislation is part of an ongoing plan to increase investment in Alabama's beleaguered and dilapidated corrections system. The pay raise for corrections officers is intended to improve officer retention rates after federal courts ordered the state to increase the number of officers in the system.
U.S. District Judge Myron Thompson ordered the Department to add about 2,200 correctional officers.
The governor said in a statement that by increasing pay and offering more incentives, ADOC can remain competitive in recruitment and improve retention rates of security personnel.
"This piece of legislation will put the Department of Corrections in a much better position moving forward," England said. "It is imperative we more adequately compensate current corrections officers in order to retain them while simultaneously giving a recruiting incentive for potential candidates in the future. This bill accomplishes these points and is why I chose to sponsor this bill."
The Legislature last week sent the state's General Fund Budget — which funds the corrections department — to conference committee after the Senate amended the House version. Both versions of the budget include increased appropriations for the Department of Corrections as lawmakers continue to grapple with a U.S. Department of Justice report that found conditions in the state's prison system potentially violate the Constitution.
The DOJ found that poor staffing contributed to the violent conditions in the prisons.
The entire funding increase for the Department of Corrections would be $46 million.
The legislation Ivey signed this week also includes a bonus incentive program for employees and correctional officers who reach certain training achievements and milestones. It also allows for certain employees to receive payment for any accrued and unused annual leave in excess of 480 hours, up to a specified amount.
"This is a monumental bill for the Department of Corrections in terms of providing a comprehensive one-time pay increase for our state correctional officers and security staff," said Corrections Commissioner Jeff Dunn. "This legislation sends a powerful message to those who want to pursue a career in corrections, and it provides a positive pathway forward for meeting the department's staffing needs."
Nine people protesting for Medicaid expansion arrested outside Alabama Capitol
Among those arrested was former State Sen. Hank Sanders.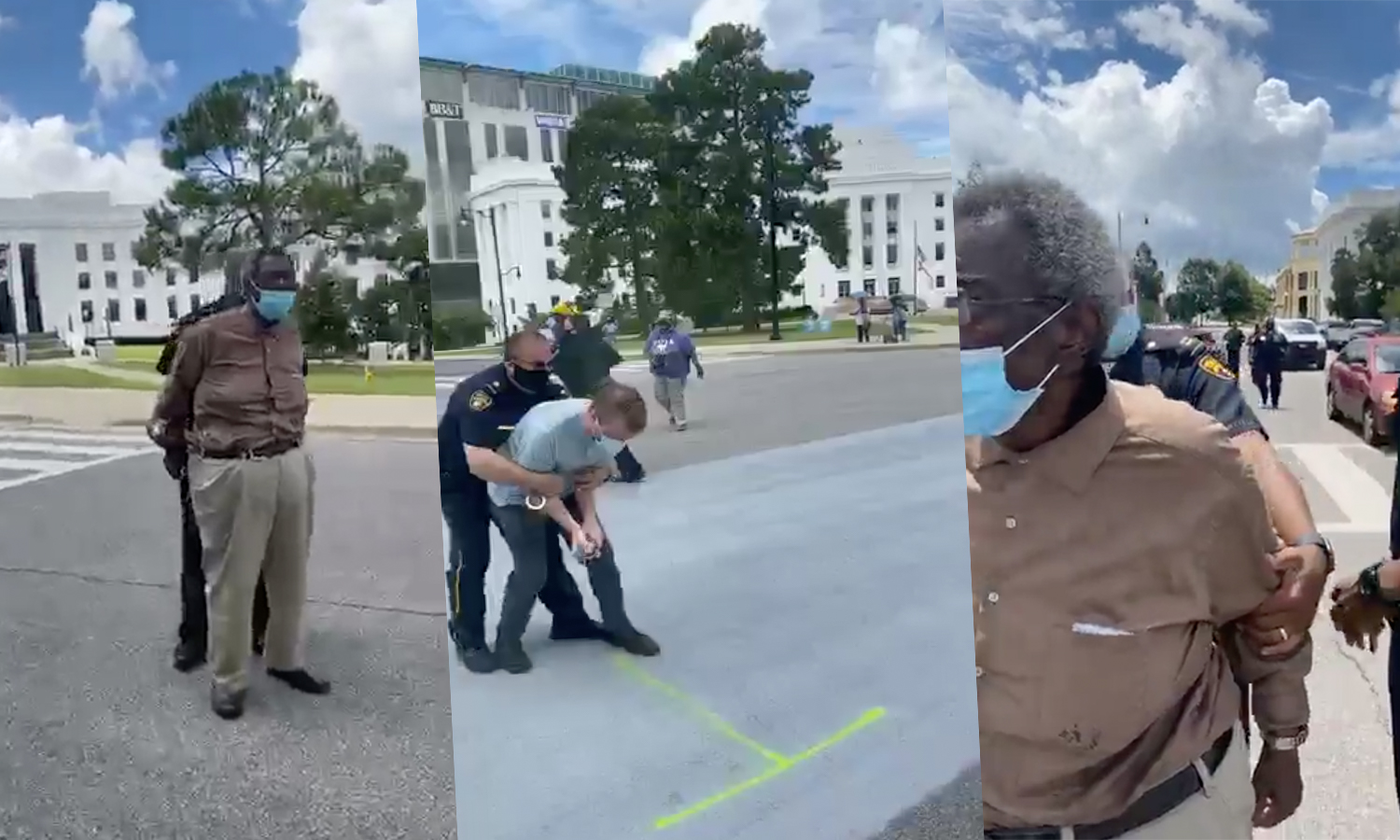 Nine people were arrested during a protest in front of the Alabama Capitol on Tuesday, which for some was the second time they'd been arrested this month while trying to bring attention to expanding Medicaid in the state and to the need for racial reconciliation.
As members of Alabama Black Lives Matter and Alabama SaveOurSelves held a demonstration Tuesday, which was live-streamed on former State Sen. Hank Sanders' Facebook page, some began attempting to spray paint the words "Good Trouble," a reference to the late Georgia Rep. John Lewis and his civil rights work, and "Expand Medicaid" on the street in front of the Capitol and were arrested.
Still, others began to try and spray paint onto the street and were also arrested, as can be seen in the video.
Among those arrested was Sanders, who could be seen in the video being handcuffed and loaded into a Montgomery Police Department vehicle, and his wife, 75-year-old Faya Rose Toure, an attorney, civil rights activist and former municipal judge.
The groups had planned Tuesday's demonstration to bring attention to their push to expand Medicaid and to the arrest of five members after a demonstration there on July 16, in which members tried to use yellow spray paint to paint the words "Black Lives Matter" and "Expand Medicaid" on the street. The five turned themselves into police on July 20.
Montgomery Police Department public information officer Capt. Saba Coleman in a press release Tuesday evening said that those detained had not yet been charged. Montgomery Police declined to identify those persons who were detained.
"On Tuesday, July 28, 2020, at about 12 noon, MPD responded to the area of the Capitol in reference to protesters painting the street in front of the Capitol steps. Upon arrival, MPD witnessed the protesters painting the street. At which time, MPD notified the City of Montgomery's Traffic Engineering Department regarding the painting of the street," Coleman said in the statement. "The paint was deemed noncompliant because organizers failed to request and obtain proper permitting and prior approval, which resulted in a crew being dispatched to the area. Protesters involved in the offense were subsequently detained; however, they were released with charges pending. There's no additional information available for release."
Faya Toure, Sanders' wife, attorney, civil rights activist and former municipal judge, speaking to APR on Tuesday morning before the demonstration said she planned to once again work to bring attention to the need to expand Medicaid in Alabama in order to save thousands of lives a year and that she's also addressed the arrests earlier in the month, of which she was one.
Sanders told APR on Monday that he was "mad as hell" over the arrests which included strip searches for the women but not for the men.
In an open letter to Montgomery Mayor Steven Reed, Toure wrote of her experience being strip-searched at the police station.
"Some say I should have resisted, but I did not," Toure starts the letter of, then describes the act of having to strip for officers. "Within minutes the ordeal that changed my soul was over."
In a statement, ACLU of Alabama noted that the latest arrests came "just days after a memorial service honoring Representative John Lewis was held on the same steps."
"Once again, we see Alabama police officers using the power of the government to unnecessarily seize and detain people who are exercising their constitutionally protected First Amendment right to assemble and protest," said Randall Marshall, executive director of ACLU of Alabama in a statement. "While the Constitution does not explicitly protect people from legal repercussions when protesting crosses into civil disobedience, we paid tribute mere days ago to the life and legacy of Representative John Lewis, a man dedicated to peaceful civil disobedience."
"His phrase 'good trouble' was called that precisely because protesting unjust laws means breaking those laws. Nevertheless, we have seen time and again that change does not happen without protesters who are willing to accept these consequences in order to upend the status quo and those who uphold it," Marshall continued. "We stand with these freedom fighters–in Montgomery, Hoover, and across the state of Alabama–who are continuing to fight for a more just and equitable world where every social problem is not addressed with handcuffs."