Strategic plan interview with ADOC Commissioner Dunn
Alabama's Department of Corrections Commissioner Jeff Dunn believes the department's new strategic plan is an essential part of moving the beleaguered prison system out of its dark past and into the future.
"A strategic plan in my judgment — given my Air force experience — is absolutely critical to pulling an institution together," Dunn said in an interview with the Alabama Political Reporter.
Nearly two years in the making, the detailed ADOC Strategic Plan for 2019-2022 is the first of its kind in Dunn's estimation.
"It sets a clear mission, and a clear direction based on our values of professionalism, integrity and accountability," Dunn said.
The plan, as Dunn explained, focuses on four areas: staffing, infrastructure, programming and culture.
"For too many years in the state, corrections were just all about providing some level of security, and some people have said it was even more akin to warehousing than it was actual corrections," Dunn said. "Our mission is to be professional corrections officers who provide safe, secure and humane incarceration — that's our job. But it must be safe, secure and humane."
For nearly 40 years, the state's prisons have been places where people convicted of state crimes have languished in near barbaric conditions. Recent rulings from the federal bench and an investigation by the U.S. Department of Justice have exposed the many horrors that befall those who are imprisoned by the state. Dunn acknowledges the problems that have occurred on his watch but has also been proactive in addressing the systemic culture of decades-old neglect.
Still, some lawmakers are reluctant to believe that conditions are as dire as federal reports have made evident. Dunn knows that area and believes the DOJ findings are helping to push needed reforms.
"The DOJ report brought attention and light to this situation in a way we haven't been able to do in the past," Dunn said.
Dunn said he presented the strategic plan to DOJ, and it has received a positive reception.
"The point I'm trying to make is we're not waiting on anybody," Dunn said. "We're moving out on this, and we're looking for folks to join us and to help us. We think the DOJ wants to do the same thing."
Dunn believes Gov. Kay Ivey has given "clear commander guidance," and that he and his team are working diligently to address not only the present needs but also offer a way forward.
Beyond the mere necessity of hiring personnel, improving infrastructure, offering inmate-centric programs and ensuring a professional culture among correctional officers is to begin the incarceration process with a goal of rehabilitation.
According to Dunn, nearly 95 percent of those inmates currently in state prisons will eventually be released back into society. "So then the question goes. Where do you start? What do you do?"
Dunn said the key lies in evidence-based practices.
The National Institute of Correction says evidence-based practice implies that "1) there is a definable outcome(s); 2) it is measurable; and 3) it is defined according to practical realities (recidivism, victim satisfaction, etc.)."
"The ability to apply evidence-based programs offers our inmates the treatment they need, if they need treatment, the education they need, if they need education and the vocational-skills training they need, if they need that, so that when they leave … they will return to society as law-abiding citizens."
Staffing
The first goal of the plan is to adequately staff state correctional facilities with high-quality professionals working in the security, medical and other non-security areas.
This portion of the plan focuses on ways to recruit, retain and grow the ADOC workforce through better compensation and improved workplace conditions.
During the recent Legislative Session, lawmakers approved an increase in salaries for correctional officers. HB468 sponsored by Rep. Chris England, D-Tuscaloosa, provides a two-step pay raise for individual employees of the Alabama Department of Corrections and expands the incentive program to include bonuses for new training achievements.
Over a year ago, ADOC commissioned a staffing study to determine personnel requirements.
"They basically came back and said that we need somewhere between 1,800 and 2,000 more correctional officers to staff our facilities," Dunn said. "And so, that report was then given to the court, and the court adopted in effect our staffing study to establish the requirement."
ADOC is now in the process of streamlining hiring as well as creating a new classification for correctional officers that will lead to better recruitment.
"We've created a new entry-level position. It's called the basic correctional officer," Dunn said. "Before, you would enter the department as a correctional officer trainee and then go to the academy. Instead of trying to change that whole system, we just backed up, and we said we'll bring you in as a basic correctional officer and will give you six weeks of training, which incidentally is more training than the Bureau of Prisons in a majority of other states. And then you can go into the facility and start working."
Dunn said he understands the challenges but believes that by having a concrete plan with clear milestones, ADOC will achieve its goals.
Infrastructure
"The DOJ focuses on the impact on the inmates and that is certainly where the Constitutional issues reside," Dunn said. "But I am equally focused on the environment my staff is working in. No one has a problem with the statement that the conditions of where you work matter to how much you enjoy your job and how well you do at your job."
Ivey's prison infrastructure plan calls for three new regional facilities, one of which will have additional space for centralized health and mental health care facilities for special needs populations. Each new facility will also include space for educational and vocational training programs.
Under the current system, Alabama's correctional operations are spread throughout the state. Under Ivey's plan, they will be centralized, allowing for enhanced security through updated structures and the implementation of current technology resources.
"Alabama's prisons were built as job-creators," Dunn said.
He said it's time to move beyond the politics of where prisons are located toward what is best for inmates, correctional officers and the state.
Programming
The third leg of ADOC's strategic plan is to improve the delivery of research and evidence-based rehabilitative programs for inmates.
"We don't just educate them for the sake of educating them. We educate them so that they can rehabilitate themselves and be productive citizens," Dunn said. "We don't give them drug treatment just because we're empathetic — we are — but the goal is to get them clean, so they can manage their life and get out, and then we don't teach them a trade just to teach them a trade."
This area of the plan will rely heavily on the recently published Male Inmate Risk Reduction Plan and Women's Services Strategic Plan, which details a strategy that will create an environment supportive of positive offender change and rehabilitation.
ADOC is currently piloting a similar program for male inmates.
"Once we have determined that that pilot for the males is working and working the way we want it to, we'll begin to replicate it around the state," Dunn said."With the idea of when we walk into the new facility, we're just taking that with us when we get inside."
Culture
The plan calls for improving the ADOC operating culture through the development and implementation of a strategic communication plan, the continued expansion of a holistic leadership development program and added staff wellness policies, procedures, programs and infrastructure.
"Your culture is those shared beliefs and values and behaviors in an institution," Dunn said. "There are some very rich, interesting things about DOC culture. It's not unlike military culture."
But Dunn admits there are some areas where a toxic culture has taken root.
"Admittedly, and the DOJ report addresses this; we've got some toxic areas in our system that affect and negatively impact our culture," Dunn said. "What we're trying to do is, number one, identify what our values are. Model those, starting with me, through the executive team and reinforce those."
Over the last several months, ADOC aided by hundreds of law enforcement officers has carried out widespread predawn raids to confiscate contraband and send a signal that the current lawlessness will not be tolerated.
While Dunn said these raids are a necessary measure, only a long-term strategy will cure what ails the troubled prison system.
"We have experienced challenging times for many years, but this strategic plan gives us a clear blueprint to build a better ADOC," Dunn said.
Dunn was appointed commissioner of the Alabama Department of Corrections on April 1, 2015, after serving 28 years in the United States Air Force and retiring at the rank of Colonel.
Print this piece
Legislators briefed on coronavirus crisis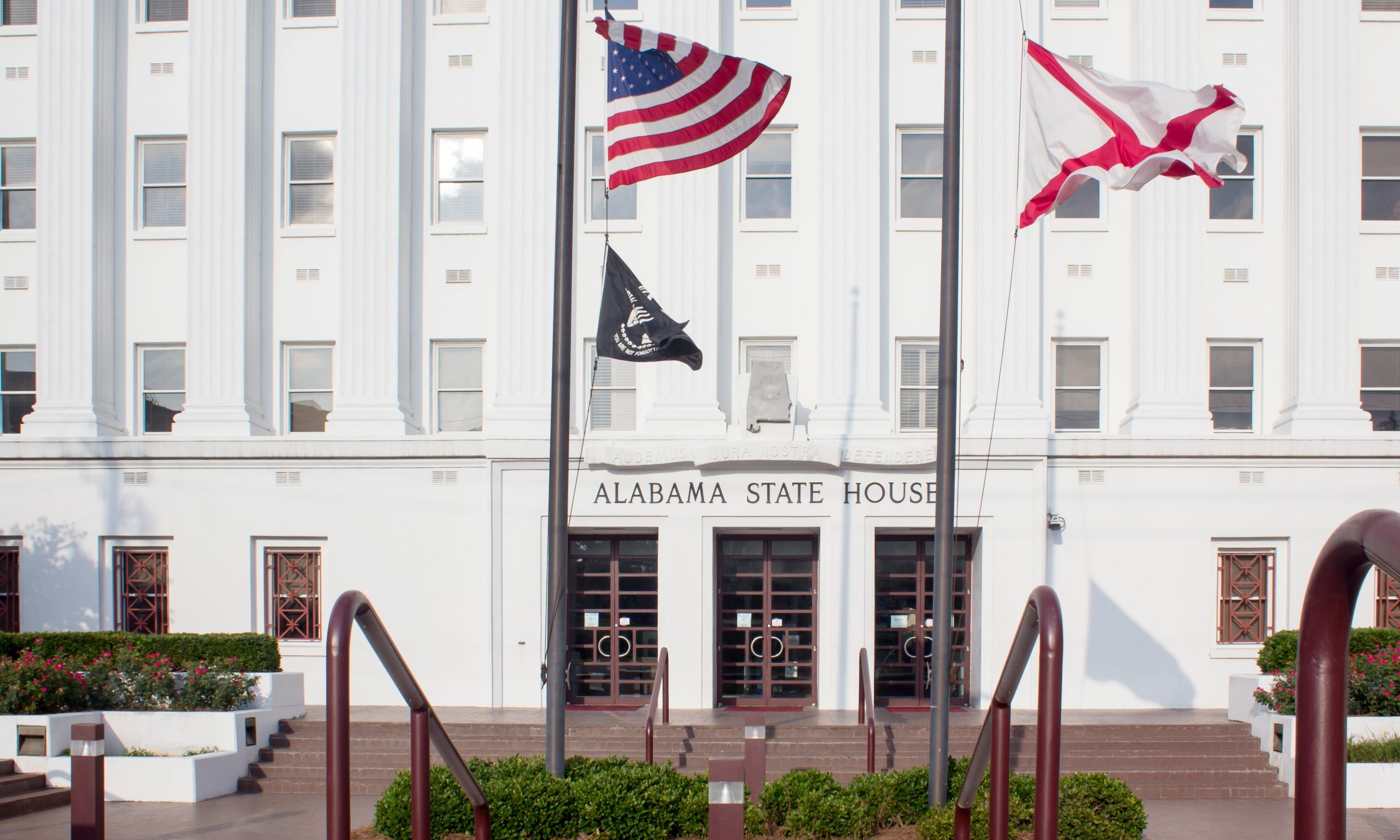 Alabama Gov. Kay Ivey and her team on Thursday briefed state legislators on the latest developments on the coronavirus crisis that has gripped the state for the last ten weeks.
State Public Health Officer Dr. Scott Harris told legislators that the state has 13,058 confirmed cases of coronavirus infection. 528 Alabamians have died from COVID-19 COVID-19 related. More than 250 of those deaths have occurred in nursing homes.
Harris said, "So far, we have been able to fulfill all requests for medication in hospitals."
Kelly Butler is the Alabama State Finance Director.
"The department is working diligently with each entity to provide aid/reimbursement throughout the state to responsibly use the CARES Act funding," Butler said.
Butler said that new guidelines that the federal government issued regarding the funding are extremely detailed. Legislators will be given a special form to provide input as to what category or entity they see has the greatest need. Counties and cities will be issued guidelines to know what they can and cannot apply for regarding reimbursements.
Butler said that a website is being worked on to provide updates regarding applying for funds. For now, this information can be found on the governor's website.
Department of Senior Services Commissioner Jean Brown also addressed legislators. Brown said that GA Foods has placed a successful bid with the Farmers to Families program. The Farmers to Families foods will be sending free foods to Alabama. The delivery of meals will begin after Memorial Day and end on June 30.
Alabama Department of Corrections Commissioner Jeff Dunn told legislators that 100,000 masks and 2,500 gowns have been produced by ADOC textile factory workers. The staff and inmates have been provided at least 4 masks for their protection. Inmates have also received individual bottles of soap and hand sanitizer provided thanks to community support.
Dunn said that as of May 20, 138 inmates have been tested for the coronavirus, with nine testing positive. One of those inmates has died due to a pre-existing health condition. The other eight have recovered. Each person that has tested positive has been properly quarantined.
Alabama Department of Labor Secretary Fitzgerald Washington briefed the group as well.
Washington said that more than $1 billion has been paid out in unemployment claims and that the department has processed 88 percent of COVID-19 related claims. Washington said that ADOL has paid out more in total benefits in the last three months than in the previous six years combined.
Washington said that unpaid claims are being looked at daily. Over 500,000 claims were filed in the last two months, more than the last two years combined.
Washington said that guidelines relating to issues such as "employees refusing to return to work when applicable" or "employee quits job instead of returning to work" may be addressed on the DOL website.
Washington warned that fraud claims and online scammers acting as ADOL online are happening and that citizens should be aware of such and report any fraudulent activity to ADOL immediately.
State Superintendent Dr. Erick Mackey addressed the group on the plans for the Alabama State Department of Education.
Mackey said that immediate guidance for reopening schools in June will soon be distributed. This would be for students in 7th grade and above. Students 6th grade and below will be able to attend school beginning in July.
Mackey said that the CDC guidelines that were released on Tuesday have not been adopted by ALSDE. Mackey said that some of these guidelines are not reasonable or doable in our state.
"There are many moving parts to creating new procedures, etc., so please understand we are taking into consideration that not one size fits all," Mackey said. "Our local schools will be making the final decisions as to what procedures are put in place for reopening."
"We hope to issue recommendations to our schools by 19 June regarding reopening for the 2020-2021 school year," Mackey told legislators. "We will be asking parents and students to implement new safety procedures, but these will be practical and easy to do."
"We will leave the start date entirely up to each local superintendent," Mackey continued. "We have asked that they assure they have time to prepare and adjust to the new procedures prior to opening."
Mackey said that as of now, all school systems will be starting at some point in August. Distance learning for at-risk children is being looked at and there will be some sort of options for those needing this. Special Needs students needing therapies, etc. are also being looked at heavily.
"There are many moving parts to reopening, so we are working diligently to keep every student and every situation in mind," Mackey said.
Later that afternoon, Ivey held a press conference to unveil the amended Safer At Home Order, which goes into effect at 5 p.m. today. The new orders, which opens many more businesses, will be in effect through 3 July.
Print this piece