Ivey signs free speech on campus bill
Thursday State Rep. Matt Fridy, R-Montevallo, and Sen. Jabo Waggoner, R-Vestavia Hills, commended Gov. Kay Ivey for signing legislation to protect free speech on all of Alabama's public colleges and universities.
House Bill 498 was sponsored by Fridy.
HB498 protects free speech on public university campuses in Alabama, and was approved by a bipartisan 24 to 1 vote in the Alabama State Senate and a 73 to 26 vote in the House of Representatives.
"I commend Governor Ivey for signing this important bill into law. Alabama's university campuses should be places where ideas are freely debated and students are exposed to a variety of viewpoints. Unfortunately, across the nation—occasionally even here in Alabama—college administrators have used unfair, arbitrary speech codes to silence speech that is deemed 'offensive.' Oftentimes, politically and religiously conservative groups are targeted. This law will protect all speech, wherever it may fall on the political spectrum," Fridy commented.
House Bill 498 requires taxpayer-funded, public universities in Alabama adopt speech policies for their campuses that will protect the First Amendment rights of their students and the free and open exchange of ideas.
In particular, the speech policies must make clear that the outdoor areas of a public college's campus shall be deemed a public forum for members of the campus community.
"Free speech is the cornerstone of our rights as Americans," Fridy said. "This law protects free speech at our colleges and universities, prohibits shout-downs and other behavior that inhibits the free exchange of ideas, and prohibits discrimination against student groups and invited speakers because of their beliefs — all the while still allowing schools to implement viewpoint-neutral regulations that protect the safety and welfare of students,"
Senator Waggoner said that protections for free speech on Alabama's college campuses were long overdue.
"I am glad to see that Governor Ivey has signed HB 498 into law," Waggoner said. "We are committed to ensuring that freedom of speech is not just a slogan, but a reality that will be equally and fairly applied to all students on Alabama's public college campuses. Allowing our students to listen to a variety of viewpoints, and without bureaucratic harassment, is long overdue."
The law stipulates that colleges may not establish so-called "free speech zones," which are small areas on college quads to which students are confined if engaging in speech activity that administrators deem to be hateful or offensive.
House Bill 498 also ensure that if hecklers choose to protest and intimidate guest speakers on college campuses, the universities cannot capitulate to the hecklers by forcing the speaker to pay for security costs that have arisen from the protest.
During the House floor debate, State Representative Napoleon Bracy (D-Prichard) opposed the bill and said that the primary role of university administrators should be the safety of the students on campus and that certain speech could potentially trigger violence in some students. Bracy argued that college administrators should have control over which speakers are allowed to accept invitations to come to their school.
State Rep. Juandalynn Givan, D-Birmingham, said that only alt-right speakers have been denied the opportunity to speak on campus and said that sponsoring this legislation exposed Fridy as a "White supremacist."
Most Alabama colleges opposed the legislation. The bill would not apply to private colleges and universities, like Samford, Springhill, and Birmingham Southern; because as private entities they are have the right to set their own standards. Fridy argued that public colleges and universities, as functions of the government, are obligated to follow the Bill of Rights.
HB498 was amended in the Senate so that it will not actually go into effect until July 1, 2020.
Fridy promised to meet with the college administrators before the next legislative session to listen to their concerns.
Print this piece
Gov. Ivey OKs release of some parole violators in jails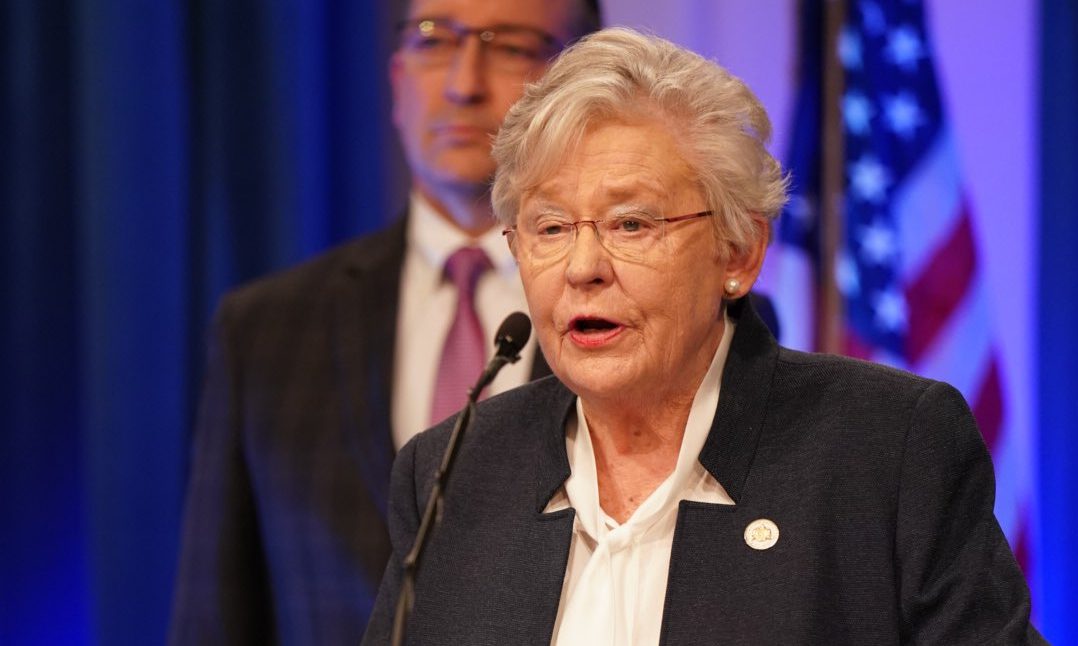 Gov. Kay Ivey is allowing the release of some alleged probation and parole violators in the custody of jails across the state. She's also issued a number of new directives to free up health care resources.
The measures are intended to slow the transmission of COVID-19 and prepare for a rise in hospitalizations.
In a new executive order, Ivey is allowing sheriffs and local officials across the state to release some inmates being held in jails on alleged probation or parole violations if those inmates have been in jail custody for more than 20 days without a parole or probation hearing.
Violators who are being held on new criminal charges or other criminal charges aren't eligible for release, according to the order, which mainly applies to those in custody on technical violations.
If a hearing is not held within 20 days, the sheriff shall release the violator unless they are being held on other criminal charges.
"Because the conditions of jails inherently heighten the possibility of COVID-19 transmission, I find that it would promote the safety and protection of the civilian population to allow local officials to reduce the number of local inmates being held in county jails in a way that does not jeopardize public safety," Ivey wrote in her order.
The order does not apply to inmates in state prisons.
You can read Ivey's full order here.
In the same modified executive order, Ivey ordered state agencies to allow for an expanded scope of practice for health care workers like nurses, nurse practitioners and nurse anesthetists. Experts fear there may not be enough health care practitioners to care for the number of patients that may require hospitalization and inpatient care.
This part of the order, intended to reduce strain on medical workers caring for COVID-19 patients, will relax but not completely eliminate the degree of supervision required for these non-M.D. health care professionals to care for patients.
As the number of COVID-19 cases in the state rises and hospitals begin to feel the strain of the outbreak, Ivey also directed state agencies to provide temporary waivers so hospitals and nursing homes can free up bed space and open new facilities if needed.
Additional new directives in Ivey's supplemental order:
Allows expedited process for out-of-state pharmacists, nurses, and doctors to obtain temporary licenses to practice in Alabama
Expedited reinstatement of medical licenses, allowing retired doctors, and others who left the profession in good standing to return to practice
Pharmacy Board can expedite procedures to establish temporary pharmacies.
Notary publics can notarize documents remotely.
Government agencies can postpone unnecessary meetings or meet remotely.
Corporate shareholder meetings can be conducted remotely.
Print this piece