Opinion | On abortion, we cannot remain silent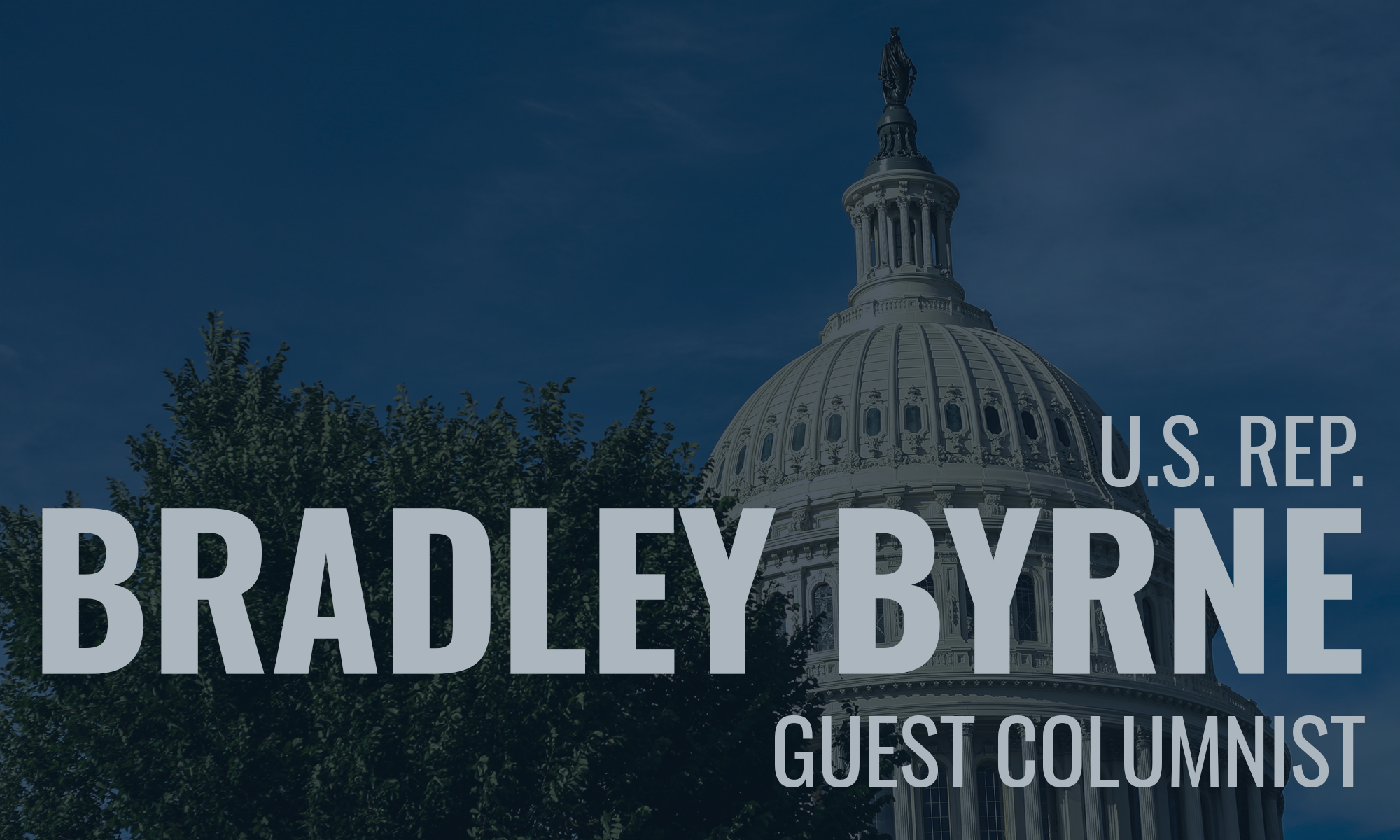 For most of the history of our country, it was widely accepted, as I firmly believe now, that life begins at conception — that we are all fearfully and wonderfully made in God's image. The thought of prematurely ending a pregnancy was considered in stark, unreconcilable contrast to the principles of our founding of life, liberty and the pursuit of happiness.
Support for the rights of the unborn was not a partisan political issue. The taking of an innocent life created by God was wrong and always would be.
How times have changed! Since Roe v. Wade, support for abortion has steadily grown stronger within the Democratic party. Today, with the party almost completely taken over by its radical, progressive wing, abortion has become a litmus test for candidates. Whether its late-term abortions or even so-called after-birth abortions — what we in Alabama would call murder — Democrats seem to be trying to outdo one another by how far outside of the mainstream they can fall on this issue.
Earlier this year, President Donald Trump's call in his State of the Union speech for Congress to ban late-term abortions was met with almost universal condemnation from Democrats. Months later, to little surprise, Speaker Nancy Pelosi has yet to take any action to do so.
Just recently, the House Democrat campaign committee canceled a fundraiser for one of their members because he held pro-life positions. Truly there is no longer a place in the Democrat party for anyone who believes in rights and protections for the unborn.
There is even growing support on the Presidential trail for eliminating the Hyde Amendment, in place for over 40 years, which bars Medicaid, Medicare and other federal health programs from paying for abortions.
Two of the most shocking displays of the newly emboldened radicalism within the Democrat party are bills in New York and Virginia that would extend abortion rights up until and, according to the governor of Virginia, even beyond the point of birth. This is outrageous, and my Republican colleagues and I are fighting back.
Last week, on the floor of the House of Representatives, I asked for unanimous consent for the House to consider a bill I have cosponsored called the Born Alive Abortion Survivors Protection Act. This bill ensures any infant born alive after a failed abortion receives the same protections as any newborn. Unfortunately, Democratic leadership denied my request, turned off my microphone and refused to recognize me again.
Every American deserves to know where their elected representative stands on this issue. Democrats seem to think this issue will go away, but I promise you, I will not let it go away.
I believe we are coming to a point in America where the tide will turn and people will demand an end to the injustice and barbarism of abortions. Every single life is precious and worth fighting for, and I am proud to lead this fight for the unborn.
Rebecca and I are the proud parents of four children, Patrick, Kathleen, Laura and Colin. Each of them is an indescribable blessing, and we love them dearly. We taught our children to read, swim and ride a bike. We studied the Bible and shared our faith with them, and we helped them through their schoolwork and athletic pursuits. Now adults, our children have begun experiencing the blessings of parenthood.
I find it difficult to understand how someone can experience the joys of raising a child and yet support abortion.
While abortion is unpleasant to even think about, we owe it to the unborn to be loud advocates for them. It's the right thing to do, and I am thankful to have the opportunity to fight for Alabama values like these in Washington.
Opinion | Comprehensive sex-ed for all can improve people's health
Last July, I spoke with Sky H., a 20-year–old who identifies as non-binary and grew up in a very conservative rural town in the Black Belt region of Alabama. In school, Sky received abstinence-only education. Sky told me there was little instruction about sexual and reproductive health besides the basics of reproduction.
After years of pain, Sky was diagnosed at age 18 with endometriosis, a painful disorder that can lead to fertility complications. The condition might have been diagnosed much earlier if they had learned more about their own bodies and reproductive health in school, Sky believed.
Unfortunately, Sky's experience isn't unique. Over the past year and a half, I've spoken to more than 40 young people from 16 counties throughout Alabama who also didn't learn about their sexual and reproductive health in school. Like Sky, they missed out on critical information and described the negative impact this had on the choices they made and their health as they grew older.
Schools in Alabama are not required to teach about sexual health but if they do, the State Code mandates a focus on abstinence. The State Code also contains stigmatizing language around same-sex activity and prohibits schools from teaching about sexual health in ways that affirm lesbian, gay, bisexual and transgender (LGBT) youth. This makes it even harder for young people like Sky to get information.
But Alabama is not alone. Sixteen other states in the U.S. also do not mandate sex education in schools. And at least five others have laws stigmatizing same–sex activity.
Comprehensive sexuality education can improve health outcomes for young people. It can help them learn about their bodies and how to recognize abnormal gynecological symptoms, steps they can take to prevent and treat sexually transmitted infections (STIs) and other dangers to their health, and where they can go for reproductive health services.
Sex ed can also educate young people about the human papillomavirus (HPV) — the most common sexually transmitted infection in the U.S. — and how to lower their risk of HPV-related cancers through the HPV vaccine.
This information can improve young people's health and save lives. Yet so few young people in schools throughout Alabama — and the U.S. — receive it. Instead, like Sky and other Alabama students, many young people receive abstinence-focused education.
These programs withhold critical, science-based information young people need to make safer decisions on their sexual health. They also shame adolescents about their sexuality, often leaving young people uncertain about who they can talk to or where they can go for accurate information about sexual behavior and health.
The problem is both a lack of political will and of adequate funding. Discriminatory property taxes and an inequitable education system leave many school districts in rural and less wealthy regions of Alabama without adequate funding. This means that programs considered optional, like sex ed, often aren't offered.
Alabama, a state with high rates of sexually transmitted infections and cancers related to HPV needs to do more to address historic inequalities and state neglect that have left Black people at a higher risk of poor health outcomes. Mandating comprehensive sexuality education for all of the state's schools — and allocating state funding for these programs — would be an important step forward.
Students in underfunded and neglected school districts — many of whom are Black and living in poverty — often lose out on access to critical and lifesaving information. It keeps them from being able to make informed and safe decisions and can harm their health. This unequal access to information can create lifelong disadvantages and may contribute to racial disparities in health as young people age into adulthood.
The Black Belt region of Alabama, where Sky is from, has high rates of poverty and poor health outcomes. The Black Belt region also has high rates of sexually transmitted infections and the highest rates of HIV in the state. Yet schools in this rural and marginalized region of the state are persistently underfunded.
The COVID-19 pandemic has brought glaring attention to systemic inequalities and racial disparities in health, including in Alabama, where Black people are significantly more likely to die from the virus than white people. Within the United States, we continue to see the disproportionate toll the pandemic has taken on Black people, who are more likely to live in poverty, lack access to health insurance, and suffer from chronic health conditions that put them at a higher risk of adverse health outcomes from the virus.
The pandemic has highlighted the importance of ensuring that everyone has the information, tools, and resources they need to make informed decisions to protect their health. Schools in Alabama — and across the country — should help do that for all young people.
The pandemic is also showing us what happens when discrimination and neglect leave certain people out.