Ivey leads delegation to Europe for business mission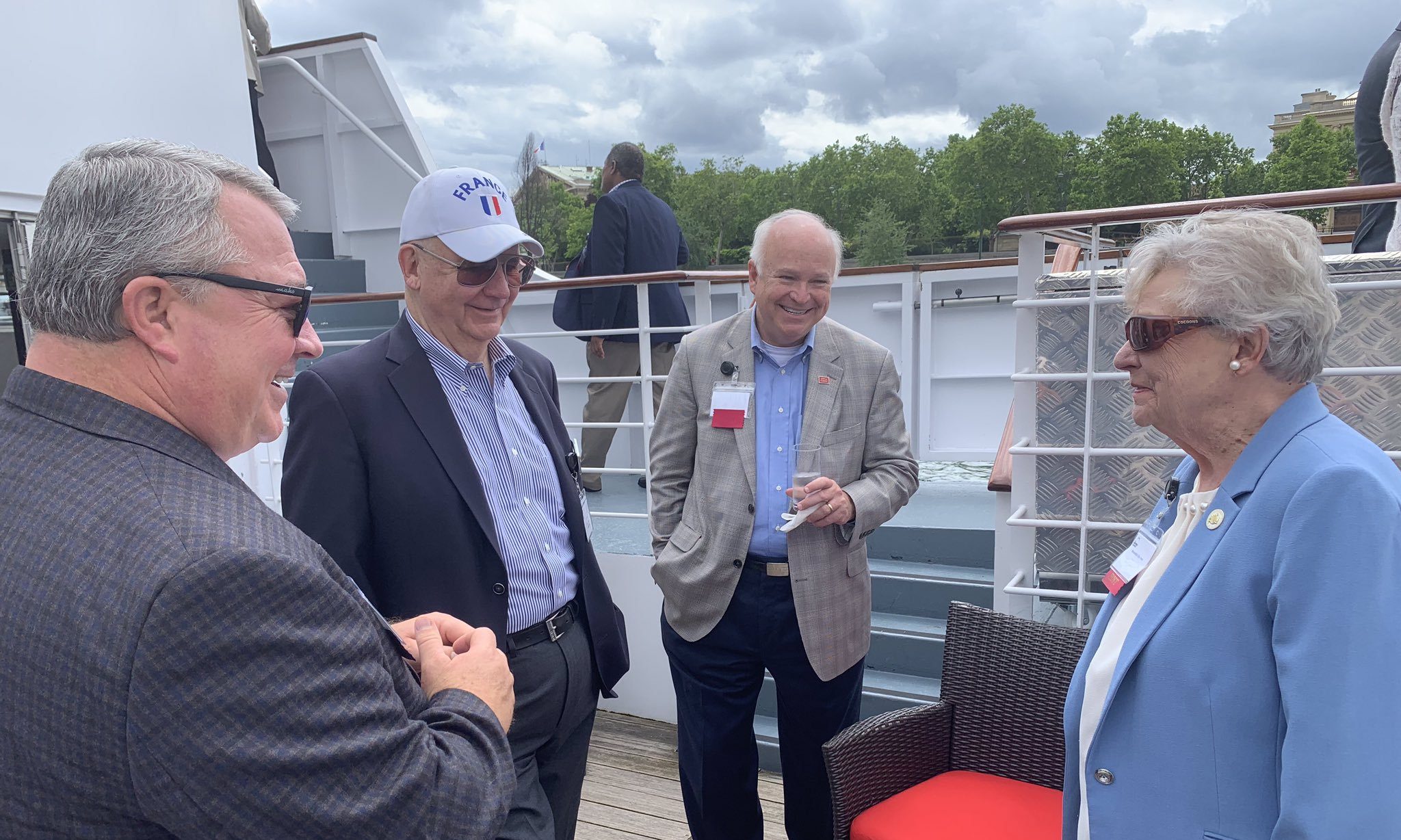 Gov. Kay Ivey is leading a delegation to next week's 2019 Paris Air Show to meet with high-ranking aerospace industry executives. Ivey will also travel to Germany to meet with executives from Mercedes-Benz.
"At the Paris Air Show, I want decision-makers in the aerospace industry to know one thing: The ideal location for new investment and jobs is Sweet Home Alabama," Ivey said.
Ivey and Commerce Secretary Greg Canfield are taking Alabama economic development specialists, elected officials, university representatives and others to the 53rd International Paris — Le Bourget Air Show, the largest aerospace industry exhibition in the world.
"Alabama has long been a leading state for aerospace, and we have set a strategic goal of growing our base in this important industry," Ivey said.
Work began on Sunday meeting with industry officials at networking events. On Monday, Ivey, Canfield and a small Alabama working team will participate in pre-arranged meetings with executives from aerospace companies such as Raytheon, Blue Origin and the United Launch Alliance.
"The aerospace sector is one of our key targets for growth, and the sky is our limit as far as opportunities," Canfield said. "While in Paris, we will have the opportunity to meet with C-suit executives for some of the world's most notable aerospace companies and to position Alabama for future growth in this sector."
The air show comes midst a boom in Alabama's aerospace industry. In 2018, aerospace and defense companies announced plans for over $650 million in new capital investment in Alabama, spurring the creation of nearly 1,450 anticipated jobs, according to projections by the Alabama Department of Commerce. Huntsville was home to 3,930 aerospace engineers in 2018, more than any other metropolitan area in the U.S.
On Tuesday, Ivey and Canfield will be traveling to Stuttgart, Germany, to meet with key leaders from Mercedes-Benz in an effort to renew relationships with the company, one of Alabama's largest corporate investors. Mercedes has invested $6 billion in Alabama at the Tuscaloosa County assembly plant and is currently developing a second campus in Bibb County.
"We're proud to call Mercedes a partner, and we're excited about the future that we are building together in Alabama," Canfield said. "Mercedes has been a great ambassador for Alabama, and we are fully committed to supporting the company and its hard-working employees in the state."
Bob Smith, assistant director of business development-European strategy and Commerce's point man on aerospace will remain at the air show on Tuesday and Wednesday for additional meetings while Ivey and Canfield are in Germany.
Mark McDaniel reappointed to NASA Human Exploration and Operations Advisory Committee
Congressman Mo Brooks, R-Huntsville, announced Thursday NASA administrator Jim Bridenstine's reappointment of Huntsville's Mark McDaniel to a two-year term on the Human Exploration and Operations Committee of the NASA Advisory Council.
Brooks initially recommended McDaniel in 2018 to Bridenstine. Bridenstine is a personal friend and former House colleague of Brooks. Brooks cited McDaniel's past record of exemplary service on the NASA Advisory Council. The NAC is NASA's highest civilian advisory board.
"Mark McDaniel has done an exemplary job advising NASA on its future missions as a member of NASA Advisory Council's Human Exploration and Operations Committee," Brooks said, praising the decision. "Mark's past service and qualifications make him an excellent choice for reappointment to another term on the committee. I congratulate Mark on his reappointment."
"I greatly appreciate my friend NASA Administrator Jim Bridenstine for his thoughtful consideration in reappointing Mark McDaniel," Brooks continued. "Jim's leadership at NASA has been exemplary, and I am glad he recognized Mark's contributions to this important NASA advisory committee."
"Mark McDaniel has been a dedicated member of the NAC for several years, and we look forward to him continuing to provide his expertise to the Committee," said Bridenstine. "As we prepare to go forward to the Moon and beyond, it is critical that NASA has top experts like Mark on our team. His wealth of knowledge is a great benefit to the Artemis program, as well as our mission to send human explorers to Mars."
"Congressman Mo Brooks has provided great leadership to our nation, state and NASA," McDaniel said. "I thank Congressman Brooks for recommending my reappointment to the NASA Advisory Council- Human Exploration and Operations Committee."
"I am confident that under the leadership of Administrator Jim Bridenstine and the tremendous team he has put together, our nation will put the first woman and next man on the Moon by 2024," McDaniel added. "Under Administrator Bridenstine's leadership NASA is setting the stage for human exploration of Mars and the heavens beyond."
Then-NASA administrator Daniel Goldin appointed McDaniel to the NASA Advisory Council in October 2000, and then-NASA administrator Sean O'Keefe reappointed McDaniel to the council in November 2002 and November 2004. During McDaniel's tenure on the NAC, President George W. Bush announced the "Moon, Mars, and Beyond Initiative," which set the nation on a more aggressive pace for space exploration.
On Jan. 26, 2007, McDaniel received the NASA Public Service Medal for his "Leadership and Council to America's Space Agency, his advocacy of Human Space Flight and Exploration and dedication to the Aerospace Community at large."
Brooks is in his fifth term representing Alabama's 5th Congressional District. NASA and its contractors are a major employer in the 5th District.